HERE ARE THE TOP STORIES
ISIS has claimed responsibility for yesterday's terror attacks in Brussels, which killed at least 30 people, injured dozens more, and put the city on lockdown.
Belgian broadcaster RTBF says two of the attackers have been identified as brothers Khalid and Brahim el-Bakraoui. Belgian police had been searching for both since a raid in Brussels earlier this month, the New York Times reports. Police have issued an alert for a third suspect who is believed to have survived the attacks.
Two bombs — believed to be the work of suicide bombers — went off at Brussels airport on Tuesday morning, followed by a blast at Maelbeek metro station, near the European Commission's headquarters. Later in the day, prosecutors said they found an ISIS flag, bomb-making materials, chemicals, and nails at a house in Brussels, BuzzFeed News reports.
Many questions remain unanswered. "If the Bakraoui brothers have been wanted since the March 15 raid, as several Belgian news outlets reported last week, why did the authorities not issue a most-wanted alert asking for the public's help in finding them?" the New York Times writes.
It's also still unclear if the attacks are related to last week's capture of Salah Abdeslam, one of the people behind the November Paris attacks that killed 130 people.
BuzzFeed News' Mitch Prothero, Rossalyn Warren, and Ryan Broderick are reporting from Brussels.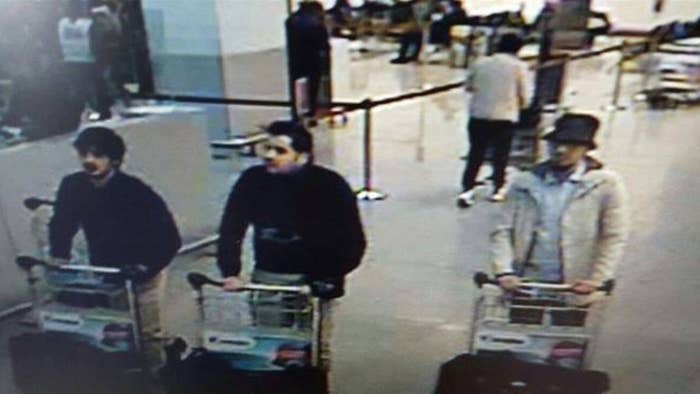 And a little extra.
Belgian authorities are overwhelmed by terror investigations, Mitch Prothero reports from Brussels. Counterterrorism officials have been on high alert for years as hundreds of citizens and residents have departed for the battlefields of Syria and Iraq. But, a counterterrorism official told BuzzFeed News, "We don't have the infrastructure to properly investigate or monitor hundreds of individuals suspected of terror links, as well as pursue the hundreds of open files and investigations we have."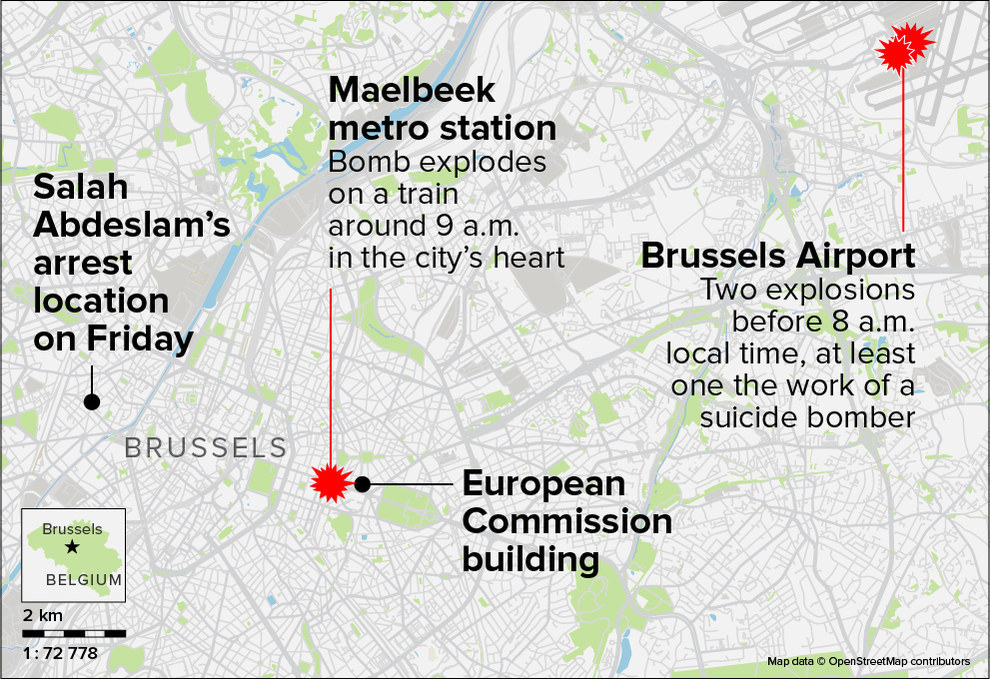 Newspapers around the world mourned the Brussels terror victims on their front pages. And from messages in chalk to tributes in light, thousands of people across the globe showed their solidarity with Belgium.

2016 U.S. PRESIDENTIAL ELECTIONS
Donald Trump and Hillary Clinton won yesterday's Arizona primaries, solidifying their leads.
Trump and Clinton's victories allowed them to maintain their dominance of earned delegates (the people who actually choose their party's nominee at the summer convention) over their rivals Ted Cruz and Bernie Sanders, BuzzFeed News reports.
Sanders won Utah and Idaho's Democratic caucuses. And Cruz beat Trump in Utah. Overall, yesterday's results were largely expected.
With Arizona, Clinton picked up another win in a Latino-heavy state against Sanders.
And a little extra.
Voters went to the polls just hours after the attacks in Brussels, calling attention to ISIS and international terrorism.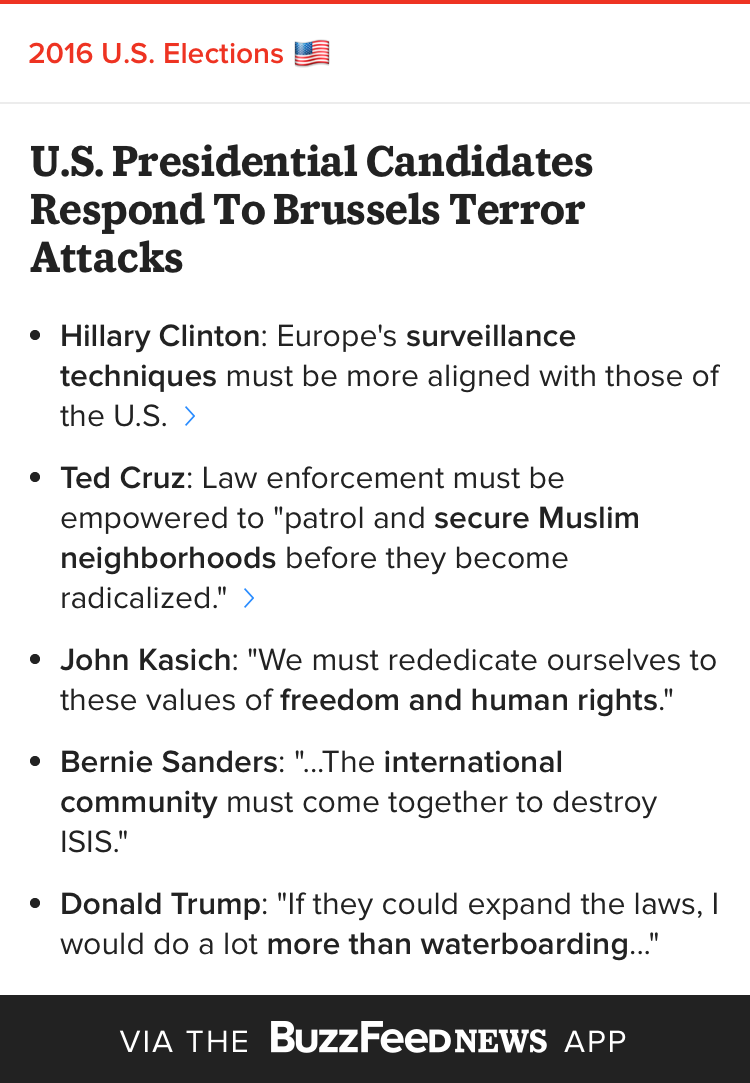 For the latest news and stories, download the BuzzFeed News app for iOS and Android (in U.S. app stores only — for now).

DID YOU HEAR ABOUT THIS?
Hacking on the high seas: How pirates — real pirates — and hackers worked together to steal millions of dollars in diamonds from cargo ships.
Hackers broke into a major Middle Eastern shipping company's computers to gain real-time access to ship location and the contents of shipping containers — a new kind of theft that combines physical and virtual crime, BuzzFeed News' Joseph Bernstein writes.
What freaked this company out was that the pirates seemed to have advance knowledge of what was on its ships. In most cases, it would take hours or even days to go through the tens of thousands of shipping containers on a major cargo vessel, or to siphon off oil or gas.
These pirates, though, were in and out in 90 minutes. "And when the ships' crews emerged from the designated 'safe rooms' in which they lock themselves during hijackings, they found that most of the cargo — cars and car parts — was untouched," Bernstein writes.
Some experts believe it will become more and more common in the future: "As the data breach world has evolved," said Chris Novak, director of Verizon's investigative response team, "old-school attacks and robberies are mixing with new-school information gathering. It just makes it easier."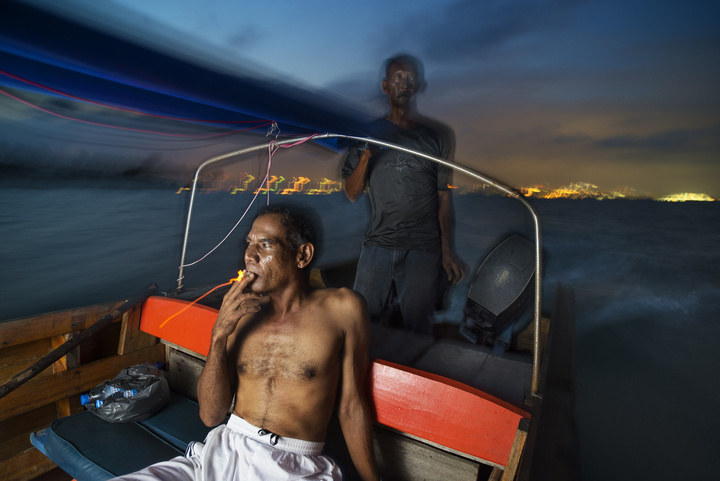 Happy Wednesday
One woman went free diving with blue and sperm whales in Sri Lanka — and brought her friends along to document it. To give you some perspective on how majestic this was: Blue whales weigh approximately 200 tons and are the largest animals ever known to have lived on Earth, BuzzFeed Australia's Simon Crerar writes. Talk about feeling small.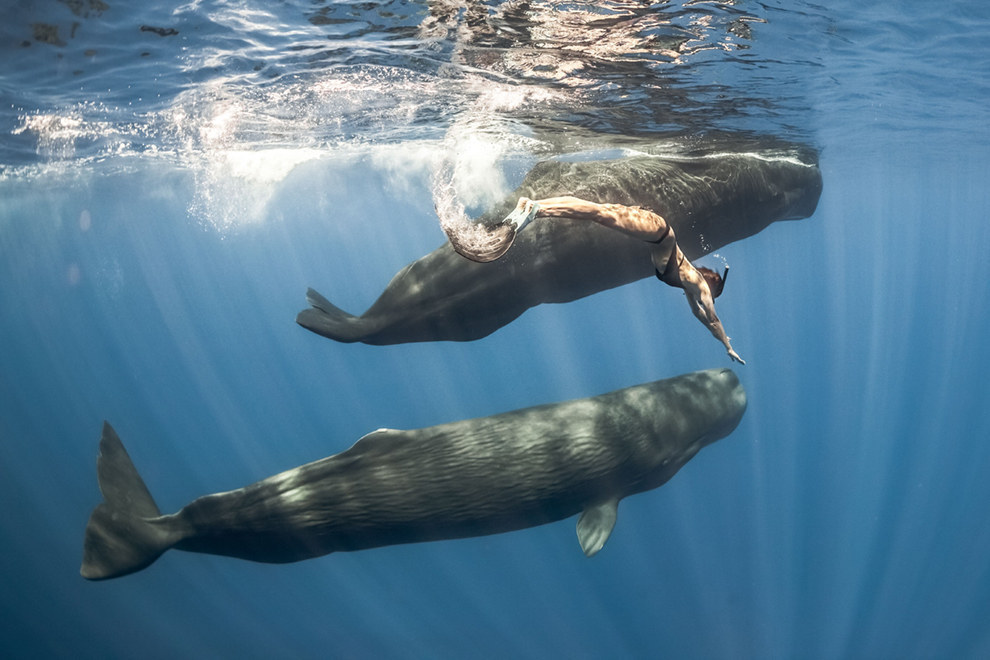 Want a news roundup like this in your inbox every weekday? Enter your email address to sign up now!