What's Going On Around The World Today?
Kenya vows severe retaliation against the Somali extremist group responsible for Thursday's attack on Garissa University College that left 148 people dead. Rolling Stone officially retracts its story on an alleged sexual assault at a University of Virginia fraternity party. And all the love you get when your name is actually Beyoncé.
HERE ARE THE TOP STORIES
Rolling Stone officially retracted its UVA gang rape story as Columbia's journalism school published an investigation into the reporting. Columbia's report, released last night, found failures in every step of the reporting process — but particularly with the magazine's failure to confirm information provided by the student at the center of the story. The article, "A Rape on Campus," contained vivid details about an alleged gang rape at a University of Virginia fraternity party and sparked debate nationwide about sexual assault on college campuses when it was published in November. The article drew skepticism after several discrepancies were pointed out. Columbia's report comes a few weeks after Charlottesville police suspended their own investigation into the alleged sexual assault at UVA, citing lack of evidence. A press conference on the report is scheduled for noon ET today.
Sabrina Rubin Erdely, the journalist who wrote the article, issued a formal apology for the first time since the story was published. "Reporting on rape has unique challenges, but the journalist still has the responsibility to get it right. I hope that my mistakes in reporting this story do not silence the voices of victims that need to be heard," she wrote.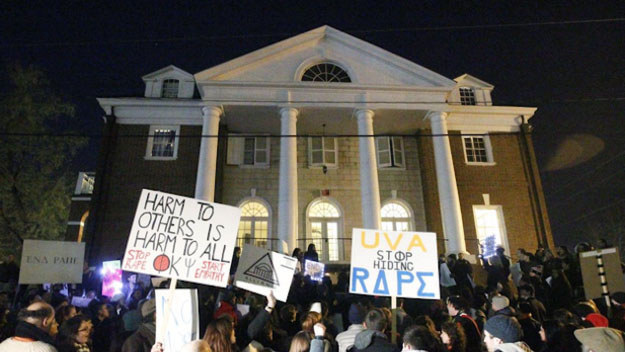 Kenya's president promises "retaliation" against al-Shabaab as the country copes with last week's university attack that killed nearly 150 people. Over the weekend, Kenyan officials announced that five suspects have been arrested in connection with the attack on Garissa University College. Kenyan authorities also identified one of the gunmen, who were all killed by responding authorities during the attack, as the son of a government official. The gunman's identity reflects Kenya's challenges with homegrown extremism, which President Uhuru Kenyatta has called "deeply embedded" in the country's communities. Early Monday, Kenya launched airstrikes against al-Shabaab targets in Somalia, the BBC reports. This is Kenya's first major military response to Thursday's attack.
The military response, and Kenyatta's vow for further retaliation, comes as al-Shabaab promises more violent attacks against the Kenyan public.
Despite Kenyatta's assurances, the al-Shabaab attack is taking a toll on Kenyans. Doctors, nurses, and civil servants in Garissa, most of whom come from other cities, are steadily leaving after treating survivors of the university attack because they feel too unsafe — and too exhausted — to continue their service, BuzzFeed News' Jina Moore reports from Garissa. There is also increasing skepticism among Kenyans about the government's ability to protect them. "The government is doing nothing. It's taking no steps [to keep us safe]," a Garissa resident told Moore.
And a little extra. Over the weekend, some friends and family of the people killed in the terror attack shared their pictures on Twitter using the hashtag #147notjustanumber to put faces to the tragedy. Here are some of those tweets.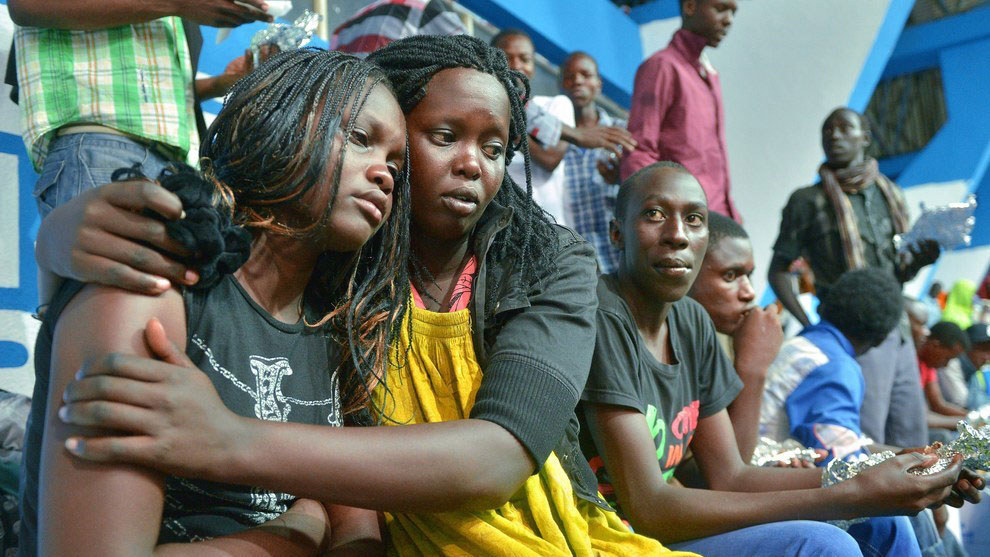 WE'RE KEEPING AN EYE ON
Residents of Ferguson, Missouri, will vote tomorrow to elect new City Council members. This is the first local election following the unrest sparked by the death of Michael Brown, an unarmed black teenager who was shot by a white police officer in August. A lot is at stake in the election, the New York Times' John Eligon writes. The city, which is 67% black but has just one black council member, will have the opportunity to change its political leadership — which many see as responsible for the discriminatory practices carried out by law enforcement.
What's next? Ferguson's election tomorrow is poised to be a historic one: No matter the exact outcome, the city will have more than one black sitting council member for the first time, according to USA Today. Last month, BuzzFeed News' Jim Dalrymple II reported from Ferguson on the candidates' histories.
Duke and Wisconsin will play for the NCAA men's basketball championship trophy tonight. Wisconsin broke Kentucky's perfect season to earn its spot in the finals, beating the Wildcats 71-64 on Saturday night. Duke had booked its spot in the final earlier that night, beating Michigan State 81-61. Both teams now head to Lucas Oil Stadium in Indianapolis, where they will face off for NCAA glory.
What's next? The game broadcasts live on CBS at 9:15 p.m. ET. Gloating, or weeping, will probably take place by 11 p.m.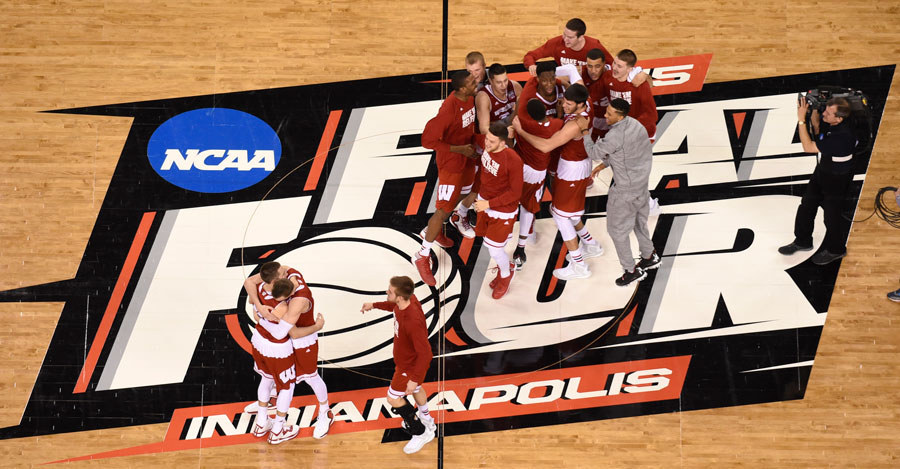 DID YOU HEAR ABOUT THIS?
A little-known clause in federal student loan contracts could lead to billions in debt relief — but nobody knows how it works, including the Education Department. Several Democratic senators found the clause, known as the "defense to repayment" provision, during their search for ways to help college students compelled into debt by predatory for-profit colleges. But with no clear federal or legal guidelines on how the clause works, those who were wronged by for-profit educational institutions will have a difficult time taking appropriate legal action.
"As an imam, you have to be in front." Imams, or Muslim worship leaders, are on the front lines with Shiite militia in the fight against ISIS in Iraq. They're tasked with stoking the religious passions that inspired volunteers to join the fight — while also working to keep them in line. BuzzFeed News' Mike Giglio talks to the imams who fight, lead prayers, and serve as a testament to the religious charge of the battlefield in Iraq.
Murder at La Casa Green, part one. On the morning of July 4, 1993, a Connecticut bodega owner named Eugenio "Gene" DeLeon Vega was found murdered. Two men were tried and convicted, but that was just the beginning. This is part one of a four-part series looking at a wrongful conviction case that has baffled and frustrated for over 20 years.
Meet the man trying to make major league baseball LGBT-friendly. Twenty years after he left professional baseball because of his sexuality, former player Billy Bean (not to be confused with Billy Beane of Moneyball fame) is now back as Major League Baseball's ambassador for inclusion. "I'm doing it for those who can't talk," Bean tells BuzzFeed News' Lindsey Adler. Baseball's opening day is today.
Some law professors think their students are too "afraid" to study rape law. But the students say their professors aren't really listening to their real concerns. BuzzFeed News' Katie Baker investigates the complex challenge of teaching rape law in the age of the trigger warning.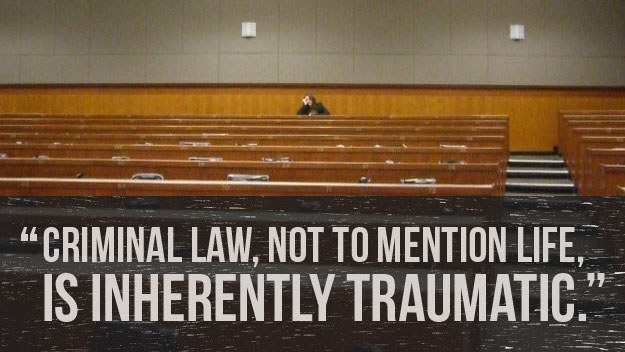 How to pretend to be happy on the internet. "After years of being online, I've crafted a digital persona that reflects only the positive pieces of my personality," The Daily Dot's Selena Larson writes in this essay on how she kept a positive digital persona when she was having a tough time IRL — and how that actually helped her heal in the long run.
Quick things to know:
HAPPY MONDAY
Over the weekend, the "Humans of New York" Facebook page shared the photo and story of a young girl named Beyoncé and how she sometimes hates her name because it draws attention to her. You know how people always say never read the comments? Not this time. Women with the names Kelly Rowland, Kaity Perry, Shakira Lamb, and Jennifer Lopez all showed up to offer sympathy and support. Flawless.