HERE ARE THE TOP STORIES
Four people — including the attacker — died and 29 others were injured in a terror attack in London.
The attack began when a car rammed into several pedestrians on Westminster Bridge. After the vehicle crashed into railings, a man armed with a knife ran towards Parliament where he was confronted by police. One officer was killed and the attacker was shot. Here's what we know about the victims.
The attacker was British-born and had previously been investigated by MI5 as a "peripheral figure," Prime Minister Theresa May said on Thursday. The identify of the attacker has not been released.
"The working assumption is that this is related to Islamic terrorism in some form, but [the police] don't yet have a full enough picture of this man and his known associates. That work is still going on," Defense Secretary Michael Fallon said.
Eight people have been arrested following raids on properties across the country, according to London police.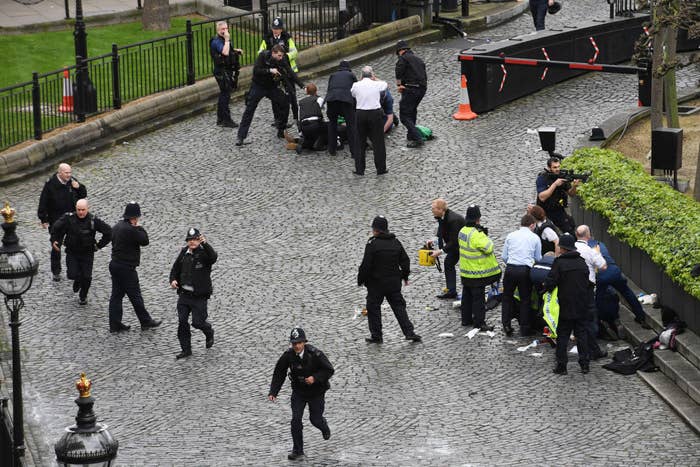 A government minister tried in vain to save the life of a police officer during the attack. The first doctor on the scene at Westminster was off duty when the attack happened. Here's the British Parliament attack in pictures. And Parliament will review its security procedures in an emergency meeting on Thursday following the attack.

WE'RE KEEPING AN EYE ON
US Republicans are working on a last-minute deal to save their health care bill.
The White House and Republican leadership worked overnight to win over Conservative opponents of the American Health Care Act — the Trump administration's proposal to replace Obamacare — which seemed doomed just hours earlier.
"I don't want to be so optimistic to say that the deal is done, but I do think that there is a framework to work with," House Freedom Caucus Chair Mark Meadows said.
What's next?
The pitch from leadership appears to center on repealing the essential health benefits included in Obamacare. These benefits mandate things that insurance companies must cover in all plans, including maternity care, hospitalization, mental health services, addiction treatment, and vaccinations for children.
Also being discussed are "Title I" rules, which include major industry regulations such as the ban on denying coverage to people with pre-existing conditions. If the bill does pass the House, it's still unclear whether it can pass the Senate.
DID YOU HEAR ABOUT THIS?
Putting troubled kids in strict environments is big business for Camelot Education.
When a 10th-grader pulled out his cell phone in class — and refused to put it away — he knew he was breaking the strict rules of his Florida school. But he wasn't expecting what came next. An administrator struck him across the face and dragged him into an empty classroom, hitting him until he fell to the floor, according to a police report.
The incident wasn't the first time the administrator had been accused of hurting a student. Six years earlier, at another school, he'd pleaded guilty to charges related to the assault of a 10-year-old. That administrator, BuzzFeed News found, is now the executive director of a recently opened Camelot School in Chicago. The company calls him an "exemplary" employee. BuzzFeed News' Molly Hensley-Clancy reports.