U.S. Women's Soccer Team Honored With New York City Parade And City Hall Ceremony
The U.S. Women's National Soccer Team – which defeated Japan to win the 2015 World Cup – will be celebrated on Friday with a ticker-tape Parade through Manhattan's "Canyon of Heroes." BuzzFeed News reporters Lindsey Adler, Austin Hunt, Tamerra Griffin and Rawan Eewshah are reporting from the celebration.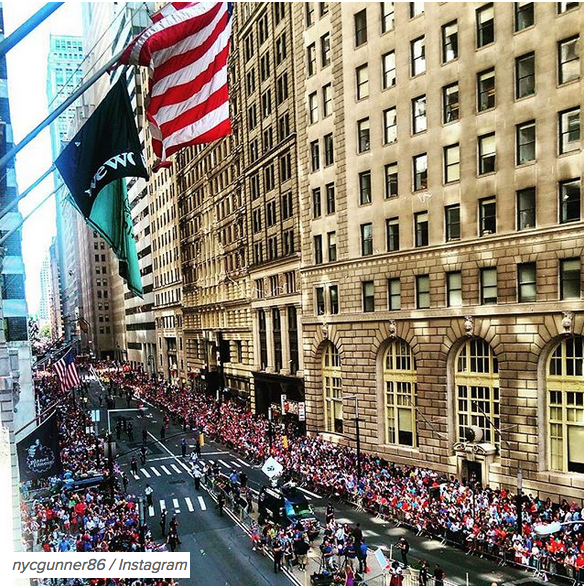 Why We're Celebrating
The U.S. women's soccer team won the World Cup this past weekend, defeating Japan 5-2.
It's the team's third World Cup win.
On Friday, the team got a rare ticker-tape parade through lower Manhattan's "Canyon of Heroes," from its southernmost point at the Battery to City Hall.
The parades are historically reserved for victorious sports teams, heads of state, and national milestones – like the one in 1969 when the Apollo 11 astronauts returned from the moon. It's named after the days when brokers would toss stock ticker paper onto the crowd from their high buildings.
The Women's Team has been on a victory lap this week. They were in a rally on Tuesday in Los Angeles and they've been invited to the White House.
This is the first time in New York City history that a woman's-only sports team has been celebrated with a ticker-tape parade.
Updates
The mayor and first lady gave each player a key to the City of New York.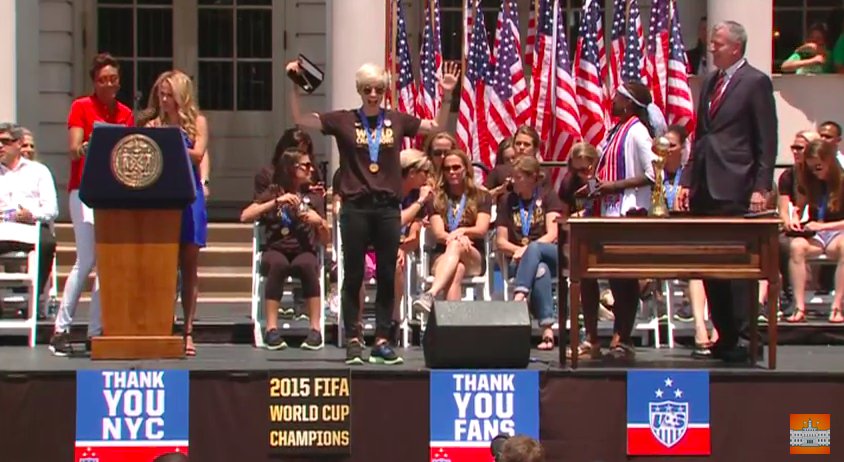 "Good Morning America" anchor Robin Roberts came out to introduce the players of the team and to emcee the ceremony.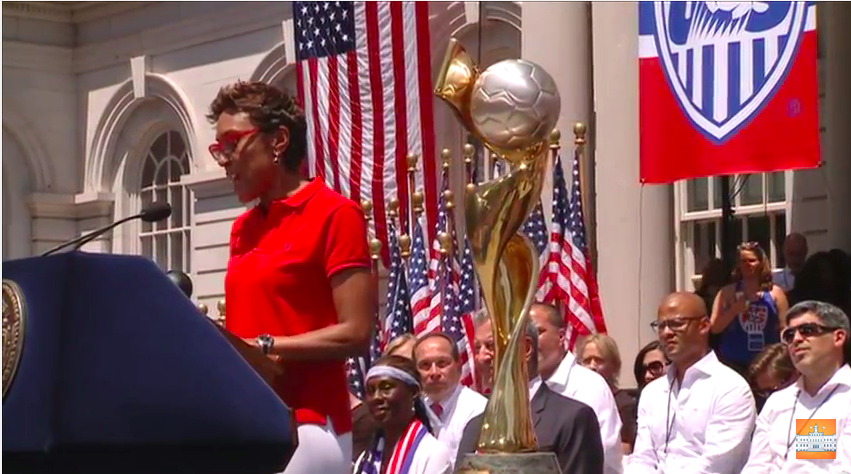 Mayor de Blasio opened the ceremony asking the crowd "Are you ready to party?" Then went on to applaud the women's soccer team for being the first women's sports team to get a parade down the "Canyon of Heroes."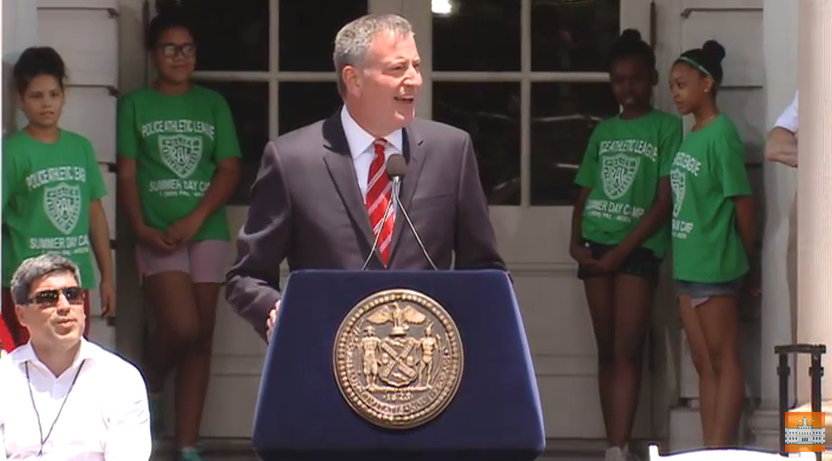 The parade wrapped up at City Hall where there's going to be a ceremony at 1 p.m. A complete video of the parade can be seen on the NYC Mayor's Office's YouTube channel.
Gloria Steinem has a front row seat at City Hall to cheer on the team.
New York City Mayor Bill de Blasio and his wife Chirlane McCray rode one of the floats, here's a picture of them earlier this morning with Hope Solo.
The NYPD marching band kicked things off playing songs including "God Bless America" and "Yankee Doodle Dandy" to crowds cheering "USA, USA, USA."
The FDNY color guard leads the way for the ticker-tape parade.
Parade will be kicking off at 11 a.m., here's a map of the route: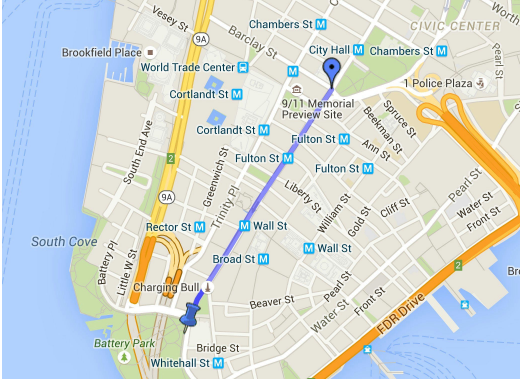 Yum! Three-tier soccer-themed cake awaits the team at City Hall.
The team is on the way:
The floats in lower Manhattan are ready to go. The parade is scheduled to start at 11 a.m. and will travel up the "Canyon of Heroes" along Broadway from the Battery to City Hall.
---