Trump Sweeps All 5 Primaries, Says He's The "Presumptive Nominee"; Clinton Wins 4
Reporting by Mary Ann Georgantopoulos, Jim Dalrymple II, Andrew Kaczynski, Claudia Koerner, and Ruby Cramer, who was with Hillary Clinton.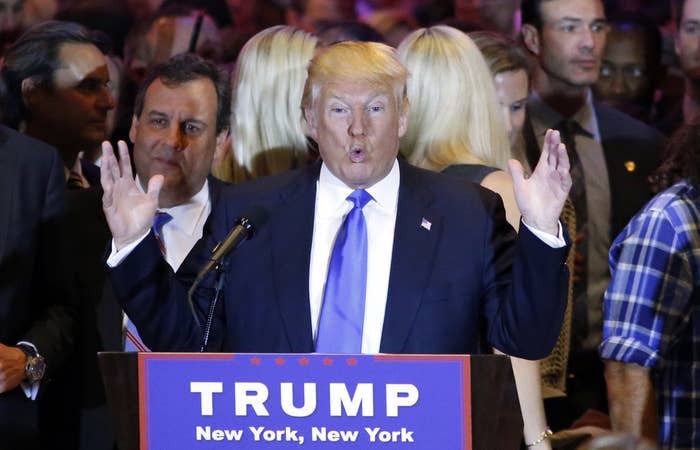 Here's what you need to know:
It's Trump Tuesday: The Donald swept all five primaries — Pennsylvania, Maryland, Connecticut, Delaware, and Rhode Island — earning a huge delegate haul as he battles Ted Cruz and John Kasich for the votes to lock up the Republican nomination.
On the Democratic side, Hillary Clinton won Maryland, Delaware, Pennsylvania and Connecticut. Sanders won Rhode Island.
"I consider myself the presumptive nominee," Trump said at his victory speech, saying later if "Hillary Clinton were a man in the general election she wouldn't get 5% of the vote."
Clinton in her speech appealed to "thoughtful Republicans," saying the GOP "approach is not going to build an America where we increase opportunity or decrease inequality." She also hit Trump for saying she can only play the "woman's card."
The race is close to wrapped up for the Democrats — Clinton has a near-insurmountable lead over Sanders in delegates, the people who actually go to the convention and vote for the nominee.
The delegate math is trickier for the Republicans. While Trump extended his huge lead on Tuesday, Ted Cruz and John Kasich want to stop him from getting the 1,237 needed to clinch. Also, Cruz can no longer mathematically win enough delegates to get the nomination in the primary period.
If Trump does not reach 1,237, the GOP could see a chaotic and rare contested convention in July, where delegates will decide the nominee on the spot after rounds of voting.
Cruz spoke early from Indiana, essentially saying he expected Trump to win every state. He said upcoming primaries are "more favorable terrain" for him, adding, "Can the state of Indiana stop the media's chosen Republican candidate?"
Sanders also spoke right after polls closed at 8 p.m., saying his campaign is "not just about electing a president, it is about transforming a nation" and said he's the best person to challenge Trump in the general election.
Here's the current delegate situation: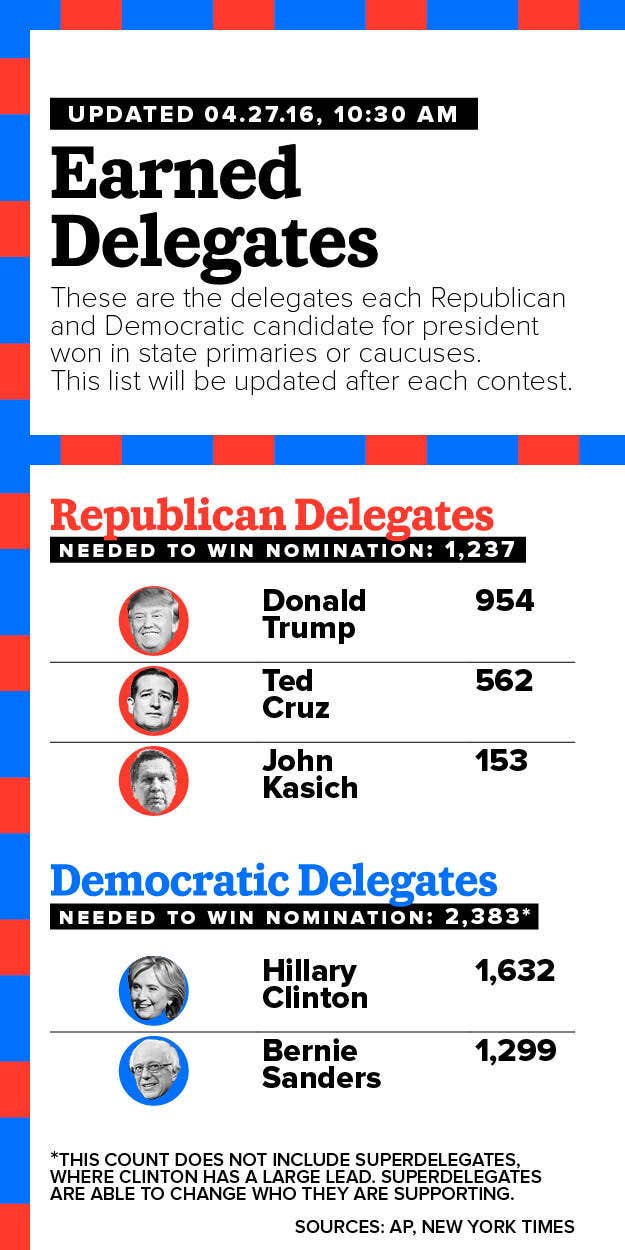 Trump Says If Hillary Clinton Were A Man She'd Get "5% Of The Vote"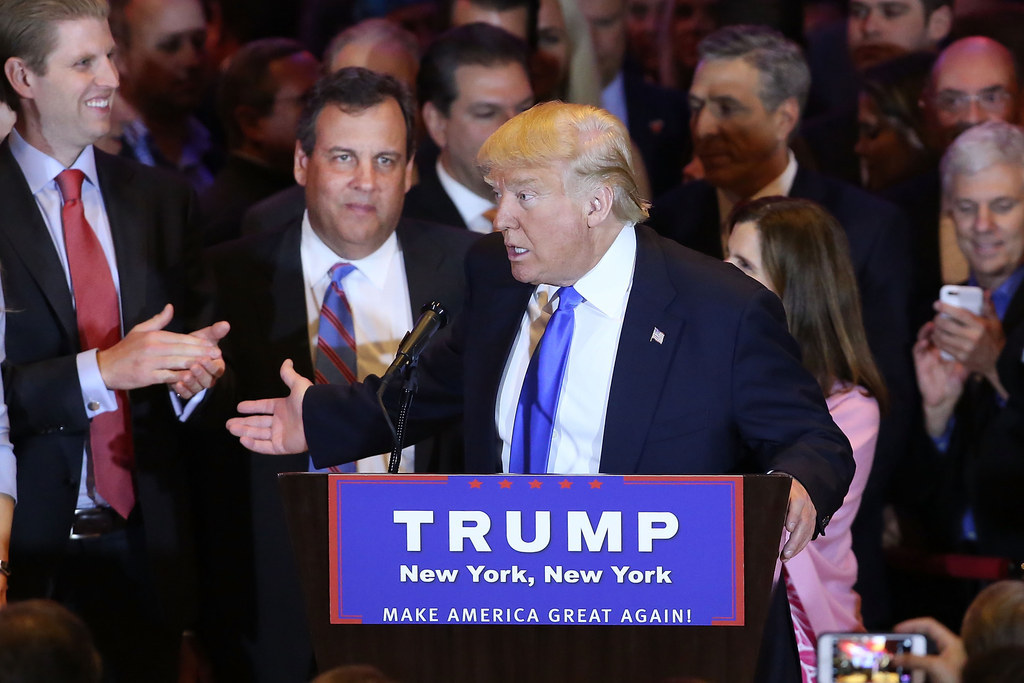 After sweeping all five Republican primaries, Donald Trump said he is the presumptive nominee and will easily beat Hillary Clinton in a general election because "the only thing she has going for her is the woman's card."

"If Hillary Clinton was a man I don't think she'd get 5% of the vote," he said. "The only thing she has got going is the woman's card. The beautiful thing is, women don't like her. Look how well I did with women."
—Mary Ann Georgantopoulous
It's No Longer Possible For Cruz To Win The Republican Nomination Before The Convention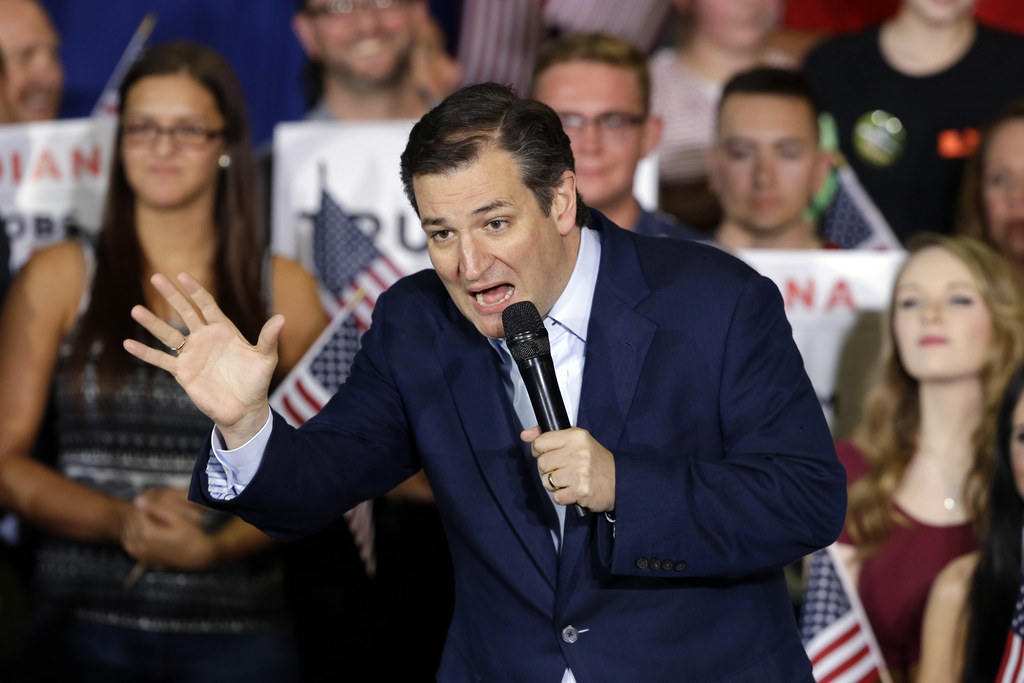 With Trump's sweep of Tuesday's primaries, it's no longer possible for Cruz to win enough delegates to clinch the nomination outside of a contested convention in July.
To win the Republican nomination outright, a candidate must secure 1,237 delegates. Before Tuesday, Trump had 950 delegates, Cruz had 559, and Kasich had 153. Trump went on to win the Delaware, Connecticut, Maryland, Pennsylvania, and Rhode Island primaries on Tuesday night, earning him at least 105 of the 118 delegates at stake.
Voting has yet to take place in 10 states, with 502 combined delegates up for grabs. Even if Cruz were to win every single one, he'd still come up around 200 short of hitting the 1,237 threshold.
That means Cruz can only become the Republican presidential nominee through a contested convention.
—Claudia Koerner
Democratic Establishment Score Victories In Maryland And Pennsylvania Primaries
The Democratic establishment scored two big wins Tuesday night in Senate primaries in Maryland and Pennsylvania, where their preferred candidates won after recent polls had showed the races to be extremely tight.
Katie McGinty, a former state secretary of energy, defeated former Rep. Joe Sestak and Braddock Mayor John Fetterman in the Keystone State. The Democrats' Senate campaign arm and pro-choice group Emily's List spent about $4 million on ads on McGinty's behalf in the final days. President Obama, Vice President Biden, and unions all endorsed McGinty, as Sestak blasted his party for spending big money against him.
In Maryland, Rep. Chris Van Hollen pulled out a win against Rep. Donna Edwards in a heated contest that grew increasingly racial and personal in its final days and divided House Democrats. The seat, vacated by retiring Sen. Barbara Mikulski, is considered safe for Democrats.
McGinty will go on to face Republican Sen. Pat Toomey in one of the top battleground Senate races in the general election, as Democrats try to win back the majority in the upper chamber.
—Tarini Parti
For anyone out there looking down-ballot, this was a closely watched race in Maryland:
Clinton Appeals to "Thoughtful Republicans" in Victory Speech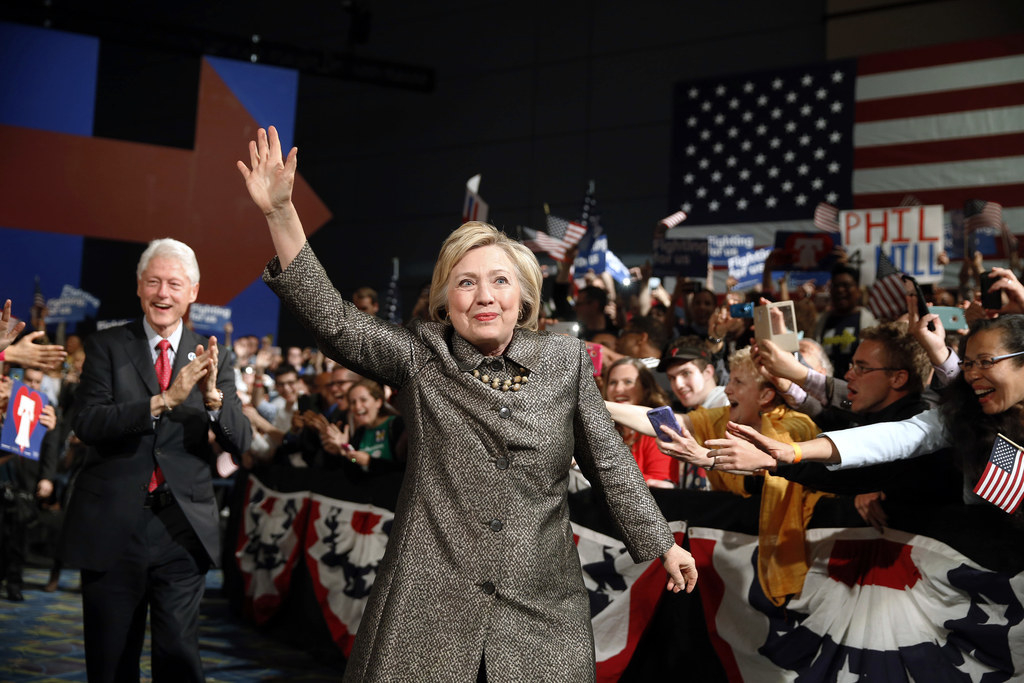 Hillary Clinton cast herself as a progressive with broad appeal after defeating rival Bernie Sanders in at least three primaries.
Clinton spoke Tuesday in Philadelphia shortly after winning the Pennsylvania, Delaware, and Maryland primaries. Sanders took Rhode Island, while Connecticut had not yet been called when Clinton took to the stage.
Clinton drew sharp contrasts between Democrats and the Republicans, saying among other things that Republicans don't accept climate change and "would demonize and discriminate against terror-hating, hard working Muslim Americans."
"If you are a Democrat, an independent or a thoughtful Republican, you know their approach is not going to build an America where we increase opportunity or decrease inequality," she said.
"So instead of letting them take us backwards, we want America to be in the future business. That's why I want you to keep imagining a tomorrow where instead of building walls, we're breaking down barriers."
"They would demonize and discriminate against hard-working, terror-hating Muslims who we need in the fight against radicalization and both parties in the Republican party deny climate change even exists," she said.
She also attacked Trump's recent comments about her.
"The other day Mr. Trump accused me of playing the, quote, woman card. Well if fighting for women's health care and paid family leave and equal pay is playing the woman's card, then deal me in."
Clinton also worked to appeal to Sanders supporters by drawing parallels between herself and her rival.
"Whether you support Sen. Sanders or you support me, there's much more that unites us than divides us," Clinton said.
She went on to point to climate change, health care, college education, and avoiding "another costly ground war in the Middle East" as issues where she and Sanders supporters have similar views.
"We're setting bold progressive goals, backed up by real plans," she added.
The comments come as Clinton's delegate lead over Sanders grows and as most observers increasingly see her as the inevitable Democratic nominee.
"Love trumps hate," she said, a common refrain. —Jim Dalrymple II
Oh Hi. Thanks For Following Tonight's Primaries With Us. We're Just Going To Leave This ~Political News~ Here.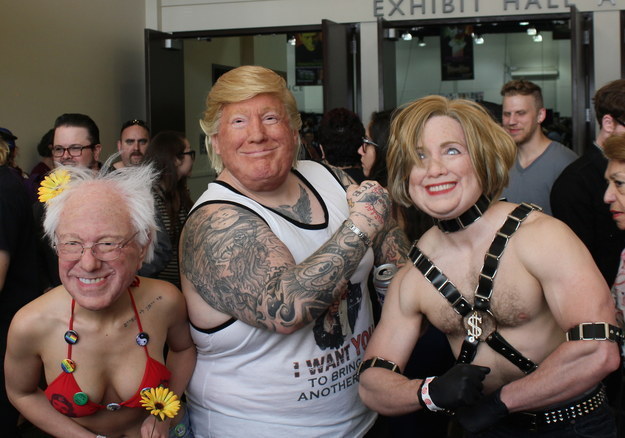 Sanders Says He's The Candidate To Take On The GOP As Clinton Wins Biggest Primaries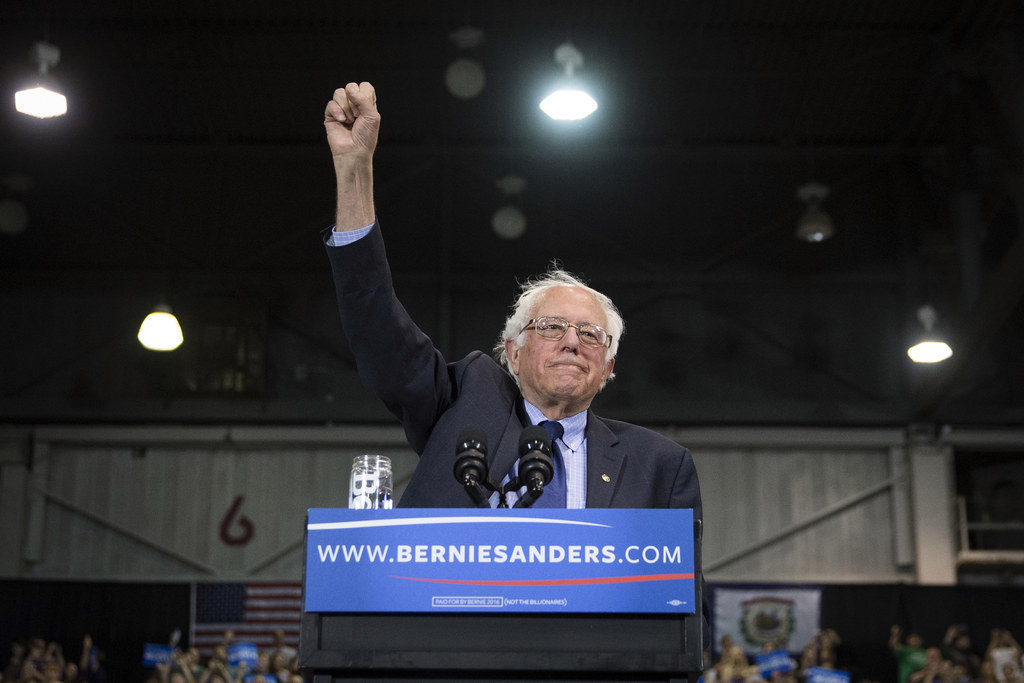 Bernie Sanders railed against income inequality Tuesday night in West Virginia — which will hold its primary on May 10 — after Clinton took states with major delegate hauls on Tuesday.
Earlier in the day, Sanders' senior strategist Tad Devine said the campaign would "reassess" its approach after Tuesday's contests, which were expected to deal a significant blow to the upstart candidate's dwindling prospects. Sanders didn't mention the reports of a reassessment.
In a speech to thousands of supporters, he slammed the billionaire class, student loan debt, the gender wage gap, and unemployment — which he said was actually much higher than official figures suggest. The issues are all recurring themes in Sanders' typical stump speech.
"You know a great nation is not judged by the number of billionaires it has or the number of nuclear weapons it has," he said. "It is judged by the way it treats the weakest and most vulnerable among us."
Sanders also highlighted the growth of his campaign, noting that "we have now won 16 primaries and caucuses all over this county." He added that he was the candidate to take on the Republicans in the general election, and repeatedly referred to his plans for the presidency and how he would win.
"This campaign is going to win because we are listening to people whose voices are not often heard," Sanders added.
Sanders was leading in Connecticut and Rhode Island as he spoke.
Ted Cruz Says Donald Trump And Hillary Clinton "Are The Flip Sides Of The Same Coin"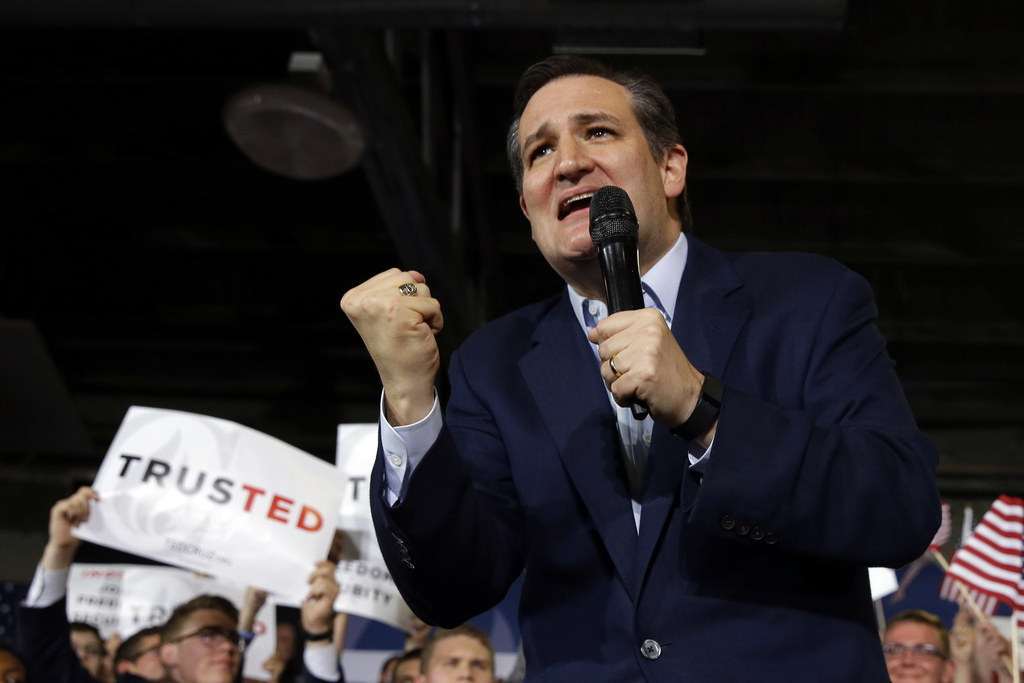 Ted Cruz spoke just before polls closed in Indiana, comparing Donald Trump to Hillary Clinton saying the two "are flip sides of the same coin."
Cruz criticized the media, saying journalists favor Clinton for president and are eager to have Trump as the nominee for that very reason.
"Donald Trump is the one man on earth Hillary Clinton can beat in a general election," Cruz said.
He went on to say Clinton and Trump are one and the same on issues including immigration, security, Planned Parenthood, and gun control.
"As president I will instruct the Department of Justice to open an investigation into Planned Parenthood," Cruz said.
He went on to say that he will defend the Second Amendment unlike Trump and Clinton, who both voted in favor of Bill Clinton's federal assault weapons ban.
Cruz also reiterated his stance on the issue of transgender people using the bathroom of the gender they identify with.
"Donald Trump and Hillary Clinton agree that adult men should be able to use the littler girls' bathroom," he said. "This is basic common sense — grown adult men, strangers, should not be in the bathroom with little girls. And yet, Donald and Hillary care more about the PC police than speaking the truth on basic common sense." —Mary Ann Georgantopoulos
Maryland voting locations won't officially reveal results until 9 p.m.
Clinton Revives Auto Bailout Attack on Sanders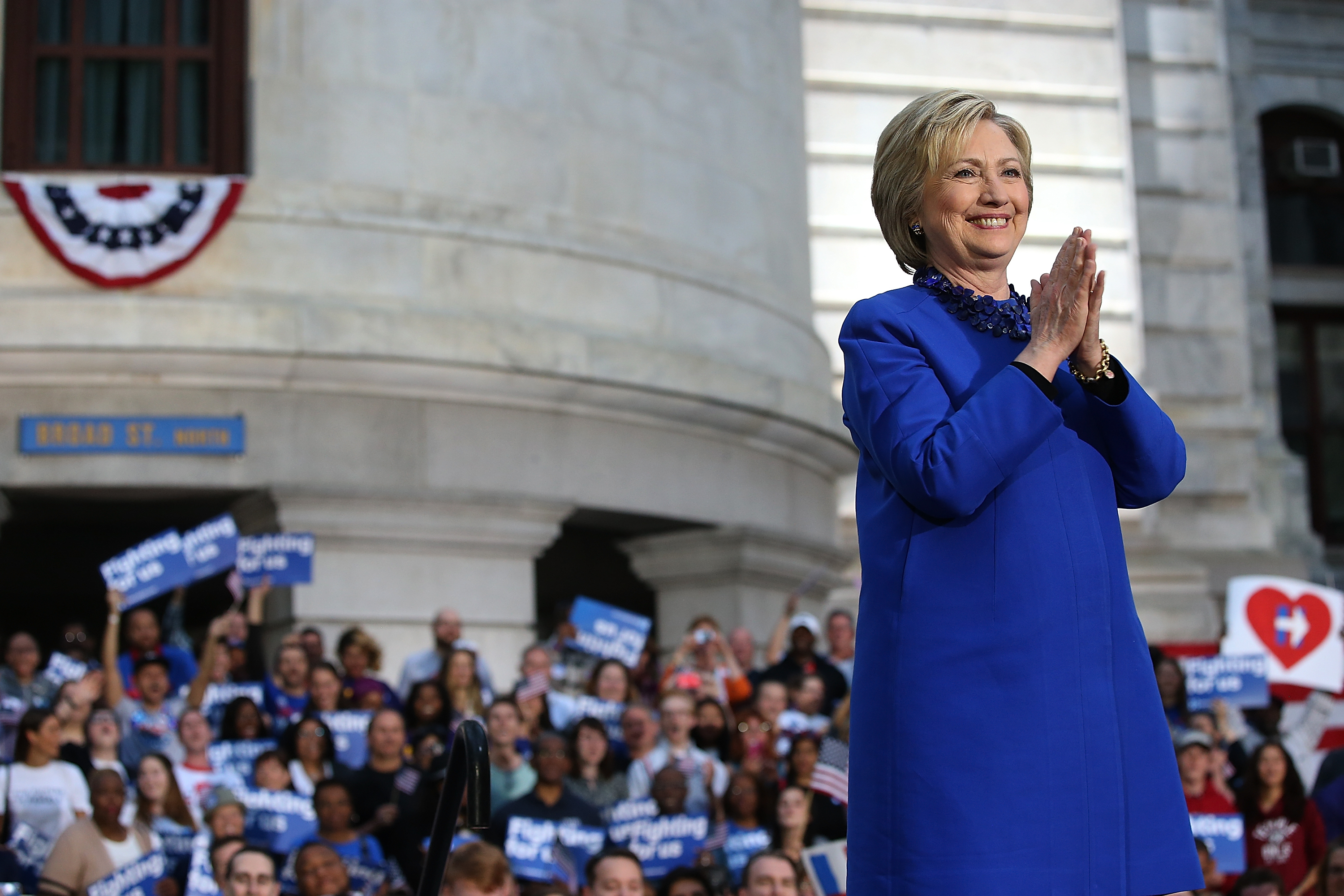 MISHAWAKA, Ind. — As Bernie Sanders vowed Tuesday to stay in the Democratic primary until the last vote is cast, Hillary Clinton revived one of their fiercest disputes from earlier this spring, criticizing the senator for voting "not to provide the funding the auto industry needed."
Since her 16-point victory in New York last week, Clinton has focused far less on Sanders, declining to mention him in many of her speeches. Instead, she's dedicated much of her time on the trail to criticizing Donald Trump and Ted Cruz as "dangerous" and "divisive," and framing Trump as part of the Republican Party.
Clinton raised the subject of the auto bailout during brief remarks at the AM General auto plant, the second of two stops through Indiana on Tuesday. Aides said Clinton will focus on manufacturing ahead of the primary here on May 3. At the stop through AM General, Clinton told the small crowd invited to the Mishawaka company that in Indiana 100,000 jobs are supported by the auto industry and one in five workers are associated with manufacturing.
Sanders' 2008 vote against authorizing the release of Trouble Asset Relief Program funds — funding that was primarily used for Wall Street institutions, but was also directed toward the auto industry — became a point of contention during the Michigan primary in March. (Clinton and Sanders both voted in favor of a separate, failed effort to bail out the auto industry.)
"I voted — and I'll tell you, I'm very happy I did — I voted to provide the money to support the American auto industry," Clinton said to applause. "I don't know where we would be if we'd walked away from the auto industry, as many were urging the government to do. I was against that. My esteemed opponent in this primary — he voted not to provide the funding the auto industry needed. I really believe then and we believe now, we're all in this together. And when one part of our economy — when one group of workers are down — it's in our interest to try to help them get back up."
Clinton also repeated a refrain she's turned to often in the primary against Sanders, casting herself as practical and action-oriented over idealist: "It's not enough to diagnose the problem. You've got to come up with solutions."
"Everybody could have been really upset, really angry, really frustrated and disappointed," she said of the 2008 recession. "I wouldn't blame you. Nobody would. But anger is not a plan."
On Tuesday, before returning to the East Coast for the primaries there, her plan for now entailed a "manufacturing renaissance" for the United States, with billions to bring in new jobs, and the use of tax credits to encourage investment.
–Ruby Cramer in Indiana
Few Republicans Casting A Protest Vote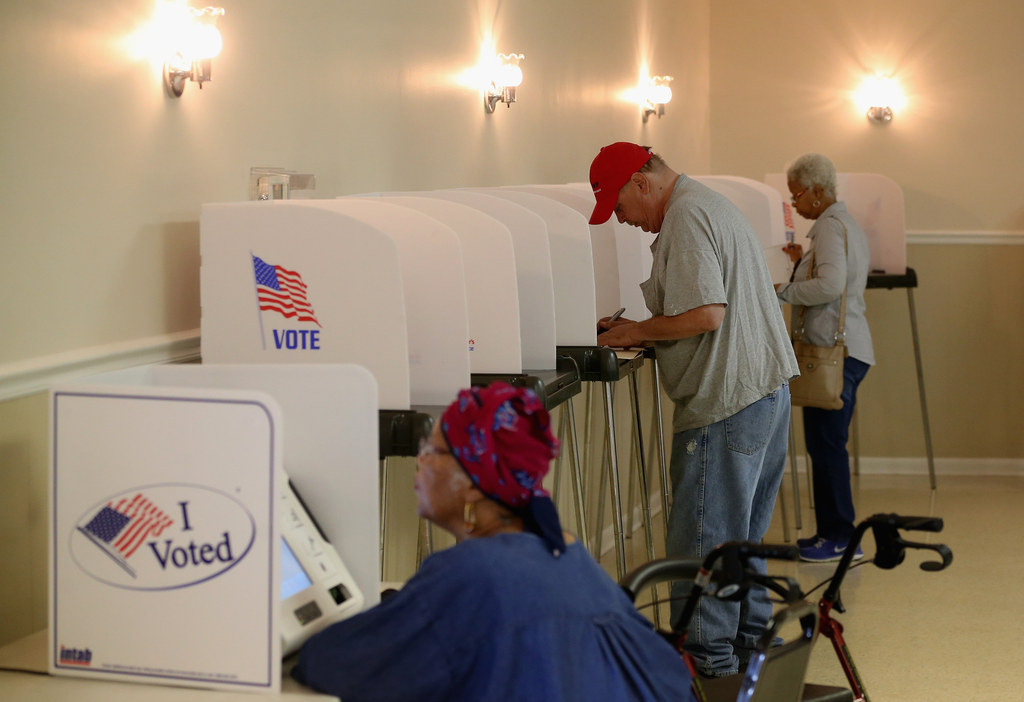 Only a quarter of Republican voters in Maryland and Connecticut are voting for someone because they oppose another candidate, according to an exit poll conducted by The Associated Press and Edison Research.
In Pennsylvania, about 10% of voters said they would be exited to see Ted Cruz or John Kasich win. Over a third want to see a Trump victory.
The exit poll was not conducted in Delaware or Rhode Island, which are also holding primary elections.
About 6 in 10 voters in Pennsylvania also said the race between Cruz, Kasich, and Donald Trump has divided the party, while 7 in 10 say Bernie Sanders and Hillary Clinton have energized the Democratic party.
Few Democrats had good things to say about Wall Street. In the three states polled, 6 in 10 voters said Wall Street hurts the country's economy.
— Mary Ann Georgantopoulos
Eric Trump Says Kasich Should Be Pressured To Drop Out
Donald Trump's son, Eric, said the Republican National Committee should pressure John Kasich to drop out of the presidential race given he is mathematically eliminated from winning the nomination except at a contested convention.
"I wish the Republican leadership would come out and say listen, 'let's stop the nonsense.' Let's take the guy who is 1 and 42, who, the only state he's won is his home state," said Eric Trump on Tuesday.
"You think Reince Preibus and company should be pressuring Kasich to get out?" interjected Kilmeade and Friends host Brian Kilmeade.
"Listen, there is no question," added the younger Trump. "Here is the time when you could ramp up the Republican Party. You could ramp up our internal campaign mechanism. We could start going after Hilary while she is still fighting Bernie, while she is still fighting her own possible indictment. She has real problems, she still has a path to go."
"As a Republican Party for the first time ever in our lives, could we get ahead of the process? Why wouldn't we, so we can humor a guy who is one and forty two, meaning Kasich," he continued. "Or, humor a guy who we are hundreds and hundreds of delegates ahead of without wining any state you need to win in the general election, who is probably is going to finish dead last in all five contests tonight." —Andrew Kaczynski
Sanders Campaign May Reassess Strategy After Tuesday's Votes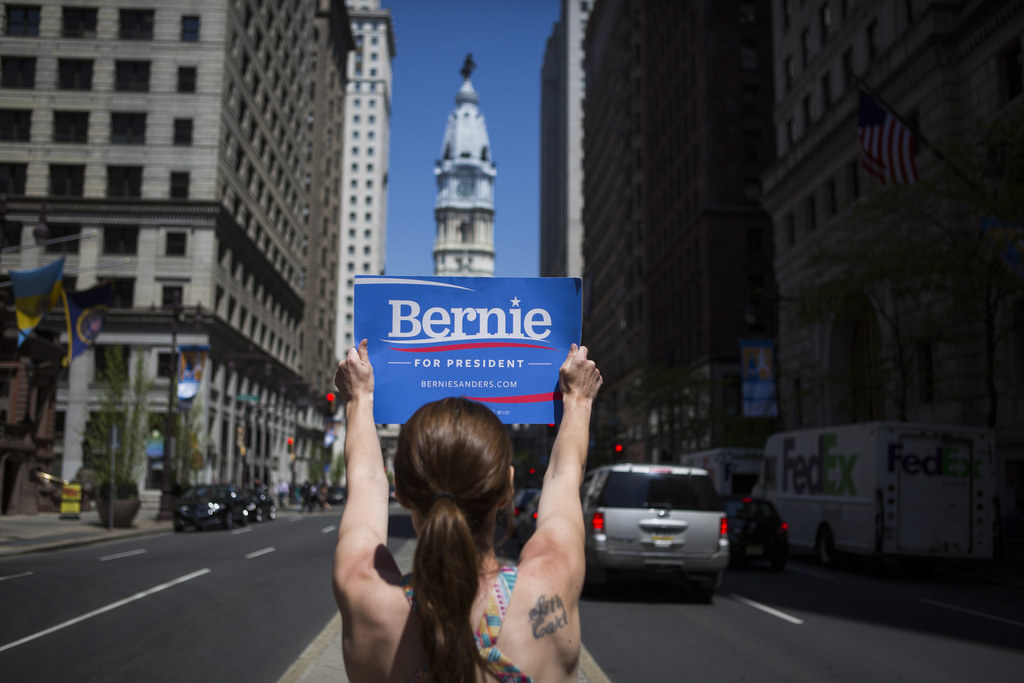 Bernie Sanders and his advisers plan to reassess his campaign strategy following the outcome of Tuesday's crucial primaries, but will not consider dropping out of the race, the New York Times reported.
Senior strategist Tad Devine told the newspaper the campaign would adjust its plans should it become mathematically impossible for the Vermont senator to win the required number of delegates to clinch the nomination.
"If we are sitting here and there's no sort of mathematical way to do it, we will be upfront about that," he said. "If we have a really good day, we are going to continue to talk about winning most of the pledged delegates because we will be on a path toward it. If we don't get enough today to make it clear that we can do it by the end, it's going to be hard to talk about it. That's not going to be a credible path. Instead, we will talk about what we intend to do between now and the end and how we can get there."
The campaign may decide to pick up more delegates in some of the caucus states, or put more people on the ground ahead of the state conventions, Devine added.
"But we have got to make up the difference elsewhere — that's the reassessment," he told The Times.
Devine also insisted that Sanders had decided to remain in the Democratic race well into June, when California and the District of Columbia hold their contests.
"Reassess does not mean that he's not going to be part of this race," he told The Times. "Reassess does not mean that his message, that we think is the most powerful message, is going to change."
— David Mack
Donald Trump's Campaign Chair Agrees: Trump Underwhelms On Specifics
Donald Trump's national campaign co-chair Sam Clovis said on Monday that Trump underwhelms in interviews when asked for specifics because Trump isn't always expecting some of the questions he gets.
"He underwhelms when challenged for specifics," said a host on Boston Herald Radio who said he was supporting Trump but didn't see him giving specific policy prescriptions.
"Right, well I think that you're right," replied Clovis. "I think that there's sometimes, I think that circumstances and interviews — and again it's based as much on my experience as much being part of this campaign — a lot of times there are, you're not always as focused when you sit down in the interviews. And again, I think that those are sometimes you're not really, there are set of questions you're expecting and when those questions don't come, I think sometimes you sit there and say, 'okay, I'm gonna get back to where I'm comfortable and I'll do this.'"
Clovis said besides trade and immigration, Trump would start focusing on the economy.
"As we go further along and the opportunity present themselves, I'll think he'll be able to impress you with his knowledge of those areas," he added.
—Andrew Kaczynski
Bush, Rubio Donors Didn't Rush To Support Ted Cruz In March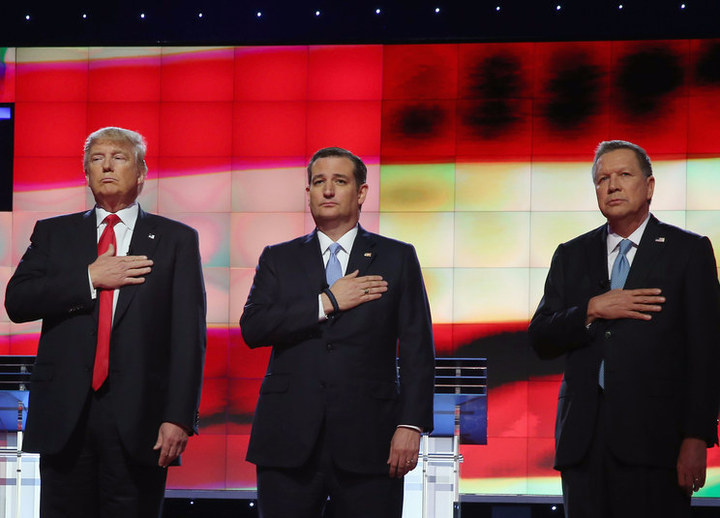 Republican donors have been slow to coalesce around Ted Cruz after Marco Rubio and Jeb Bush dropped out of the presidential primary race, an analysis of Federal Election Commission data by BuzzFeed News shows.
Establishment Republican donors were reluctant to back Sen. Ted Cruz even as he emerged as the top alternative to Donald Trump after key primary wins last month — with just about as many moving to John Kasich, whose path to the nomination is much dicier. Approximately 63 of Bush's campaign committee donors gave to Cruz after the former Florida governor dropped out of the race on Feb. 20, according to a BuzzFeed News analysis of the latest Federal Election Commission reports. Contributions from those donors amounted to just under $100,000 for the Cruz campaign.
Read more here. — John Templon
Unlike Donald Trump, Ted Cruz Says He Has Changed Diapers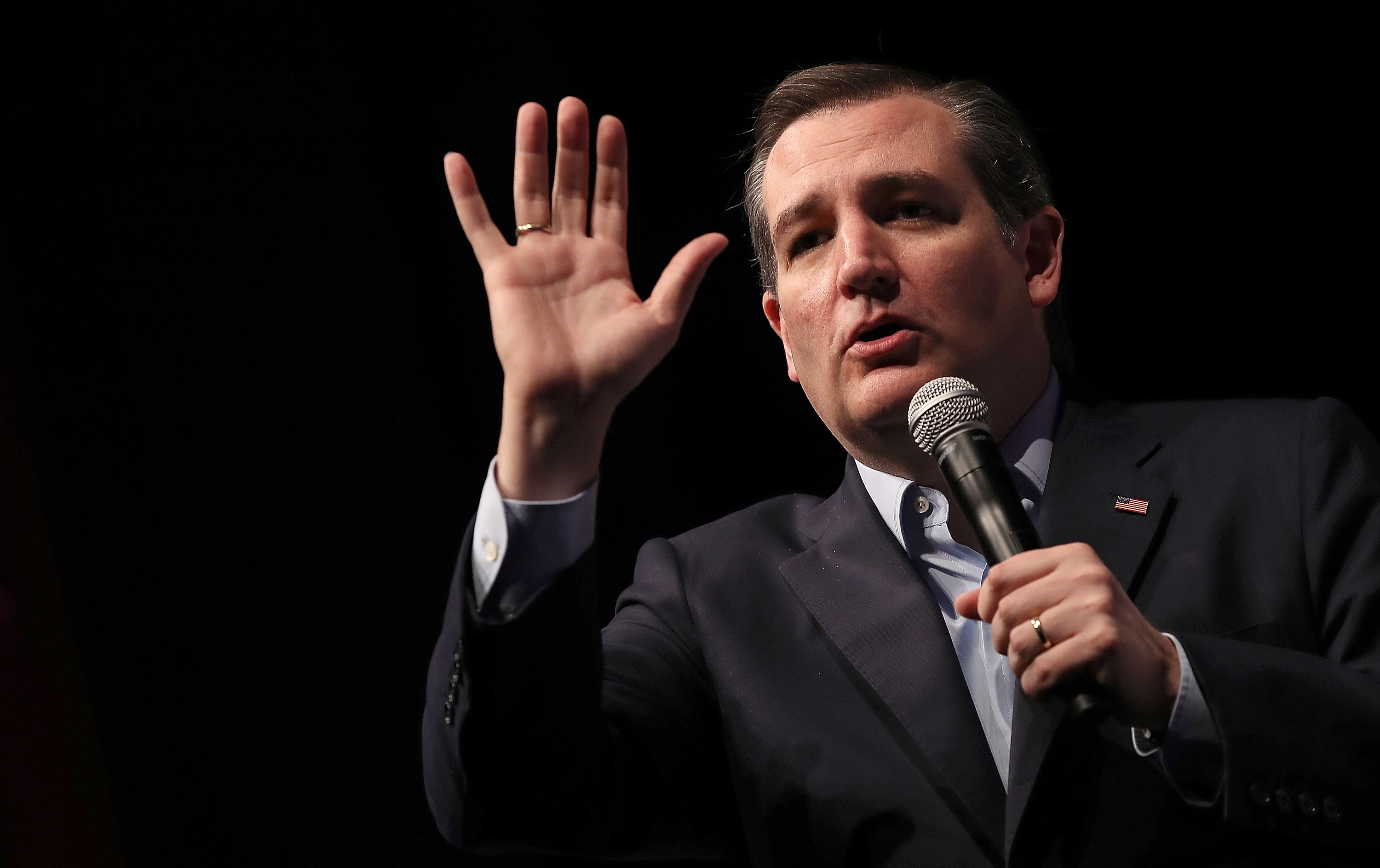 "It's a parent's job," Cruz told Glenn Beck on his radio program. "I can tell you with our girls I changed a lot of diapers, Heidi changed a lot of diapers. When a diaper needs changing whoever's closest jumps on the grenade so to speak."
Read the full story here.
Hillary Clinton's New Favorite Line: "Donald Trump And Ted Cruz"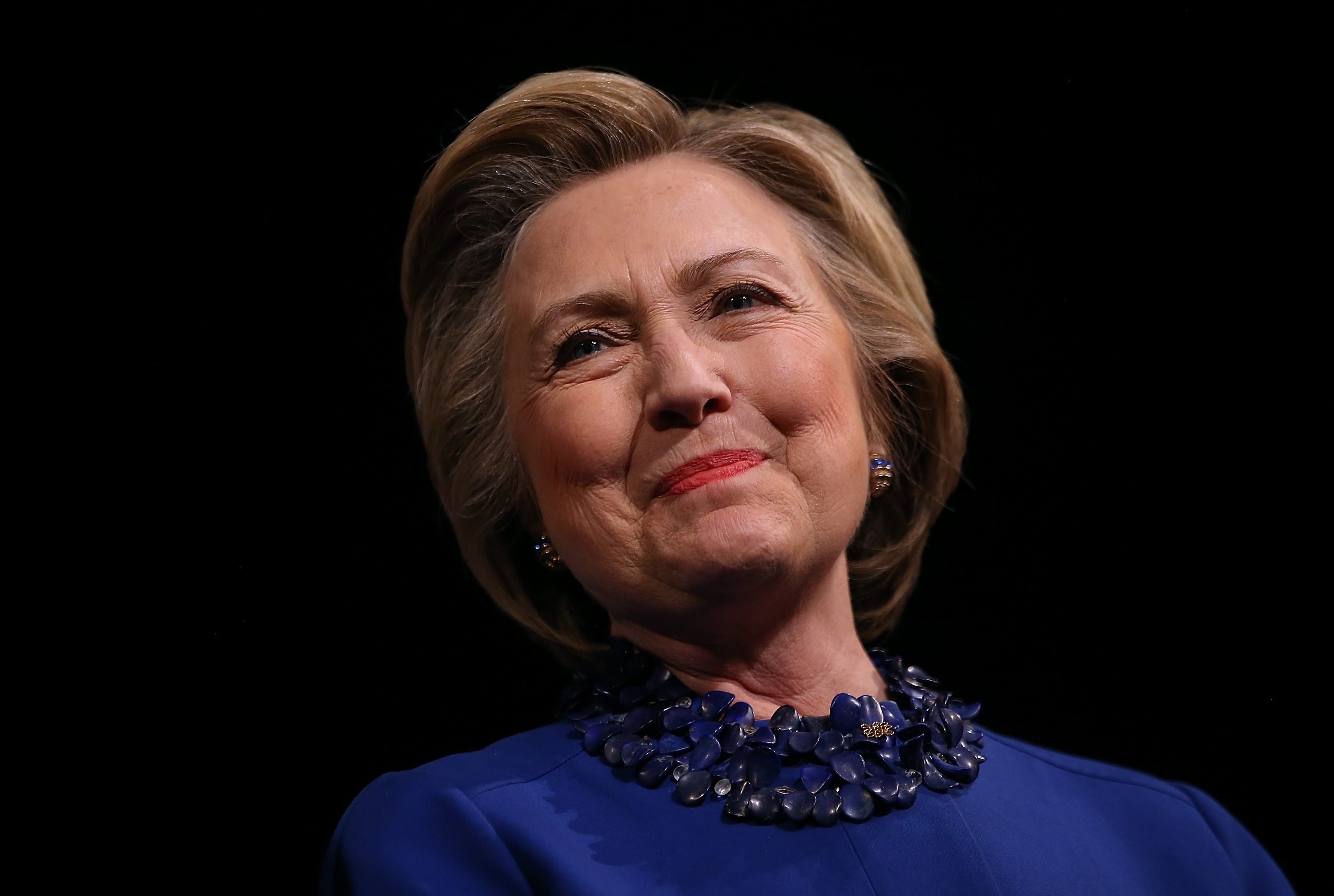 PHILADELPHIA — She mentions their names interchangeably. She describes their campaigns, their rhetoric and proposals, as equally offensive and equally dangerous. And she warns against them both in the general election.

"Here's what I want you to understand about Trump and Cruz…"

"When I hear Donald Trump and Ted Cruz talk about international issues…"

"I will not let someone like Donald Trump or Ted Cruz say what he is saying…"

It's a subtle but significant shift for Hillary Clinton as she moves to secure the Democratic nomination and begin the work of defining the Republican opponents more broadly. In the days leading up to last week's New York primary, where her 16-point victory came as a major setback to Bernie Sanders, Clinton began incorporating Ted Cruz into lines she's been using against Donald Trump for weeks. On the night she won New York, she used Cruz's name for the first time in a primary night speech. And in the days since, Clinton has hardly mentioned one candidate without the other.
—Ruby Cramer
Trump: Kasich's Eating Habits Are "Disgusting" And The Cruz Alliance Is "Pathetic"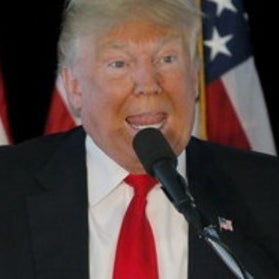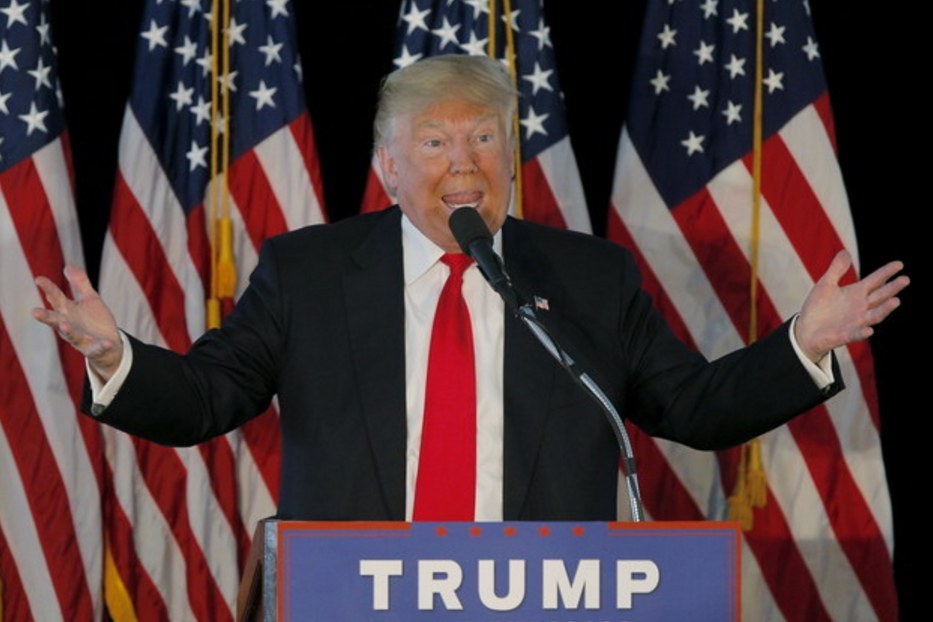 At a rally in Rhode Island, Trump slammed the Cruz–Kasich alliance — in which the two campaigns plan to cede key upcoming states to each other in an effort to stop Trump from winning enough delegates to get the nomination — that was announced Sunday night.
Trump called the alliance "a collusion" that showed how weak and "pathetic" the candidates are.
"When I heard [the announcement] I loved it," he said. "It shows they're just getting killed."
Trump also mocked Kasich's eating habits, telling the crowd, "I have never seen a human being eat in such a disgusting fashion."
"This guy takes a pancake, and he's shoving it his mouth," Trump told the cheering crowd. "It's disgusting."
Trump later added, "I never saw a guy eat like this. I told my son not to watch… 'little bites, little bites.'"
Cruz And Kasich Announce They're Making A Deal To Stop Trump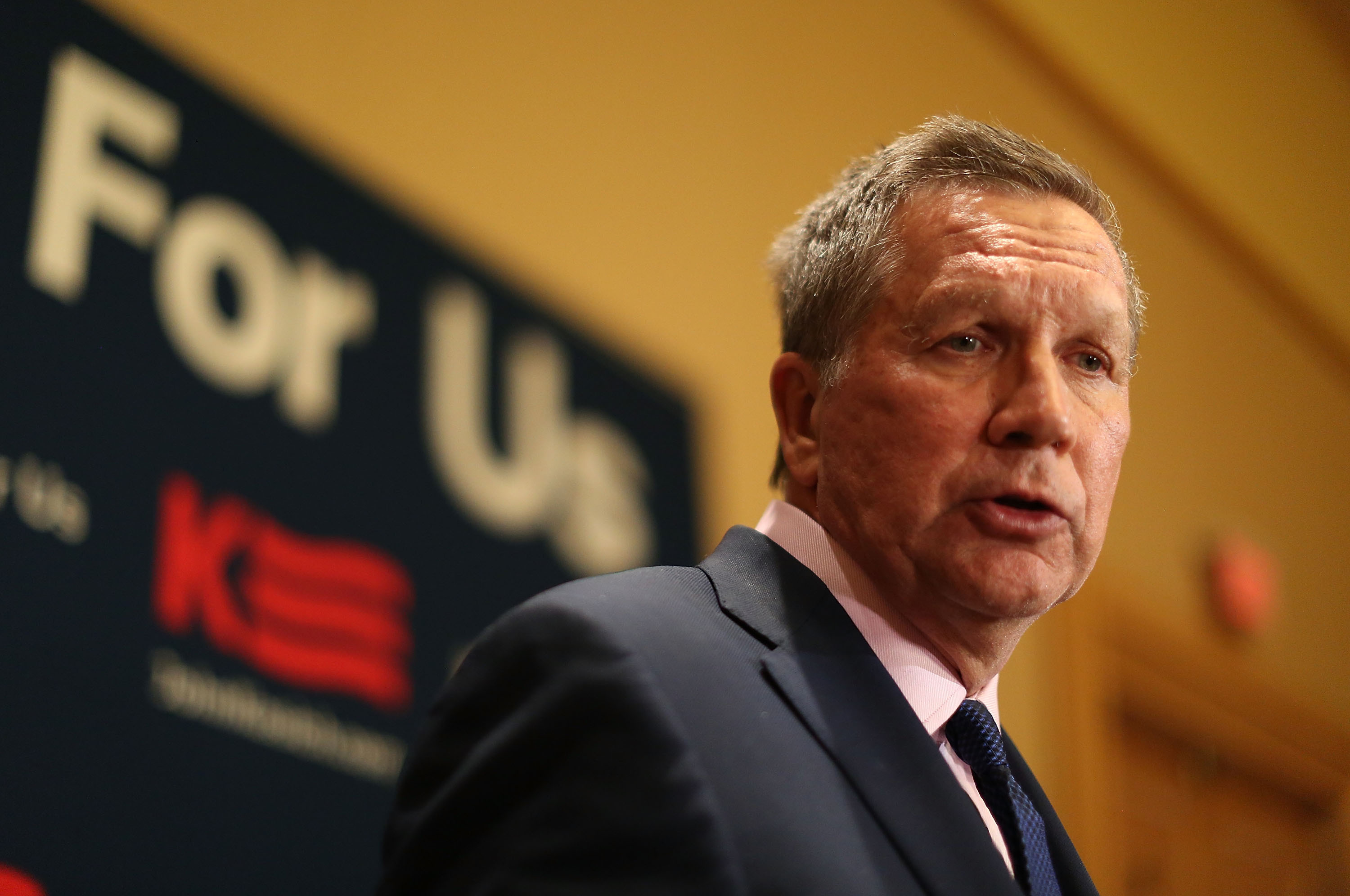 WASHINGTON — The Cruz and Kasich campaigns announced on Sunday that they are ceding key upcoming states to each other in an effort to stop Donald Trump from winning enough delegates to clinch the nomination.

The statements announcing the coordination came minutes apart on Sunday night, both saying that Ted Cruz will focus on Indiana and allow John Kasich to focus on Oregon and New Mexico. The campaigns are also encouraging allies to do the same. The coordination between the two campaigns marks a new level of anti-Trump activity — and is a tacit acknowledgment that neither of Trump's competitors have a path to win the nomination outright.
DNC Convention Chair: We Won't Have "Chaos" Like The Republicans
WASHINGTON — The chair of this summer's DNC convention is already laying out her case against Republicans — and their convention in Cleveland. "We do not subscribe to the divisiveness that we've seen on the other side," the Rev. Leah Daughtry said in a phone interview with BuzzFeed News. "They've talked about Mexicans being criminals, they [discriminate against] Muslims, and have said women's health care choices that are legal ought to be punished. That does not reflect who we are as a nation and a people, but certainly not who we are as a party." "What the convention will do, I believe is contrast for the American people the chaos in Cleveland," she said. "Then what they will see in Philadelphia is a party of diversity and diverse opinion standing together united behind a vision for America that moves us forward as opposed to taking us backward." Women make up more than 60% of the DNCC's staff, and almost 1 in every 5 staff members is a black woman, according to an aide for the convention. "I'm very pleased that when I walk through the halls of the convention offices I see every segment of the Democratic Party represented," she said.
—Darren Sands
Democrats Pump Millions Into Pennsylvania Primary — But Their Big Bet Might Not Pay Off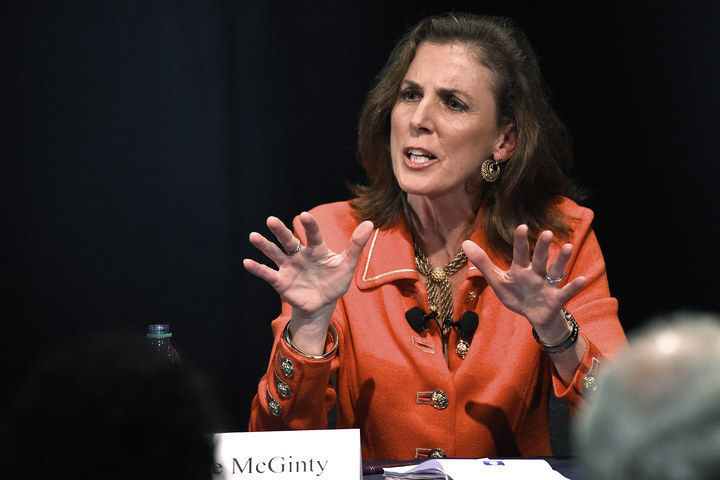 PHILADELPHIA — Less than a week before the tight Senate Democratic primary in Pennsylvania, Katie McGinty received a gift at a campaign event: bright red boxing gloves. McGinty, a former state secretary for environmental protection who goes to a boxing class once a week, on paper has it all for her Pennsylvania Senate bid — a carefully crafted message focused on the middle class, a personal story of growing up as the ninth of 10 children and going on to work in the White House and governor's office, about $4 million in ad spending on her behalf, and the full weight of the party and unions behind her, including rare primary endorsements from President Obama and Vice President Biden. And yet the Democratic Party's biggest 2016 bet has been forced to run like an underdog, throwing punches at a more resilient than expected frontrunner, Joe Sestak, in the final days of a race that will test the power of the Democratic establishment. "In this primary, this is a significant difference between myself and Congressman Sestak," McGinty told a group of retirees Tuesday afternoon during a roundtable centered around preserving Social Security and Medicare. "The congressman has spoken and worked hard to try to sum up support for something called Simpson-Bowles, and Simpson-Bowles included very dramatic cuts to Social Security and Medicare and would have increased the retirement age to 69. That I think about a lot."
—Tarini Parti