A doctor was killed and several others wounded Friday at a busy hospital in New York City after a man wearing a white lab coat opened fire before killing himself, officials said.
The shooting happened just before 3 p.m. at Bronx-Lebanon Hospital. A female doctor was killed and six other people were wounded, Police Commissioner James O'Neil said.
Among the injured were "several doctors who are fighting for their lives," New York Mayor Bill de Blasio added.
On Saturday, officials identified the doctor who died as 32-year-old Tracy Sin-Yee Tam. Police said that five of the injured victims were in stable condition Saturday, and that one doctor who was injured remains critical.
Officials did not name the suspected shooter, but multiple news outlets, citing police sources, identified him as Henry Bello. O'Neill described the suspect as a former employee of the hospital who was wearing a white lab coat.
Police eventually found the shooter on the 15th floor, "dead of an apparent self-inflicted gunshot wound," O'Neill said. An assault rifle was found nearby, police said.
Bello blamed the hospital for scuttling his career, according to an email he sent to the New York Daily News just hours before the shooting.
"This hospital terminated my road to a licensure to practice medicine," Bello wrote. "First, I was told it was because I always kept to myself. Then it was because of an altercation with a nurse."

Bello said one doctor with a grudge encouraged employees to submit complaints about him and accused another of keeping him from getting a medical permit.
Commissioner O'Neill said the hospital's fire alarm system was triggered during the incident, "apparently due the suspect's attempt to set himself on fire."
De Blasio described the shooting as an "isolated incident" and a "workplace matter" with no apparent connection to terrorism.
"This was a horrific situation unfolding in the middle of a place that people associate with care and comfort," he said. "A situation that came out of nowhere."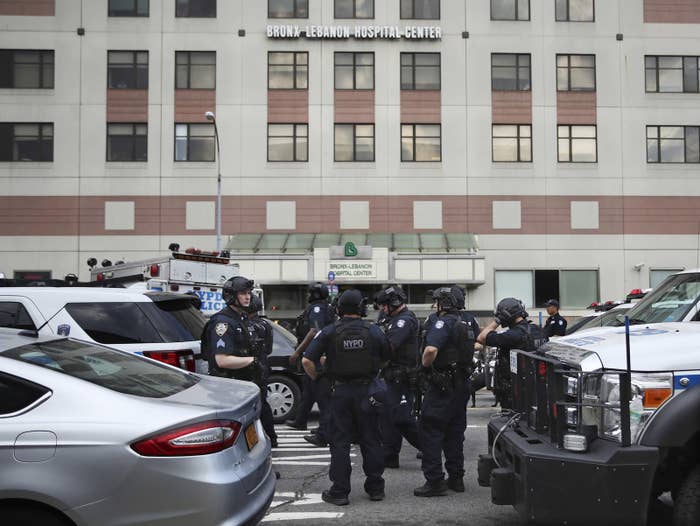 The scene that unfolded as a result of Bello's workplace frustrations was chaotic.
Wilfredo Ramirez, a patient at the hospital, told BuzzFeed News that after hearing the gun shots he saw a security guard helping a victim who appeared to be a younger doctor.
"I seen the doctor covered in blood, shot," Ramirez said.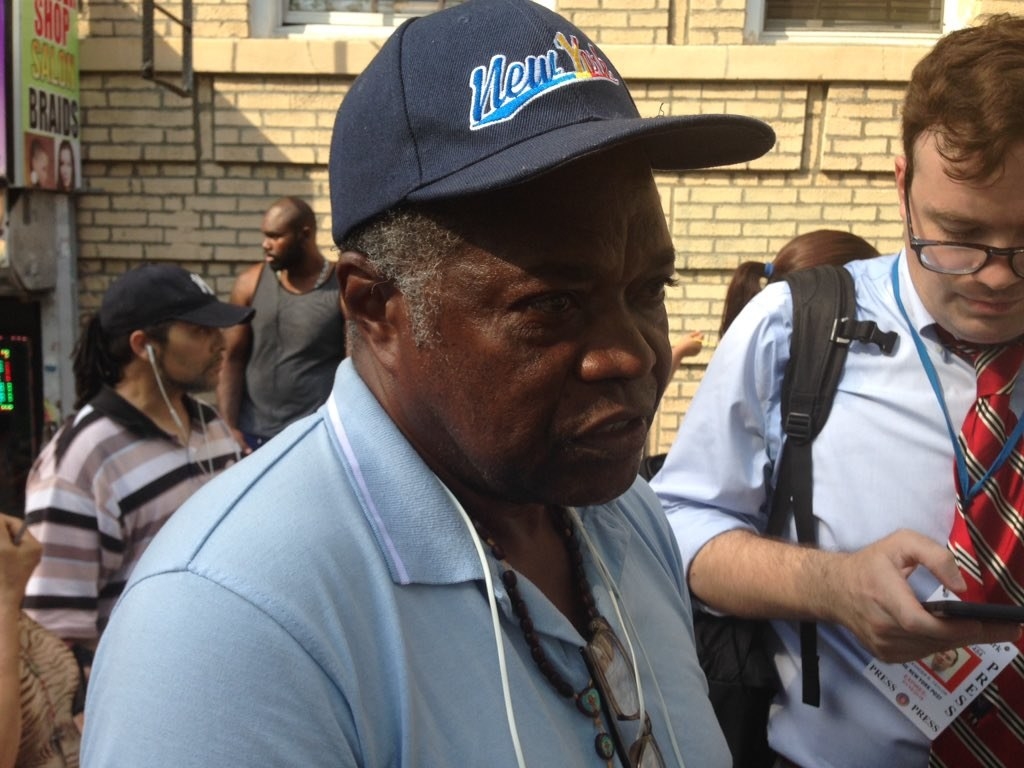 Leonard Oyola, who was also in the building, told BuzzFeed News he heard a security guard yell "code silver" and that he let a nurse "covered in blood" use his phone.
Shortly after the incident began, a hospital spokeswoman told BuzzFeed News that "everything is on lockdown." Images purportedly taken at the hospital showed what appeared to be people barricaded inside rooms.
Gerald Perez told NBC 4 that he too was in the hospital when the shooting began, left, then watched as other people fled the building.

"They were running away from the hospital," Perez said. "They were trying to get out, so I knew something was wrong."
Bronx resident Garry Trimmball told BuzzFeed News that his wife Denise Brown works at the hospital as a patient ambassador. Trimmball learned of the shooting when Brown called him to say that "somebody is in the hospital going around shooting people."
"I was home sleeping, my wife called me, she said she was scared," Trimmball said. "I told her, 'Get off the phone, be quiet, stay low, and wait until police come.'"

Trimmball said his wife was still hiding in her office hours after the shooting.
Early Friday evening, employees waiting outside the hospital told BuzzFeed News that the evacuation was "mayhem," with "people running in every direction."
Images from the scene showed police escorting people to safety.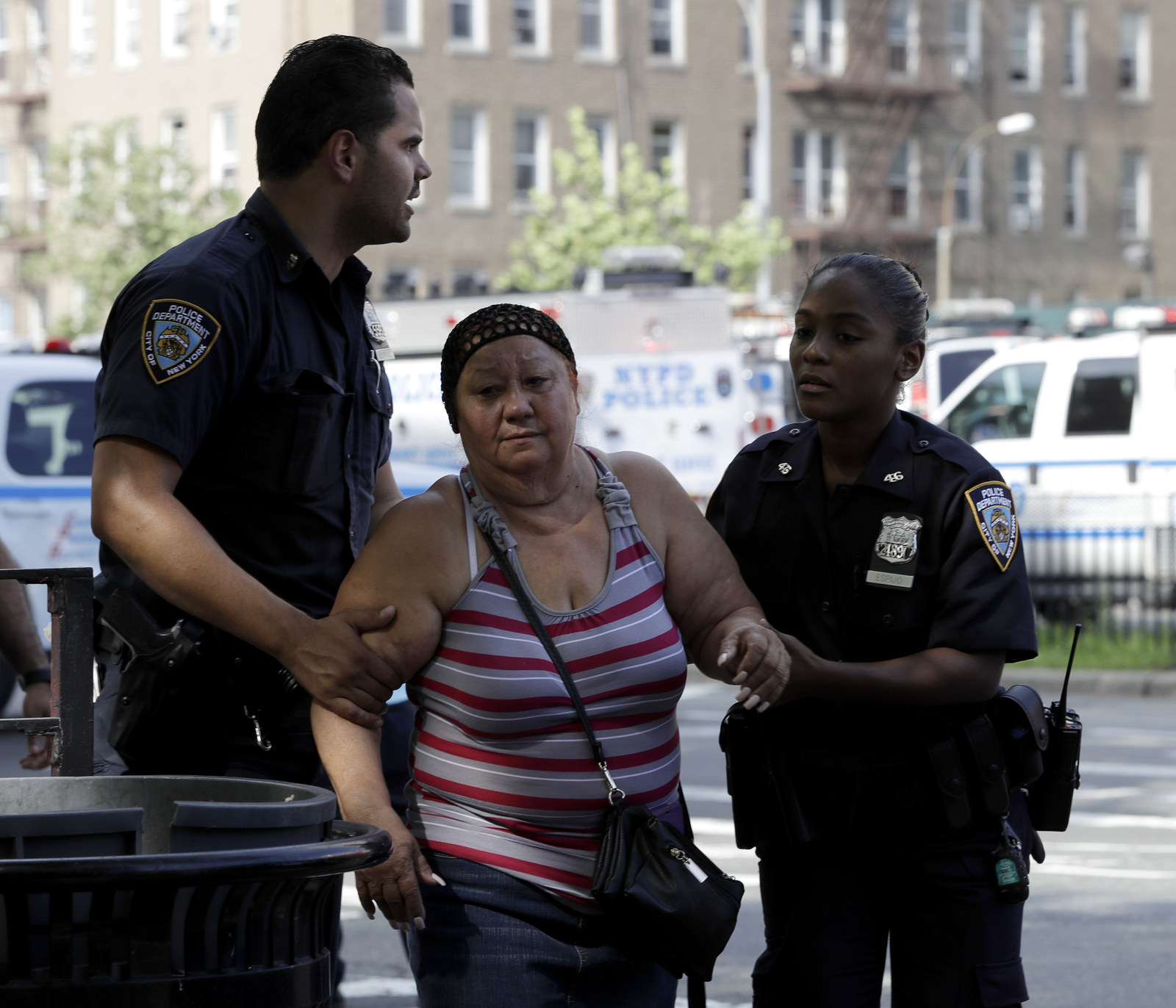 Other images from the scene showed officers apparently taking cover behind a truck outside the hospital.

Bronx-Lebanon Hospital has operated for more than 120 years and describes itself as the largest voluntary, not-for-profit health care system serving the South and Central Bronx.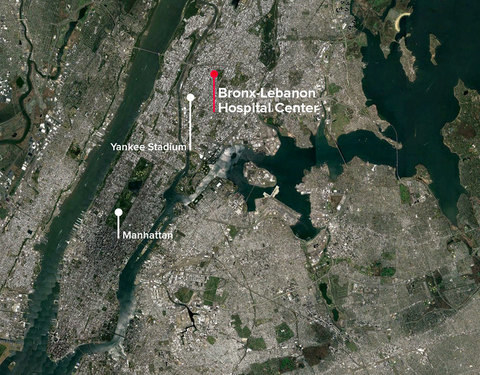 Details about Bello's background began to emerge in news reports Saturday, revealing a short-lived medical career and a history of criminal charges.
According to New York State Education Department records obtained by the Associated Press, Bello graduated from Ross University, a medical school located in the Caribbean, in 2010, and was issued a permit to practice as an international medical graduate in 2014, the same year he began working at Bronx Lebanon Hospital. The permit expired in 2016.
In 2004, Bello pleaded guilty to unlawful imprisonment after a 23-year-old woman told police in New York that he grabbed her on the street and tried to penetrate her through her underwear, according to a New York Times report. A felony sex abuse charge in that case was dropped. Bello was also arrested in 2009, but that case was eventually sealed.
Errol Schneer, vice president of Bronx-Lebanon, told the Times that the hospital was not aware of Bello's criminal record.
BuzzFeed News reporter Mike Hayes reported from the scene. Additional reporting by Jim Dalrymple II and Claudia Koerner in Los Angeles and Mary Ann Georgantopoulos in New York.