* The remaining Republican candidates for president engaged in a feisty debate after Donald Trump racked up his third straight primary election win on Tuesday.
* The debate came just before Super Tuesday, when roughly a dozen states will hold GOP primaries or caucuses. The results there will likely narrow the field even further.
* The two big dynamics at play were Marco Rubio and Ted Cruz trying to thwart Trump's momentum.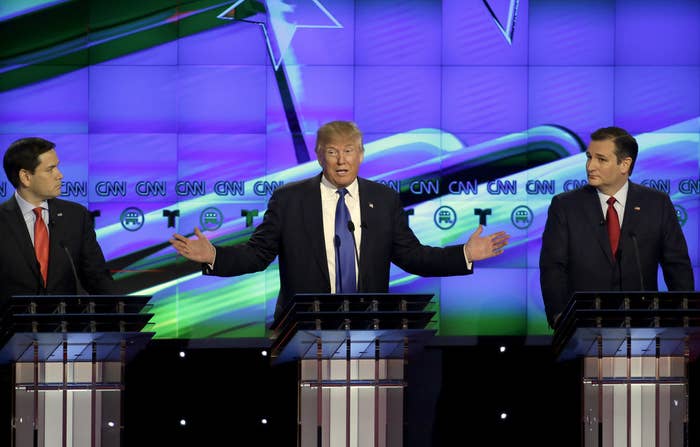 Republican presidential candidates Marco Rubio and Ted Cruz came out strong Thursday night against frontrunner Donald Tump during the last debate before Super Tuesday.
On everything from international security and immigration, to Obamacare and personal finance, Cruz and Rubio went after Trump in an effort stymie his momentum in the primary.
Seeking to position himself as the stronger Trump alternative, Rubio said during his opening statement that Republicans had to embrace a more moderate message.
"Now we have to decide if we are still that kind of party and still that kind of movement, or if we're simply going to become a party that preys on people's angers and fears," he said.
From there, it devolved into a series of shouting matches.
Trump often found himself at the center of the stage squabble, defending his business and political records under attack from the field, particularly Rubio. But as he often does, Trump only doubled down.
When CNN's Wolf Blitzer asked him to respond to recent comments made by the Mexico's former president that there was no way his nation would pay for a border wall, Trump was undeterred in his pledge to build one.
"I will, and the wall just got 10 feet taller, believe me," he said to cheers.
The case against Trump from the other candidates has taken on a more feverish pitch after the former reality television star won the primary contests in New Hampshire, South Carolina, and Nevada.
Just 30 minutes into the debate, the heated exchanges between Rubio and Trump had devolved into accusations that the other was outright lying.
"I guess there's a statute of limitation on lies," Rubio quipped at one point in response to a Trump denial.
Trump's momentum has rallied the GOP establishment around efforts to dethrone his status as the frontrunner, believing he would be unelectable in the general election.
A more confrontational approach to Trump would be a departure from months of a comparatively hands-off approach, which has prompted louder criticism from a party establishment nervous about a Trump nomination.
The effort to find a more moderate candidate has become more earnest as March 1 looms closer and roughly a dozen states hold their GOP primaries. A Trump sweep could make him unstoppable, but strong showings by either Rubio or Cruz could bolster their case a for being the strongest alternative.
Rubio and Cruz took sharp aim at Trump on immigration, calling him out on his past statements and challenging him to defend past business practices that included using foreign workers.
"My mom was a maid at a hotel, and instead of hiring an American like her, you have brought in over a thousand people from all over the world to fill those jobs instead," Rubio said.
The senator was referring to Trump hiring foreign guest workers in the past at his Mar-a-Lago resort in Florida.
But Trump shot back.
"I'm the only one on the stage that's hired people," Trump said to Rubio. "You haven't hired anybody."
"Yes, you've hired a thousand from another country," Rubio quipped.
Cruz also engaged Trump, noting that while he was fighting the "Gang of Eight" amnesty bill, the former Celebrity Apprentice star was "firing Dennis Rodman."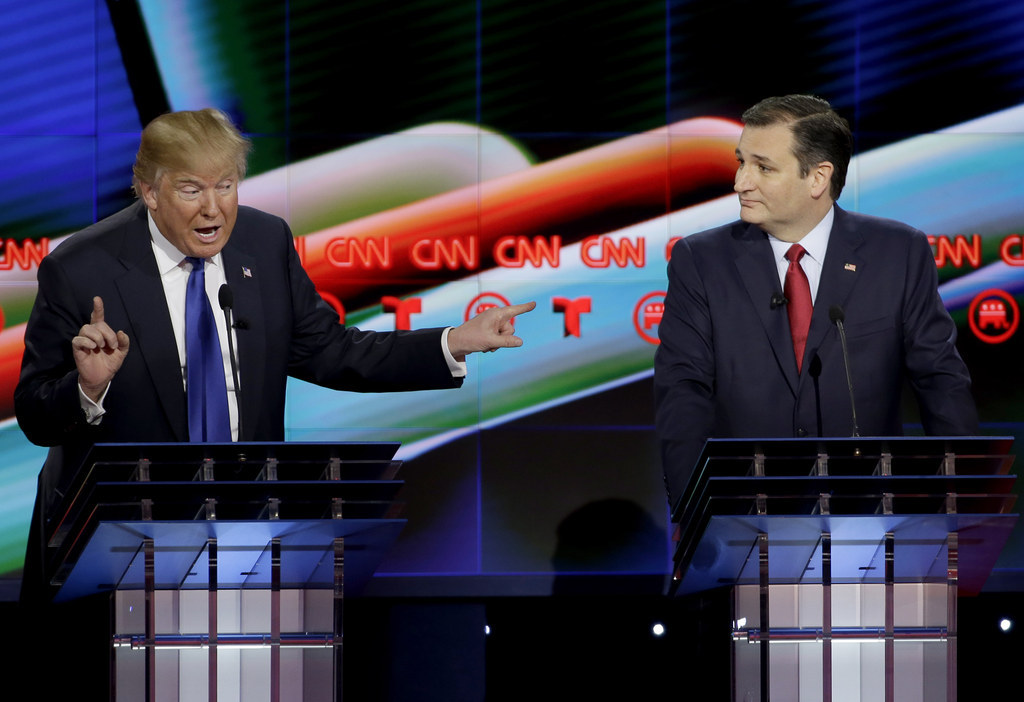 One filling the Supreme Court vacancy left by the late Justice Antonin Scalia, the candidates sparred over their conservative and religious credentials to nominate the right person.
"The Court is hanging in the balance, we are one justice away," Cruz said. "I think the voters are assessing everyone on this stage."
He went on to argue that more than half the previous Republicans on the bench "have been a disaster."
"Who do you know beyond a shadow of a doubt, every justice i nominate will defend the bill of rights for my children and yours," Cruz said.
However, Trump pointed out that Supreme Court Chief Justice John Roberts was strongly supported by Cruz, and yet, "we ended up with Obamacare."
"I'm sure Ted feels bad now," Trump said. "Roberts was a disaster."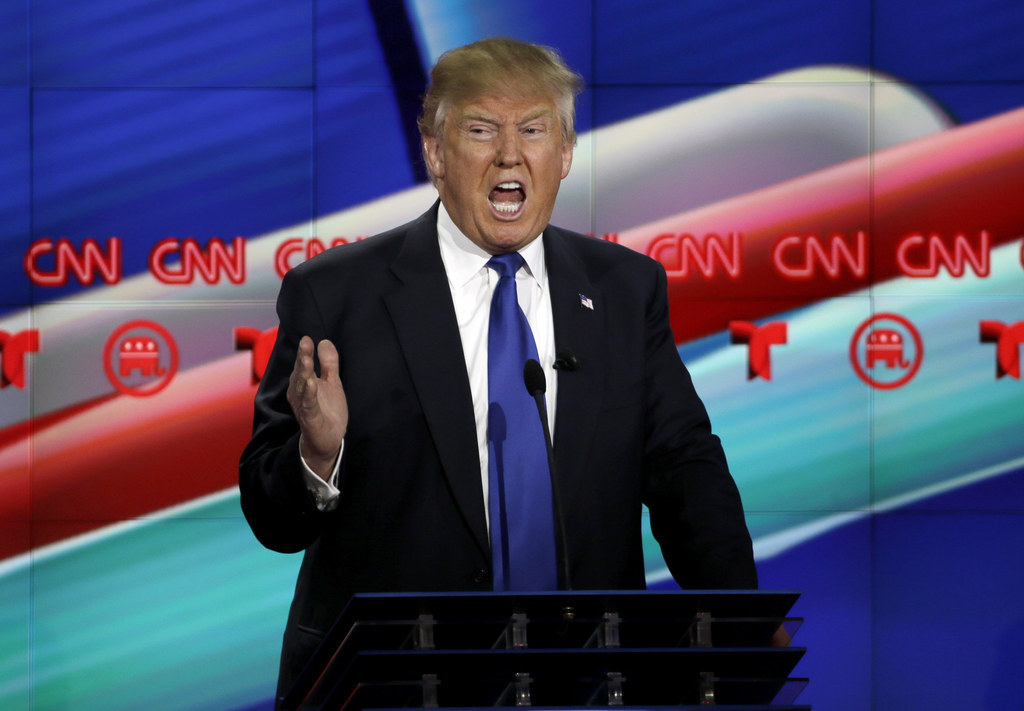 On Obamacare, the candidates were in agreement that it had to go, at least in its current form.
But that set up another Trump-Rubio pit fight after the business mogul pledged to "get rid of the lines around states" to free up interstate competition, but keep coverage open to those with pre-existing conditions.
"What is your plan? You're going to draw lines around the states? What does that mean?" Rubio said.
"When you get rid of the lines, it brings in competition. They'll compete, and it will be a beautiful thing," Trump responded
"That's the only part of the plan? Just the lines?" Rubio challenged.
"You have many different plans," Trump said. "You'll have so many different plans."
That prompted Rubio to take a jab in reference to the criticism her got at the last debate in his row with Chris Christie.
"Now he's just repeating himself," Rubio said with a smile as the crowd cheered.
Cruz also took aim at Trump's position, accusing him of advocating for "socialized healthcare" for decades.
On his finances, Trump addressed comments made by former presidential candidate Mitt Romney that there could be a "bombshell" in his tax returns.
"I want to release my tax returns, but I can't when I'm under an audit, a routine audit," Trump said.
Cruz and Rubio seized on the comment, saying the fact that Trump was being audited was all the more reason for him to release his returns. Both said they planned to release their own returns in the coming days.
"He can do it tomorrow," Cruz said of Trump's claims about his returns. "He doesn't want to do it because presumably there's something in there that's bad.
Trump, however, wouldn't budge, saying it didn't make sense to release his returns while in negotiations with the IRS.
"It's very unfair," he said. "Because of the size of my company, which is very, very large, I'm being audited."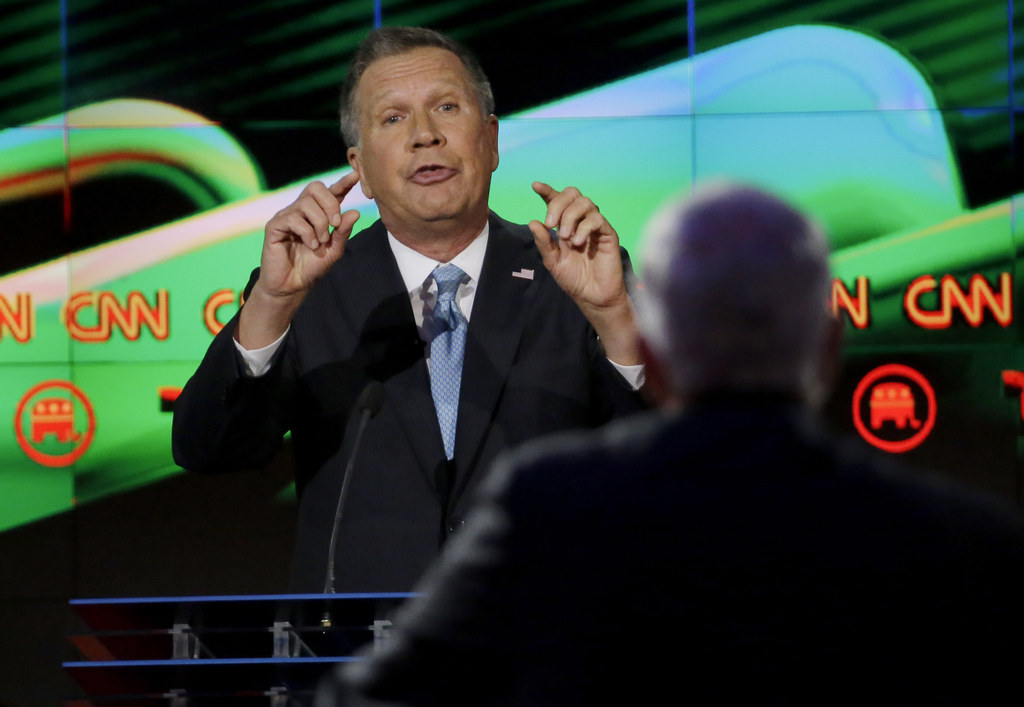 The candidates also addressed international security, including ongoing Israeli Palestinian conflict or the threat posed by North Korea.
In typical fashion, the candidates spent a lot of time trying to best each other on their pro-Israel credentials and their support for maintaining a strong alliance.
However, Trump, feathering his acumen as a business negotiator, said he would not take "big big sides" in order to get a good faith deal.
"With that said, i am very pro-Israel," he said.
Cruz pushed back, though, saying "the notion of neutrality is moral relativism.
"I have over and over again led the fight to defend Israel," he said.
Rubio also took a jab at what he framed as Trump's flippant approach.
"It's not a real estate deal when you're dealing with terrorists," he said.
As for North Korea, there was wide agreement that Kim Jong-un had to go, or at least be discouraged with by a build up in military installations in neighboring countries.
Asked if would risk dragging the U.S. into a military conflict to remove the dictator, John Kasich said he was opening to taking advantages of any opportunity.
"It would depend on exactly what was happening, but if there was an opportunity to remove the leader of North Korea….you can't just keep kicking the can down the road."
The field was adamant that Apple should work with the FBI to gain access to the iPhone used by one of the San Bernardino terrorists.
Apple has insisted it will fight a federal court order to create a way to unlock the phone's encrypted data, saying it will set a dangerous precedent and degrade consumer protections. A growing number of tech giants are backing Apple's position.
But the candidates roundly rejected that position.
"[Apple's] brand is not superior to the security of the United States of America," Rubio said.
Related campaign coverage from BuzzFeed News: