More Than 200 Arrested In New York In Second Night Of Eric Garner Protests
Thousands of demonstrators took to the streets on Wednesday and Thursday nights to protest a grand jury's decision to not indict an NYPD officer who killed an unarmed black man with a chokehold. The protests have spread around the nation.
What We Know So Far
More than 200 protesters were arrested after thousands amassed in New York City, flooding Times Square, the Brooklyn Bridge, and Union Square. Here's BuzzFeed News' live coverage.
Mayor Bill de Blasio and Police Commissioner Bill Bratton announced plans to retrain roughly 22,000 officers on the foundations of policing and better techniques.
The protests were sparked after a grand jury in Staten Island decided not to indict a police officer who put Eric Garner in a chokehold, contributing to his death.
The protests have sparked similar demonstrations around the nation.
Here's the video of the chokehold.
Updates
NBC News reports that the grand jury didn't consider certain charges:
Here was the scene at a die-in a Columbia University last night: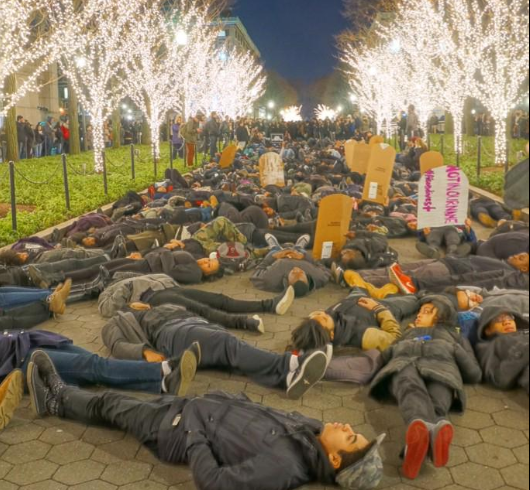 On Thursday's Daily Show, Jon Stewart was outraged that the person who shot the Eric Garner video was indicted, but the officer who applied the chokehold wasn't.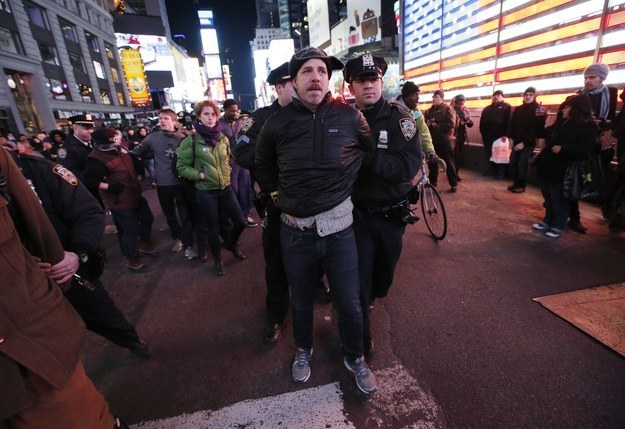 More than 200 people were arrested in New York City Thursday evening into Friday morning in the second night of protests, the New York Police Department said.
Demonstrators shut down Canal Street, the West Side Highway, and the eastbound lanes of the Brooklyn Bridge. They also amassed in Times Square, Union Square, and Foley Square near police headquarters.
---
This is a developing story. Check back for updates and follow BuzzFeed News on Twitter.
Reporting by Nicolás Medina Mora, Michael Rusch and Tom Namako.