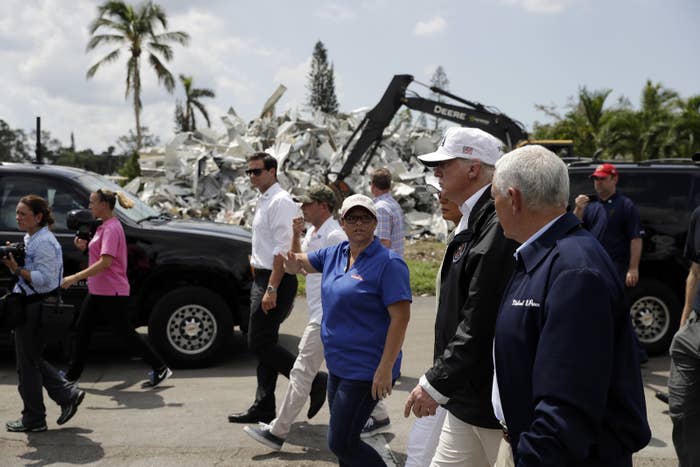 Here's what is happening:
Hurricane Irma wreaked a path of destruction, devastating portions of South Florida and the Keys, causing millions to lose power across the state, and bringing flooding to a widespread area.
Storm surge flooding in Jacksonville, Florida, surpassed the record set in 1965 during Hurricane Dora, the National Weather Service said.
FEMA said that as many as 15 million people at one point were without power. It could take more than 10 days for some areas to have it restored.
Florida officials said the Keys are in a "humanitarian crisis." The National Guard is conducting rescue missions there.
The storm prompted President Trump to declare states of emergency for Florida, Puerto Rico, and the US Virgin Islands, as well as Georgia and South Carolina. Trump is expected to visit Florida on Wednesday.
Caribbean islands experienced widespread damage, with the premier of the British Virgin Islands describing the scene as being like a bomb went off.
At least 37 fatalities were reported across the Caribbean as of Monday, with deaths in St. Martin, Sint Maarten, Barbuda, Puerto Rico, Haiti, the US and British Virgin Islands, Barbados, and Anguilla. Eighteen deaths in Florida have been blamed on Irma. Officials also confirmed at least two storm-related deaths in Georgia, and four in South Carolina.
BuzzFeed News reporters Amber Jamieson, Lissandra Villa Huerta, Andrew Kimmel, and Danny Menendez are reporting from across south Florida.
For information on how to donate and help hurricane victims, go here.
The storm comes just more than a week after Harvey blasted into the Texas coast, causing dozens of deaths and historic flooding.
Trump says he didn't know Category 5 hurricanes existed until Irma
President Trump made a series of misstatements about recent hurricanes Thursday, while also revealing that prior to Irma he was unaware of the existence of Category 5 storms.
Trump made the comments at a White House state dinner, claiming that Irma "hit the [Florida] Keys with a, it was a Category 5." The hurricane was actually a Category 4 storm when it made landfall in the Keys.
Trump added that he hadn't previously known about the most severe hurricane classification.
"I never even knew a Category 5 existed," he said.
In regard to Hurricane Harvey, Trump said Texas was swamped "with the largest amount of water anybody has ever seen." And of Irma, he claimed Florida "got hit with the strongest winds ever recorded."
While Harvey did bring record-breaking rainfall to Texas, other storms — including Hurricane Carla, which slammed parts of Texas in 1961, saw much higher storm surge than Harvey — 22 feet versus 12 feet.
Irma also did not have "the strongest winds ever recorded." Instead, the strongest non-tornado winds occurred in 1996 when Tropical Cyclone Olivia reached Australia and gusted to 253 mph, according to the UN's meteorological agency.
Hurricane Allen, in 1980, holds the title for the strongest Atlantic hurricane on record with maximum sustained winds reaching 190 mph, before making landfall in Texas.
By contrast, Irma's peak sustained maximum winds speed reached 185 mph, according to the National Hurricane Center, but had weakened to 130 mph when it made landfall in the Florida Keys.
Aside from his comments on the storms, Trump praised first responders, saying they did an "A plus job" in Florida.
— Jim Dalrymple II
President Trump says hurricanes Irma and Harvey have not changed his views on climate change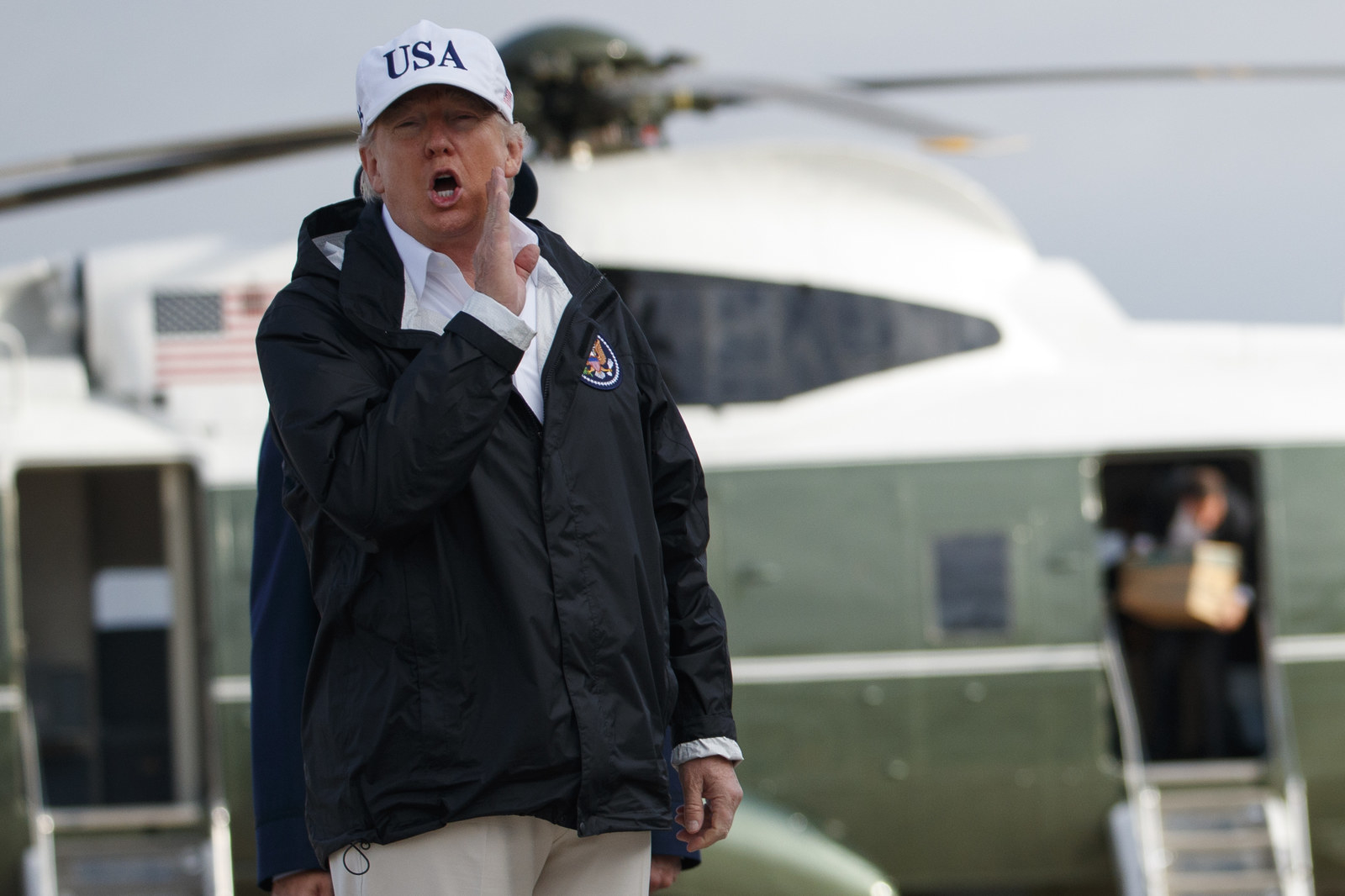 Despite the strength and damage caused by hurricanes Harvey and Irma, President Trump told reporters the two storms have not changed his views on climate change.
"We've had bigger storms than this," Trump said told reporters.
The president then went on to cite what he said were bigger storms in the 1930s, 1940s, and earlier.
Despite the president's assertion, the National Weather Service has said the amount of rainfall dropped by Hurricane Harvey was unprecedented.
The storm dropped more than 51 inches at one location, breaking the record for the most rain dropped on the continental US by any storm in recorded history.
—Salvador Hernandez
Trump complained that the gloves he was wearing to pass food to Irma victims were "too small" for his hands
For the second time during his hurricane relief efforts, President Trump referred to the size of his hands.
While handing out food to Irma victims in Naples, Trump struggled to wear the thin white plastic gloves, according to a White House pool report.
"They're too small" he said, as one of the gloves ripped along his thumb.
Trump had also said his hands were "too big" for the gloves while handing supplies out to victims of Hurricane Harvey in Houston. — Tasneem Nashrulla
Trump handed out sandwiches and water to Irma victims
President Trump, first lady Melania Trump, and Vice President Mike Pence handed out sandwiches, bananas, and water to victims of Irma after they surveyed the damage sustained in a Naples neighborhood.
"We love the people of Florida," Trump said. "We are there for you 100 percent, I'll be back here numerous times, it's a state I know very well."
Trump then handed out sandwiches saying, "I want one of them, they look good."
"Who wants a banana?" Trump asked the crowd, according to CBS News.
When a woman holding a small dog shook hands with the president, Trump asked her if she's a biker. "The bikers love us," he said as he patted her on the shoulder.
The president marveled at a muscular man, "you a workout guy?" he asked, according to the press pool. "Keep it up."
When a man wearing a "Trump for President" t-shirt approached Trump while saying "let's make America great again," the president offered him an extra sandwich.
"You're wearing a good shirt, take two," Trump told him.
—Mary Ann Georgantopoulos
Trump says a "very small number" of people died because of Irma
President Trump and First Lady Melania Trump touched down at Fort Myers Thursday morning, thanking first responders and government officials for their work that led to only "such a small number" of people dying.
"To think of the incredible power of that storm, and while people unfortunately passed, it was such a small number," Trump said.
Eighteen deaths in Florida have been blamed on Irma — including eight people who died after the storm knocked power out at a nursing home.
The president also praised Rick Scott, saying the job the Florida governor has done "is being talked about all over." Right after shaking Florida Sen. Marco Rubio's hand, Trump said he hopes Scott runs for Senate when his second term as governor ends in 2019.
Trump will tour the areas devastated by Irma, receive a briefing on relief efforts, and meet with people affected by the damage during his visit.
"We are going to tour the areas and see some of the folks and make sure they're happy because we're trying to keep them as happy as we can under the circumstances," Trump said. "In many cases they lost their homes and it's a tough situation."
—Mary Ann Georgantopoulos
A Key West dive bar closed for the hurricane, but let 500 people in to phone loved ones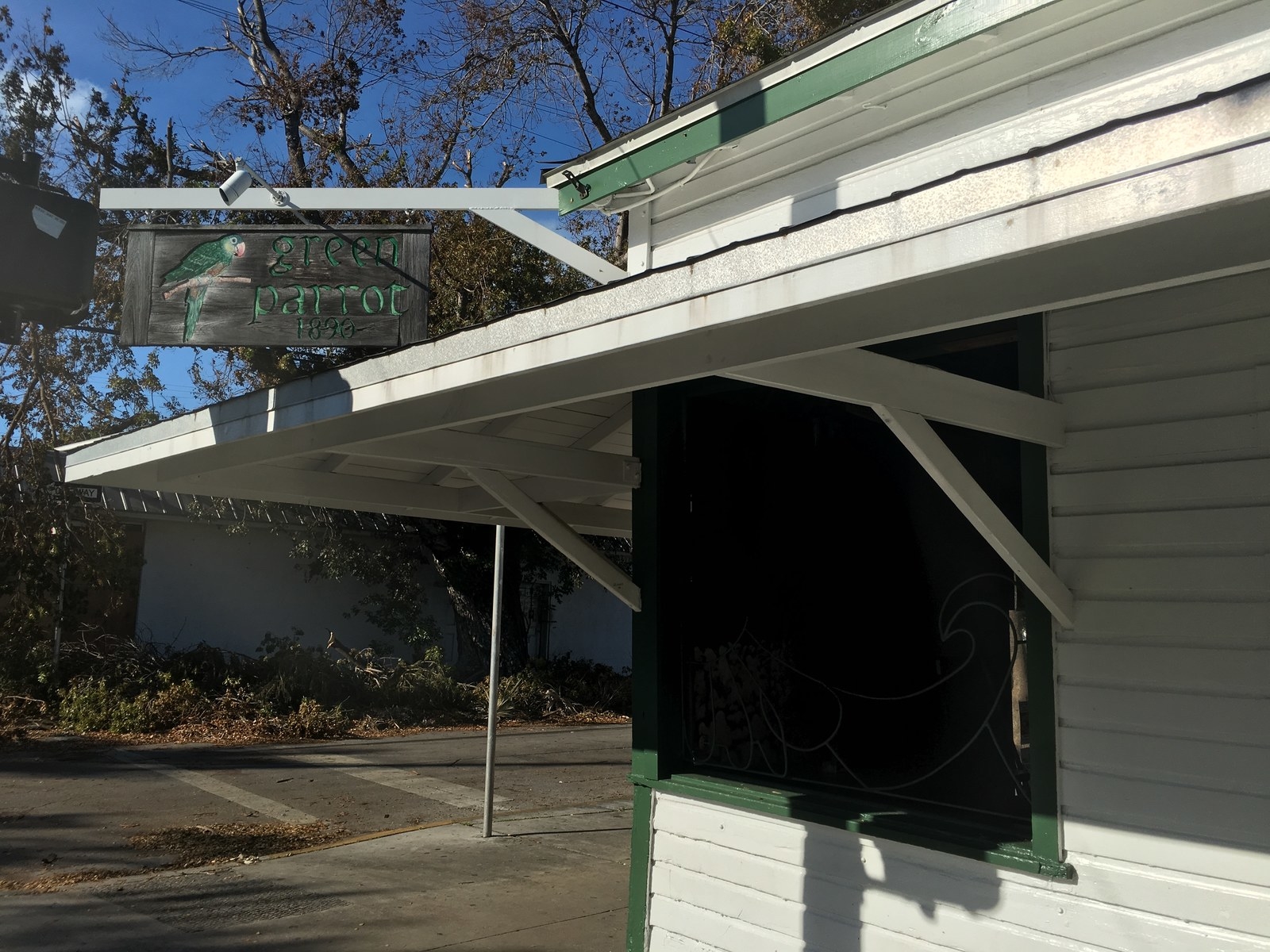 KEY WEST, Florida — Despite having no cold beer or whiskey for sale, Key West's iconic Green Parrot Bar is bumping post-hurricane. And that's because it's got one of the most precious supplies in town: a working phone.
Five hundred locals lined up outside The Green Parrot to use one of the town's handful of landlines, placing calls to worried mothers, kids, and fellow neighbors who'd evacuated before Hurricane Irma hit.
"Hey ma, it's Joe. It's OK, we're doing good, everything's fine," Joe Hayes, 66, told his mother, after finally getting through on the bar's phone, standing outside in the street to call. A few days earlier he'd left a voicemail for his "lovely 94-year-old mother, who is unfortunately still thriving," letting her know he'd made it through the storm unscathed, but he wasn't sure if she'd heard it. This time, he got through.
Read the full story here.
–Amber Jamieson
Immigrants in this Florida town fear they will be overlooked after Hurricane Irma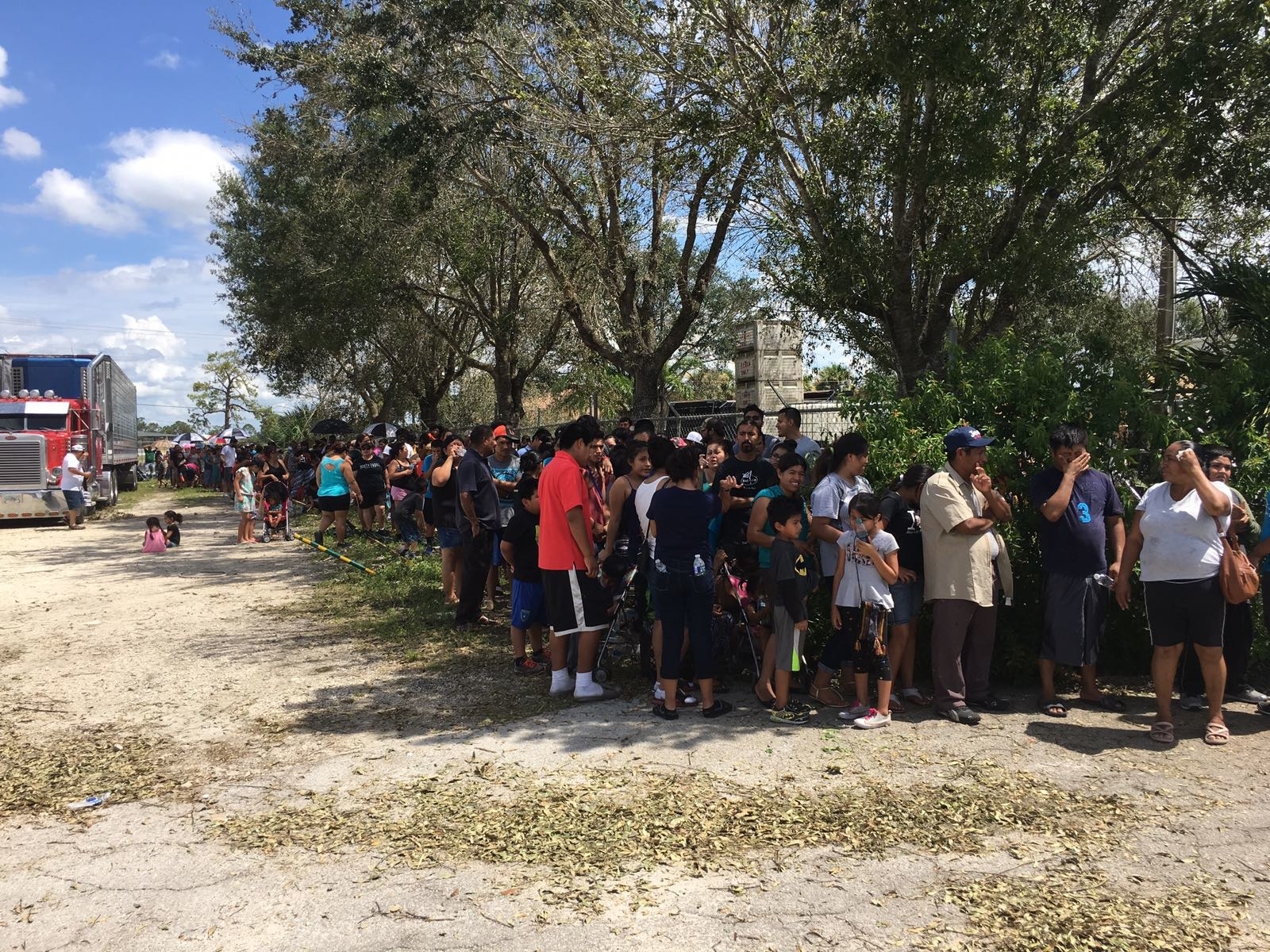 IMMOKALEE, Florida — Despite the 90-degree heat beating down on Southwest Florida Wednesday, more than 400 people were at a tomato packaging plant waiting for five-gallon buckets filled with water, personal hygiene items, and other basic necessities they still lack, three days after Hurricane Irma tore through the region.
While most of Florida suffered the effects of the storm, few places were hit harder than Immokalee, an impoverished, largely Latino farming community of about 24,000 people in Collier County that's sometimes referred to as "Naples' stepbrother."
"Nobody looks out for the little guys," said Julian Garcia, who grew up in the area. "There's a hell of a lot of resentment here."
The city, which has one of the highest poverty rates in the state, is about 75% Latino, with a large immigrant community made up in part of migrant farmworkers. And residents fear that they will be overlooked because of it.
Read the full story here.
–Lissandra Villa
This story of a man playing his sax in the middle of Irma's wreckage is what we all need
A few days after Hurricane Irma shredded the small Caribbean island of St. Thomas, Kendra Wagner and some friends took a drive along the mangled roads to take in the damage.
The 20-year-old college sophomore from Wisconsin had just started a semester study abroad program at the University of the Virgin Islands before Irma struck. The school, like most of the US territory, is now destroyed.
"I've never seen so much destruction in my life. It was hard to take it all in," Wagner told BuzzFeed News after she was evacuated to Puerto Rico, nearly a week after the hurricane bore down.
While driving through Tutu, which was especially decimated by the storm, Wagner was taking photos of the razed neighborhood when she noticed a man playing his saxophone in front of a blown-out apartment building. She was able to record the musician playing as others milled around the wreckage.
Read the full story here.
–Brianna Sacks
The cost of Irma in Florida has already exceeded that of Hurricane Matthew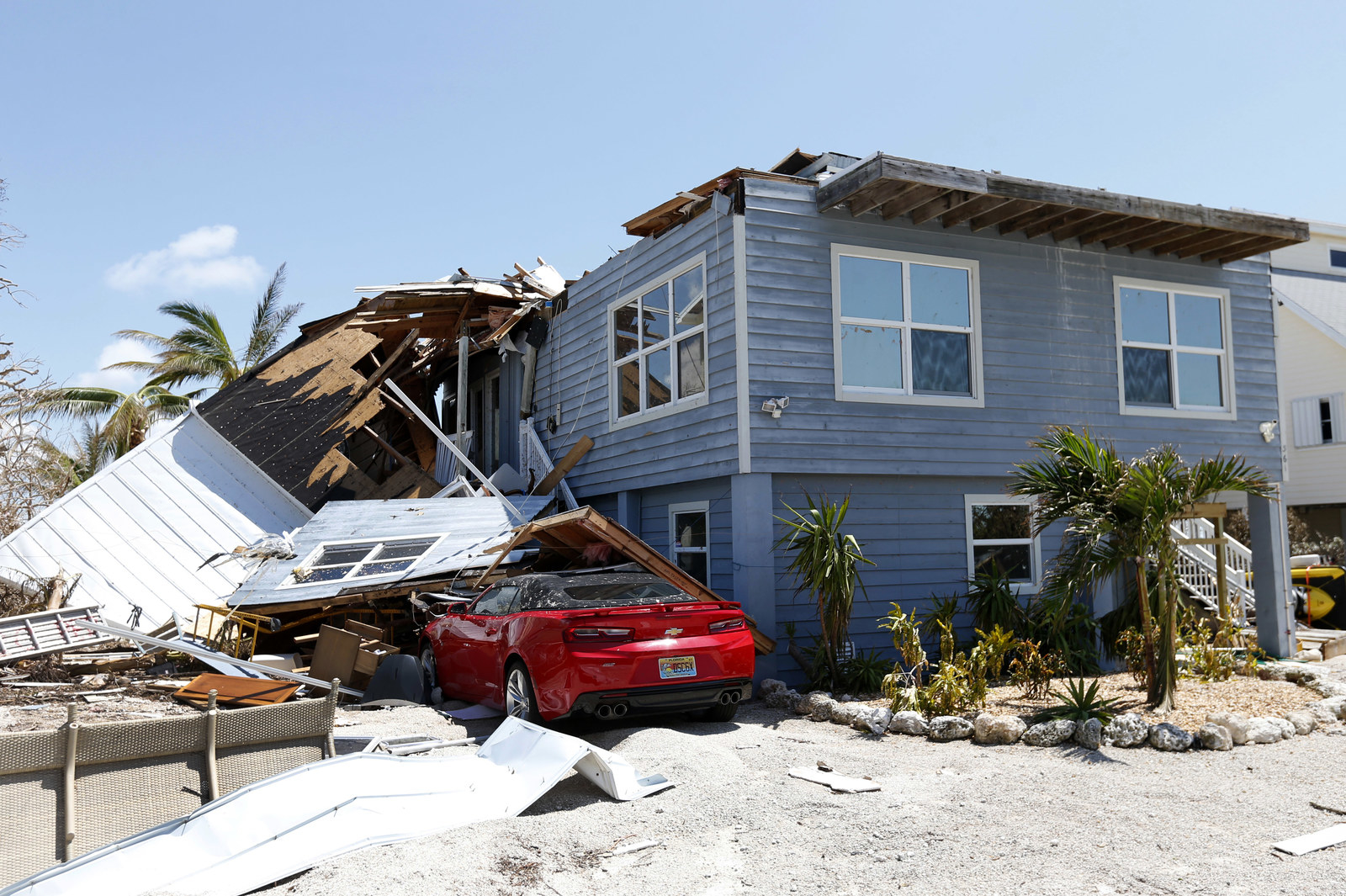 The cost of preparing for and responding to Irma in Florida has already surpassed the final tally the state racked up over Hurricane Matthew last year, officials reported Wednesday.
State agencies across Florida reported spending more than $273.5 million on Irma preparations and recovery, more than the $268.5 million the state spent in total on Matthew in October. And officials say there's still a long and difficult road ahead post-Irma.
When insured losses are factored in, the damage Irma caused is expected to run well into the billions of dollars, especially as Florida grapples with the completely devastated Keys.
Meanwhile, the US Virgin Islands was still in humanitarian crisis mode, as remaining residents struggled to get access to basic food and water, fueling frustrations. By Wednesday, the Associated Press reported that the territory's governor, Kenneth Mapp, publicly denounced complaints about the pace of recovery, saying people had "unrealistic" expectations about how soon officials would be able to get full power and water restored.
—Jason Wells
Pictures show the destruction in the Florida Keys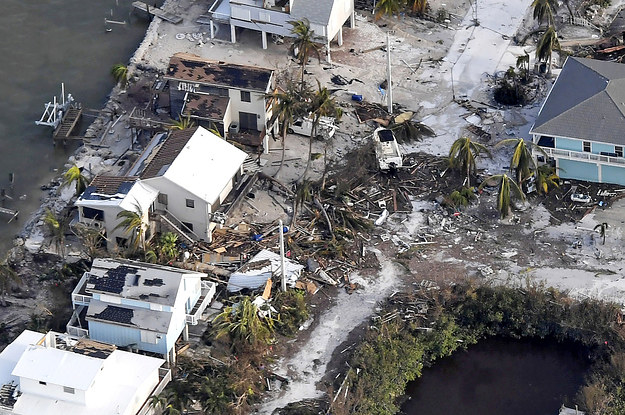 Days after the hurricane hit south Florida, the hard-hit Keys are in a "humanitarian crisis," according to officials.
The Federal Emergency Management Agency has reported that 25% of all homes in the Keys were destroyed and 65% sustained major damage.
See the pictures here. —Ariel Zambelich
Eight people died at a nursing home that lost power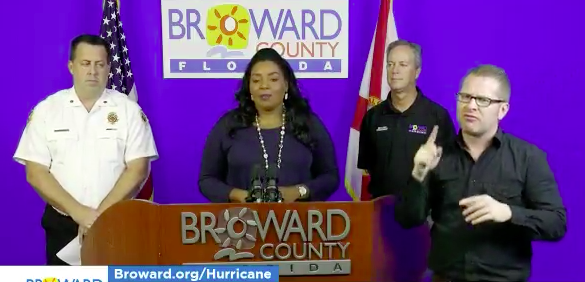 Eight people died at a nursing home in Broward County after the building lost power and remained without air conditioning since Irma hit the area, the mayor said.
Broward County Mayor Barbara Sharief said residents at the Rehabilitation Center at Hollywood Hills woke up sick after being left without power. At least three died after being taken to a nearby hospital.
"The Rehabilitation Center at Hollywood Hills has evacuated this morning de to a prolonged power failure to the transformer which powered the facility's air conditioning system as a result o the hurricane," Jorge Carballo, the facility's administrator, said in a statement. "Unfortunately, early this morning several patients experienced distress and there were 3 fatalities."
Carballo said the home is cooperating with investigating authorities.
Read more here.
—Mary Ann Georgantopoulos
Residents of a tiny Florida island are worried about their future after Irma destroyed their town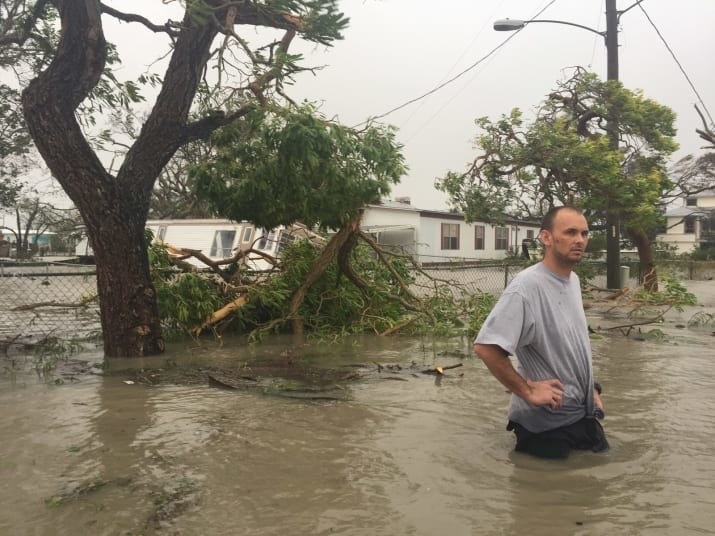 After becoming damaged during Hurricane Irma, the bridge between the tiny island community of Chokoloskee and the Florida mainland finally re-opened on Tuesday.
Supplies and help quickly began pouring into the close-knit community that is known for shunning outsiders but was devastated by the storm.
"The island is destroyed, 85% destroyed. I could cry," said Craig Daniels Jnr, a boat operator, whose family has lived on the island going back seven generations.
Daniels, along with most of his family, rode out the hurricane on the island, filming videos and taking photos as the winds got faster and the water rose, chronicling the destruction of his homeland.
The Cajun Navy arrived on Tuesday once the bridge opened, fresh off assisting Hurricane Harvey victims in Texas, cutting down trees obstructing roads and clearing debris. The Red Cross began distributing food and water.
Read more about the resident's of Chokoloskee here.
—Amber Jamieson
President Trump will travel to Florida on Wednesday to meet with first responders
It will be Trump's first visit to the hard-hit state since Irma made landfall on Sunday.
—Alicia Melville-Smith
Millions of Floridians are without power after Irma and this is how they are coping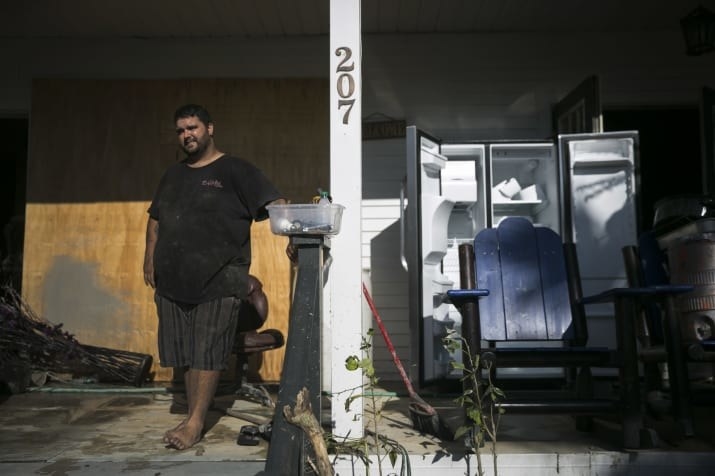 If there's one thing everyone in Florida is desperate for after Hurricane Irma, it's power – and not of the political kind.
Floridians are desperate to run their air-conditioning units and recharge their cell phones. More than 4.3 million Floridians were still without power as of 9 p.m. Tuesday evening. Many streets do not have working traffic lights or street lights. Local Miami FM radio stations, such as 97.3, talk about how the "one thing" everyone wants is power.
At the peak of the storm, around 15 million Floridians lost power. In Miami-Dade county, 596,900 households, making up 52% of the county, were without power as of Tuesday night. But how is everyone surviving without being able to just plug something in?
Hialeah resident Al Sacerio, 63, finally used the generator he'd bought eight years earlier, for the very first time, after Irma caused him to lose power on Sunday.
"Yesterday, we broke it out of the box," the Miami-Dade resident told BuzzFeed News.
But why has he owned a generator for nearly a decade that he has never been used? "That's an item you've got to have in your house in Florida; like a refrigerator out the back," he replied.
Read more about the struggles faced by Florida residents following Irma.
—Amber Jamieson and Lissandra Villa.