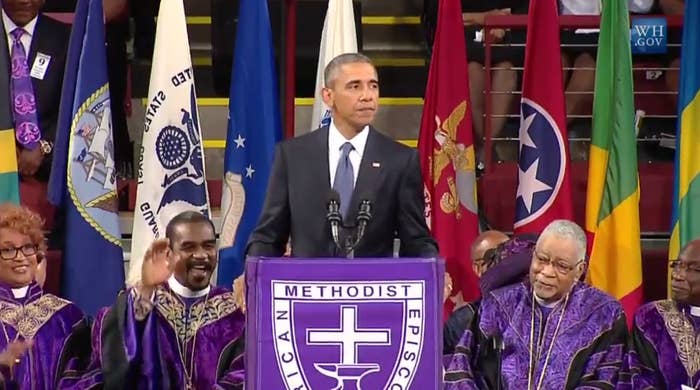 What We Know So Far
President Obama is eulogizing Sen. Clementa Pinckney saying, "We are here today to remember a man of God who lived by faith. A man who believed in things not seen."
"He did not exhibit any of the cockiness of youth, nor the insecurities, instead he set an example...beyond his years," he said.
"What a good man," Obama said.
Sen. Pinckney was one of the nine people gunned down last week during a prayer meeting at Emanuel AME Church in Charleston. White supremacist Dylann Roof, 21, has been charged with the murders.
Obama called the victims "God-fearing people."
The president also praised the removal of the Confederate battle flag and similar relics from state grounds across the South. Roof often posed with the flag.
"That the cause for which [Confederate soldiers] fought, the cause of slavery, was wrong," Obama said.
Thousands of people lined up outside the TD Arena for Pinckney's funeral.
Michelle Obama, Vice President Joe Biden, and his wife, Jill, are also at the service.
"For too long we've been blind to the unique mayhem that gun violence inflicts upon this nation," Obama said.
Obama warned against slipping into a "comfortable silence" after the funeral.
President Obama closed out his speech by leading "Amazing Grace," as the rest of the funeral attendants joined.
When he finished, a preacher approached the microphone and said, "We want to thank the Reverend President for a powerful message."
Obama acknowledged Gov. Nikki Haley's efforts to remove the Confederate flag, and explained the significance of taking it down.
"For many, black and white, the flag was a reminder of systemic oppression and racial subjection," he said. "We see that now."
He emphasized that removing the flag from this state's capitol was not be a act of political correctness, but rather "an acknowledgement that the cause for which they fought, the cause for slavery, was wrong."
The president also spoke more broadly about the continued racial discrimination in the United States that led to disparities in opportunity like "calling Johnny back for an interview, and not Jamal."
Justice, he went on to say, grows out of recognition.
"My liberty depends on you being free, too."
"We are here today to remember a man of God who lived by faith," said President Barack Obama as he opened his eulogy for Rev. Clementa Pinckney.
He addressed Rev. Pinckney's wife, Jennifer, and their "beautiful, wonderful" daughters Eliana and Malana, as well as the Emanuel AME Church congregation, the city of Charleston, and the whole of South Carolina.
"I cannot claim to have had the good fortune to know Clementa Pinckney well, but I did have the pleasure of knowing him in South Carolina both when we were both a little bit younger," Obama said of their 2007 encounter, "back when I didn't have visible gray hair."
He said the first thing he noticed about Rev. Pinckney was his "graciousness, his smile, his reassuring baritone. All qualities that helped him bear the heavy burden of expectation."
The president cited the words of Rev. Pinckney's colleagues, who told him that when the late reverend entered a room, "it was like the future arrived."
Even from a young age, Obama said, he knew he was special.
Obama then provided an historical context of the significance of the location in which Rev. Pinckney and the eight others were killed on June 17.
"A pain cuts that much deeper because it happens in a church," he said.
He called the church for black Americans "a place to call our own in a too-often hostile world, a sanctuary to too many hardships."
The black church, Obama said, has historically served as a rest stop for the underground railroad to freedom in the northern states. They have been and continue to be community centers where jobs and justice are organized.
"They are places of scholarship and network," he said, "where children are loved and fed and kept out of harm's way. Where they are told they are beautiful and smart, that they matter."
Obama said nobody could tell if the shooter knew the extent of this history, but that "he surely sensed the meaning of this violent act."
BuzzFeed News' Evan McMorris-Santoro is at TD Arena.
Rev. Al Sharpton, Jesse Jackson Sr., and several other civil rights activists affiliated with the NAACP, the National Urban League, and the National Action Network were in attendance at TD Arena.
President Obama and first lady Michelle Obama have landed in Charleston.
According to a statement from the White House press secretary, Obama will meet with families of all nine victims, as well as with some of the survivors, after he delivers his eulogy for Rev. Pinckney. He is not scheduled to visit Emanuel AME Church.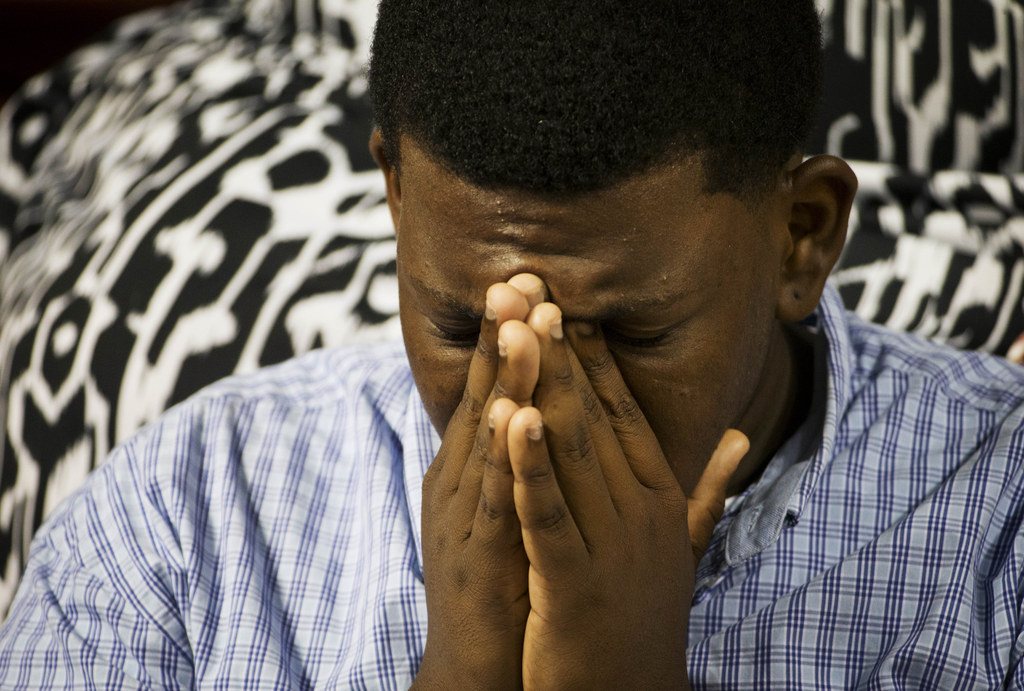 A resolution read by a lead member of the Emanuel AME Church ministerial staff gave condolences to the Pinckney family "for a life well lived."
Rev. Clementa Pinckney was a kind and gentle soul that led his church with a quiet strength," the resolution read. "With his commanding voice, he provided weekly sermons that left you inspired, hopeful, and feeling closer to God."
The statement also described Rev. Pinckney's work establishing health fairs and organizing retreats "for the revival and renewal of members."
Bishop John Richard Bryant, the presiding prelate of the Fourth Episcopal District of the AME Church, addressed public concerns over the lack of anger expressed by family members of the shooting victims.
"It's because of who we hang out with," he said, referring to the religious community.
"We believe that weeping may endure for a night, but joy comes in the morning," he said, encouraging the crowd to repeat the phrase over the rising sound of organs.
"This is no longer the TD Arena. We've transformed it into a sanctuary," Rev. Dr. Lawrence Gordon of Macedonia AME Church in Charleston said to the crowd.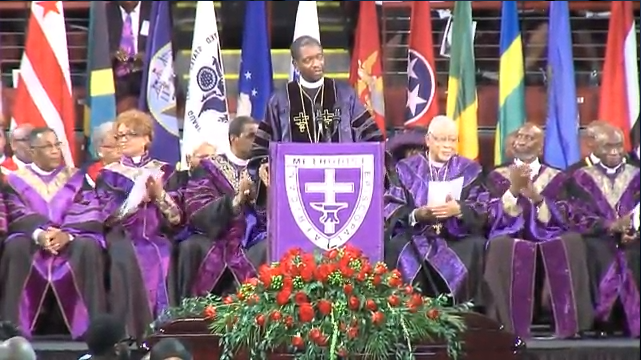 The Rev. Gregory M. Kinsey of St. John AME Church spoke about the love Rev. Sen. Pinckney had for others, and for serving.
"He answered life's most pervasive question: What are you doing to help others? That's just the kind of man he was," he said. "He loved his role as a pastor at his beloved Mother Emanuel."
Rev. Kinsey added that a portrait of Rev. Pinckney will be hung in the house of the Senate to honor his life and work there, and he credited the taking down of the Confederate flag in South Carolina to the movement borne out of his senseless killing.
"Because of you, we did that," he said.
Here is the cover of the program funeral attendants received.
President Obama will deliver the eulogy for Pinckney early in the afternoon.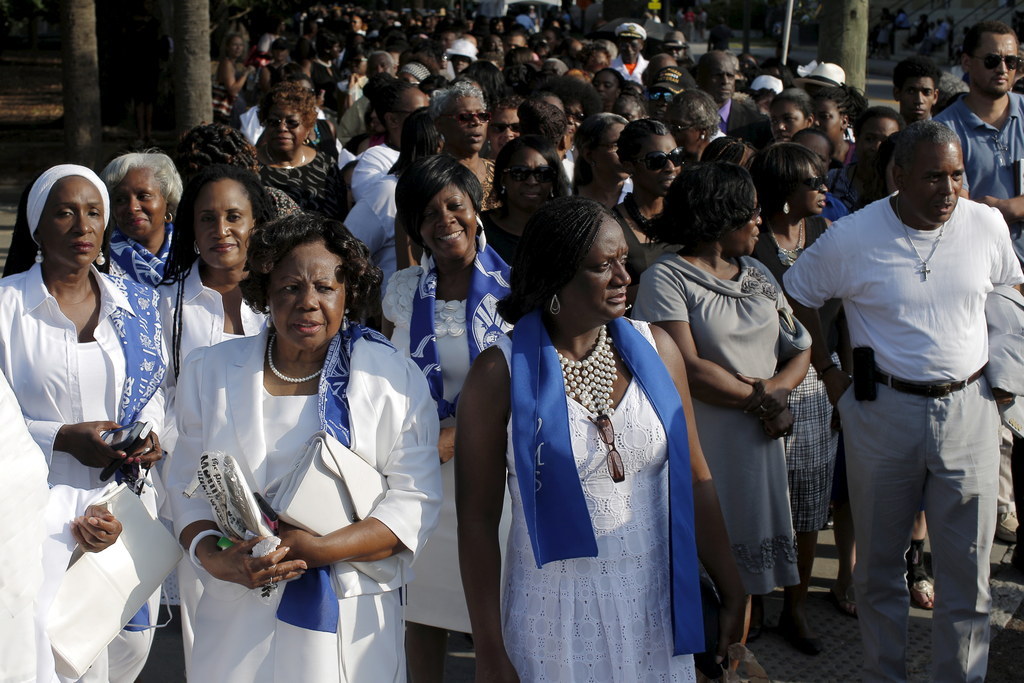 He is scheduled to arrive in Air Force One and will take a motorcade to the TD Arena, the Post and Courier reported.
First lady Michelle Obama, Vice President Joe Biden, and his wife, Jill, will also be present. Hillary Clinton is also expected to attend the funeral service.
Pinckney's funeral is being held at the TD Arena in the College of Charleston, which is 280 steps from the historic Emanuel AME Church where Pinckney and eight others were killed.
A tribute program is scheduled to begin at 11 a.m. and the funeral service will start at around 1:45 p.m., the Post and Courier quoted the White House as saying.
Pinckney's casket is on its way to the TD Arena.
Pinckney, the pastor and state legislator killed in the attack on the Emanuel AME church last week, seemed destined for great things, Anderson writes.
He cut a striking figure in Charleston, tall, dark-skinned, and nattily-dressed with a commanding voice befitting the pastor of a large black church.

"When I first met him," said Terry McCray, who works at Dave's Carry-Out, a restaurant only a few blocks from Emanuel, "I told him that if this pastoring thing doesn't work out, you should do voice work in Hollywood."

"Everybody looked up to him," said Shelly Simmons, president of the local Queens of Carolina social club and family member of a number of Emanuel church members. "He was like a God to us."

At 41, though he'd already done so much, it seemed like Pinckney was starting another phase of his career.

Instead, Pinckney leaves behind a legacy that looms large over whomever his eventual successor turns out to be.