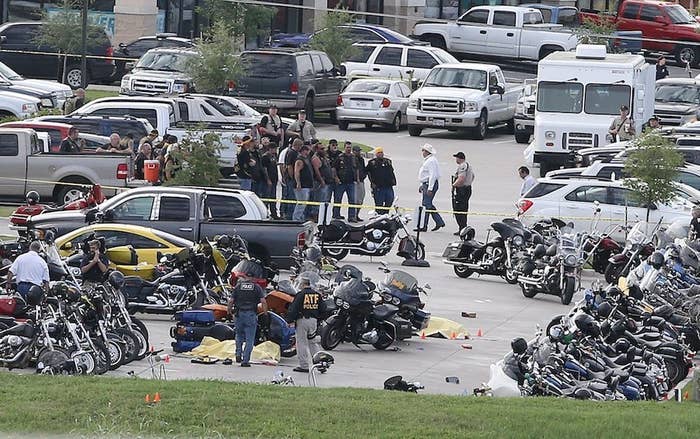 What We Know So Far
Nine people died and at least 18 were injured Sunday when a massive brawl among rival biker gangs erupted outside a Twin Peaks restaurant in Waco, Texas.
The combatants used chains, knives, and guns on each other. Police were on scene when the fighting began.
About 170 people are facing organized crime charges and were held on $1 million bond.
The battle brought criminal biker gangs back into the spotlight. The main groups involved in the fight were the Bandidos, the Cossacks, and the Scimitars.
In the frenzy to flee the gunfire and police at Twin Peaks restaurant on Sunday, the bikers stashed weapons all over the restaurant, including one gun found in a toilet, according to the Waco Police Department.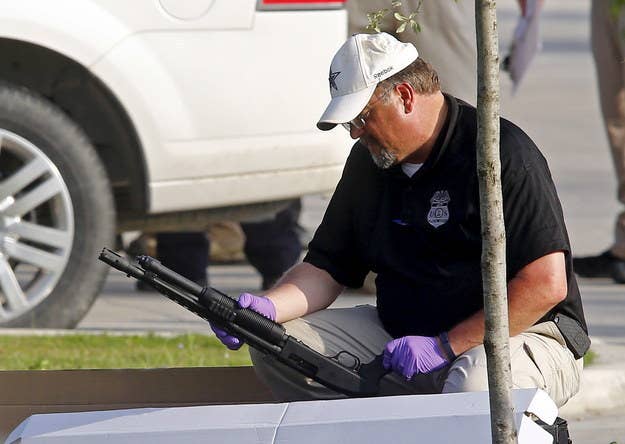 As of Wednesday afternoon, the official count of weapons found at Twin Peaks was at 318 and still counting, the Waco Police Department wrote on Facebook. That includes "clubs, knifes, brass knuckles, firearms, and chains with padlocks." The crime scene is still being processed and the total tally may change before investigators are done.
"The weapons appear to have been discarded as Officers arrived and some hastily hidden," the department's post read.
The weapons were found all over the restaurants, stashed in "sacks of chips, stuffed between bags of flour, stuffed into the bench seating, hidden in shelves, thrown into trash cans, placed in the kitchen stoves, discarded on floors and even so far as to attempt to flush a handgun down a commode." Investigators also found body armor and an AK-47 inside of a car in the parking lot.
Here's the total haul, broken down by weapon type:
118 handguns
1 AK-47
157 Knives
43 others
One of the dozens of bikers was seen on security footage firing a gun from the restaurant's patio according to the Twin Peaks video obtained by the Associated Press.
None of the nine video angles viewed by the AP showed the parking lot where most of the shooting took place.
The gunshots began from the parking lot at 12:24 p.m. and most of the bikers who were watching the confrontation from the restaurant's patio or interiors, ran away from the shooting. Some bikers were seen fleeing into the men's bathroom, while others rushed toward the kitchen, the AP reported.
One biker had blood on his face and body, and screams of "get down" could be heard. At least three people had handguns, and only one was recorded firing a gun from the patio.
Twin Peaks released the footage to the AP to support their claims that the fighting began outside the restaurant and not inside as police have maintained. The video was not released to the public.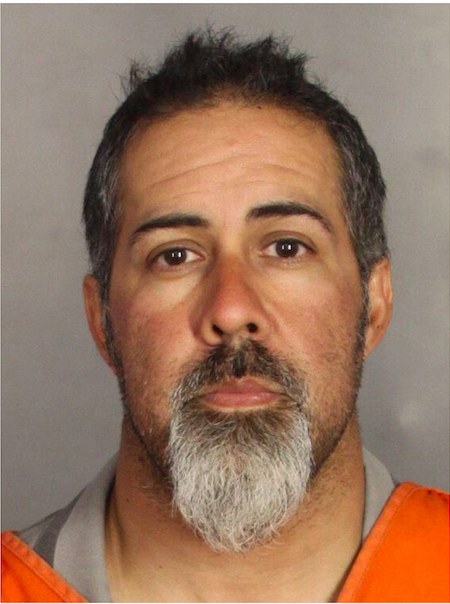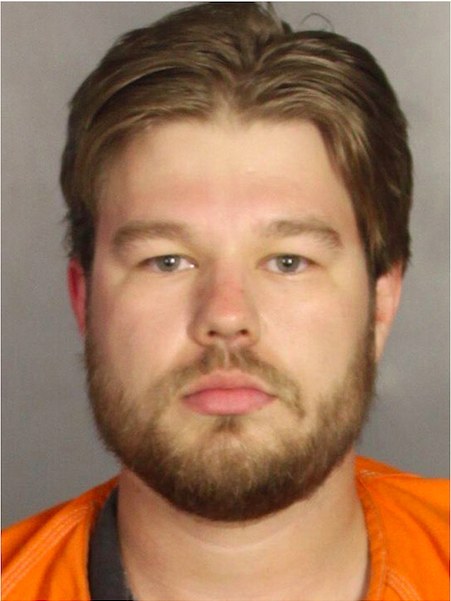 Three men bonded out of jail after being booked on reduced charges after the Waco shooting are now back in jail, records show.
Drew King, Juan Garcia, and James Harris were all released from jail Tuesday after being booked on lesser charges than the first-degree felony of "engaging in organized criminal activity" that some 170 bikers were charged with. Their reduced charges resulted in lower bond amounts than the $1 million than the others are being held on.
The three men were arrested Sunday after arriving on the crime scene after the shooting carrying weapons and wearing biker gang colors, Waco police said.
Arrests warrants were issued for the trio after their release, according to the Waco Tribune.
Online records show the men are now being held in Austin's Travis County Jail, while the other bikers are still in McLennan County Jail in Waco.
Waco police spokesman Sgt. Patrick Swanton refused to characterize the men's release as a mistake.
Garcia is an engineer in the city of Austin's public works department, a city official previously confirmed to BuzzFeed News.
Waco county Sheriffs have released the remaining mugshots of those arrested following the Twin Peaks shooting.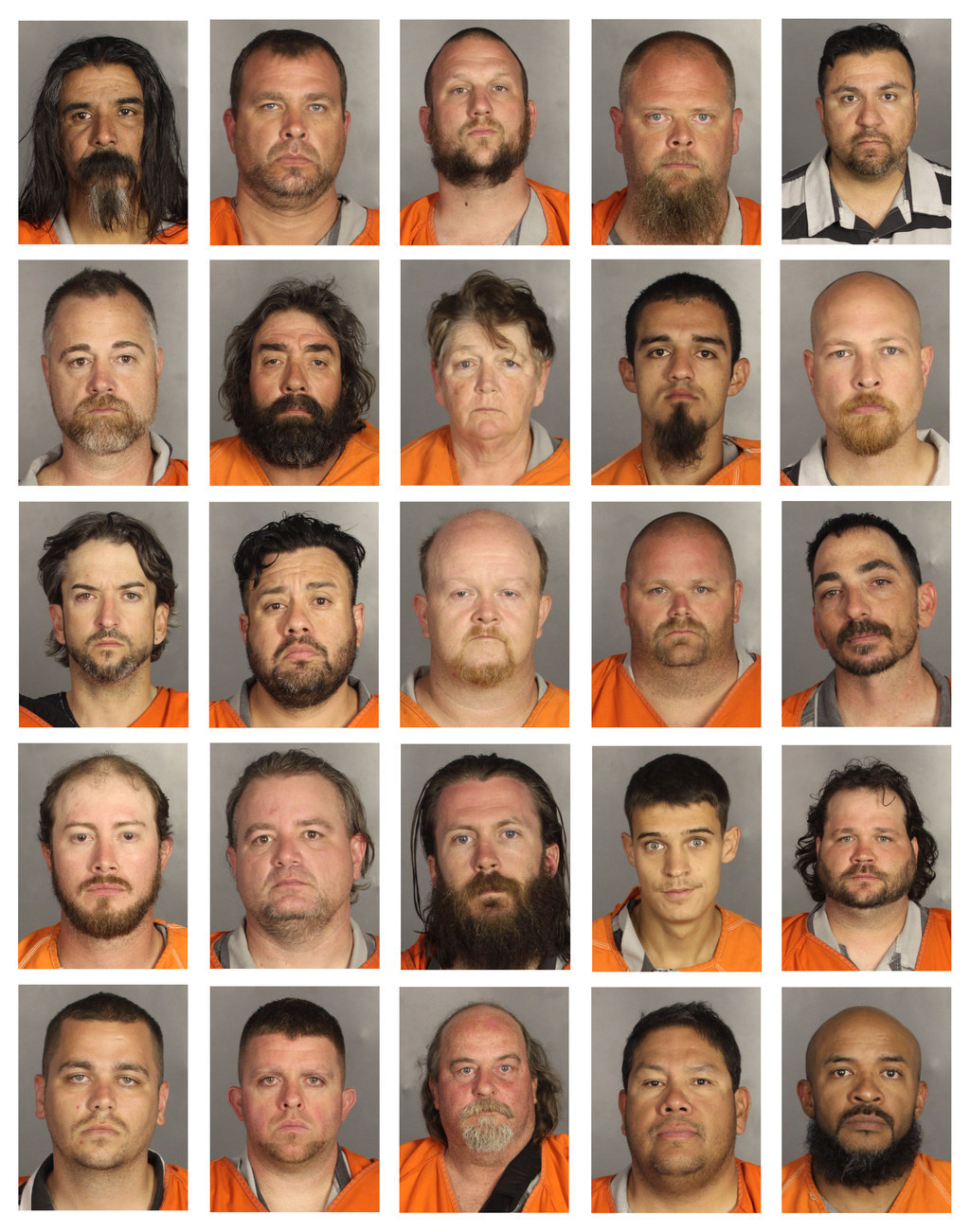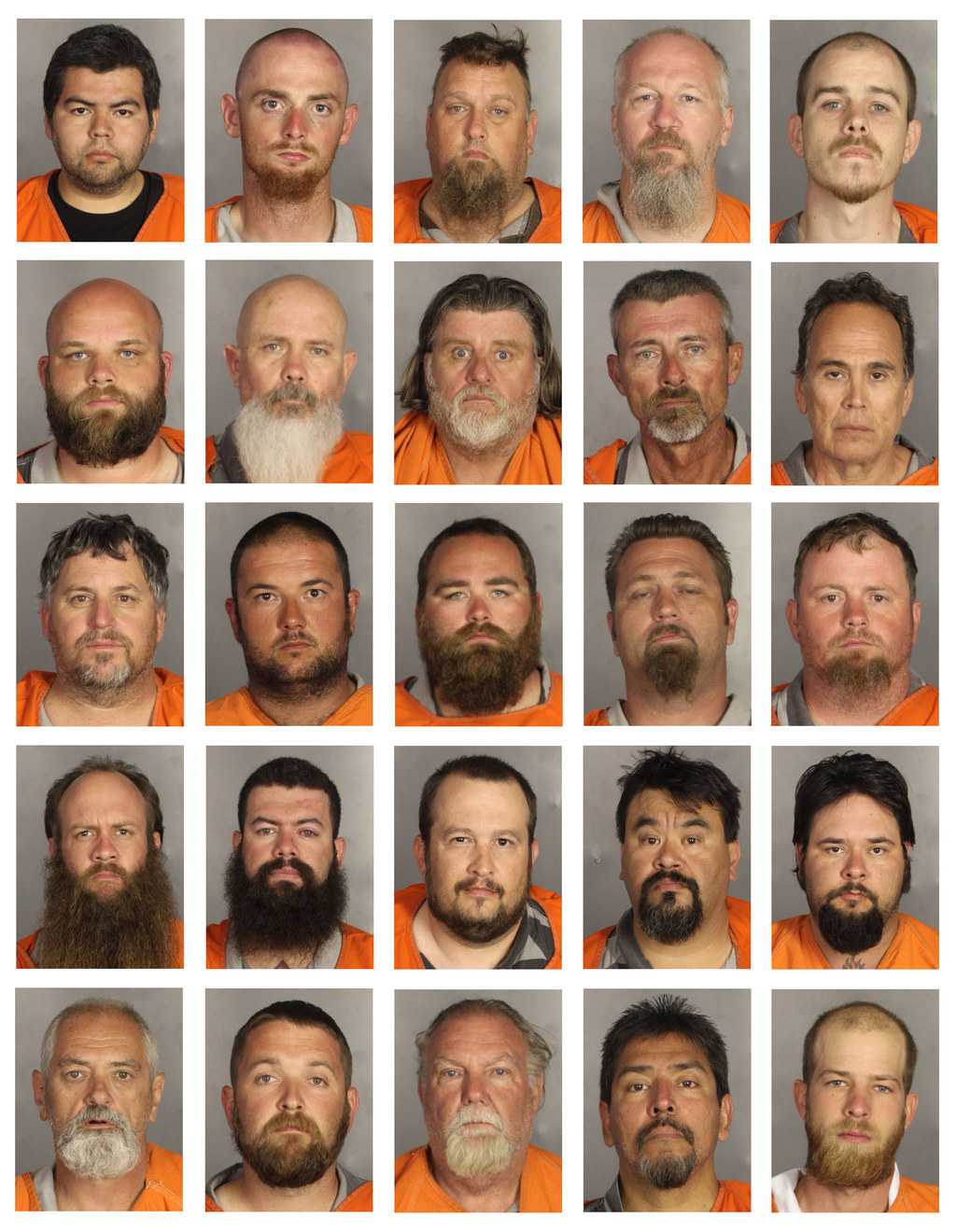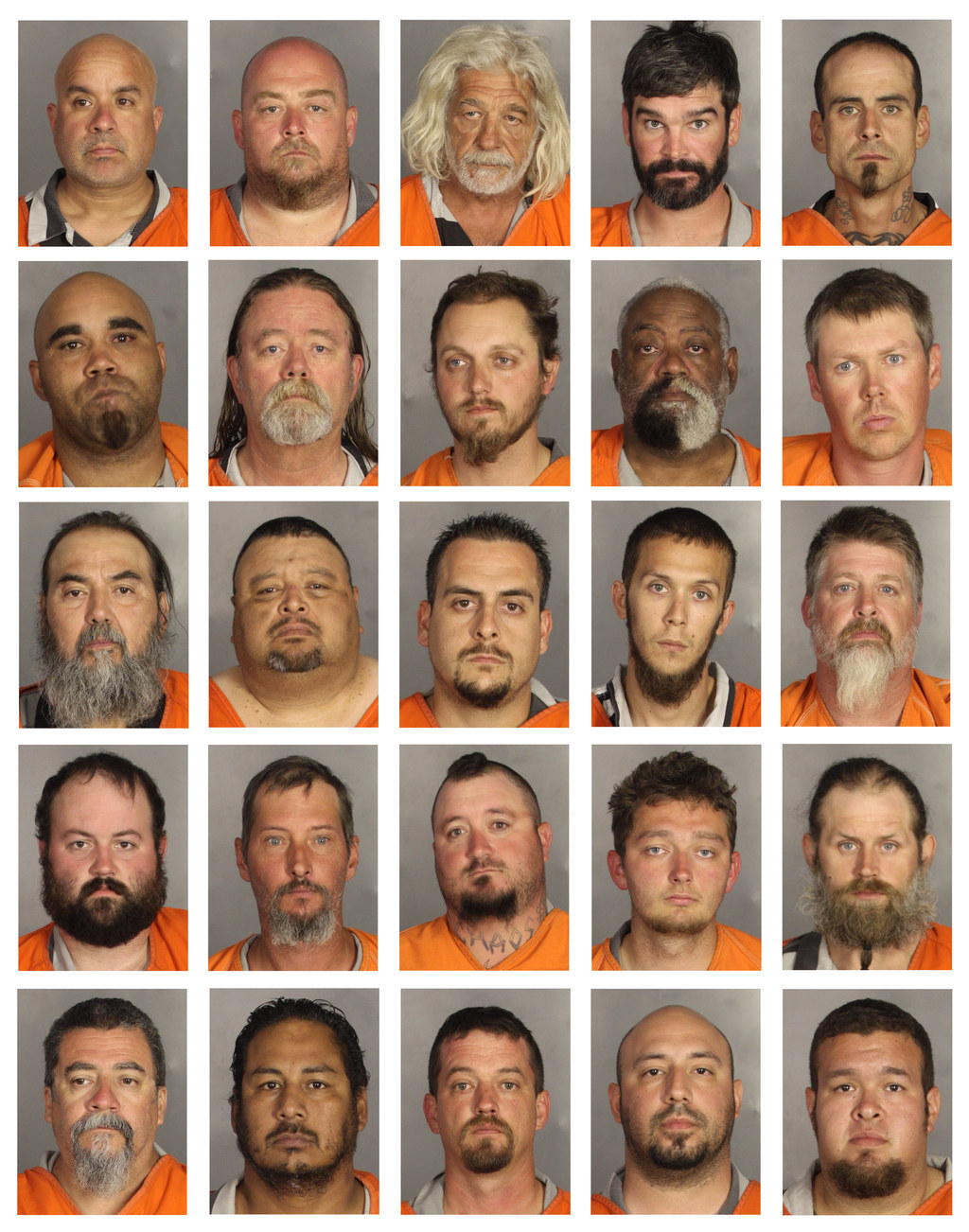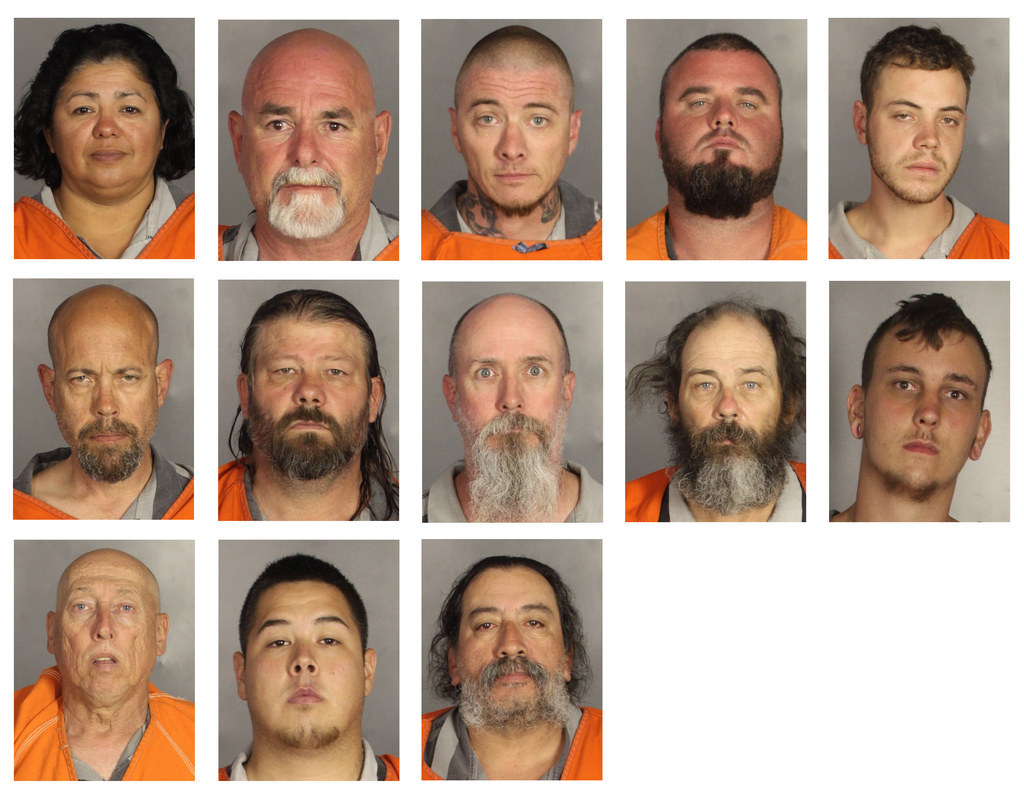 The nine bikers killed in the Twin Peaks shootout on Sunday have been identified.
Of those killed, eight were members of the Cossacks and one was a member of the Bandidos, KWTX TV reported Tuesday. The names were released in a preliminary autopsy report.
• Daniel Raymond Boyett, 44
• Wayne Lee Campbell, 43
• Richard Matthew Jordan II, 31
• Richard Vincent Kirschner Jr., 47
• Jacob Lee Rhyne, 39
• Jesus Delgado Rodriguez, 65
• Manuel Issac Rodriguez, 40
• Charles Wayne Russell, 46
• Matthew Mark Smith, 27
All died from gunshot wounds, KWTX reported.
A statement from the National Coalition of Motorcyclists said its members are "grieving" following what they described as an attack by a non-member motorcycle club.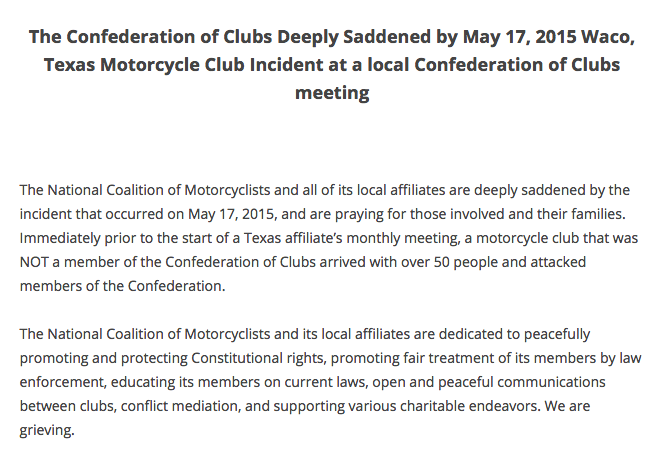 The statement, posted by attorney Richard Lester said: "The National Coalition of Motorcyclists and all of its local affiliates are deeply saddened by the incident that occurred on May 17, 2015, and are praying for those involved and their families. Immediately prior to the start of a Texas affiliate's monthly meeting, a motorcycle club that was NOT a member of the Confederation of Clubs arrived with over 50 people and attacked members of the Confederation."
The McLennan County Sheriff's office has begun releasing mugshots of some of the more than 190 people arrested after the Waco shootout.
Officials have said that some 170 people have been charged with engaging in a criminal organization.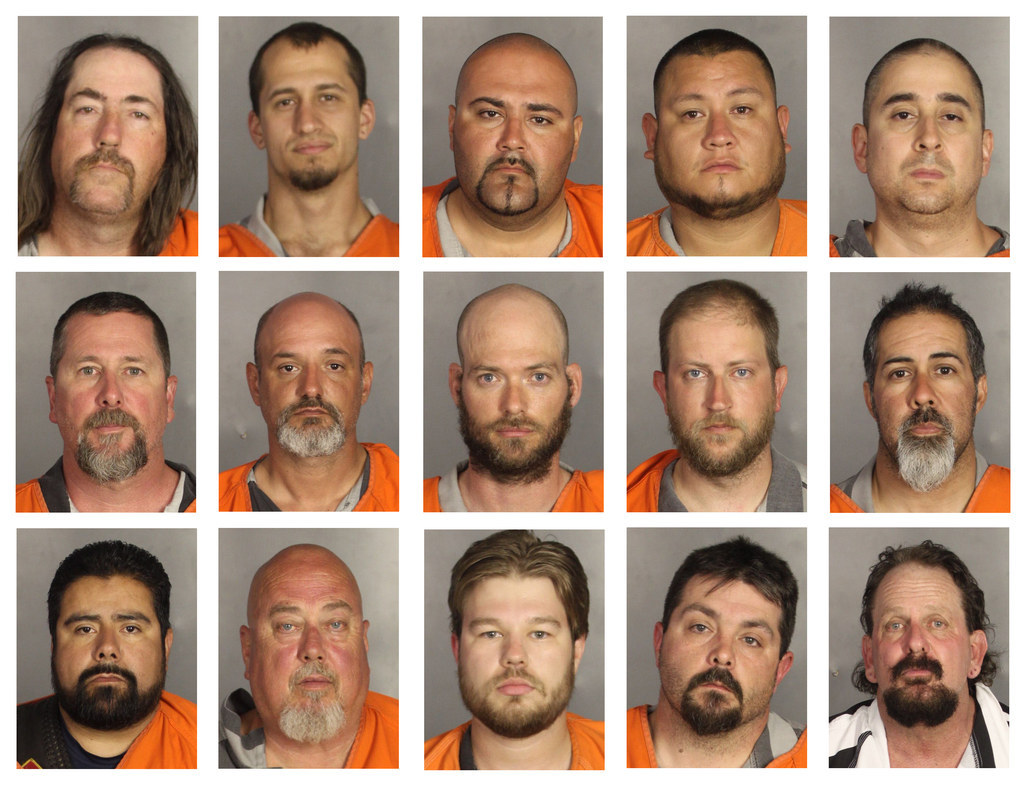 Three alleged biker gang members arrested after the Waco shootout were mistakenly released from jail on lowered bonds, the Waco Tribune reported Tuesday.
The bikers were bonded out of jail after their bail was reduced from $1 million to $50,000, the newspaper reported.
Local and state judges are unsure on whose authority the bonds were lowered, according to the Tribune, but arrest warrants have been issued for the three unnamed bikers.
The deadly Waco biker shootout may have been sparked when a gang member's foot was run over in the parking lot, authorities said Tuesday.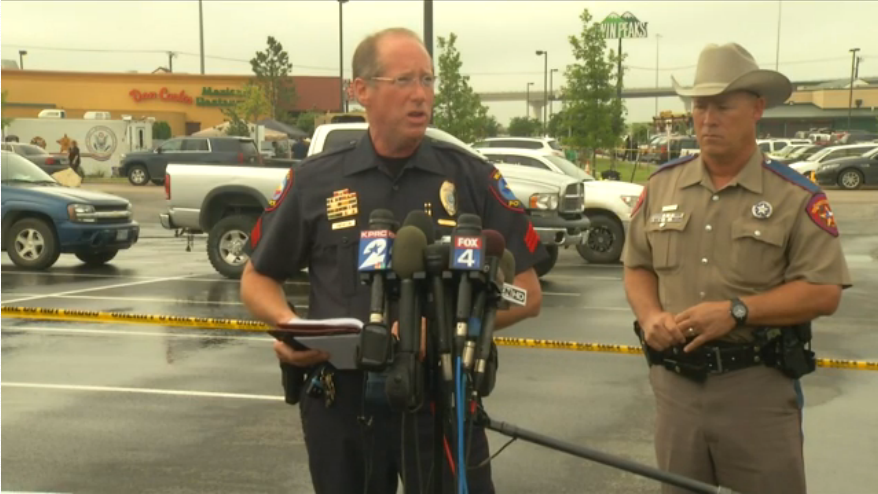 In the first emerging timeline of events shared with reporters, Waco police spokesman Sgt. Patrick Swanton told reporters that authorities were viewing the shootout as part of a "turf war" between outlaw motorcycle gangs.
Sunday's bloodshed began when an uninvited biker gang showed up at a planned meeting of a coalition of biker gangs at the Twin Peaks restaurant that was organized by another group, Swanton said.
"We know an additional biker gang that was not invited to this meeting showed up," he said. "I have no idea why they wanted to show up and cause troubles."
Swanton said investigators initially believed there had been a conflict over a parking space, but now have information that the violence was triggered when a gang member's foot was run over.
The Waco police spokesman said crimes scenes had been established in the parking lot, as well as the restaurant, its bathroom, and its bar area. "We know we have blood on the inside of Twin Peaks, as well as numerous pieces of evidence both inside and out," he said.
Anticipating violence, at least 18 "highly trained, best caliber" Waco police department officers, as well as four Texas state troopers, were on the scene prior to the shootout, Swanton said. "I know that we were there within seconds, if not at least a minute," he said. "Our officers were on scene and approached it once we saw there was a disturbance.
Despite the large number of officers on scene, Swanton said it is "most likely correct" that only three or four officers actually fired their weapons during the shootout.
In addition to collecting blood evidence, bullet fragments, shell casings, and weapons, Swanton said investigators were examining video evidence from police squad cars and other sources to establish a more precise timeline of events.
Swanton said the threats being made against officers by biker gangs had "toned down" in the past 24 hours. "We are absolutely thankful for that," he said. "There has been enough tragedy and there has been enough bloodshed in Waco, Texas."
Among the more than 190 arrested after the Waco shoot-out Sunday was a City of Austin employee, an official told BuzzFeed News.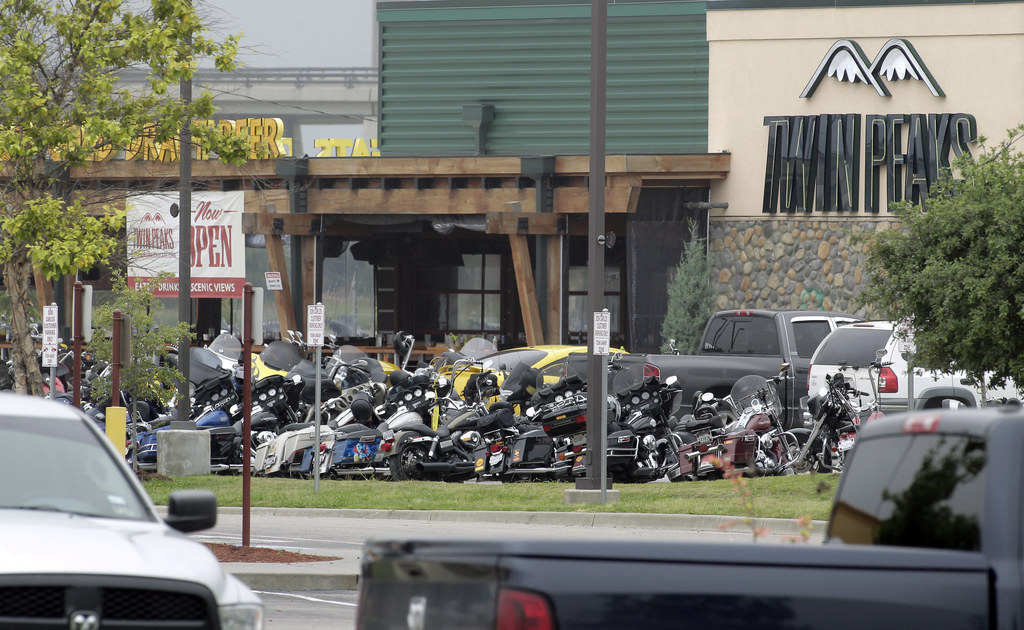 Juan Garcia, 45, works as an engineer in Austin's public works department and was among those arrested at the Twin Peaks restaurant, a City of Austin spokesperson told BuzzFeed News.
A war between rival biker gangs that turned deadly in Waco, Texas, have put local police at risk of being targeted by those seeking revenge, officials warned Monday. Read the full story here.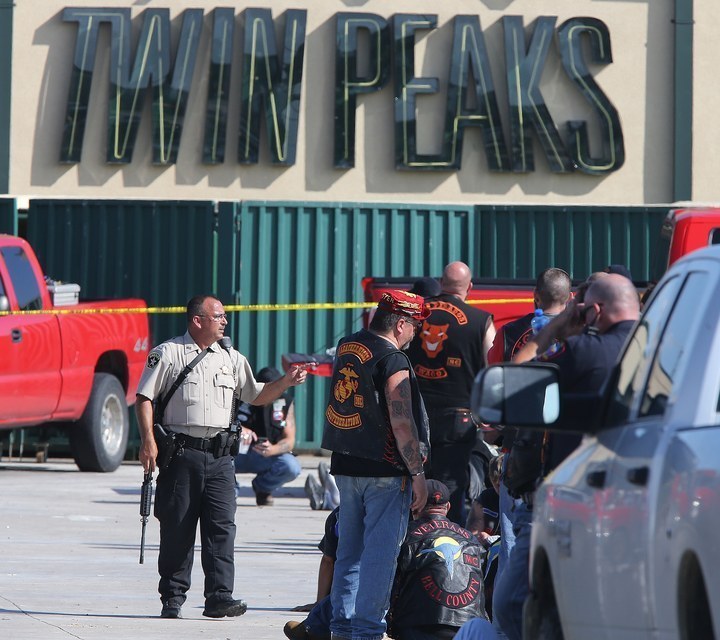 "Americans need to understand who these outlaw motorcycle gangs really are," one police intelligence expert told BuzzFeed News. "They're criminal organizations and violent ones at that."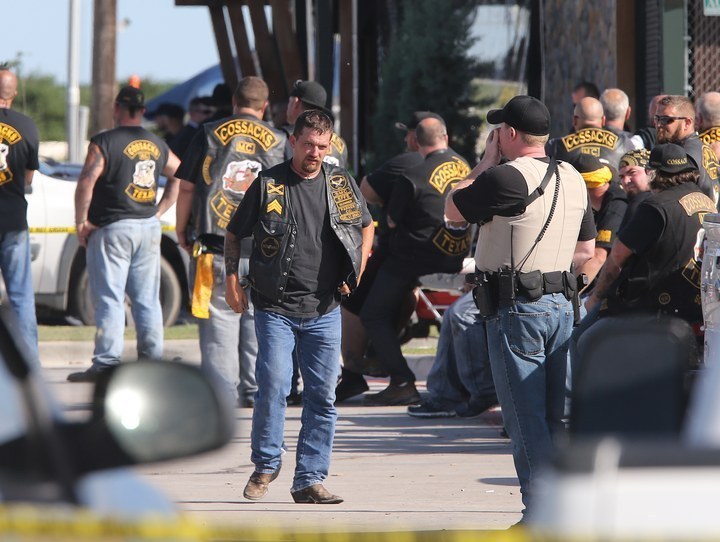 Police have identified dozens of people charged in the Waco, Texas, biker fight.
All have been held on organized crime offenses and were held at $1 million bond.
The Waco Tribune has a running list of names here.
Reporting by David Mack in New York and Salvador Hernandez in Los Angeles.
This is a developing story. Check back for updates and follow BuzzFeed News on Twitter.