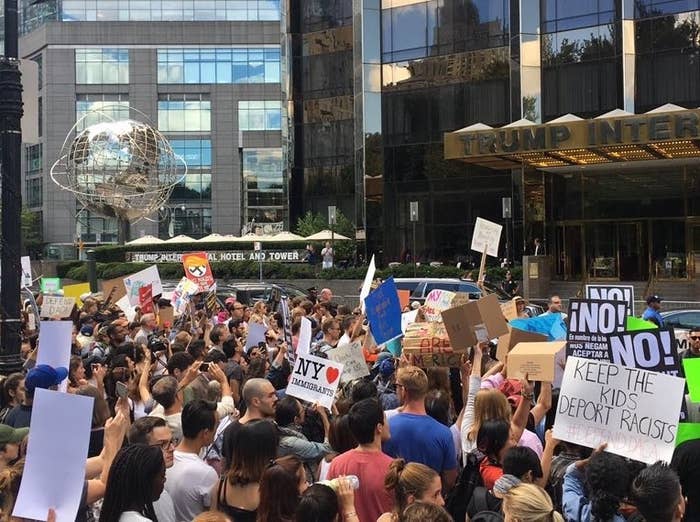 Protesters gathered in midtown Manhattan near Trump International Hotel on Saturday to protest the president's decision to end DACA, the Obama-era program that protected some young undocumented immigrants from immigration.
At least 1,000 demonstrators turned out for the protest, a police officer told BuzzFed News, which began at 2 p.m. ET.
Some in the crowd were DACA recipients themselves, while others were marching on behalf of family or friends who have benefited from the program.
"It angers me that our government is trying to take her future away," said Jeff Mummert of his niece, who is a DACA recipient.
President Trump on Tuesday announced the five-year-old program would be wound down in six months, effectively meaning some 800,000 young adults who signed up for legal protection to work or study in the US will be eligible for deportation.
The decision delighted hardline conservatives who believe the undocumented immigrants took jobs from Americans, but it horrified immigration activists who say the DACA recipients were innocent children when they arrived in the US.
Although Trump has sent mixed signals since his announcement, tweeting that he would "revisit" the issue if Congress does not legalize the program within six months, protesters in New York on Saturday were furious that the Obama program was being rescinded at all.
"No hate, no fear, immigrants are welcome here," chanted the crowd, which grew steadily as the protest next to Central Park went on.
Several DACA recipients expressed fear and uncertainty over the president's conflicting messages about the program and allowing them to stay in the country.
"That piece of plastic gave me a sense of certainty. On Tuesday, the uncertainty continued," 25-year-old Catalina Santiago told BuzzFeed News as she marched.
Several other protests against the president's decision to end DACA are taking place across the country this weekend, with large crowds expected in Oakland Saturday night and in Los Angeles Sunday afternoon.
Reporting by Otillia Steadman and David Mack
This is a developing news story. Check back for updates or follow BuzzFeed News on Twitter.