At least 14 people were killed Wednesday in a shooting spree at a social services center and subsequent standoff with police in San Bernardino, California, authorities said.
Another 21 people were injured inside the Inland Regional Center, officials said. Two suspected assailants — who opened fire while wearing "assault style" tactical gear — were later fatally shot by police after fleeing in a black SUV.
The incident set off a county-wide manhunt. "The scene is strewn throughout the city and into another city," Assistant Director of FBI David Bowditch said.
One suspect has been detained.
Police said at least three people opened fire at a "lunch type gathering for the holidays" at the Inland Regional Center on Waterman Ave.
San Bernardino Police Chief Jarrod Burguan said that during the party, there was "a dispute."
"Somebody did leave, but we have no idea if that was the person that came back," he said.
At least 17 people were seriously wounded. There are more people who are less seriously wounded, including one police officer.
"Is this terrorism? I am still not willing to say that for sure… it is a possibility," Bowditch said.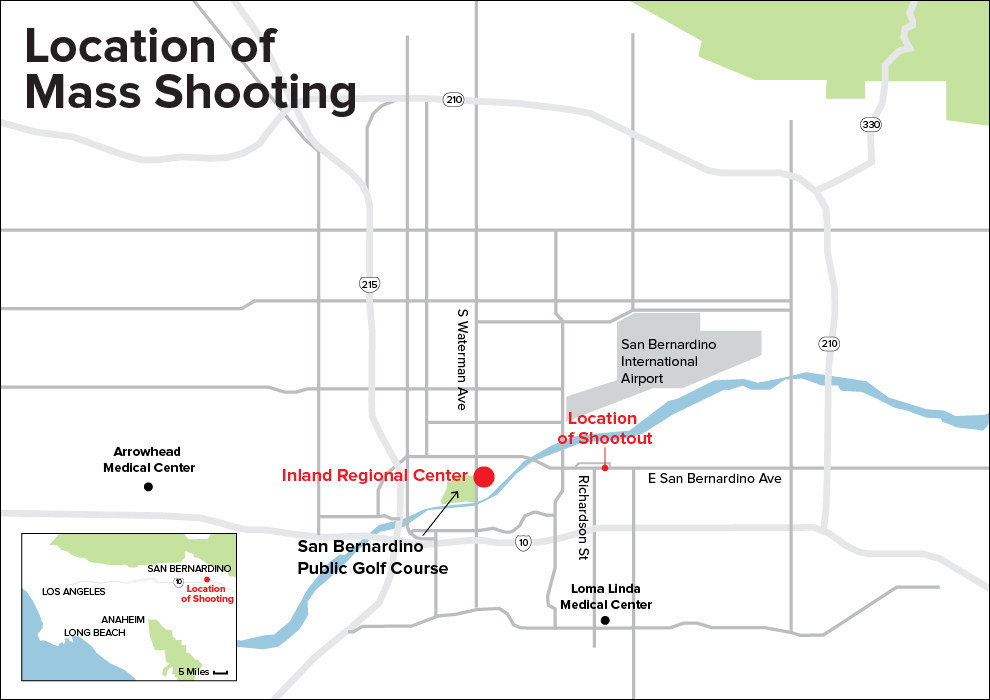 Burguan said the dead suspects had assault-style weapons on them and handguns. The center is still being checked for a suspicious device by the bomb squad, and authorities said that what they earlier thought was a pipe bomb was just a piece of metal. "They came prepared as if they were on a mission," he said.
"At a minimum...we have a domestic terrorism situation," Burguan said.
According to the Inland Regional Center's Facebook page, almost 670 staff at the center work to treat individuals with developmental disabilities.
An employee at the center told BuzzFeed News an active shooter training drill was scheduled to take place at the building on Thursday.
After the shooting, the assailants fled in a black SUV, leading to a manhunt.
Shortly after 3 p.m. local time, officers encountered the suspects' vehicle and exchanged gunfire. Aerial footage showed a dark SUV riddled with bullet holes.
The footage also showed a person several feet away from the car lying in a pool of blood.
Police spokesperson Sgt. Vicki Cervantes said a police officer was shot in the incident but was not seriously injured. "If he was struck, then it's not life threatening," she said.
During the manhunt, county offices and courts shut down. Other offices related to government, including the San Bernardino National Forest and the county employees union, also announced they would close for the day.
Local schools were not letting anyone on campus, and California State University San Bernardino announced campus would close at 6 p.m. local time.
One person who tried to escape during the shootout was detained.
Terry Pettit told reporters his daughter, Holly Pettit Graefe, who works in the Inland Regional Center, had sent him a text message after shooting broke out in her workplace.
"People shot. In the office waiting for cops. Pray for us. I am locked in an office," the message read.
Holly's brother, Taylor Pettit, told BuzzFeed News that his sister had since been evacuated from the building and transported to a safe facility.
"She heard there was an emergency and a shooting and she locked the door until she was able to get out of there," he said.
Taylor Pettit said he hadn't been able to communicate with Holly, but confirmed that she was not injured.
Marissa Gutierrez, 24, of Redlands told BuzzFeed News her aunt, an outreach coordinator at the center, texted her at shortly after 11 a.m. this morning. "I just got a text from her at 11:10 a.m. saying, 'They're shooting up the place' and that she was scared."
"She said she was hiding in a broom closet," Gutierrez said, adding her aunt, Regina Kuruppo, 46, was evacuated by police.
"My wife is a registered nurse," Andy Schneph told BuzzFeed News. "She called me and said that just as she was about to start work she had to rush across the street to the golf course. I haven't seen her or heard from her."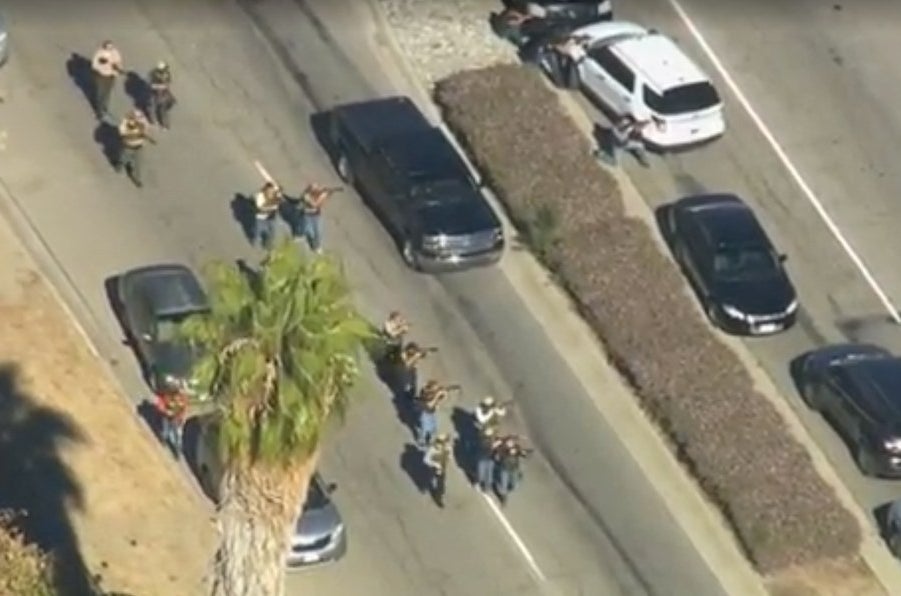 Law enforcement officials walk with weapons drawn.
Federal agents from the Bureau of Alcohol, Tobacco, and Firearms (ATF) Los Angeles Field Division are responding to the scene, the group said on Twitter.
The ATF had deployed its explosives enforcement officer and canine unit to the scene, the bureau added.
After being notified of the shooting, President Obama told CBS News he hoped the shooting could be "contained."
"We don't yet know what the motives of the shooters are. But what we do know is there are steps we can take to make Americans safer and that we should come together in a bipartisan basis at every level of government to make these are rare as opposed to normal," he said. "It doesn't happen with the same frequency in other countries."
California Gov. Jerry Brown has also been briefed and was monitoring the situation, his office said on Twitter.
"Our thoughts and prayers are with the victims' families and everyone affected by the brutal attack," he said in a statement. "California will spare no effort in bringing these killers to justice."
Martha Guzman-Hurtado, a spokesperson for the Fontana Police Department, told BuzzFeed News that several of his officers have been called to the Inland Valley SWAT team, and are on scene in San Bernardino. Similarly, Corporal Donald Patton of the Highland Police Department, a contact office of the San Bernardino County Sheriff, told BuzzFeed News that four of his officers were currently at the scene of the shooting to assist.
Video was also shared on Facebook showing employees being evacuated from the center.
Services for people with developmental disabilities in California are provided through 21 nonprofit regional centers, as well as state-operated centers. For many families, the regional centers are their first point of contact for accessing services and support.
Disabilities of people who use the regional centers include cerebral palsy, epilepsy, autism, and intellectual disabilities, according to the California Department of Development Services. Services can range from helping people find living arrangements, jobs, or providing families with in-home care.
The Inland Regional Center is the largest of its kind on California, serving almost 31,000 people with developmental disabilities in Riverside and San Bernardino counties.
Following the shooting, the San Bernardino Public Employees union said their offices would be closed for the rest of the day. "Our deepest condolences go out to the families and loved ones of the victims," the union said.