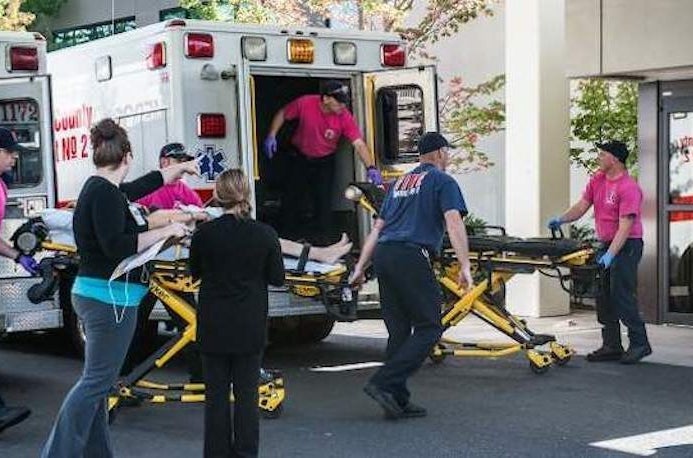 Ten people were killed and at least nine others wounded Thursday after a gunman opened fire at Umpqua Community College in Oregon, authorities said.
The revised figure of those injured — announced by Douglas County Sheriff John Hanlin at an afternoon news conference — was significantly lower than the earlier reports of 20 people on the campus suffering injuries.
At the news conference, Hanlin declined to name the shooter, but later in the evening, multiple media outlets, including the Associated Press, the New York Times and CNN, identified him as 26-year-old Chris Harper Mercer.
The shooter was among the 10 killed on the campus after law enforcement officers exchanged gunfire with him on the campus, authorities said. No officers were injured.
Local and federal authorities were looking into the shooter's past, though little was known about him as of Thursday evening.
According to public records, Mercer lived in Torrance, California, before moving to Winchester, Oregon. His most recent home was not clear.
He had reached out to people online on several pen pal pairing websites, including spiritualpassions.com and morguepenpals.yolasite.com, and described himself as a college student living with his parents on the posts, stating he was, "shy at first but warm up quickly, better in small groups."
Mercer also described himself as "not religious, but spiritual."
In a posting in morguepenpals.yolasite.com he wrote liked movies: "Horror movies are the best, but I also like some action films, depending on the type, and I like crime dramas as well."
Officials said they would wait 24 hours to identify the victims late Thursday afternoon, but Kylie Fitzgerald told BuzzFeed News her cousin Cheyenne Fitzgerald, 17, was among those injured.
"She was shot in the stomach and lost a kidney," Kylie Fitzgerald said.
According to Kylie, Cheyenne underwent surgery Thursday afternoon. She was in an intensive care unit and "is doing better now," Kylie added.
Kylie said Cheyenne had only recently started studying at the college.
The case drew a sharp response from President Obama. Speaking from the White House, he said that the issue of stricter gun laws should be politicized because "we collectively are answerable to those families who lose their loved ones due to our inaction."
He also took rare aim at the National Rifle Association – without naming them – saying: "I would ask America's gun owners, who are using those guns properly and safely to hunt, for sport, for protecting their families...if your views are being properly represented by the organization that suggests it is speaking for you."
Hanlin said the severity of the shooting stunned the community.
"We are a peaceful community. We have our share of crime like any small community, but this is certainly huge shock to the entire community to have this level of crime … occur," Hanlin said.
"Be aware of their anguish … the families of the victims are the ones who will have the most difficult days ahead."
In January 2013, following the Newtown massacre, Hanlin wrote a letter to Vice President Joe Biden arguing against gun control.
"Gun control is NOT the answer to preventing heinous crime like school shooting," he wrote in the letter.
When asked about it Friday morning, Hanlin said, "right now is not the time to have those conversations."
One of the wounded is an 18-year-old female, and another is a 34-year-old female, PeaceHealth Sacred Heart Medical Center told KOIN-TV.
"Our thoughts and prayers are with the victims and their families. We are holding the community of Douglas county in our hearts today. To our first responders thank you for your work as our hearts are heavy with grief," Oregon Governor Kate Brown said.
Police got 911 calls about the shooting at 10:38 a.m. PT, Oregon State Police Supt. Richard Evans said. When officers arrived, the shooter was in one of the buildings, Hanlin said.
"A shooter entered a science/English building known as Snyder Hall and proceeded to shoot," student Josh Simonis told BuzzFeed News.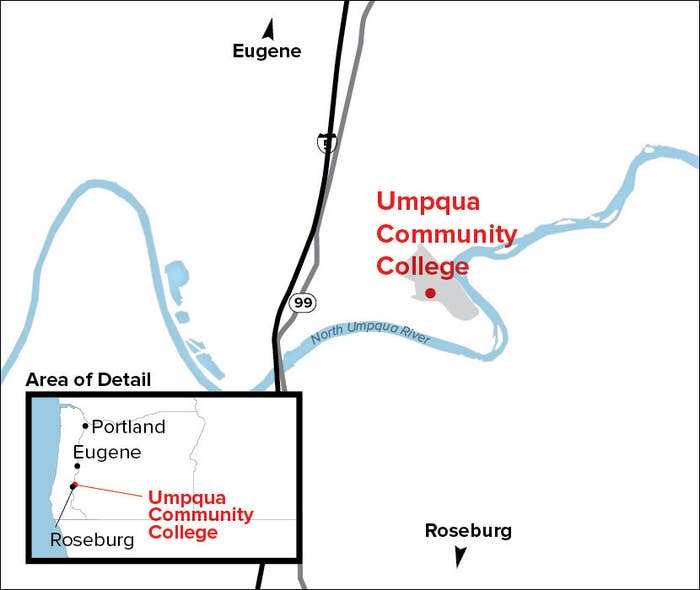 "It is my freshman year at UCC. I was sitting in the tutor center waiting for my psych class to start when a lady came in gasping for air," he said.
"We thought nothing of it but apparently she had come from the shooter's building and warned us to get to cover. We were then all evacuated from the room in a hurry into a small office, where I sit now," he said.
Kortney Moore, 18, told NRToday that the shooter "asked people to stand up and state their religion and then started firing away," the paper reported.
Anastasia Boylan, who was injured in the shooting and later underwent surgery, reportedly told her father and brother the gunman ordered students to stand up if they were Christians.

"And they would stand up and he said, 'Good, because you're a Christian, you're going to see God in just about one second,'" Boylan's father, Stacy, told CNN.
"And then he shot and killed them."
Chris Mintz, an army veteran was shot seven times as he "tried to protect some people," his aunt Sheila Brown told NBC News. "We were told he did heroic things to protect some people."
According to Brown, Mintz served in the army for about 10 years. She said that he has wrestled and done cage-fighting in the past so she was not surprised he would try to help others.
Mintz was shot in the back, abdomen, and hands and broke both his legs, his aunt said.
Pre-nursing student Brady Winter said in a Facebook post, "we heard a bunch of gunshots and all bolted and scattered. I ran to the edge of the campus, down a hill and waited. From talking with a student in the classroom where it happen, almost every person in the room was shot by a man with 4 guns. I'm still shaken up and am having a hard time processing what I heard and what happened."
And Mikayla Moyers, a freshman, told the student paper, the Mainstream, that she was in the library, north of Snyder Hall where the shooting happened.
"Kids came running in, they were yelling help, call 911, get out," she said, recalling how teachers quickly locked doors, gathered students into a back room, and "just tried to keep quiet".
The federal Bureau of Alcohol, Tobacco, and Firearms and the FBI are responding to the shooting, the agencies said.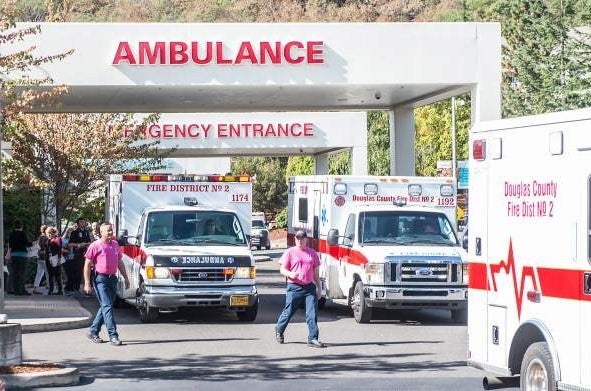 Hans Notenboom, the emergency department co-director at PeaceHealth Sacred Heart Medical Center in Eugene, said the first patient arrived around noon. Additional doctors and nurses were called in. He also asked for blood donations "in any amount."
"Can't say what injuries are," he said. "They're in the operating room. Clearly serious enough to have to go to the operating room."
Three females came in – two went directly to the operating room and one is being diagnosed. The patients were all flown in by helicopter or fixed wing.
Mercy Medical Center in Roseburg took 10 patients, it said.
"At 10:38 a.m., [we] received reports of a shooting. Police from multiple jurisdictions responded. Students and faculty members were bused to local fairgrounds, Douglas County fairgrounds. No further threat," the Douglas County Sheriff's office told BuzzFeed News.
"We have workers in the area working to get out the message that folks should get away from the scene," said Cory Grogan of the Oregon Office of Emergency Management. "Right now there are ample resources to respond to this situation. We've had active shooter situations in recent history – that is always a threat – but this is a particularly unfortunate situation."
Federal law enforcement officials told the New York Times they were looking into postings on the web site 4chan, where an anonymous poster wrote "don't go to school tomorrow if you are in the northwest" hours before the shooting. It is unclear if that message is related to the incident. Some other anonymous posters encouraged the original poster to go through the plan.
Umpqua Community College, founded in 1964, is nestled along the Umpqua River in Roseburg, Oregon. Its mascot is the Riverhawk, according to its Facebook page. The two-year college sits on a 100-acre campus with 16 academic buildings, administrative offices and student facilities, according to CollegeAtlas.org, an online resource website for college applicants.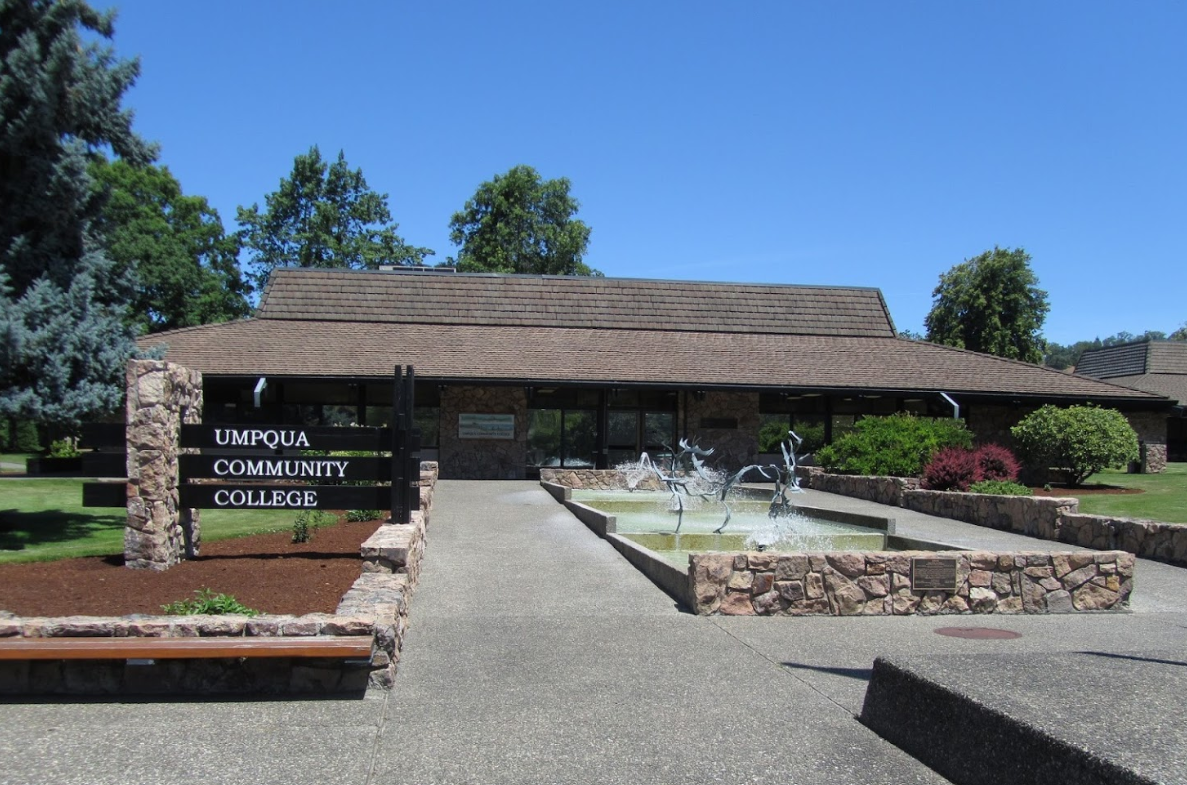 The school's total annual enrollment is roughly 3,177 full-time and part-time students, according to archived snapshots of the college's website. The average age of its students is about 38 years old.
However, it has seen declining enrolment and as a result, the school has wrestled with how to finance itself. In April, the college's board of trustees voted against the college's decision to send layoff notices to 14.5 full-time equivalent faculty due to budget issues, according to NRToday.com. The college has seen a 40% decrease in enrolment since 2011 and expects next year's enrolment to be "flat," said Chief Financial Officer Rebecca Redell. In May, the layoff decision for the 14.5 faculty still had not been resolved, according to NRToday.com. But the board of trustees approved the college's request to make a plan for layoffs to settle the budget, which was due to be finalized in June.


This is a developing story. Check back for updates and follow BuzzFeed News on Twitter.

Reporting by Stephanie McNeal, Ema O'Connor, Tamerra Griffin, Mary Ann Georgantopoulos, and Sara Yasin in New York; Claudia Koerner, Jason Wells, Salvador Hernandez, and Jim Dalrymple in Los Angeles; Ellie Hall in Washington, D.C.; and Ryan Broderick in London.