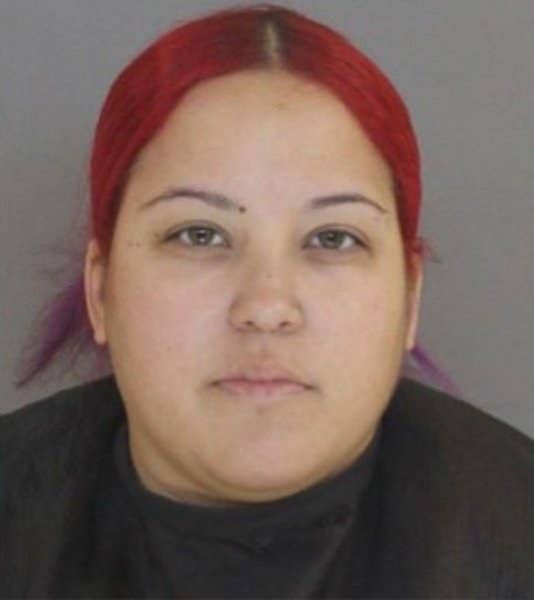 Authorities in South Carolina have charged a woman with cruelty to children after she allegedly recorded herself pouring water on her sleeping baby's face and then posted it on Facebook, calling it "payback" for keeping her up at night.
On Saturday night, Caitlin Alyse Hardy filmed herself tipping a water bottle onto her sleeping 9-month-old daughter's nose and mouth twice, causing her to wake up while coughing and sputtering, according to the Sumter County Sheriff's Office. The 33-year-old then allegedly posted the video to her Facebook page with the caption, "Payback for waking me up all kinda times of da night..." with three laughing emojis.
In a statement, the department said it investigated Hardy after seeing "disturbing images on a social media site." Authorities arrested her Wednesday after issuing a warrant the day before, accusing her of causing "ill treatment, unnecessary pain and suffering, and/or deprivation of necessary sustenance" upon her infant.
"The mother said she did it as a joke," Captain Robert Burnish, head of Sumter County Sheriff's investigations division, told BuzzFeed News.
In the 36-second clip, a woman can be heard laughing as she holds a bottle of Aquafina water over the baby's cheek as she sleeps in her crib. The woman tips some water on her face and the little girl pops up and starts to cough and gasp, causing the woman to laugh harder. The infant, still asleep, turns back on her side and coughs again. A few second later, the hand spills more water directly onto the baby's nose, startling her and causing her to jump up and cry.
The video went viral on Facebook after a group, "Where is baby Kate?," posted it on Sunday with a picture of the mother's profile and the number and link to the sheriff's department.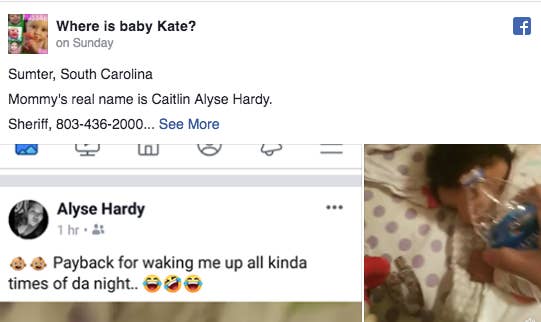 Horrified, members of the group started contacting the Sumter County Sheriff's Office, posting their snapshots.

Sarah Flores, who lives in Maryland, said she saw the post via a friend. Describing the act as "horrid," she said she was so upset she immediately contacted the school district, sheriff's office, and social services, sending them links to the video.
"It just broke my heart and made really sad for her and that baby," Flores, who has five children of her own, told BuzzFeed News on Wednesday. "Many risks stem from what she did and there is no excuse for her behavior and I was afraid if that's how she treats her infant, I can imagine how she treats her school-aged kids."
Sheriff Anthony Dennis said his office received a number of calls and communications from "concerned persons" about the video.
Officials charged Hardy with cruelty to children and booked her at Sumter-Lee Regional Detention Center. She was released Wednesday after posting a $1,500 bond, records show.
The case remains under investigation, but Burnish said that, as of now, investigators have not found any evidence that the other children have been mistreated. The Sumter County Department of Social Services is also looking into the matter.

In 2014, the mother of four was charged with a misdemeanor for allegedly violating the state's law for properly securing and restraining a child while in a vehicle, according to court records.

Since her arrest, Hardy appears to have scrubbed her Facebook account. (The social media company confirmed to BuzzFeed News that it did not take any action on the profile.) But Flores said the case is proof that people should speak up quickly when they see possible abuse happening online.
"It doesn't take much, just someone speaking out," she said. "No one should have to suffer, especially those who cannot defend themselves."