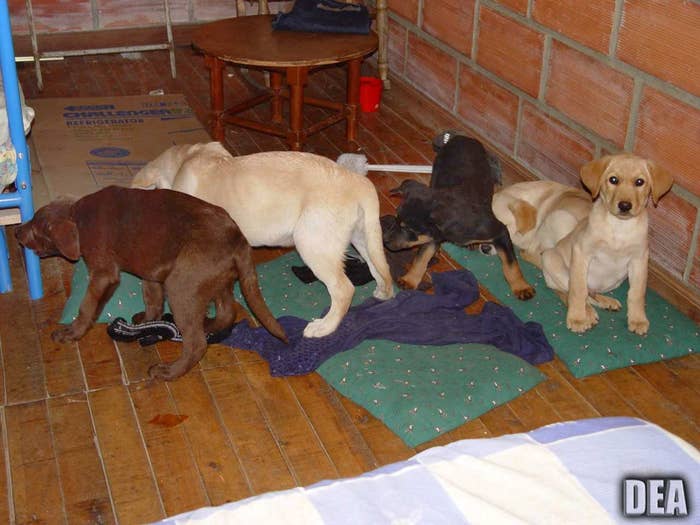 A veterinarian who surgically inserted liquid heroin into puppies as part of a Colombian drug smuggling operation was sent to prison on Wednesday after nearly a decade on the run.
Andres Lopez Elorez secretly raised the dogs at a farm he leased in Medellín, Colombia, from 2004 to 2005 and would use his veterinary skills to stitch little balloons filled with narcotics into their stomachs so drug traffickers could sneak them into the US, according to federal officials.
When the puppies arrived, the drugs were "surgically removed" from their stomachs. It's not clear how many of the animals died in the process, US prosecutors said.
Elorez was part of a larger Colombian drug ring that employed various methods, including human mules, to move drugs into the country.
On Jan. 1, 2005, US law enforcement searched the farm as part of a sting and found nine puppies and 17 bags of liquid heroin, 10 of which surgically removed from the dog's abdomens. Three of them died from viruses contracted after their surgeries.
Elorez had been on the run for nearly 10 years before authorities captured him in Spain, where Spanish officials say he had been hiding for about eight years. In May 2018, he was extradited to the US and pleaded guilty in September to conspiring to import heroin into the United States.
"As alleged in the indictment, Elorez is not only a drug trafficker, he also betrayed a veterinarian's pledge to prevent animal suffering when he used his surgical skills in a cruel scheme to smuggle heroin in the abdomens of puppies," US Attorney Richard Donoghue said at the time.

On Wednesday, a US district judge in New York sentenced the vet to six years in prison. When he completes his sentence, Elorez will be deported, Donoghue announced in a statement.
"Every dog has its day, and with today's sentence, Elorez has been held responsible for the reprehensible use of his veterinary skills to conceal heroin inside puppies as part of a scheme to import dangerous narcotics into the United States," stated Donoghue.
He also thanked the slew of national and international law enforcement agencies "for their assistance in the investigation, extradition, and prosecution."

The story is not all terrible, though. Two of the drug-mule puppies went on to help fight crimes.
A Colombian police officer and his family adopted one of the dogs, a beagle named Donna.
The department also rescued a Rottweiler and trained her to hunt drugs. They named her Heroina.