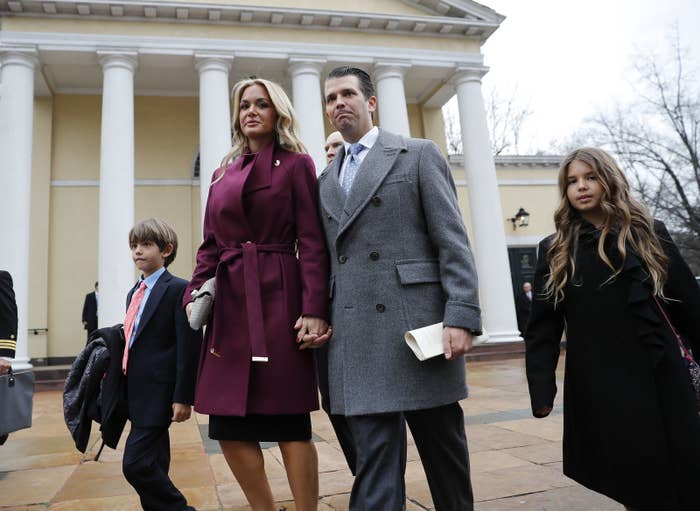 Vanessa Trump has filed for divorce from her husband, Donald Trump Jr., after nearly 12 years of marriage, according to court records and a statement from the couple.

On Thursday, Vanessa Trump filed for an uncontested proceeding in the Manhattan Supreme Court, according to the New York Post, which first broke the news. That means she will not fight the president's eldest son for custody or over their assets, the outlet explained.
The couple confirmed their impending separation Thursday evening. The Trumps have five children, ages 10, 9, 6, 5, and 3.
"After 12 years of marriage, we have decided to go our separate ways," the Trumps said in a joint statement. "We will always have tremendous respect for each other and our families. We have five beautiful children together and they remain our top priority. We ask for your [sic] privacy during this time."
The couple married in 2005, two years after Donald Trump introduced them at a fashion show, according to the New York Times.
The Post reported that the Trumps had been struggling with marital problems pertaining to Donald Trump Jr.'s incessant travel and some of his recent, questionable actions on Twitter. He recently liked two tweets that peddled a conspiracy theory about a teenage Florida school shooting survivor. On Halloween, he tweeted that he was taking away half of his 3-year-old daughter's candy as part of a lesson about socialism.
The president's son "appears to have changed recently, and friends are concerned about him," two sources reportedly told Page Six, adding that Vanessa has become uncomfortable with the intense, scrutinized focus on the Trump family.

Last month, Vanessa Trump was taken to the hospital as a precaution after she opened an envelope with a mysterious white powder in it, which police later found to be cornstarch.
Vanessa Trump filed for divorce on the same day that White House special counsel Robert Mueller, who is looking into a 2016 meeting Trump Jr. had with Russians over incriminating information on Hillary Clinton, subpoenaed the president's family business. Donald Trump Jr., along with his brother, Eric, have been running the organization since their father became president.