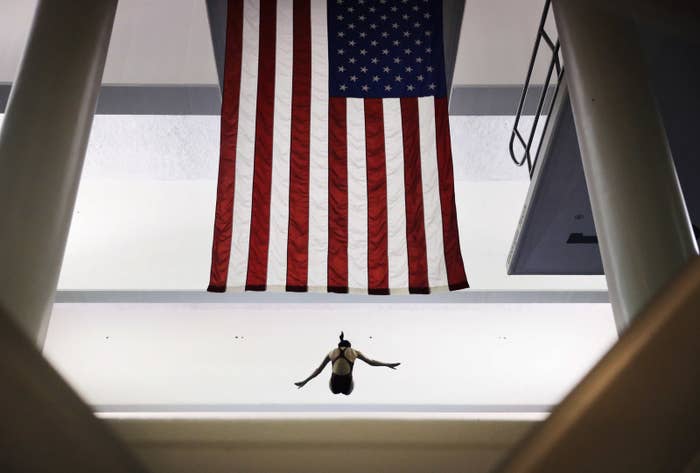 Dozens of young women athletes are accusing USA Diving and the president of an Indiana diving academy of repeatedly ignoring them when they reported coaches' sexual abuse, and of not reporting the claims to law enforcement.
The class-action suit, filed Sunday in the Southern District of Indiana, is the second sexual misconduct lawsuit against USA Diving this year. In July, nearly 50 women accused the Olympic governing body of turning a blind eye while a coach preyed upon and habitually sexually abused young divers.
Now, months later, a slew of other women athletes who trained at an Indiana diving academy called Ripfest are claiming that top officials failed to protect them from "sexual abuse and predatory behavior by many of its coaches." The suit said that the president ignored the claims, did not report them to authorities, and let employees "who were the subject of these complaints" keep "coaching children in USA Diving."
The suit names USA Diving; the Indiana Diving Association; Ripfest; its president, John Wingfield; and coach Johel Ramirez Suarez as defendants.
Wingfield is representing himself, according to court records, and didn't return requests for comment. Suarez's attorney, Stephen Neal Ziliak, also did not respond to multiple requests for comment.

In a statement, a Ripfest spokesperson defended the club's handling of the allegations, emphasizing that the organization has "zero tolerance for this type of behavior."
"Last year, when we became aware of allegations against Ramirez, we immediately removed him from our program, instructed him not to return to our facility pending the outcome of the investigation and terminated him," the statement said. "RipFest Diving remains committed to providing the highest quality training for our diving students in an extremely professional and safe environment."
USA Diving did not respond to BuzzFeed News about the allegations.

The women accuse Wingfield, a former US Olympic coach, and his club of fostering "a culture that tolerated sexual harassment, objectification, assault and abuse" by failing to protect them from Suarez, who was "known to prey on young athletes."
In 2017, the 34-year-old Suarez was arrested and charged with 32 felony counts of child sexual abuse. Last month, he pleaded guilty to three counts of battery and was sentenced to more than a year and a half in jail. Most of his charges, including the sexual abuse charges, were dismissed.
For at least two years, Suarez coached at USA Diving clubs and traveled with teams to events and competitions. By 2016, the complaint states, the organization "had received complaints that Suarez was routinely sexually exploiting, assaulting, and raping multiple female athletes."
One of them, a diver named Amy, detailed in the suit how she was 16 when Suarez started to help her stretch out during practice. Soon, he started stroking her thighs, before eventually moving his hands and fingers over her swimsuit, "directly on her vulva."
"Suarez inappropriately touched and rubbed Amy's vulva approximately a dozen times in 2015 and 2016," her attorneys allege. "On each of the various occasions of sexual assault, Suarez inappropriately touched and rubbed Amy's vulva for varying amounts of time."
Another woman, named in the suit as Jane Doe 1, awoke one fall night in 2016 to Suarez "attempting to digitally penetrate her." She was able to fight him off, and the next day she told Wingfield. The diving academy president dismissed her claims, the suit states.
"After learning of Jane Doe 1's allegations against Suarez, numerous other Ripfest
athletes complained to Defendant Wingfield that Suarez was touching them inappropriately," the plaintiffs say.

Ripfest's top coach brushed off the complaints and allegedly told his athletes that Suarez was Venezuelan, and "that is just how they are."
In the suit, the women also accuse another coach named Chris Heaton, now the head of Harvard's diving program, of coaxing nude photos from and sending pictures of his penis to "young female athletes."

The 31-year-old Heaton is not listed as a defendant. He didn't return requests for comment on Wednesday.
In the lawsuit the plaintiffs name him and describe how "on numerous occasions ... he solicited nude pictures from female athletes at Ripfest."
Starting in 2015, the lawsuit said athletes repeatedly flagged and complained about Heaton's behavior to Wingfield, who ignored their allegations.
The young women then turned to another Ripfest coach, Chris Zukas, who was "instrumental in getting Heaton to leave" the academy.
Harvard hired Heaton in August, after a "successful three-year stint as the program director and head coach at Moss Farms Diving, a nationally recognized Junior Olympic program," the university said in its announcement.

"Chris is an outstanding coach and educator," Robert L. Scalise, the school's athletic director, touted at the time. "He brings a great track record of helping students achieve success at the highest level."
In a statement to BuzzFeed News Wednesday, Harvard contends that it was "unaware of any allegations of sexual misconduct when Mr. Heaton was hired as the Head Coach for Diving in August 2018."
"Upon learning of these allegations from media reports, Harvard immediately placed Mr. Heaton on leave, pending a review of these allegations by Harvard University," spokesperson Rachael Dane said.
While at Moss Farms Diving in Georgia, Heaton also coached for Team USA at the 2016 World Junior Diving Championships in Russia, as well as for the nation's Junior National Squad in 2016, 2017, and 2018.
"My wife, three daughters, and I are excited to relocate to Cambridge," the coach said about his new Harvard position. "I look forward to bringing my knowledge, experience, and passion to the team and partnering with the coaching staff to continue to foster an environment that creates successful scholars, athletes, and leaders."
On Tuesday afternoon, Heaton was still listed as a member on USA Diving's website. By early Wednesday, his name was gone.
Another coach, also not named as a defendant, is accused in the suit of having numerous "sexually inappropriate interactions with teenage female divers." Yet, when parents complained about his behavior, Wingfield took no action.
The lawsuit argues that USA Diving failed to adopt any policies, rules, or procedures to protect its young athletes from sexual abuse, knowingly placing them in the care of men accused of assault.
"This power structure creates a monopoly-like situation that exposes young, vulnerable, athletes to a very dangerous dynamic in which they are forced to do anything their coaches say," Jon Little, one of the attorneys, said in a statement.