President Donald Trump kicked off his new, weeklong celebration of "Made in America" products at the White House on Monday. He sat in an American-made fire truck.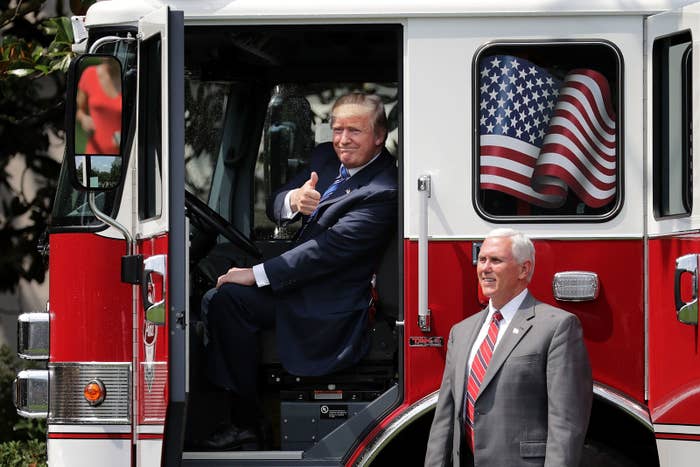 And really enjoyed swinging a "beautiful" baseball bat, tipping a Stetson cowboy hat, gripping some golf clubs, and checking out a host of other American-made products, which, he argues, are the best of the best.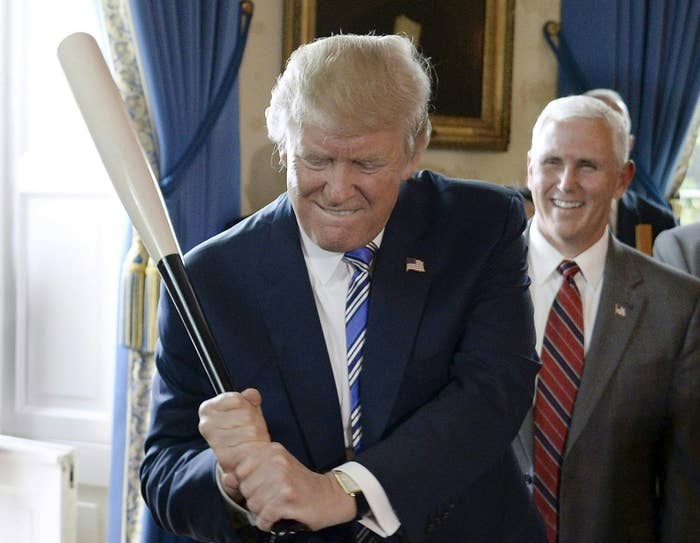 Since the campaign, Trump has vowed to restore American manufacturing jobs to floundering communities and slammed US companies for producing goods overseas.
While touting the importance of bringing these jobs back to Americans, the president has brushed aside the fact that several of his hotels are built with Chinese steel, towels made in India hang in his hotel bathrooms, and his daughter's apparel brand manufactures products in China and Singapore.
So we visited the gift shops at the Trump Tower in Manhattan and at his golf resort in Palos Verdes, California, to see where the Trump branded products sold there are made.
The Trump Pro Shop, situated along the California coast overlooking the Pacific Ocean, is stocked with apparel from various brands, like Nike, Puma, Adidas, Peter Millar, and Footjoy, sporting the embroidered logo "Trump National Golf Club Los Angeles." A tower of gold-brick chocolate bars, flasks, and other knickknacks stands near the center of the store.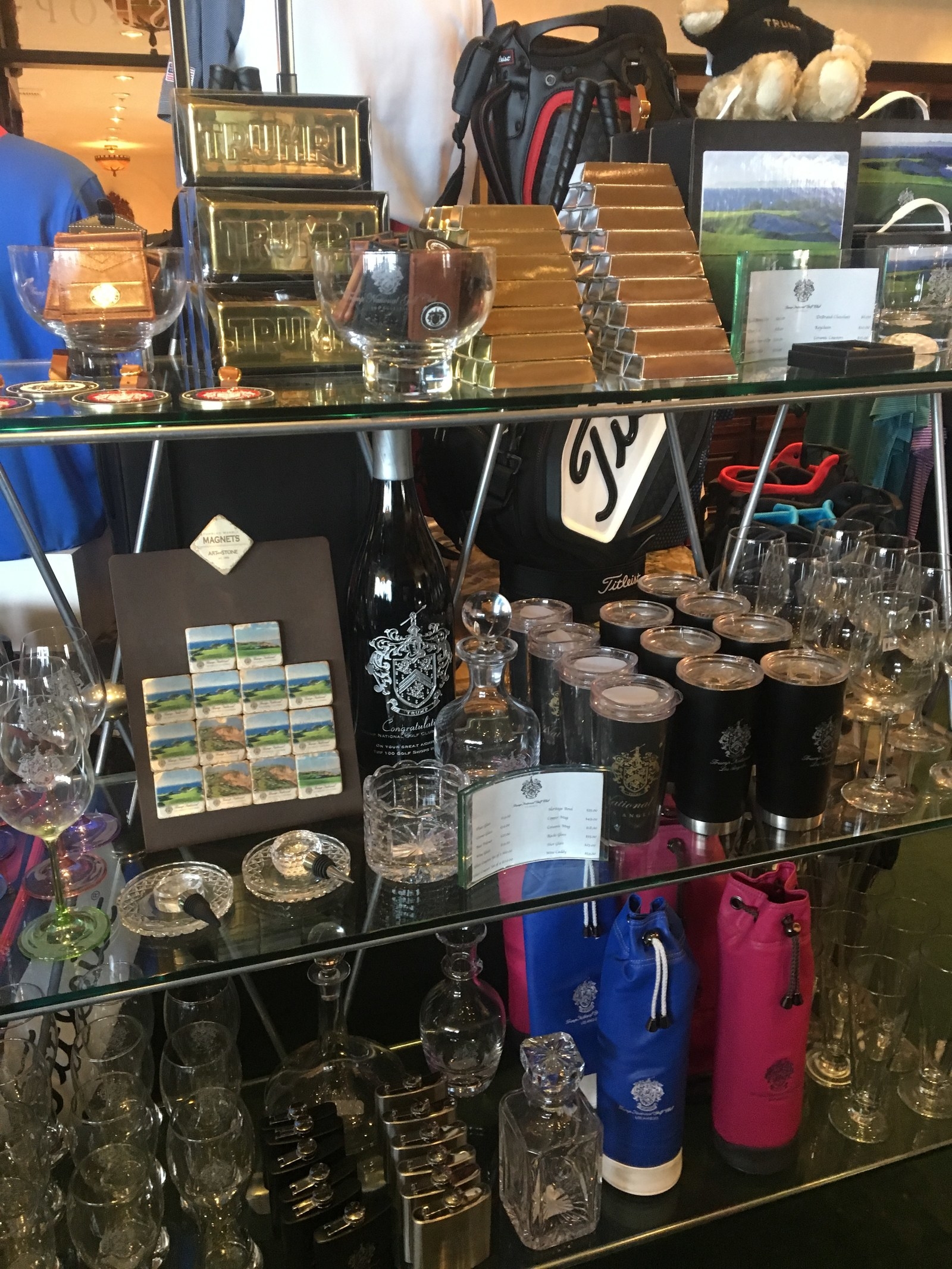 The Trump Store in New York's Trump Tower is lined with a velvet red rope. Like the Trump Pro Shop, it also sells a bunch of stuff not made in these great United States.
Behold some of what we found: a very comfortable-looking teddy bear wearing a teddy bear bathrobe, made in...China.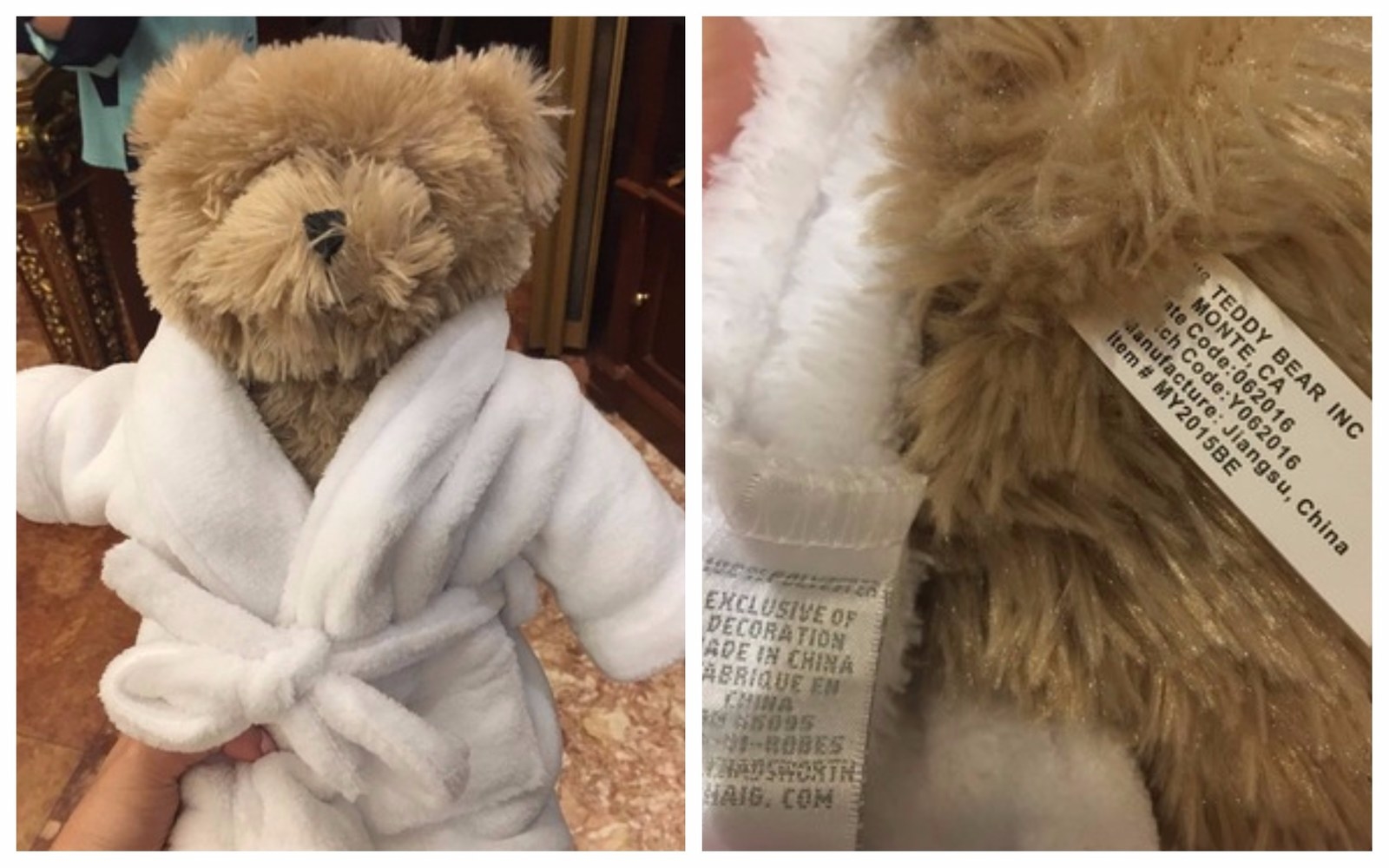 And this Donald J. Trump leather wallet, also made in...China.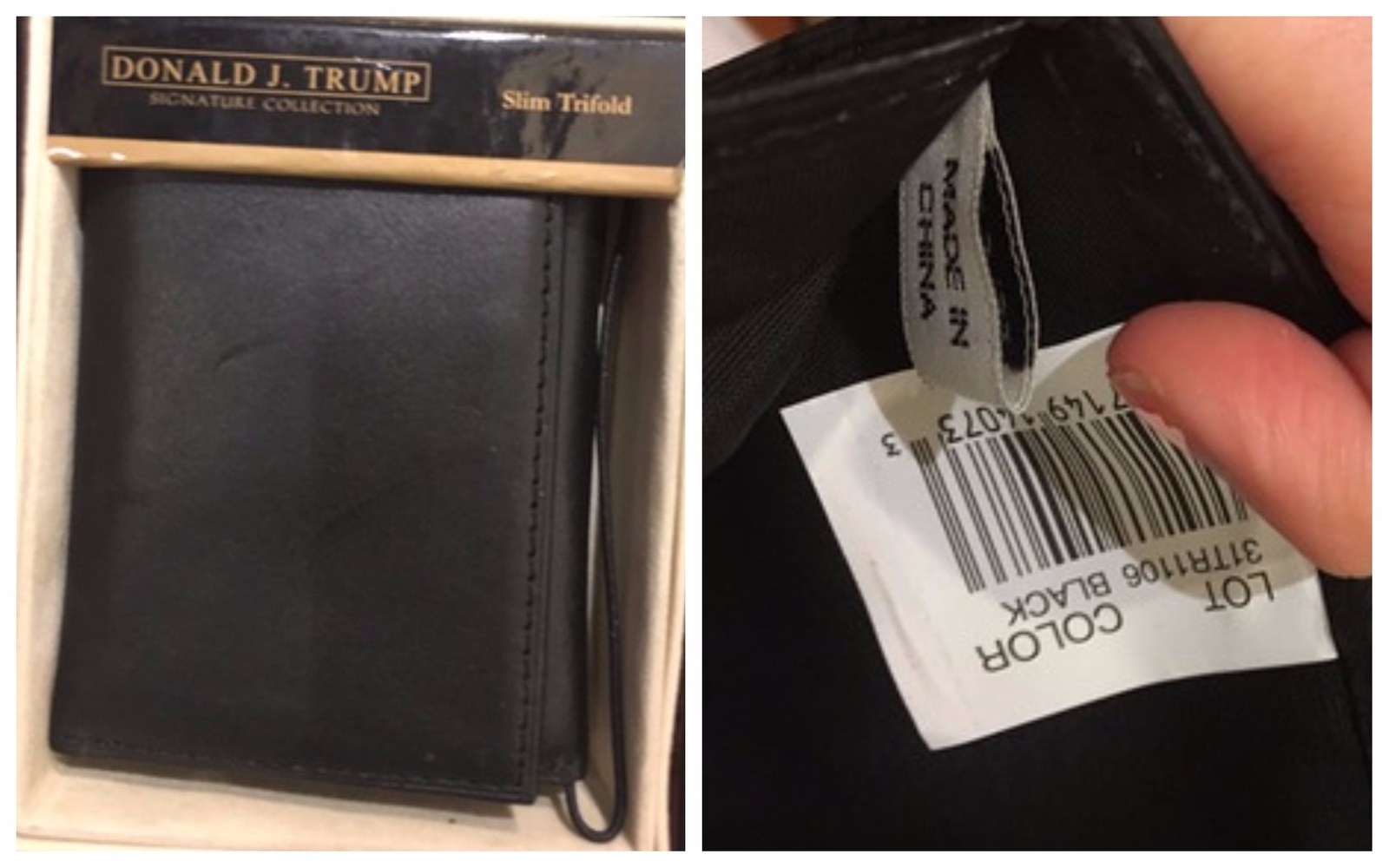 And where do you think this very regal, $50 Trump beanie came from? CORRECT: China.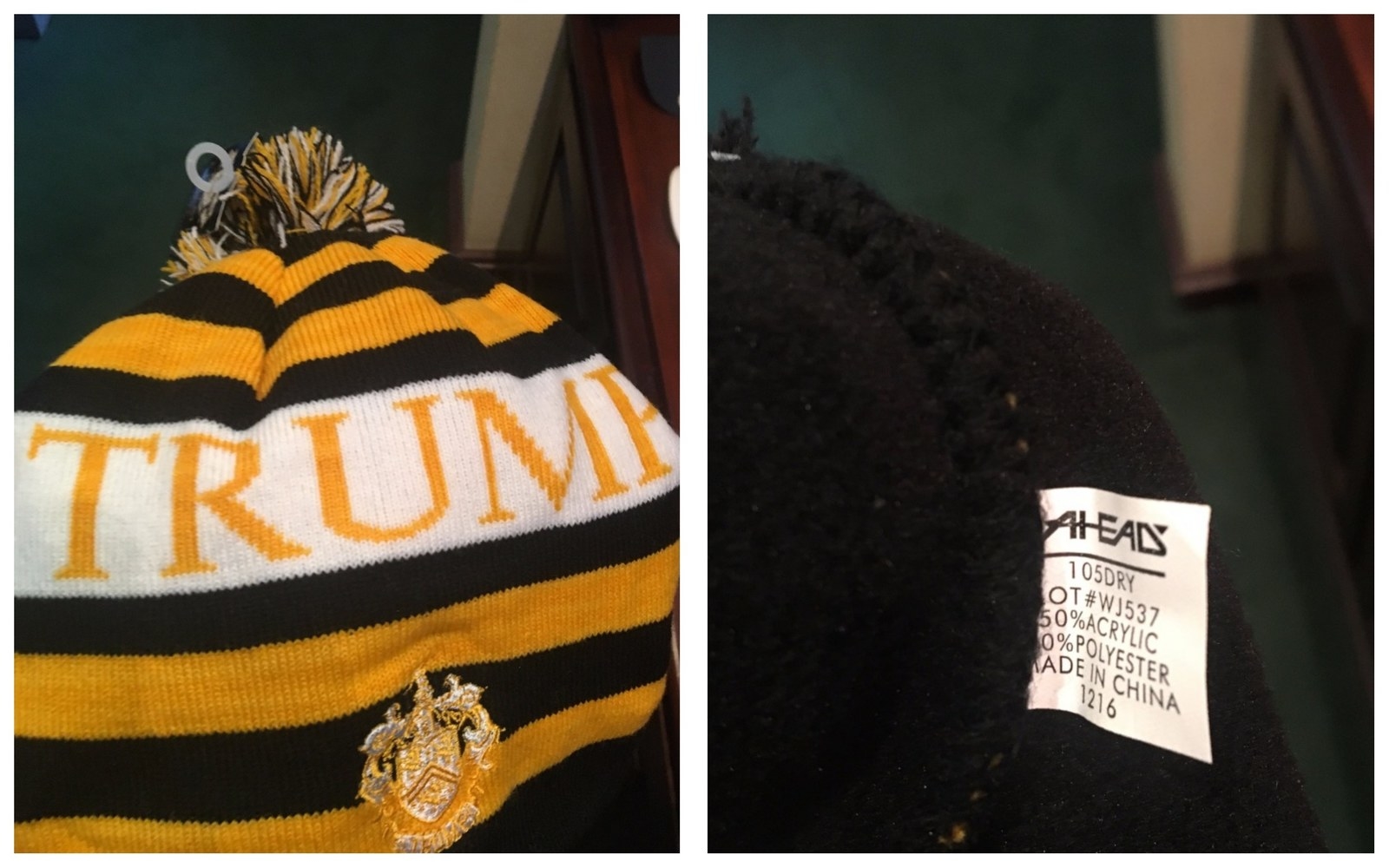 This $20 Trump Hotel Collection shampoo, however, came from our good friends in Canada. Same with the conditioner.
This sugar scrub is also from...Canada.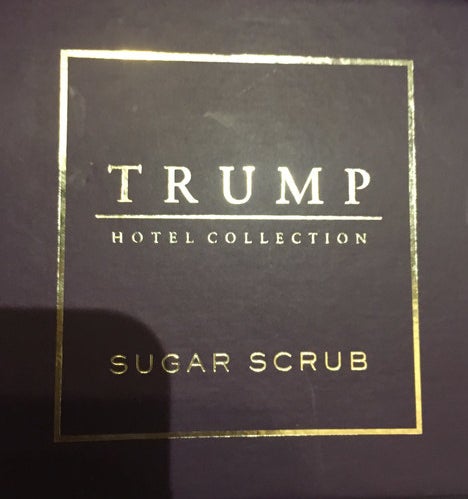 Bangladesh produced several styles of Trump baseball caps.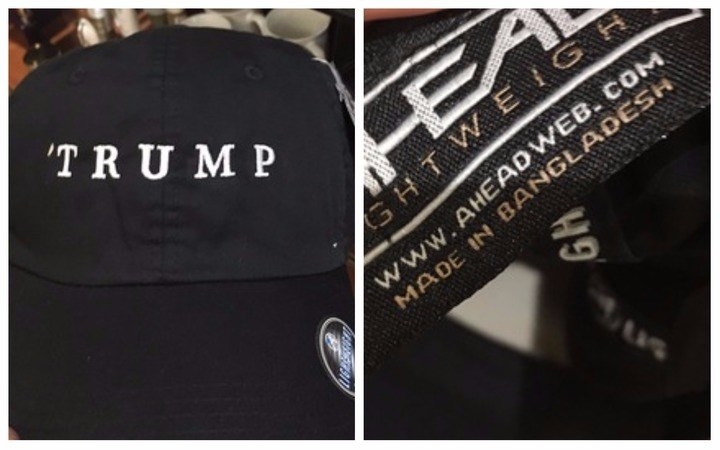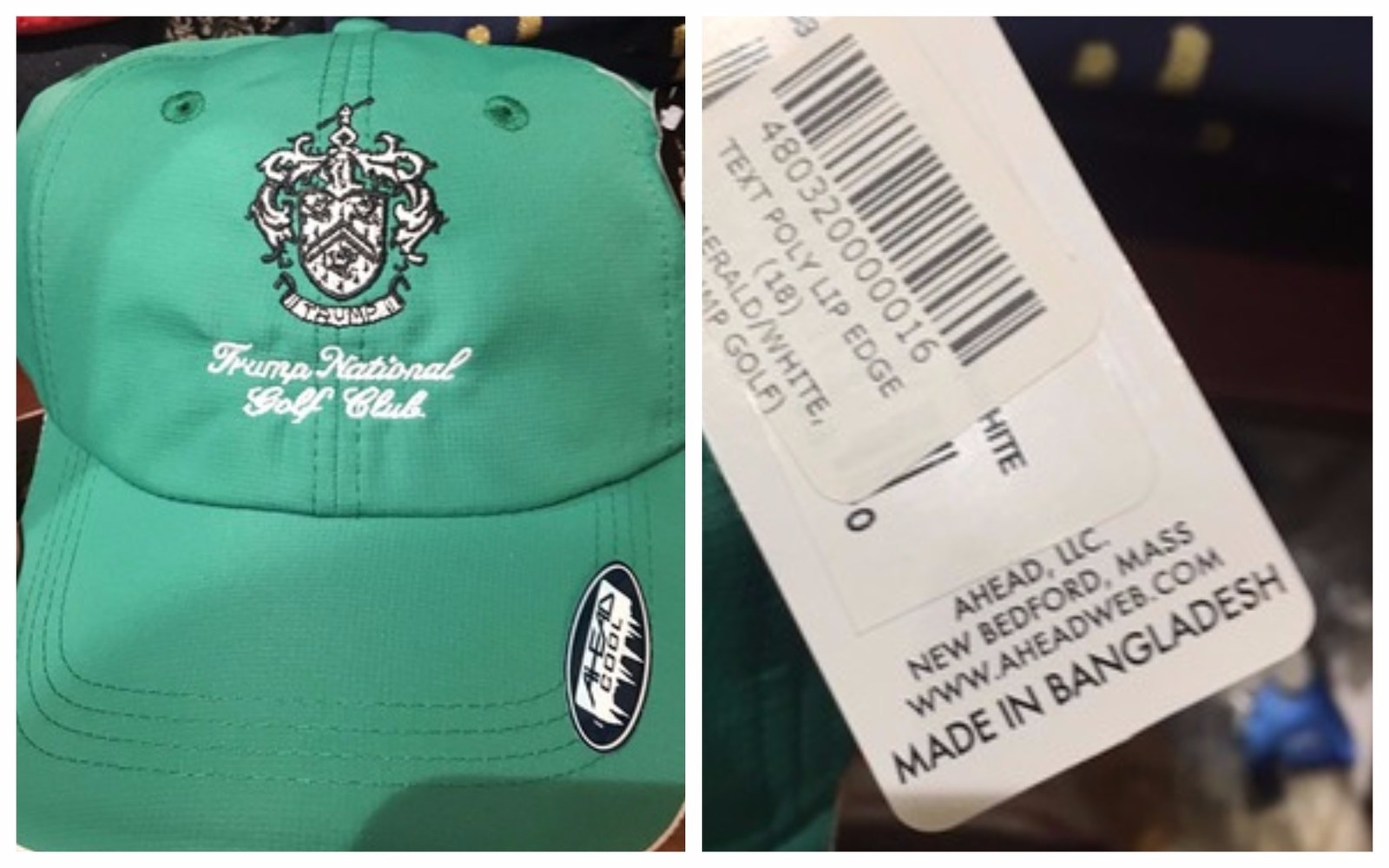 There was also this $60, but very fuzzy, Trump baby bib, made in Peru.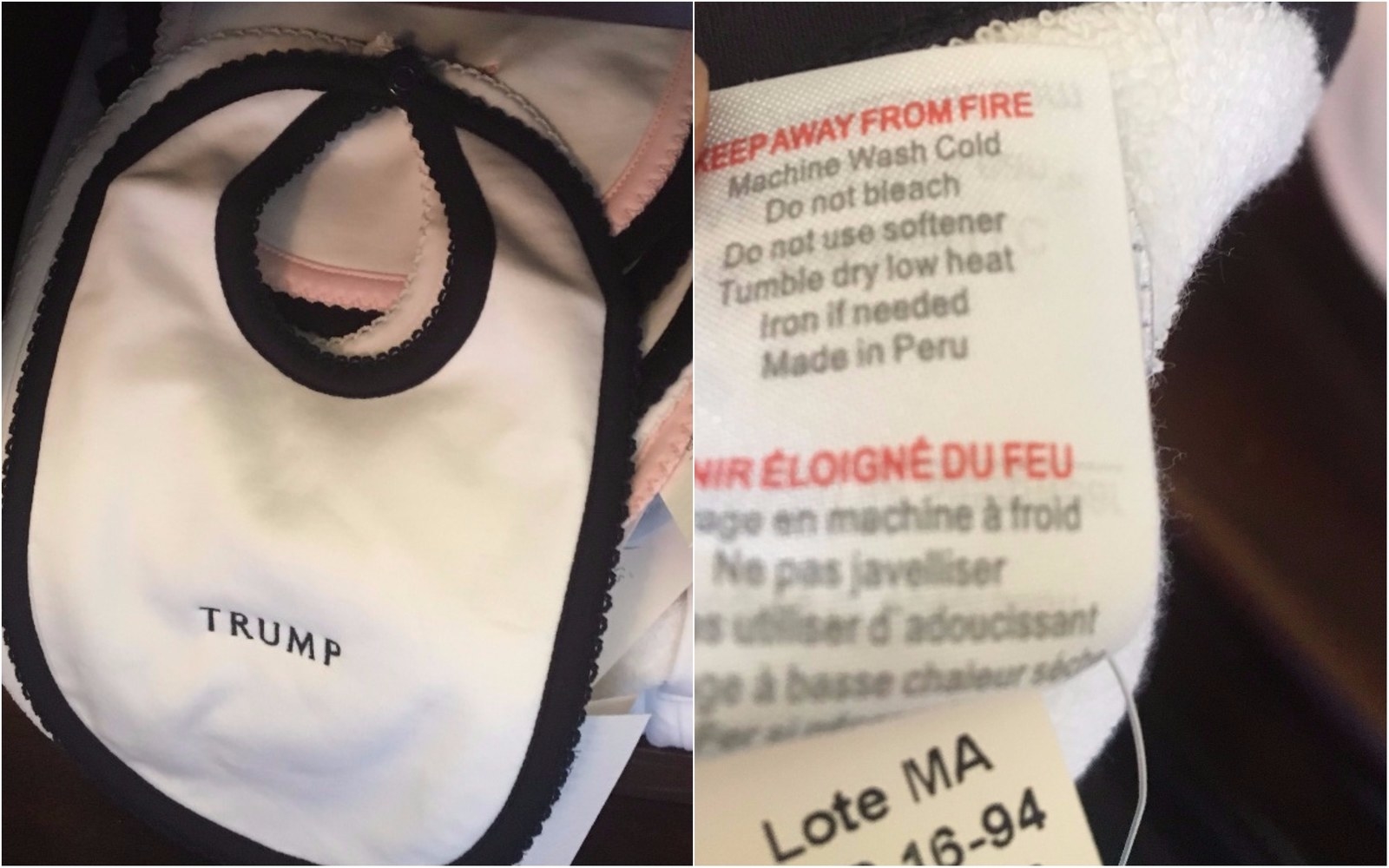 While several products, including golf club bags, sunscreen, and this $6 silver-brick of chocolate, were made in the US, the bulk of the apparel and other items sold at Trump's Pro Shop were manufactured overseas.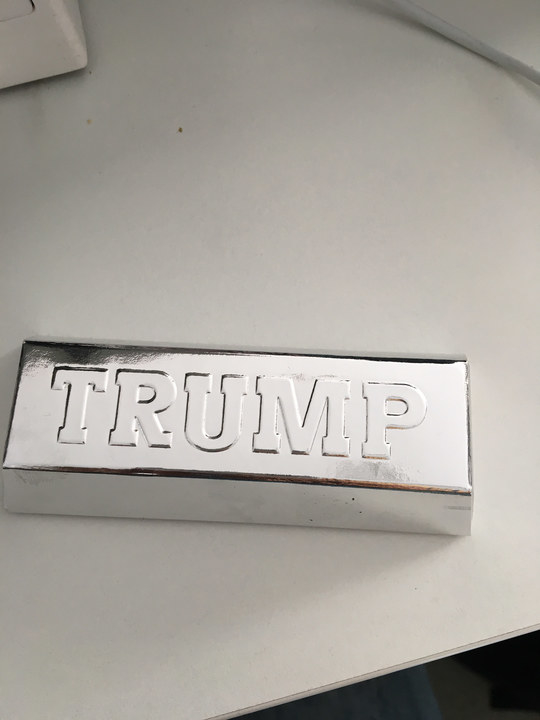 This leather golf club cover, with the locations of all of Trump's resorts stitched along the sides, was also made in...China.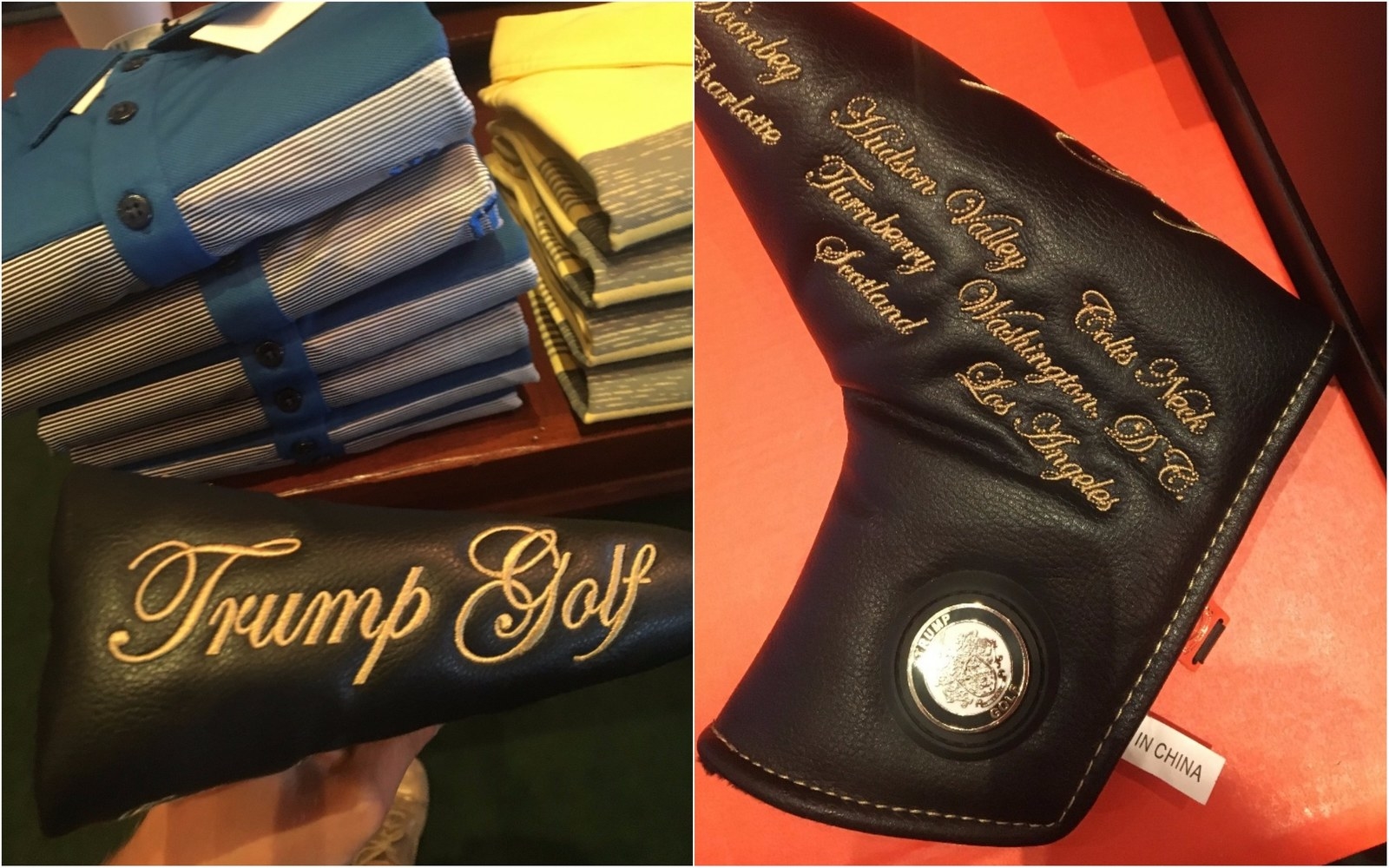 A golf towel displaying Trump's Los Angeles-area golf course logo was made in Brazil.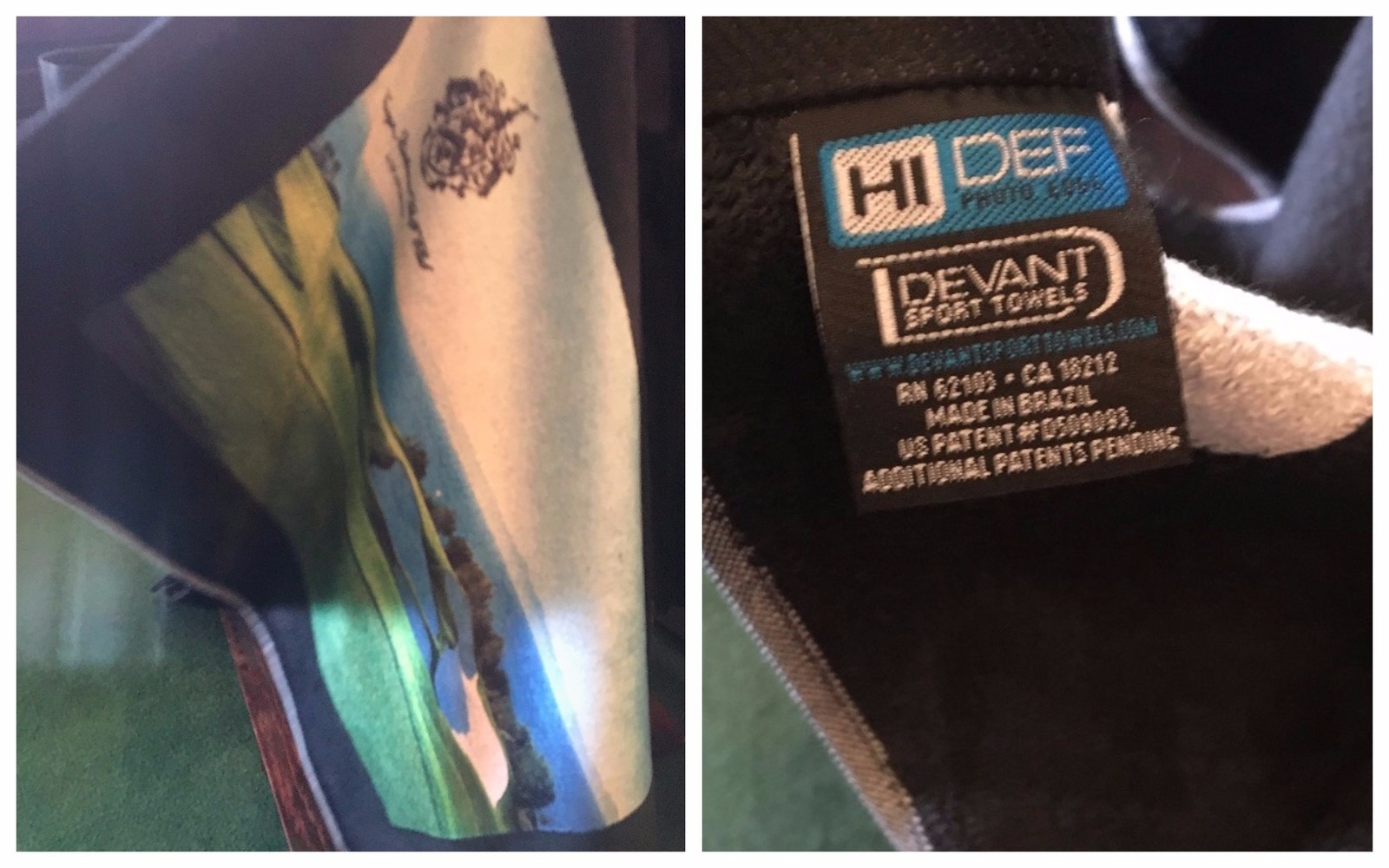 Most of the Trump-branded shirts, vests, and sweaters were made in countries like India, Vietnam, Pakistan, and China.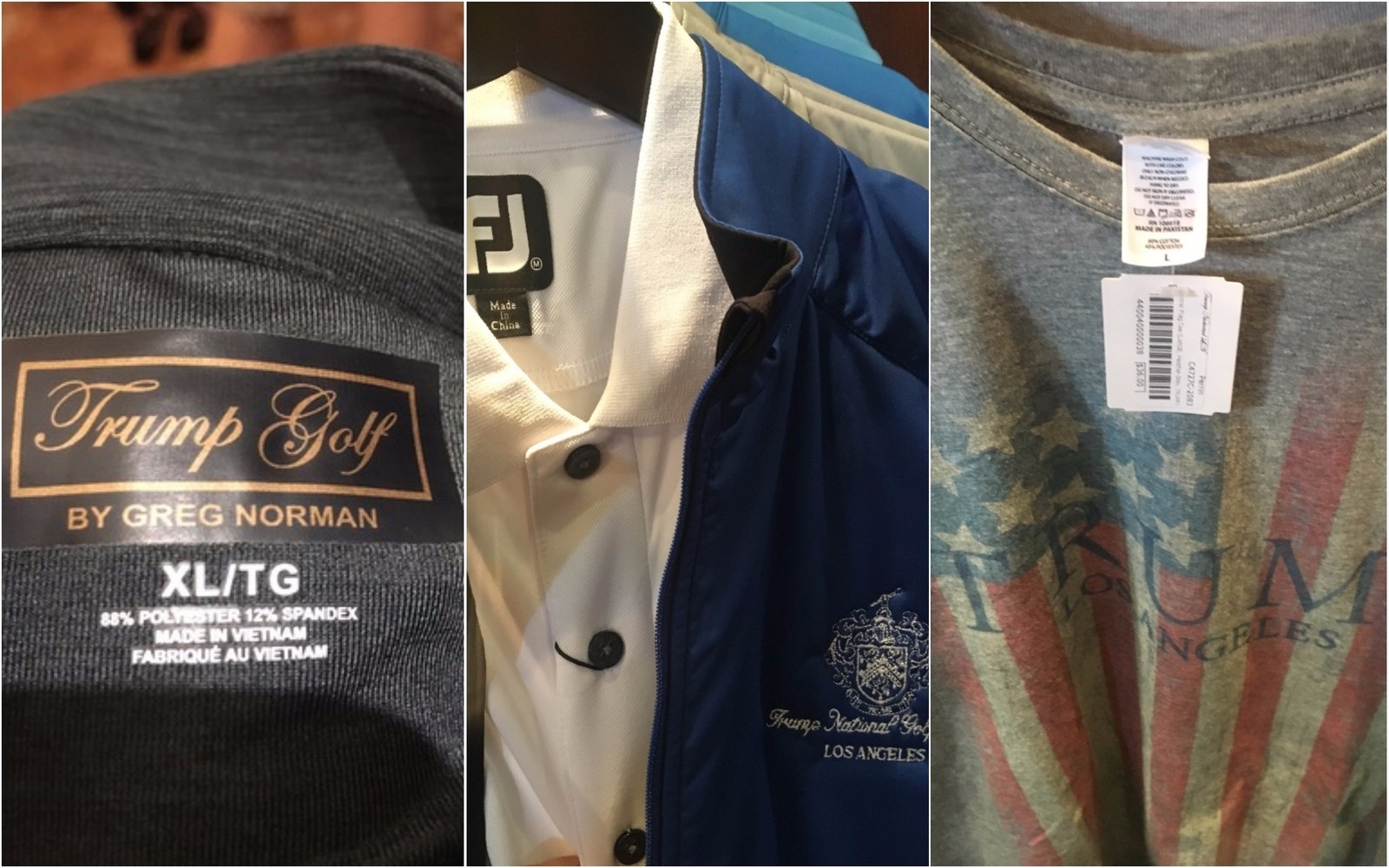 But we did find this one solid Trump product that was made in the great USA.
His cologne, "Success."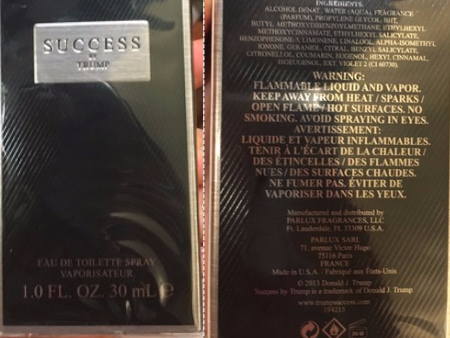 BuzzFeed News has reached out to the White House and The Trump Organization for comment.