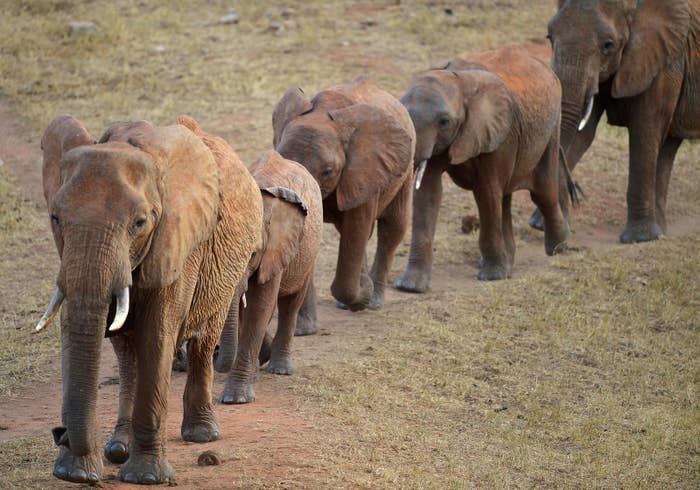 Hours after the US Fish and Wildlife Service announced it had finalized a policy to allow big game hunters to bring the heads of elephants killed in Zimbabwe back to the US, President Trump said he had put the controversial decision "on hold."
In a notice filed Friday, the Fish and Wildlife Service said it found "that the killing of African elephant trophy animals in Zimbabwe, on or after January 21, 2016, and on or before December 31, 2018, will enhance the survival of the African elephant." The decision reversed an Obama-era ban on the import of elephant trophies and furthered the Trump administration's efforts to promote hunting, sparking public outcry.
The hashtag #BeKindToElephants began trending on social media, Ellen Degeneres launched a campaign to raise money for the animals' conservation, and even some of the president's most ardent supporters came out against the reversal.
On Friday night, Trump halted the decision made by his own administration.
"Put big game trophy decision on hold until such time as I review all conservation facts," he said. "Under study for years. Will update soon with Secretary Zinke. Thank you!"
In a statement Friday night, Zinke said that he had discussed the issue with Trump and they "both believe that conservation and healthy herds are critical."
"As a result, in a manner compliant with all applicable laws, rules, and regulations, the issuing of permits is being put on hold as the decision is being reviewed," Zinke added.
A spokesperson for the Fish and Wildlife Service did not immediately respond to a request for comment Friday evening, but environmentalists swiftly celebrated the decision.
"It's great that public outrage has forced Trump to reconsider this despicable decision, but it takes more than a tweet to stop trophy hunters from slaughtering elephants and lions. We need immediate federal action to reverse these policies and protect these amazing animals," said Tanya Sanerib, senior attorney with the Center for Biological Diversity.
Earlier this week at the African Wildlife Consultative Forum, the US Fish and Wildlife Service reported that it had "positive enhancement findings" showing that legally hunting elephants in Zimbabwe and Zambia would have a positive impact on wildlife in the region. Its statement Wednesday said that it would allow hunting in both countries, but the Friday notice only included Zimbabwe.
"These positive findings for Zimbabwe and Zambia demonstrate that the Fish and Wildlife Service recognizes that hunting is beneficial to wildlife and that these range countries know how to manage their elephant populations," said SCI President Paul Babaz. "We appreciate the efforts of the Service and the US Department of the Interior to remove barriers to sustainable use conservation for African wildlife."
Although African elephants are listed as an endangered species, the US government under the policy would allow hunters to kill the animals and import their trophies if there is proof the sport helps conserve the species. After some review, the agency said it had determined "well-regulated sport hunting" would actually help preserve the species and funnel resources back into conservation efforts.
In 2014, the Obama administration curtailed elephant trophy imports as part of an initiative to protect the animals which have been targeted for wildlife trafficking and ivory, and whose populations were declining at an alarming rate. As a result, officials in Zimbabwe and Zambia bolstered efforts to combat poaching and enact stricter systems to keep track of permits and quotas.
The Safari Club and the National Rifle Association, which challenged the ban in court, celebrated the reversal and praised the Trump administration for recognizing the importance of "sound scientific wildlife management."
"By lifting the import ban on elephant trophies in Zimbabwe and Zambia the Trump administration underscored, once again, the importance of sound scientific wildlife management and regulated hunting to the survival and enhancement of game species in this country and worldwide," Chris Cox, executive director of the NRA's Institute for Legislative Action, said in a statement.
Americans pay thousands of dollars to embark on African hunting trips to kill animals, a practice that garnered intense controversy and outrage after a Minnesota dentist killed Cecil the lion in 2015.
Hunting is also a beloved sport for several members of the Trump administration, including the president's son, who famously ditched Secret Service in September to go hunting in the Canadian wilderness and, in March, called the sport "a great way to see the world" in a New York Times interview. Photos of him holding a severed elephant's tail during a 2011 trip to Zimbabwe outraged animal rights groups.

In September, Interior Secretary Ryan Zinke, whose department includes FWS, recalled fond childhood memories of hunting and said it was something he wanted more families to experience.
"Some of my best memories are hunting and fishing with my dad and granddad, and then later teaching my own kids to hunt and fish. That's something I want more families to experience," Zinke said in a statement after he temporarily installed the arcade game Big Buck Hunter in the department's cafeteria to promote hunting.
Earlier this month, Zinke also introduced a new advisory group, the International Wildlife Conservation Council, aimed at informing the secretary "on the benefits international hunting has on foreign wildlife and habitat conservation, anti-poaching and illegal wildlife trafficking programs."
The president himself has also commented on the need to hunt elephants in Zimbabwe due to their abundance, tweeting in 2015 that they "are devastating the National Forest." He also argued that the Safari Club was using its resources to "keep them alive."
Wayne Pacelle, president of the Humane Society, wrote a blog post Wednesday condemning the Trump administration's decision to reverse the ban.
"It's time for the era of the trophy killing of Africa's most majestic and endangered animals to come to a final close, and the United States should not be retreating from that commitment," Pacelle said.