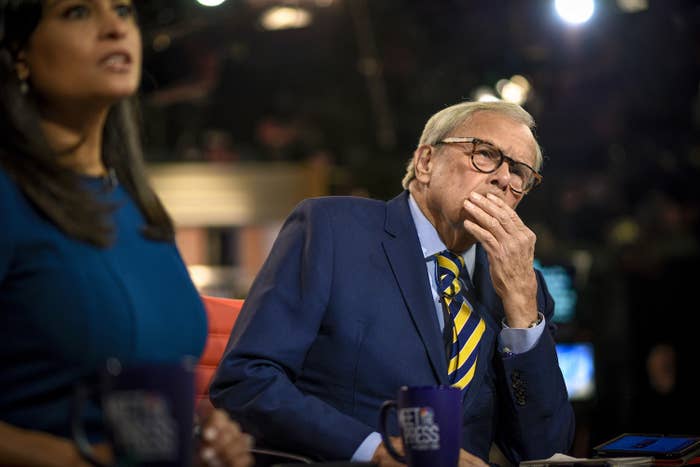 Tom Brokaw, the former NBC Nightly News anchor, apologized Sunday after saying that "Hispanics should work harder at assimilation" into American culture during a discussion about President Trump's long-promised border wall.

During a roundtable discussion about immigration and the government shutdown on Meet the Press earlier Sunday, the veteran journalist argued that some Republicans are pushing for a wall because they fear "Hispanics will come here and all be Democrats," calling it an "extraordinary, important, new constituent in American politics."
"Also, I hear, when I push people a little harder, 'Well, I don't know whether I want brown grandbabies,'" Brokaw said.

The 78-year-old, who was accused last year of sexual misconduct, said he's "long" been arguing that the Hispanic community needs to "work harder" at assimilating into life and culture in the US.
"It's the intermarriage that is going on and the cultures that are conflicting with each other," Brokaw continued. "I also happen to believe that the Hispanics should work harder at assimilation. That's one of the things I've been saying for a long time. You know, they ought not to be just codified in their communities but make sure that all their kids are learning to speak English, and that they feel comfortable in the communities. And that's going to take outreach on both sides, frankly."
Other panel participants, like PBS NewsHour White House correspondent Yamiche Alcindor, pushed back on Brokaw's remarks, calling the idea that Americans only can and should speak English "troubling."
His comments sparked criticism online. Lawmakers like Florida Rep. Debbie Wasserman Schultz and Texas Rep. Joaquin Castro, both Democrats, called the language divisive and "stunningly ignorant of the Hispanic community."
People on Twitter also tore apart the idea that speaking English should define assimilating into the US.
"My mom worked harder at learning English than most teens in their HS 'foreign language' class," tweeted Carolina Moreno, a journalism professor at NYU. "Maybe the US should try harder to assimilate into global society."
Jose Antonio Vargas, a Pulitzer Prize–winning journalist and activist, pointed out that the US is known for its "linguistic diversity" and said it is "part of our strength, especially in a globalized economy."

Others, like Julio Ricardo Varela, the founder of Latino Rebels, called his remarks "hard to watch" and "xenophobia in action."
Hours after the program aired, Brokaw went on Twitter himself to issue a lengthy, if disjointed, explanation and apology, writing that he felt "terrible a part of my comments on Hispanics offended some members of that proud culture."
"I've worked hard to knock down false stereo types," he said, adding in another tweet that he "never intended to disparage any segment of our rich, diverse society which defines who we are."
The veteran newsperson apologized to Alcindor, calling her a "wonderful colleague and an important voice," and appeared to have some technical difficulties will trying to say "I am sorry."

The National Association of Hispanic Journalists, which criticized Brokaw's comments as factually incorrect, said "his position bolsters stereotypes that U.S. Hispanics are all foreigners, prejudiced as the 'others.'"
"The 'sorry some Hispanics were offended' apology tweeted by Tom Brokaw earlier this evening is not an apology at all," said Hugo Balta, NAHJ president and senior producer at MSNBC. "It only further demonstrates Brokaw's lack of understanding of what forced assimilation does to communities."