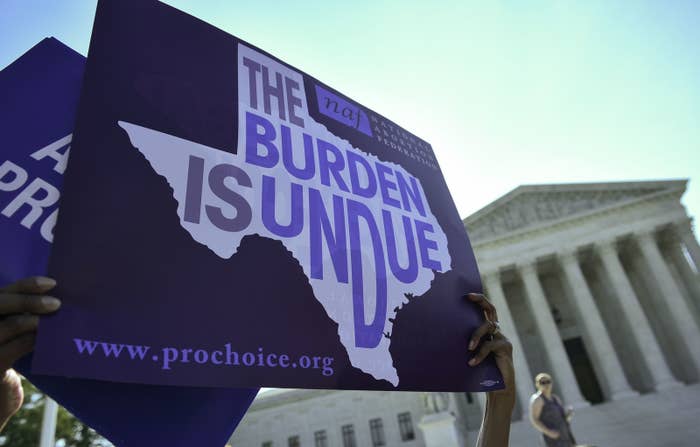 Under a sweeping new law, women in Texas will be virtually unable to get the most common type of second-trimester abortions and legally required to bury or cremate their fetal remains.

On Tuesday, Texas Gov. Greg Abbott signed several anti-abortion measures into law that further restrict abortion rights, nearly a year after the Supreme Court ruled that much of the state's abortion restrictions were unconstitutional. Portions of the bill are slated to take effect this September.
The newly passed Texas Senate Bill 8 bans the most common type of second-trimester abortion, dilation and evacuation, or D&E, along with other regulations that abortion rights advocates argue reflect a new, harsher strategy to target focus on the fetus instead of the health of the mother to make it more difficult to safely get an abortion.
The Center for Reproductive Rights vowed to fight the law and expects other rights groups to follow, again pitting Texas in the center of a national battle over how far states can go in restricting abortion.

"No state has put together a host of restrictions in one package like this before," said Amanda Allen, the Center for Reproductive Rights' senior state legislative counsel. "It's the most sweeping piece of anti-abortion legislation this session."
Texas Alliance, a group who helped draft the bill, said in a statement to BuzzFeed News that the motivation for the legislation was "to respond to the videos from the Center for Medical Progress that exposed Planned Parenthood's sale and donation of tissues and organs harvested from the bodies of babies who died from elective abortion."
Multiple investigations have not found any evidence that Planned Parenthood sold tissue from aborted fetuses for profit.
Texas is known for enacting strict, sweeping abortion laws that have made it increasingly difficult for the vast state's 5.4 million women of reproductive age to access abortion services.

In 2013, lawmakers passed one of the nation's strictest abortion laws, known as HB2, which shuttered about half of the nearly 40 abortion clinics scattered across the state. Although the Supreme Court struck down much of that law last year, only three abortion clinics have reopened, according to the Associated Press.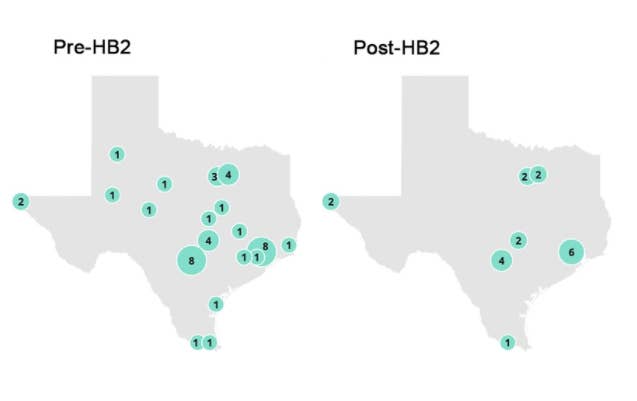 Banning the D&E surgical procedure, which abortion rights and medical groups say is the safest and most accessed, effectively eliminates second-trimester abortions in the state.
That means women who might not have had access to a clinic or could not afford to travel hundreds of miles to get one until about 12 weeks could no longer have an abortion, Allen explained.
The new law bars a woman from getting a D&E procedure even if she was a victim of rape or incest, allowing it only in cases of a medical emergency.

While Arkansas's D&E ban is set to start in August, courts have blocked similar attempts in Alabama, Kansas, Louisiana, and Oklahoma.
Joe Pojman, Texas Alliance for Life's executive director, also thinks his state's attempt won't survive a court challenge, noting that "we don't think the day has come" when a federal court will uphold banning such a common procedure.
Fund Texas Choice
Map showing open abortion clinics in Texas and nearby states.
And while a woman won't be prosecuted over a now-illegal abortion procedure, her doctor will. Under the new law, any physician in Texas who performs such a procedure could go to jail.
Clinics are also mandated to bury or cremate any embryonic and fetal remains, a regulation Texas enacted before but never went into effect because a judge deemed it unconstitutional in January, concluding that its burdens "substantially outweighed" its benefits.
On Thursday, Whole Women's Health asked a judge to expand that block to include SB8's burial requirements, arguing that it's basically the same unconstitutional requirement.
Providers and rights advocates say these burial costs would spike clinics' operation costs, which could be passed down to patients and result in even more facilities closing.
"These regulations mean they might have to work with third parties, like disposal companies, to keep their doors open," Allen explained. "Such burdens could force more remote ones to close." However, the law does include a "burial or cremation" assistance provision that could help alleviate some of the costs.
Pojman said the purpose was to require the "humane disposition of the bodies of babies" and ban the "grinding and flushing in a sewer system and incineration and burying in a landfill."
However, cremating or burying fetal tissue does not improve or benefit public health, according to the Texas Association of Obstetricians and Gynecologists, which argued last year that it "could become a cruel mandate on a woman who is experiencing the grief and trauma of losing a very wanted pregnancy."
Women who have abortions are also not allowed to donate fetal tissue for scientific research, another rule that rights advocates say unfairly stigmatizes women who get abortions. A woman who had a miscarriage has the choice to do so.
Texas's renewed battle against abortion reflects an intensified effort nationwide to crack down on clinics and limit access to abortion services.
In Missouri, Republican Gov. Eric Greitens just announced a special legislative session next week aimed at imposing stricter regulations on abortion clinics and targeting a law in St. Louis that he says made it an "abortion sanctuary city."
"It's a crusade against a woman's right to a safe and legal abortion," Allen said. "This is about stigmatizing. It's never really about women's health and safety."