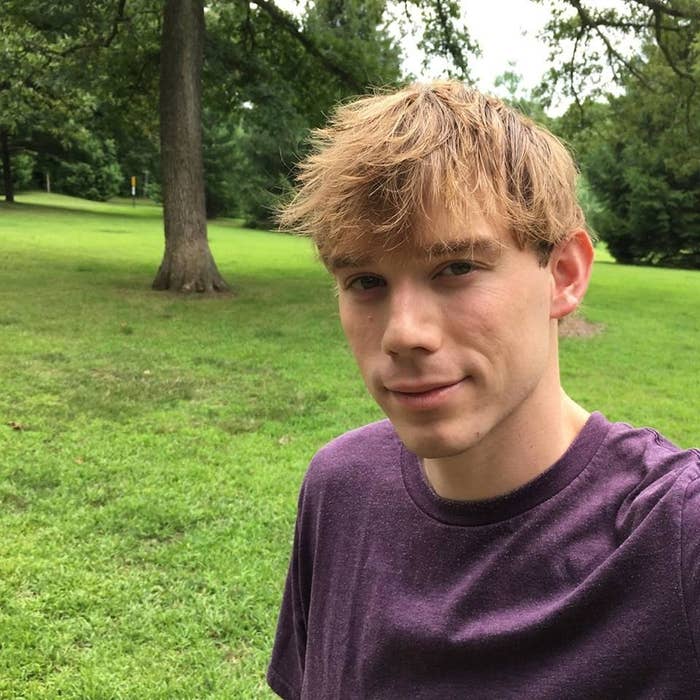 After a man hunt that lasted more than 24 hours, a 29-year-old suspect in a shooting that killed four people and wounded two others at a Waffle House in Antioch, Tennessee, was taken into custody on Monday afternoon.
Authorities identified the suspect as Travis Reinking, saying he exited his pickup truck outside the Waffle House at around 3:30 a.m. Sunday and, naked except for a jacket, opened fire with an AR-15 on workers and diners before fleeing on foot.
As the frantic manhunt for Reinking continued into Monday morning, the Tennessee Bureau of Investigation added his name to its "Top 10 Most Wanted" list, warning the public that he should be considered armed and dangerous.

"The crime he committed, a quadruple murder, there's nothing more urgent than that," Nashville police spokesman Don Aaron said Monday before his arrest, as more than 100 officers, bolstered by the FBI and Bureau of Alcohol, Tobacco, Firearms, and Explosives, continued to canvass the area. He said Reinking could have been armed with a handgun — three other guns known to be in his possession had been accounted for.
Reinking is from Morton, Illinois, and lived in Salida, Colorado, before moving to the Nashville area, where he worked in the construction and craning industry, police said Sunday.

Before he allegedly opened fire at the Waffle House, police said that Reinking stole a BMW from a dealership in Brentwood, Tennessee, last week and then led officers on a chase. Authorities then tracked the vehicle to his apartment complex, but Reinking was not arrested because officials did not know who he was at the time.
Previous reports from near his Illinois home describe a distressed, anxious, and volatile young man who, in one instance, waved his AR-15 at a coworker before storming out. Reinking's father, who was supposed to be keeping his son's weapons away from him, had told police that he often locked up his son's rifles when "Travis was having problems."
Months before the shooting in Tennessee, Reinking was arrested in Washington, DC, after the Secret Service caught him trying to access a restricted area of the White House, prompting police in his home state of Illinois to seize his guns.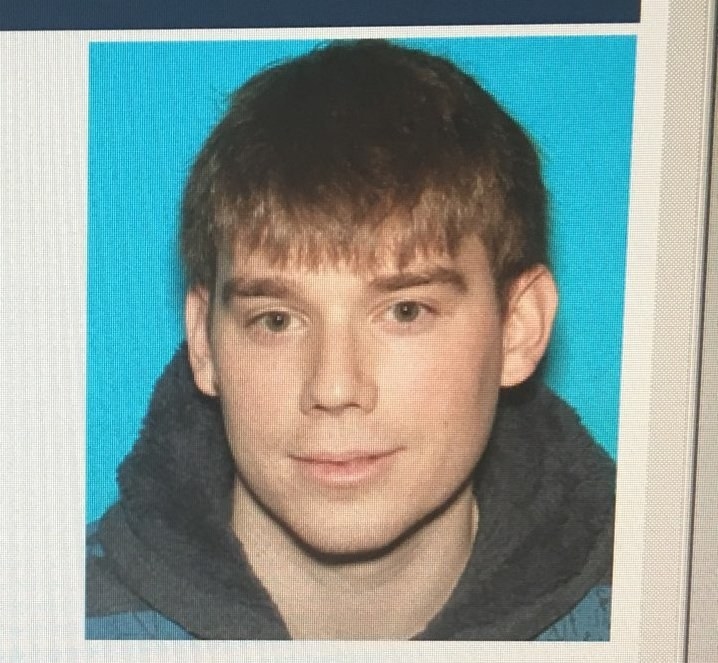 According to a DC police report, Reinking told the Secret Service that he was trying to speak to President Donald Trump. After refusing to leave and ignoring an officer's warning, the report says Reinking declared that he "was a sovereign citizen and has a right to inspect the grounds."
He then took off his tie, balled it into his fist, and walked past the security barriers toward police, stating, "Do what you need to do. Arrest me if you have to," according to the report.
Reinking was taken into custody and charged with unlawful entry, a misdemeanor, on July 8, 2017. His case was dismissed a few months later, in November, after he completed a diversion program for first-time offenders and the required community service, DC court records show.

At a press conference Monday, FBI special agents pushed back on whether authorities let Reinking slip through the cracks after the White House incident, stating that "every federal resource was brought to bear" in evaluating him and "neutralize what they felt was the threat at the time by ensuring that he did not have the ability to purchase weapons and that those weapons were taken."
Furthermore, Nashville police spokesperson Don Aaron told reporters at a press conference on Monday morning that the department is not aware of any connections between Reinking and the sovereign citizen movement, which the FBI describes as a group of "anti-government extremists."
"I don't have anything to say about that. I don't know anything about the sovereign citizen issue," Aaron said in response to a question.
The FBI's Memphis and Knoxville field offices did not immediately respond to questions about whether they are investigating Reinking's possible connection to the sovereign citizen movement.
Due to his 2017 arrest, Illinois authorities, at the request of the FBI, confiscated his weapons and revoked a state identification card given to firearms owners, officials said. The Tazewell County Sheriff's Office said Sunday that its officers removed four guns from Reinking's home in August, but gave the weapons to Reinking's father, Jeffrey Reinking, an authorized gun owner, at the elder Reinking's request.
At some point, Reinking's father gave the weapons back to his son, including the AR-15 that police said was used in Sunday's attack.
A Tazewell County Sheriff report from Aug. 24, 2017, documented the confiscation of a Kimber 9mm handgun, a Bushmaster AR-15, a CZ-USA .22-caliber rifle, a Remington 710, and some ammunition.
"The weapons and ammo were released to Jeffrey Reinking, which holds a valid FOID [Firearm Owners Identification] card. Jeffrey was advised that he needed to keep the weapons secure and away from Travis," an officer noted in the report. "Jeffrey stated he would comply."
Calls to a phone number listed for a Jeffrey Reinking in Illinois went unanswered Sunday night and Monday morning.
Authorities said the weapon, which was heroically wrestled away from Travis Reinking by a Waffle House customer, was legally purchased in Illinois, although it is not clear whether it was legal for the suspect to possess the gun in Tennessee. Officials also discovered another rifle after raiding his apartment near Nashville Sunday.

On Monday, officials confirmed that Reinking's father was being investigated for possibly violating federal gun laws by giving the weapons back to his son.

"He should not have had guns in Tennessee," said Marcus Watson, acting special agent in charge with the ATF in Tennessee, explaining that, "if you transfer weapons knowingly to a person that is prohibited, that could potentially be a violation of federal law."
He added that "all federal departments are looking" at Jeff Reinking to see if he violated a federal crime.
In a press conference Sunday, Tazewell County Sheriff Bob Huston said Reinking had previously had multiple concerning run-ins with local police, and described the 29-year-old as an erratic, anxious man who heard voices and believed people were stalking him.
After officials confiscated the guns last summer, Huston said, Reinking's father had promised he would not return them to his son.
"The police reports speak for themselves. I think anyone can conclude after reading them that there's evidence [Reinking] has mental health issues," Huston said, before releasing Reinking's police records to local media.
One report documents a May 2016 incident in a CVS parking lot, which officers described as a "suicide attempt by firearms." Officers wrote that during that incident, a "delusional" Reinking was agitated and upset because he believed Taylor Swift was harassing and stalking him and had hacked his phone.
The then-27-year-old believed everyone, including "his own family and police," was involved, the report states. His parents and grandmother were also in the parking lot and told officials that Reinking had been having the delusions since August 2014 and had made "comments about killing himself earlier in the day." An emergency responder from Tazwood Mental Health Center was also at the scene, trying to convince Reinking to come in for an evaluation, officers said.
After driving away and then returning, Reinking told responding officials that a few weeks prior, Taylor Swift had hacked his Netflix account and told him to meet her at a local Dairy Queen. According to the police report documenting his account, Reinking said that when he arrived, "she started yelling at him before she took off running" and that he "chased her in an attempt to get her to stop harassing him."
"Taylor climbed up the side of the building and Travis followed. However, when he reached the rooftop, she was gone," the report states.
After the May 2016 incident, Reinking agreed to go to a local hospital for an evaluation, but told officers it was "against his will."
According to another police report, Reinking raised similar concerns about people stalking him in August 2017, when he pulled up to a sheriff's deputy and said that he wanted to make a report. He then claimed that 20 to 30 people had hacked his phone and computer, that he was being watched, and that he had been hearing people outside his home "barking like dogs."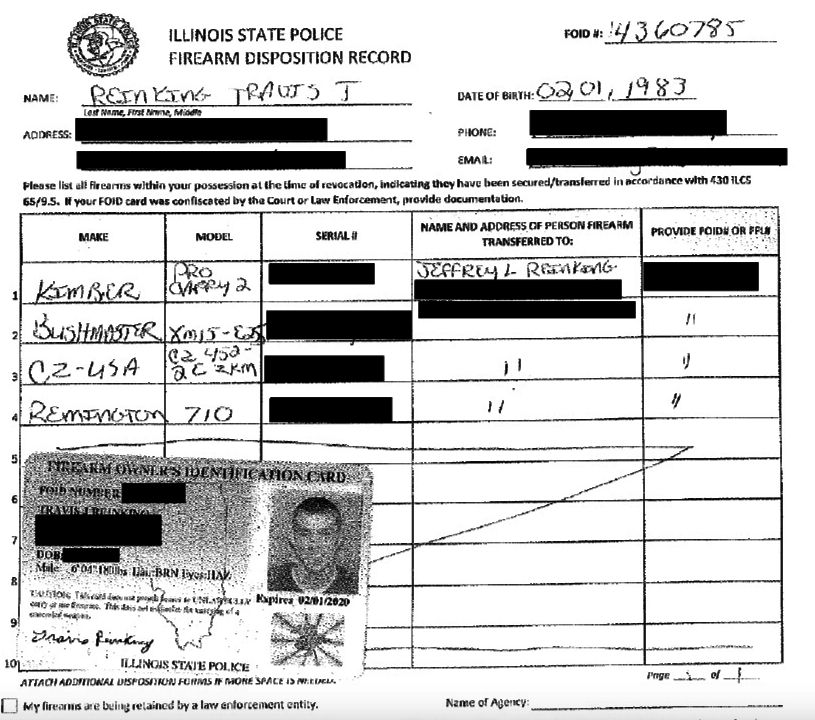 As the conversation progressed, the report states, a "serious and concerned" Reinking told the officers that a man at Target had been watching him as he checked out.
"Travis said he observed a male in a black shirt with an ear mic standing near watching him. Travis said he felt that this male was watching him and no one else," officer Ryan Tarby wrote. "Travis explained that this all started after he started writing Taylor Swift."
Earlier that summer, in June 2017, police in Tremont, Illinois, responded to a disturbance at a pool after Reinking arrived wearing a pink woman's housecoat, jumped in the water, removed the coat, and swam in his underwear. He later exposed himself.
"I was told that the male had gotten out of the pool and was yelling ... that he was a man. I was told that he then showed his genitals saying that he was a man," Tremont police officer Mike Dodwell wrote in his report.
After the incident, an employee at a company owned by Reinking's family, J&J Cranes, told police that he "had a yelling match with Travis," who had been living above the business.
The employee said that Reinking, wearing the pink coat and "holding the AR rifle," had yelled, "Is this what you fucking want?" before storming out and putting the gun in the trunk of his car and speeding away.
Officers did not find any weapons on Reinking when they confronted him after the incident, according to the report, which also notes that Reinking had a valid firearm owners' card at the time. Police also contacted his father, who told them that "a while back he took 3 rifles and a handgun away and locked them up when Travis was having problems," but that he had returned the guns to his son after moving out of state.
Court records from Tazewell County also show that Travis Reinking incurred at least 13 traffic violations between 2005 and 2013, for infractions like expired registration, not wearing his seatbelt, having alcohol in the front seat, and driving with an invalid license.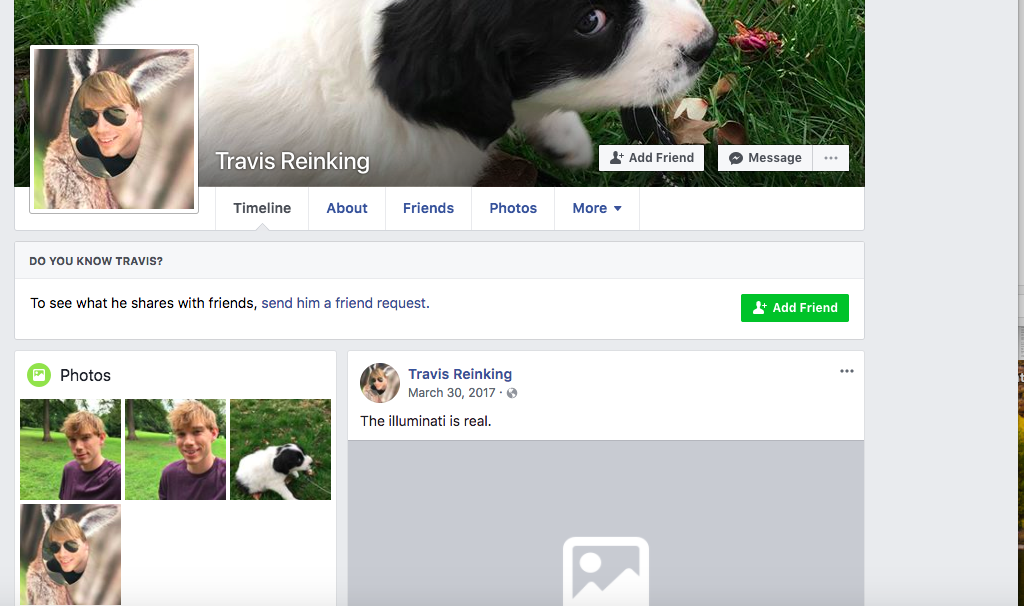 On Reinking's Facebook page, which appeared to have been scrubbed Sunday except for a few profile photo updates and two posts from 2017, the 29-year-old shared a YouTube video titled "Illuminati compilation clips 100% real" and wrote, "The illuminati is real." YouTube has since removed the video, explaining that it violated the platform's policy on harassment and bullying.
Reinking also appears to have a YouTube page with an active livestream. The last time he went live was May 6, 2017, according to the site.
Local media in Illinois reported that Morton residents who knew Reinking and his family were stunned, describing them as "such good people."

"He sure had the upbringing and I feel sorry for them more than anything. They are such good people," Roland McDuff told Central Illinois Proud, saying that he lived near the family and had used their crane company.
Reinking reportedly worked for his parents' business before moving away, though he appears to have continued to work in the industry while living in Tennessee.
Police have not yet identified a motive for the shooting, and said Sunday that it was not clear why Reinking allegedly chose the Waffle House as his target.

"We suspect some mental issues, but at this time there's no notes, no verbal explanations, so we don't have a motive at this time," Nashville Police Chief Steve Anderson said at a press conference Sunday. "He's murdered four times with no apparent reason and no apparent motive. So we're very concerned."

He added on Monday that the Waffle House is close to Reinking's apartment.