Police identified the man suspected of killing at least eight people and injuring 11 others when he plowed a truck down a bike path in Manhattan on Tuesday as Sayfullo H. Saipov.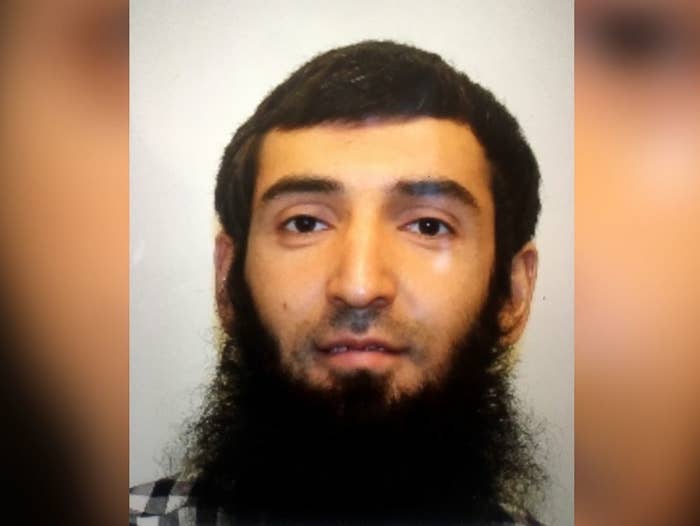 Saipov — who police officially identified for the first time on Wednesday — appears to have followed "almost exactly to a 'T' the instructions that ISIS has put out in its social media channels" on how to carry out such an attack, Deputy Commissioner of Intelligence and Counterterrorism for the NYPD John Miller said, citing notes and other evidence found in the rented Home Depot truck.
The notes, he added, were handwritten in Arabic, and included symbols and words.
"The gist of the note was that the Islamic State would endure forever," Miller said.
The evidence also made clear that Saipov had planned the attack for weeks "in the name of ISIS," Miller added.
Miller said that Saipov himself was never the subject of a NYPD or FBI intelligence investigation, but that it appears he was connected to people who were.
"What we are looking for is how he has touched the subjects of other investigations, what is his connectivity to those people, and we're kind of building out concentric circles to try to document that," Miller said.
Saipov was interviewed as a "person of contact" for two men who were on the Department of Homeland Security's counterterrorism databases, ABC News reported citing an unnamed federal official.
One of the men was flagged after arriving from a "threat country," according to ABC News.
Saipov, who was born in Uzbekistan, has lived in Ohio, Florida, and most recently Paterson, New Jersey. He has a wife and three children, the FBI confirmed to BuzzFeed News.
Saipov became a permanent US resident in 2010, entering the US with a green card under the Diversity Visa Program, according to ABC. The program is a lottery system for people from countries with low rates of immigration to the US.
Saipov, who had a Florida driver's license, was employed as an Uber driver. A company spokesperson confirmed to BuzzFeed News on Tuesday that he passed a background check and has since been banned from the app.
In a statement, the company said it is "horrified by this senseless act of violence" and has "reached out to law enforcement to provide our full assistance."
Records in Summit County, Ohio, show a marriage license certified to a Sayfulloh Saipov, then 25 years old, and Nozima Odilova, then 19, in April 2013. The license identifies Saipov's birthplace as Tashkent, Uzbekistan, and notes "truck driver" as his occupation.
Dilnoza Abdusamatova, 24, told the Washington Post that Saipov stayed with her family in Cincinnati for two weeks after he arrived in the US because their fathers knew each other. She said that he moved to Florida to start a trucking company and that he got married around a year after coming the US, around which time he stopped talking to Abdusamatova's family.
One of his neighbors in the apartment complex in Paterson told NJ.com that Saipov was unfriendly and never greeted him. He "never says good morning and never says good afternoon," Slavo Petrov said.
A longtime Uzbek-born acquaintance told Radio Free Europe that Saipov had had verbal clashes with others in the Uzbek immigrant community and was a "little aggressive."
The acquaintance, Mirrakhmat Muminov, told the outlet he met Saipov shortly after he arrived in Ohio in 2010. Muminov said Saipov was not religious when they met and attended mosque "once [in] a while."
"No one understands how he became a terrorist," he said.
Muminov last spoke with Saipov two months ago, he told Radio Free Europe, and last saw him in Ohio about two years ago.
Another acquaintance, who asked not to be identified, told RFE/RL's Uzbek Service Wednesday that he had had "an argument on a religious issue" with Saipov several months ago, that he appeared to hold "radical views," and that he seemed to be depressed and isolated.
Muminov said the Uzbek community in Stow, Ohio was shocked by the news.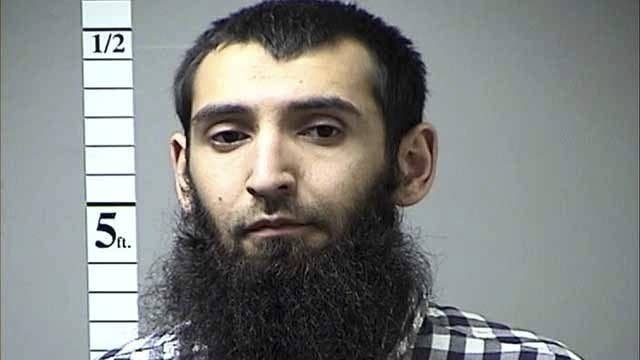 According to records and accounts, Saipov has a Class A commercial driver's license in two states, enabling him to operate large, heavy vehicles, like trucks and tractor-trailers.
A person by the name of Sayfulloh Saipov is listed as an agent for Sayf Motors Inc., a trucking company in Ohio, registered May 18, 2011. In 2013, he registered another trucking business, Bright Auto LLC, which is still active and registered with the Department of Transportation as having one truck and one driver. Records show the business is located in Cuyahoga Falls, Ohio, at the same address listed on the 2013 marriage license.
According to court records, Saipov was stopped for several offenses in multiple states. Last October, police pulled over 28-year-old Saipov in St. Charles County, Missouri, for a traffic offense. He gave them a Florida address and then failed to appear for his court date in November. A warrant was issued for his arrest in April, and he paid the $200 bond to avoid arrest.
In 2012, police in Pennsylvania pulled him over because his vehicle did not meet service criteria and he was driving with a commercial license. He was represented by a lawyer who caters to truckers and other commercial drivers. In March 2015, he was also stopped in Pennsylvania and gave officers a Paterson, New Jersey, address and an Ohio address, court records show.
Videos and photos from the scene of the attack Tuesday show the suspect dodging cars in the street after plowing a rental truck into pedestrians and colliding with a school bus.
After crashing into the bus, Saipov got out of the truck "brandishing two handguns" and was shot by a police officer in the abdomen, New York City Police Commissioner James O'Neill said. Police recovered a paintball gun and a pellet gun from the scene.
The attacker shouted "Allahu akbar" — "God is great" in Arabic — as he got out of the truck, O'Neill said, which "enabled us to label this a terrorist event."
On Wednesday, authorities said they were seeking to question another man in connection with the attack.
Saipov reportedly rented the truck from a Home Depot in Passaic, New Jersey. Images showed police swarming the store Tuesday night.
Saipov previously lived at an apartment complex in Cuyahoga Falls, Ohio.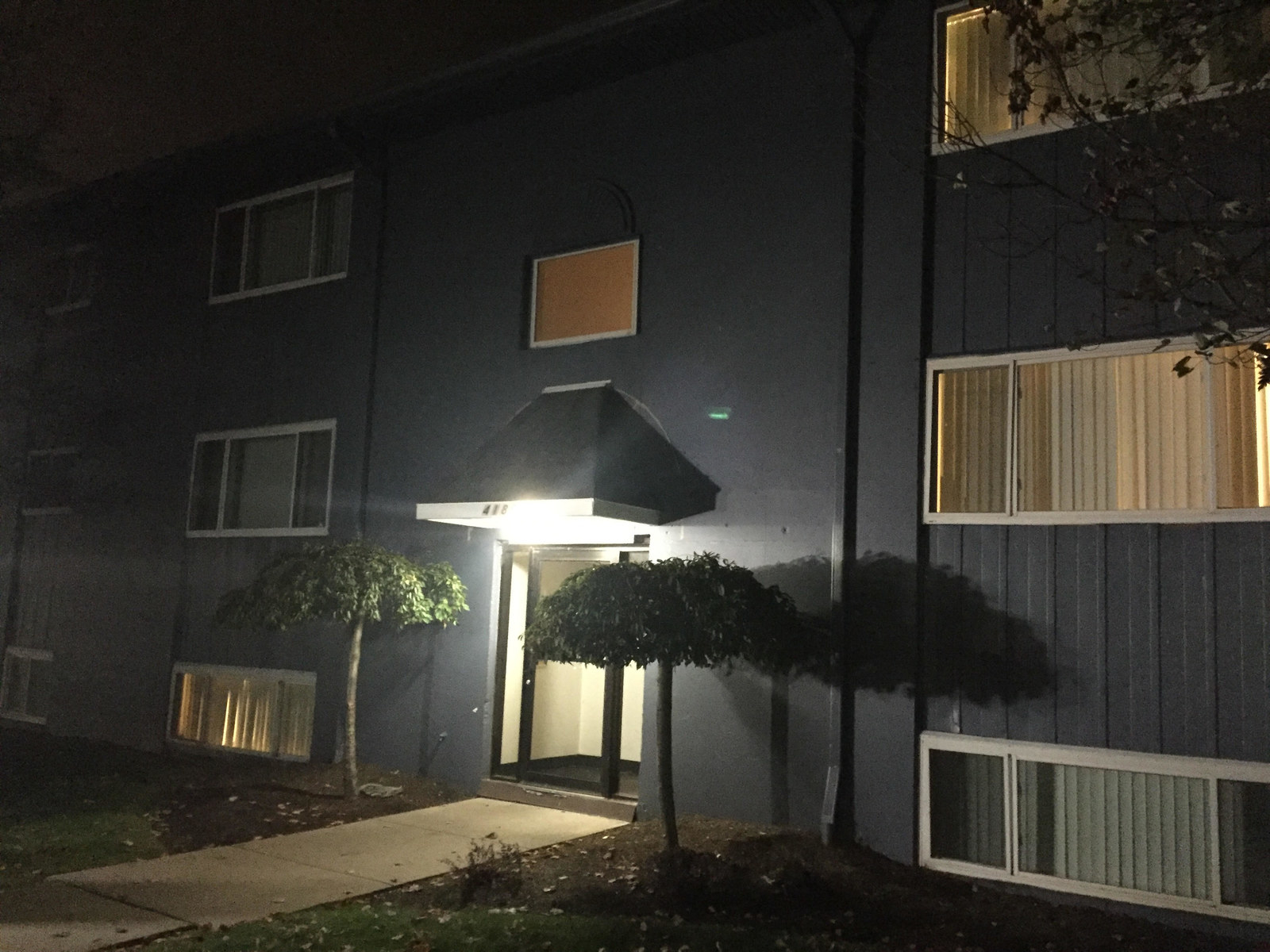 Although no one answered the door to his unit, neighbors said they recognized Saipov and saw him frequently.
Resident Steven Newman said he would often say hello to the man when they passed each other outside.
"This is going to be a complete shock to everyone," the 31-year-old told BuzzFeed News, describing the area as "quiet and friendly" and noting that "not much happens other than small-town crime."
Newman said that there is a significant Muslim community in the area and described Saipov as "very observant" based on his beard and dress.
According to a report by Radio Free Europe, Saipov lived most of his life with his parents and three sisters in Beltepa, a middle-class district in the northwest of Uzbekistan's capital.
Neighbors in Tashkent contacted by RFE/RL's Uzbek Service said his parents are "very far from religion" and "don't even pray."
Saipov's parents, both in their fifties, operate a small clothing stall in their local Bektopi bazaar, according to the report. Neighbors said the family owned their house and car, signs of relative prosperity.
Saipov's mother visited the United States in late 2016 and early 2017, according to neighbors and Uzbek authorities cited by Radio Free Europe, spending several months with her son.
An anonymous government source told the outlet that Saipov's mother, father, and 17-year-old sister were being questioned Wednesday.
Also Wednesday, security services and the Kyrgz ambassador to the United States said Saipov had never visited or spent time in Kyrgyzstan.
A now-deleted Facebook profile for Sayfulloh Saipov stated that he lived in Cleveland, Ohio, and studied at Moliya, an institution in Tashkent, Uzbekistan.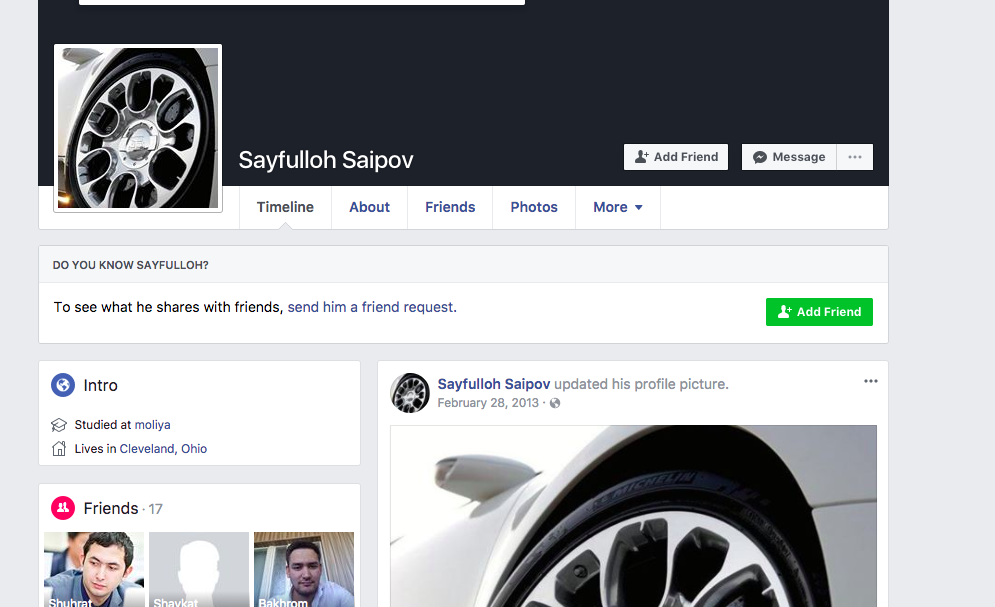 The most recent photos on the page were from 2013 and show a young man in a car, and a Toyota Avalon with an Ohio license plate that reads "AL KARIN."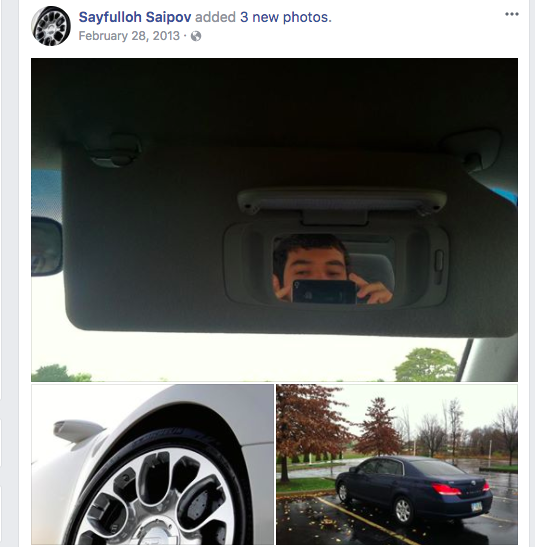 Kobiljon Matkarov, a friend of Saipov, told the New York Post that they met in Florida five years ago, describing the alleged attacker as "very friendly."
Matkarov, 37, said that Saipov was working for Uber and had been living in New Jersey since this summer. "He is very good guy, he is very friendly… he is like [a] little brother… he look at me like [a] big brother," he said.
Wednesday afternoon, US attorneys filed charges of supporting terrorism and vehicular destruction resulting in the deaths of eight people against Saipov.
Federal prosecutors filed charges of supporting terrorism and vehicular destruction resulting in the deaths of eight people against Sayfullo H. Saipov on Wednesday, saying he was inspired by thousands of ISIS propaganda images and videos he had saved on multiple cell phones.
In the charging document against Saipov, FBI agent Amber Tyree testified that, in addition to having two firearms, Saipov carried a paintball gun, a pellet gun, and three knives with him in a bag as well as a stun gun in his truck.
Tyree also said that Saipov carried a document written in Arabic and English and that the Arabic portion reads, "Islamic Supplication. It will endure," a phrase commonly used by ISIS attackers. Saipov was in part inspired by an ISIS video in which the leader of ISIS, Abu Bakr al-Baghdadi, urged Muslims in the US to commit terrorist attacks as a response to the Iraq War.
She also said Saipov asked to display his ISIS flag in his hospital room while being interviewed by law enforcement and that he said he felt good about the attack.
He chose Halloween for the attack, she said, "because he believed there would be more civilians on the street for the holiday."