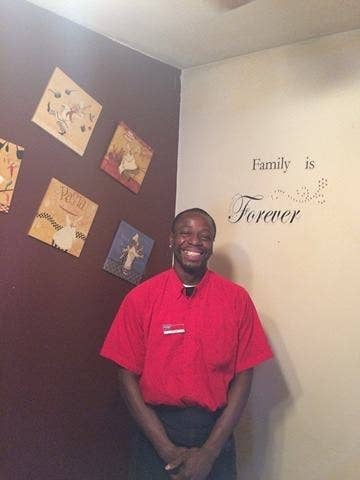 Joe Thomas has had the same Saturday breakfast routine for about the last five years.
After checking on his customers at an IHOP in Springfield, Illinois, the 43-year-old server slides next to an elderly couple he calls Dale and Ma and helps them eat breakfast. Ma has Huntington's disease, a genetic disorder that causes the progressive breakdown of nerve cells in the brain, Thomas said, and has trouble with utensils.
Dale used to feed his wife before eating, letting his own breakfast — two eggs, sausages, and pancakes with butter and a single egg on top — go cold.
"One day I just said to him you eat your food — I got this," said Thomas, adding that he's watched Ma's health deteriorate for almost seven years. "I remember when she was able to walk and feed herself more than she can now."
Ma has been ordering the same breakfast for the last few years: a bowl of fruit, applesauce, and two eggs over medium, which Thomas helps cut.
"We've become good friends and I've grown attached to her. I'm just here to help," he added.
While this has become the trio's standard weekend tradition, a recent IHOP customer thought it was remarkable. Keshia Dotson was sitting nearby last Saturday and snapped a photo of Thomas wiping Ma's mouth with a napkin. Dotson shared "the touching moment" on Facebook, where it has since gone viral.
A bit flustered by the outpouring of attention, Thomas says this is just who he is and how the restaurant works.

"It feels like home there," he chuckled. "I'm going to do something to make you laugh before you leave, no matter what it is."
His fellow employees and regular customers agreed, chiming in on Dotson's post to share their experiences with the waiter, who has worked at the same IHOP for the last 11 years.
"This is no big deal for him. He does this every time," IHOP employee Amanda Williams commented. "He's an awesome coworker."
"This man is great server. He's waited on my family a few times when we've been to IHOP. This warms my heart to see this. What a kind soul. Keep doing, you young man," said Melissa Roberts.
"He was our waiter on St. Patrick's Day. It was super busy, and we had our toddler with us. He took the time to sit down and talk with our son while still managing to serve his other tables," shared Courtney Sullivan.
Thomas said he was raised to help others. He grew up caring for his mother, who had diabetes and died in 2008, he said, and has been helping his father through prostate cancer. He also worked at a rehabilitation center before his long stint at IHOP.
If he could, Thomas added, he would open his own restaurant and name it B's, after his mom — with a special booth for Ma and Dale.

"My mom told me to treat all people the same because you don't know what will happen to you later on in your life," he said. "I took that and ran with it."