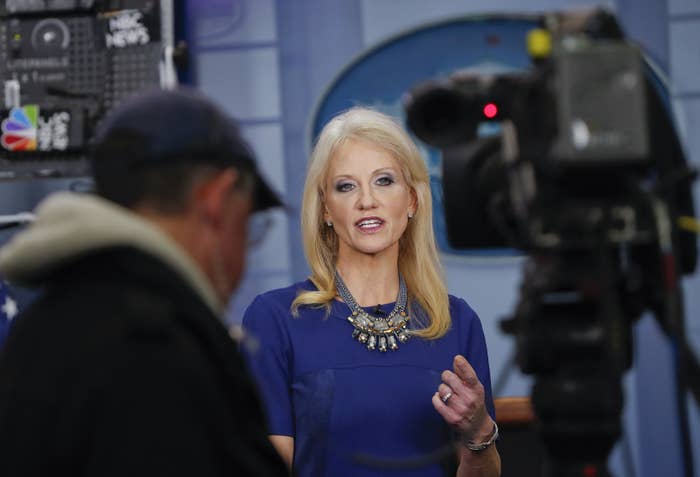 The US Office of Government Ethics is urging the White House to investigate and take "disciplinary action" against President Trump's senior adviser Kellyanne Conway for endorsing Ivanka Trump's products in a national TV interview.

Walter Shaub, the director of the ethics office, said in a letter Tuesday that there is "strong reason to believe" Conway violated ethics standards by using her position to urge people to buy products from the president's daughter.
"Under the present circumstances, there is strong reason to believe that Ms. Conway has violated the Standards of Conduct and that disciplinary action is warranted," Shaub wrote.

In an interview last week on Fox News, Conway encouraged people to "go buy Ivanka's stuff."

"It's a wonderful line, I own some of it… I'm just going to give a free commercial here: Go buy it today, everybody. You can find it online," Conway said on Fox and Friends after President Trump used his official @POTUS account to slam Nordstrom for dropping his daughter's brand.

The department store announced last week that it was dropping Ivanka Trump's clothing line because of declining sales of the brand. After the president's public condemnation of Nordstrom, the company reiterated that its decision was based on the brand's sales performance.

"At issue is the section of the Standards of Conduct prohibiting employees from misusing their official positions," Shaub wrote.
Federal ethics standards say public employees may not use their positions "for the endorsement of any product, service or enterprise, or for the private gain of friends, relatives, or persons with whom the employee is affiliated in a nongovernmental capacity."

Shaub compared Conway's endorsement to an appearance in a TV commercial, pointing out that she gushed about Ivanka Trump's line while "on screen in a tight frame between the official seal of the White House and the American flag."
The ethics office cannot discipline federal employees, so the official decision on whether to punish Conway will come from the White House.
Shaub sent his letter after several lawmakers from the House Oversight Committee asked the office to look into Conway's comments and asked for an answer from the White House by Feb. 28.

Press secretary Sean Spicer said on Thursday Conway had been "counseled" for her comments, and "that's all we're going to go with." But Shaub said the ethics office "has not yet received notification of any disciplinary or other corrective action" against Conway.