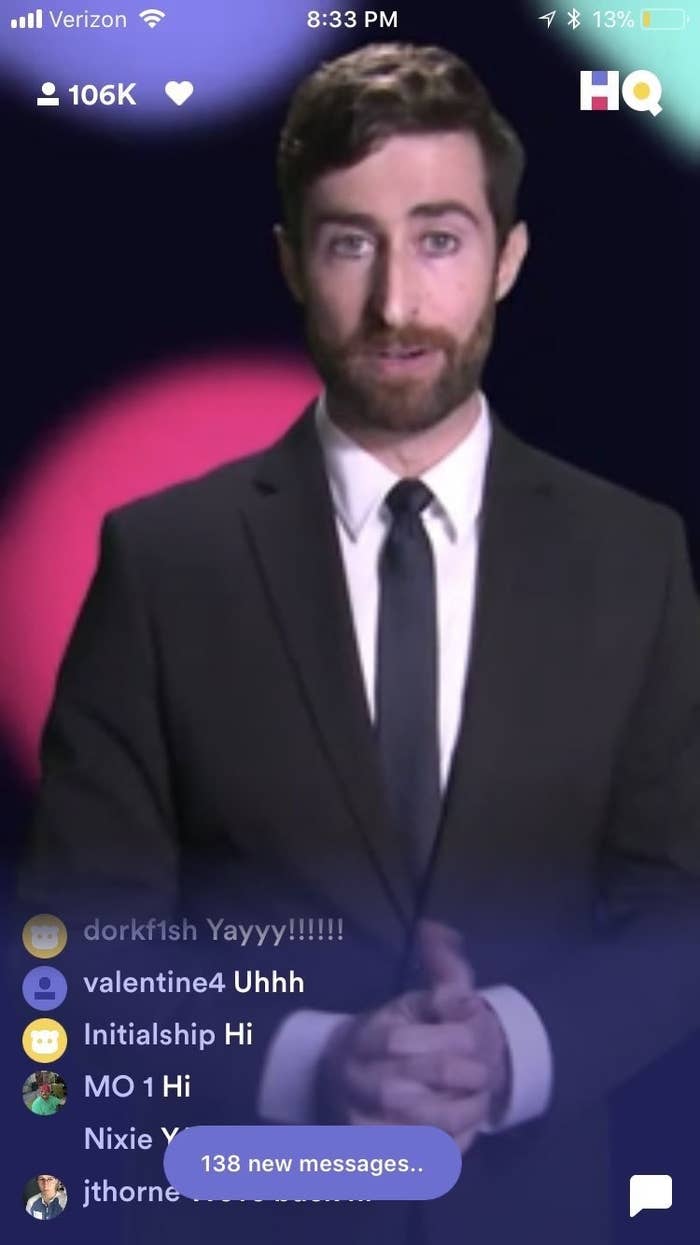 On Tuesday, some serious drama went down with HQ, a buzzy live trivia app that's developed a cult following since its launch over the summer. The drama centered around a planned Daily Beast profile of the app's star host Scott, or "Quiz Daddy," and the HQ CEO's apparently unhinged reaction. Somehow, salad got involved.
There is a lot to unpack here, so let's quickly catch up:
HQ is a popular app developed by the co-creators of Vine, Rus Yusupov and Colin Kroll. Twice a day, thousands of users from around the world log on and participate in live trivia shows and actually win real money.
Scott Rogowsky hosts most of HQ's trivia shows and people are incredibly thirsty and obsessed with him. He has become the face of the app and a beacon of hope for those trying to exist in 2017.

The Daily Beast interviewed Rogowsky this week, discussing his love for Sweetgreen salads and the HQ community. Seemingly harmless stuff, right? Wrong. When the Daily Beast reached out to HQ's public relations team, Yusupov, the CEO, responded, sharply rebuking the outlet, threatening to take Scott off the app-air, and just generally freaking the F out.
According to Daily Beast writer Taylor Lorenz, Yusupov's objections began with a line in which Rogowsky said he's "still able to walk down the street and order his favorite salad from Sweetgreen without being accosted."
"He cannot say that!" Yusupov shouted. "We do not have a brand deal with Sweetgreen! Under no circumstances can he say that."
He also apparently objected to Scott telling the Daily Beast that he can "make people happy and give them the trivia they so desperately love and want." And he threatened to fire Rogowsky for talking to the press without permission.
Word quickly got out that Scott Rogowsky's job might be in jeopardy and people lost their damn minds.
Twitter twittered. Solidarity transpired. #FreeScott was born.
There were calls for workers to unite behind Scott.
"I would go with Scott wherever he chooses to spread his wings."
A few hours into the backlash, Yusupov apologized to Rogowsky and Lorenz.

"Sorry for being a jerk," he tweeted, beneath a selfie of him and an autumn-AF Scott, decked out in flannel and a fuzzy sweater while eating a loaded Sweetgreen salad.
People were not impressed.
And still deeply concerned about Scott.
#SaveScott
But THEN — because yes, the drama continued — when anxious and affronted users signed on Tuesday night to play HQ and see Scott, the app was not working. The internet just about exploded.
The fear and tension were palpable.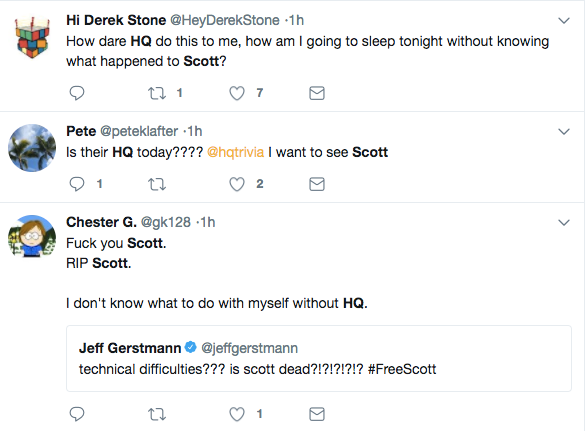 Conspiracy theories emerged.
Murdered for salad, some people said. The travesty.
In the middle of the pandemonium, HQ reassured users it was experiencing technical difficulties and would be on soon.
People were irate.
But soon Scott emerged and people were incredibly relieved, though pissed at HQ and defensive of Scott for what he had to endure.
As for Scott, he dropped some jokes about the whole thing.