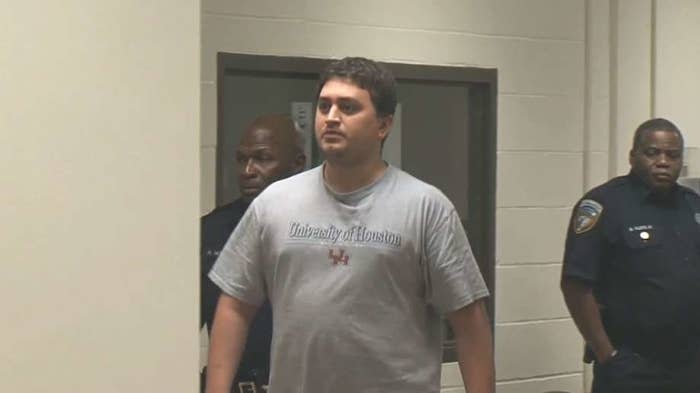 A 29-year-old from Texas thought women drivers were "incompetent," so he shot at them from the window of his green Ford Explorer, officials say.
Authorities in Harris County arrested Nicholas D'Agostino on Thursday for the second time in connection with two recent shootings in Katy, Texas, near Houston. Two women have told police they were each shot in the arm while driving near his home.
In total, D'Agostino admitted to five separate road rage incidents over the past few months, according to court filings.

Officials had previously arrested D'Agostino in July and charged him with aggravated assault with a deadly weapon after he allegedly shot a woman in her left arm while she was driving near a gas station by his house.
At the time, D'Agostino told authorities that he shot the 39-year-old mother "in self-defense" because she had "swerved twice into his lane."
But, investigators say in court documents, his Facebook posts show that he has been "randomly" targeting women drivers on purpose because he "held a very dim view of women."
In the filing, Harris County Sheriff's Detective Dennis Palmer described posts where D'Agostino "rants and rambles on about female motorists and how incompetent they are and that their sole purpose is to give brith to male children."
His Instagram page showed photos of firearms, including a .45-caliber handgun, which authorities believe is the weapon used in the shootings, detectives said.
D'Agostino is facing two felony charges of aggravated assault with a deadly weapon and is being held in jail on a $250,000 bond.
When searching his home, officers found a .45-caliber Beretta handgun, which D'Agostino confirmed was the firearm he had discharged at the woman.
D'Agostino's attorney, however, contests authorities' assessment that his client is targeting women on the road because he hates them.
"There are a lot of misassumptions being made," attorney Kenneth Mingledorff told BuzzFeed News on Saturday. "There is absolutely no evidence that he hates women."
Indignant, Mingledorff said that most of the statements made by authorities are "inadmissible in a court of law because he didn't have a lawyer with him." He also asserted that the Facebook posts should not be introduced as evidence.

"You can't take something on Facebook and introduce it into a court of law," he said. "That's not fair. What if you went out to a party and did bad things and it was on your Facebook, and that was used in court against you? It's unfair the way he has been treated."
Mingledorff said he has not yet seen the Facebook posts.
Without going into detail, the attorney explained that his client has mental health issues and that he and his family are "getting him the help he needs and will take it from there."
"His family and I are very, very sorry for the pain and suffering that anyone might have experienced here and we want to make sure he gets whatever treatment he needs," he added.
Thursday's arrest took place just a day after D'Agostino walked out of jail on a $75,000 bond. According to court documents, detective Palmer had connected D'Agostino with another, similar shooting that had occurred in March, just miles from the car wash where the suspect allegedly shot the other woman in July.

A woman who talked to police at the time told authorities that on March 7, she was leaving a Shell gas station when she heard a loud noise and felt a pain in her right arm. After she realized she had been shot, "she saw a white male in a dark green model sport utility vehicle looking at her as he drove by and that it appeared he was looking to see if he had hit her," authorities said in the filing.
When questioned about the March shooting, D'Agostino told authorities that he shot the woman because she purposefully "swerved at him." So, he "'discharged his weapon' to stop what he perceived as a threat."

Three months later, on July 10, a woman told police a similar story.

That afternoon, she was pulling into a car wash that visited regularly when she heard a "boom" and realized that her driver's side window was cracked, she said.
She thought it had been hit by a rock, but after getting out to survey the damage, she saw blood running down her arm and had been shot, she told police. The bullet went through her left arm and became lodged in her chest, where it still remains.
"You think about your family. I have two little kids," the mother sobbed, speaking to ABC 13. "I was about to turn into the car wash and heard a boom and felt a something and just thought something hit my car."
Surveillance video showed the same green Ford Explorer driving by the woman's car with its window open followed by a quick movement and a "muzzle flash," according to court documents.
"Just a few more inches and it could have been a fatal wound," said Harris County Sheriff Ed Gonzalez. "She's very lucky she survived her injuries."