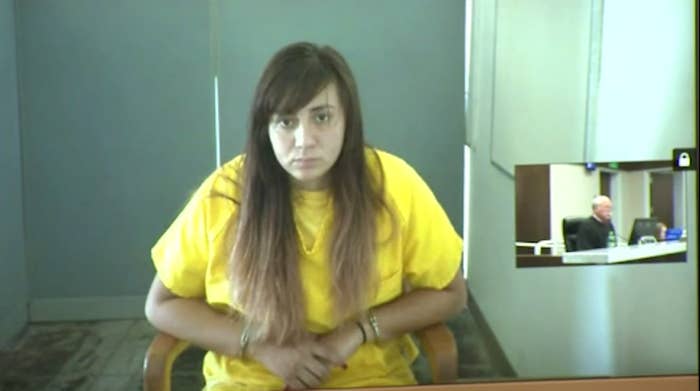 The 18-year-old accused of driving drunk and livestreaming the ensuing crash that killed her younger sister pleaded not guilty on Wednesday to gross vehicular manslaughter and other felony criminal charges.
It was Obdulia Sanchez's first court appearance since the graphic Instagram video footage showing her hovering over her sister's bloodied body last Friday in a field near Los Banos, California, went viral.
Dressed in a yellow prison uniform and appearing via video in Merced County Superior Court, Sanchez pleaded not guilty to a host of charges, including felony manslaughter while intoxicated, vehicular manslaughter with gross negligence, two counts of driving under the influence resulting in injury, and driving with a 0.08% blood-alcohol level causing injury. Sanchez's alleged blood-alcohol level was .10%.
"The behavior demonstrated both prior to and after the incident, as documented by the defendant's own recording, is disturbing and shocking," Merced County Deputy District Attorney Harold Nutt said in a statement, adding that his office "will do everything in its power to see that justice is done in this matter."
If convicted, Sanchez faces up to 13 years and eight months in prison.

On Friday, Merced County Superior Court Judge David Moranda refused to lower the teen's bail of $560,000, citing probation officers' recommendations and Sanchez's previous conviction for reckless driving when she was 14 years old and found driving without a license.
Ramnik Samrao, a public defender representing Sanchez, told BuzzFeed News that despite pleas from his client's family and support from social workers, the judge refused to lower the "outrageous" bail amount.

"To expect a foster child, a person who has been in foster care for a few years now, to be able to post $560,000 to bail out is unreasonable and violates the Eighth Amendment proscription against excessive bail," he said.
According to the California Highway Patrol, Sanchez was driving drunk and livestreaming on Instagram when she veered off the road at 6:40 p.m. after she overcorrected. The old white Buick she was driving swerved and crashed through a barbed wire fence before overturning in a field, ejecting her sister, Jacqueline Sanchez, and her sister's girlfriend, 14-year-old Manuela Seja, who sustained "major injuries" to her leg.
Sanchez recorded the entire thing, filming herself over her sister's bloodied body, apologizing, and begging her to wake up.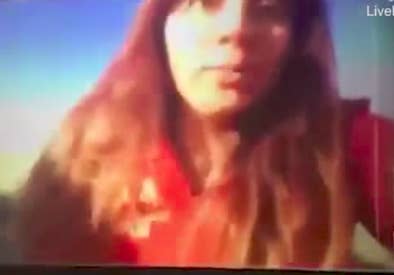 "I fucking love my sister to death. I don't give a fuck. We about to die. This is the last thing I wanted to happen to us but it just did," she said into the camera before turning it back to her sister's body.
"Jacqueline, please wake up. This is the last thing I wanted to happen... I killed my sister, but I don't care. I killed my sister. I know I'm going to prison, but I don't care. I'm sorry, baby. I'mma hold it down... Rest in peace, sweetie."

Samrao said after the hearing that the teen "feels absolutely terrible" and is grieving for her sister.
"She feels completely responsible and she said that over and over in the video," he said. "They were close and she's still in shock, but that doesn't mean a crime was committed."

Samrao also condemned social media attacks against his client, and revealed that the 18-year-old had been in foster care and was a victim of human sex trafficking.
"It's upsetting that so many people are judging her based on a few minutes of a video and they don't know anything about the person behind that and what she's been through," he said. "No one knows how you would react when your sibling dies in your arms."
Samrao also argued that social media played a role in the accident, noting the "pressure kids face to act and do things a certain way."
"Social media companies target teenagers and they don't do anything to try and keep kids from doing things they shouldn't. In fact, they encourage it and make a profit of it," he said, pointing to Snapchat's speed filter that shows how fast the user is going.
"Instagram highlights all these videos of people doing crazy stupid things to young people who already feel a lot of pressure to fit in and look cool," he added.
Manuela Seja, who was ejected from the car and survived, also faulted social media for the crash that killed her girlfriend.
"Honestly, I'm not mad at anybody and I don't blame anybody," the 14-year-old said. "It's all affected by social media. That's what life is now. And it's going to advance more and more. That's what it's going to be about."
She also told ABC 30 that she and Jacqueline had been dating for seven months after meeting on Instagram. She lived in Fresno and Jacqueline lived about 130 miles away in Stockton, which was where the teens were heading before Sanchez crashed.
The driver was wearing a seatbelt, but the two younger teens were not, officials said.
Sanchez had just graduated high school, her father, Nicandro Sanchez, told local media, but "had a lot of problems," noting that she had spent the past two years in the custody of child protective services.
His younger daughter had just finished 10th grade and hoped to become an actor or singer.

Despite living in a group home called Rite of Passage for a little over a year, Sanchez talked on the phone with her younger sister "as much as they could," according to Joanna Rios, who told BuzzFeed News she roomed with Sanchez in the program. The sisters were "close had a lot in common," Rios said.
"She had a rough past and was working on her temper," Rios said. "But she was a good friend and always talked about making money to get her family out of the ghetto Stockton."
A preliminary hearing is set for Aug. 9.