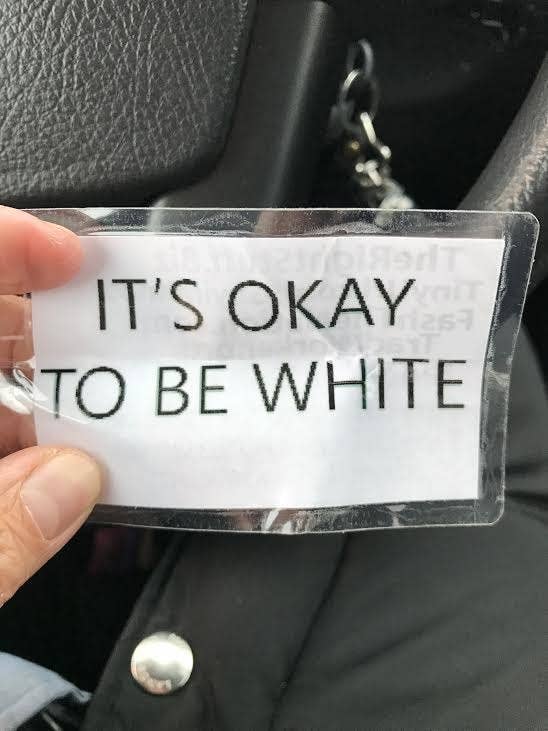 Target said Tuesday that it has fired an employee who had been slipping cards with a white supremacist message into packages of diapers sent to customers across the country.
A handful of people around the United States, including in Florida, North Carolina, Virginia, Washington, DC, New Jersey, and Tennessee, discovered the white, laminated cards printed with the slogan "IT'S OKAY TO BE WHITE" after opening boxes of diapers they'd ordered from Target.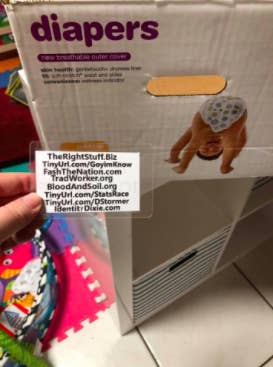 On the back, the cards listed a series of white supremacist websites, including bloodandsoil.org, Fash the Nation, and the Daily Stormer.
"After being made aware of the situation, we immediately launched a thorough investigation to address the concerns and put a stop to it," Target spokesperson Joshua Thomas said. "We have identified the source, and given this is a violation of our policies and our commitment to inclusivity, terminated the team member."

Target declined to provide details on how the Minneapolis-based company identified the person responsible or whether more employees may have been involved.

It is not clear how many diaper packages were affected.

Over the last several weeks, Target customers in different parts of the country began to post on social media about finding the cards in their new diapers.
"Wife and I bought these Target diapers and found a really racist, hateful laminated card inside under the diapers," Mike Lechter, of Hollywood, Florida, tweeted in early March. "My wife just gets a run around from the Target call centers. It's clearly happening to others. What can we do?"
The invoice for Lechter's package said the box originated in Indianapolis, according to a blog post from the Anti-Defamation League. The ADL said it received at least two complaints from Target customers who found the cards in boxes of Pampers and Target's Up & Up–brand diapers, and had contacted authorities.

A customer in Washington, DC, who identified as a person of color, told the blog Popville that the card arrived in a package of diapers she ordered from Target.com. The customer provided a screenshot of Target's response to a complaint sent via Facebook. In it, the company told the customer that they had "reviewed footage of the diapers being packed and shipped, but did not see anything added into the diaper box."
Target suggested that the card my have been slipped into the box through the handles, perhaps by a "guest with bad intentions."
In Tennessee, Tad Russell, a new dad who lives in Chattanooga, said the white index card fell out of a case of Pampers diapers he purchased at a local Target. Russell then tweeted about the discovery, alerting Target and Pampers.

"Diapers come in these two big plastic sleeves. You pull those out, and I noticed something drop and fall. And I know that sometimes companies will put coupons in boxes," he told WRCB-TV. "I recognized the language that was used from the Charlottesville incident late last year."
"Found some knuckle-dragging racist slipped this card into the box. BOLO for regressive charlatans," he tweeted.
In a tweeted reply, Pampers apologized to Russell and promised to report the incident. "So sorry you received this in your box. Please be assured this is not a message from Pampers and we're disappointed for anyone to see this kind of note. I'll be sure to report this to our team and appreciate you letting us know."
Others then chimed in, saying that they too had found the cards in their diaper packages. "I found one of these laminated cards yesterday in a Target brand diaper box in Durham, NC," one person tweeted.
"You know America is in trouble when white nationalist propaganda is being found in boxes of Pampers purchased at Target in Virginia," a user tweeted on March 7.
On March 23, another person shared, "I've now heard that two moms have found these in their diaper boxes from Target. What is going on?"
Around the same time, this user said his girlfriend found the card in diapers she bought from a Target store in Fredericksburg, Virginia.
And in a slight deviation, a man in New Jersey told BuzzFeed News the card was found in a package of Huggies baby wipes he'd ordered from Target's website, along with several other items. The racist greeting was discovered by a teacher at his child's day care center, he said, where his wife dropped the unopened box of wipes off with their kid's stuff.
When he contacted Target, he said, the company replied that it was "aware of the inappropriate messages and conducting a thorough investigation."