Tuesday will bring President Donald Trump's first and highly anticipated State of the Union Address — you know, that very big event where the president delivers a long, impassioned speech to the entire country.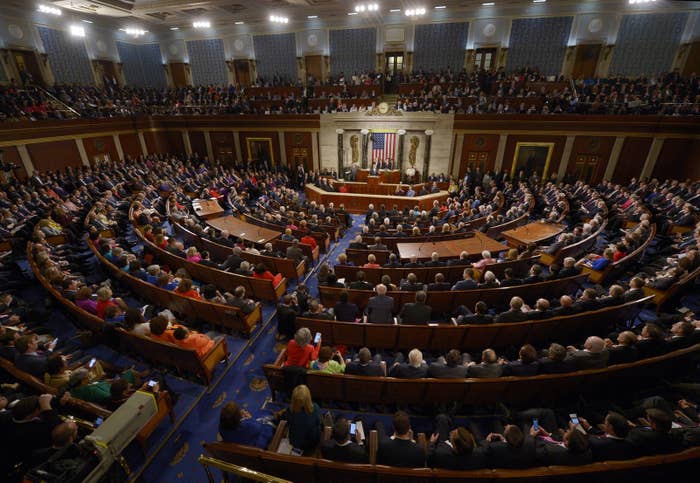 Well, on Monday, some members of Congress attending the SOTU noticed that there was a little spelling error on their tickets. Part of the invite read: "State of the Uniom" — not "State of the Union."
("Visitor's" is also incorrect, per the Office of Art & Archives website.)
A spokesperson for the Sergeant at Arms Office, the nonpartisan office in charge of printing the tickets, confirmed that there was a "misprint" and that Senate staffers had corrected, reprinted, and are currently redistributing the tickets.
The spokesperson did not know how many tickets had to be recalled and redistributed, however. Around 700 people usually attend the address, which is a joint session of Congress plus some of the president's guests.
Aides to top Republicans like House Speaker Paul Ryan were quick to push back on the assumption that this was a Republican flub.
"People are really spun up over a really dumb thing," AshLee Strong, Ryan's press secretary, tweeted. "But, carry on."
Sen. Marco Rubio, who arguably became famous after his intense water-drinking moment during his rebuttal to 2013's SOTU...
...tweeted that he was "looking forward to tomorrow's State of the Uniom."
The Sergeant at Arms spokesperson could not say whether the office had ever messed up and needed to reprint the SOTU tickets, "but I don't recall it happening before."
The internet, of course, had many hot takms.
Many people, including Rep. Raul Grijalva, pondered if Education Secretary Betsy DeVos was "in charge of spell checking."
Covfefe obviously made an appearance.
"M's" made their way into all kinds of words.
A sign of "greatmess"
People thought "Uniom" carried a deeper, underlying meaning about what is going on in the country.
Wow.
This is a striking image and actually kind of makes sense.
Others thought the real story was how and why the State of the Union tickets looked like "a construction paper ticket to a middle school bake sale."
Apparently, the "design remains pretty much the same" every year.
"Sometimes the colors and little details change and obviously the dates," the spokesperson for the Sergeant at Arms said.