It was only after her 15-year-old daughter finally fell asleep Friday night that Deedra Van Ness allowed herself to cry, to process what she called the longest day of her life.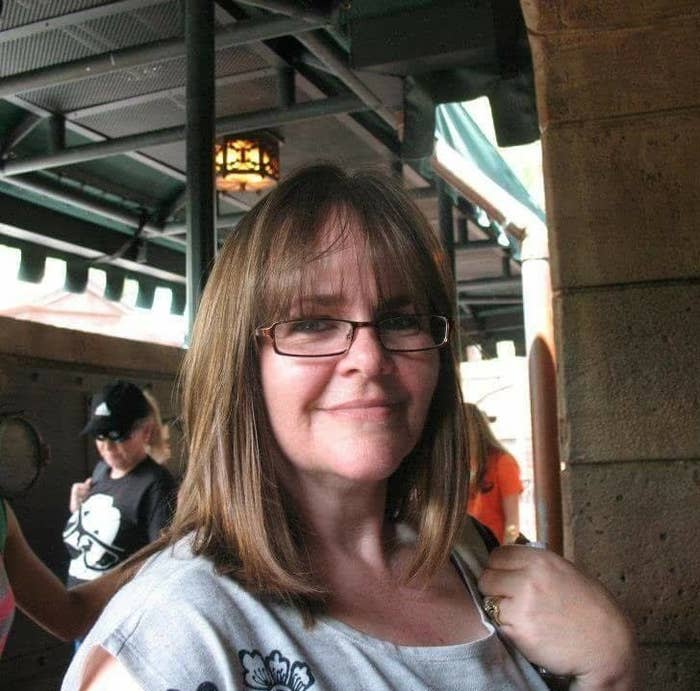 Van Ness figured her daughter, Isabelle Laymance, forgot something when she saw the number flash across her phone just 30 minutes after she'd dropped the 15-year-old off at Santa Fe High School Friday morning.
The day, Van Ness wrote in a wrenching — and now-viral — Facebook post, started off normally; Isabelle, she said, was "happy and looking forward to the weekend."
Van Ness had told her daughter that she loved her, wished her a good day at school, then headed home "to get to work."
But when she answered Isabelle's call shortly after, she could barely hear her.
"Mom, they are shooting up the school," Van Ness said she heard Isabelle whisper. "I'm hiding in a closet. I love you, Mom."
In the background, Van Ness heard gunfire, she wrote. She begged her daughter to stay on the phone, but the 15-year-old told her that "other kids with her want to call their parents and don't have phones." Then Isabelle hung up.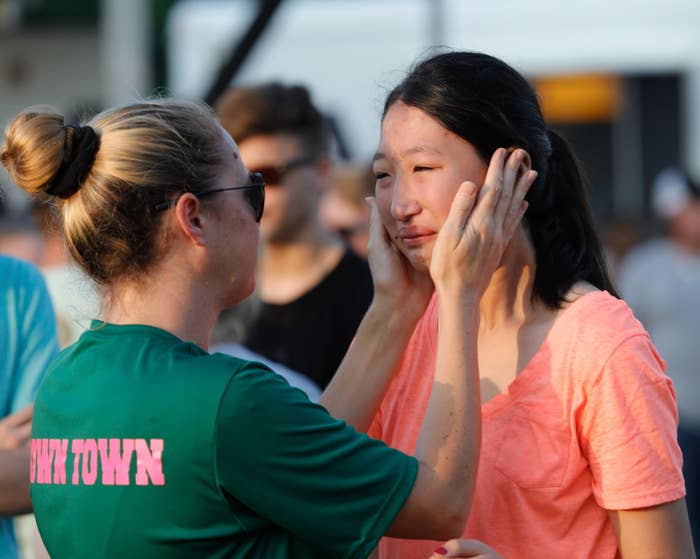 "I was frozen, standing there with no idea what to do next," Van Ness wrote, before chronicling in gutting detail the terrifying moments of a parent trying to get to their child, to find out if she had been shot, if she was still alive.
"As we near the school, traffic is stopped and parents are running from their cars towards the school," she wrote. "We know they won't let us near the school, so we sit and wait while arguing and basically freaking the hell out. After being there a while, we can't stand it any longer and start making our way on foot to the school."
Van Ness had told her husband and other family members not to call Isabelle, fearing that the buzzing phone would give away the teen's hiding place as the shooter continued to gun down his peers and teachers.
Van Ness and her husband had almost reached the school on foot when Isabelle called to say that she was safe and was being questioned by police. The 15-year-old had been in art class when the alleged gunman, a fellow student, barged in and opened fire, police said.
"She loves this class and was excited to finish her year end project. As she focused on the project, the first shot barely registers and she isn't sure what she heard. Suddenly, the kids start screaming and running," Van Ness wrote, recounting her daughter's version of events.
Isabelle, along with seven other students, scrambled into the supply closet and worked to block the door, Van Ness said.
According to Isabelle, as the students tried to move heavy items in front of the door, they heard the gunman scream "Surprise motherfuckers!" and begin shooting at the closet. Three of the eight students inside were hit, including two who were killed instantly.
"The gunman hits three of the eight kids in the closet...killing two of them instantly."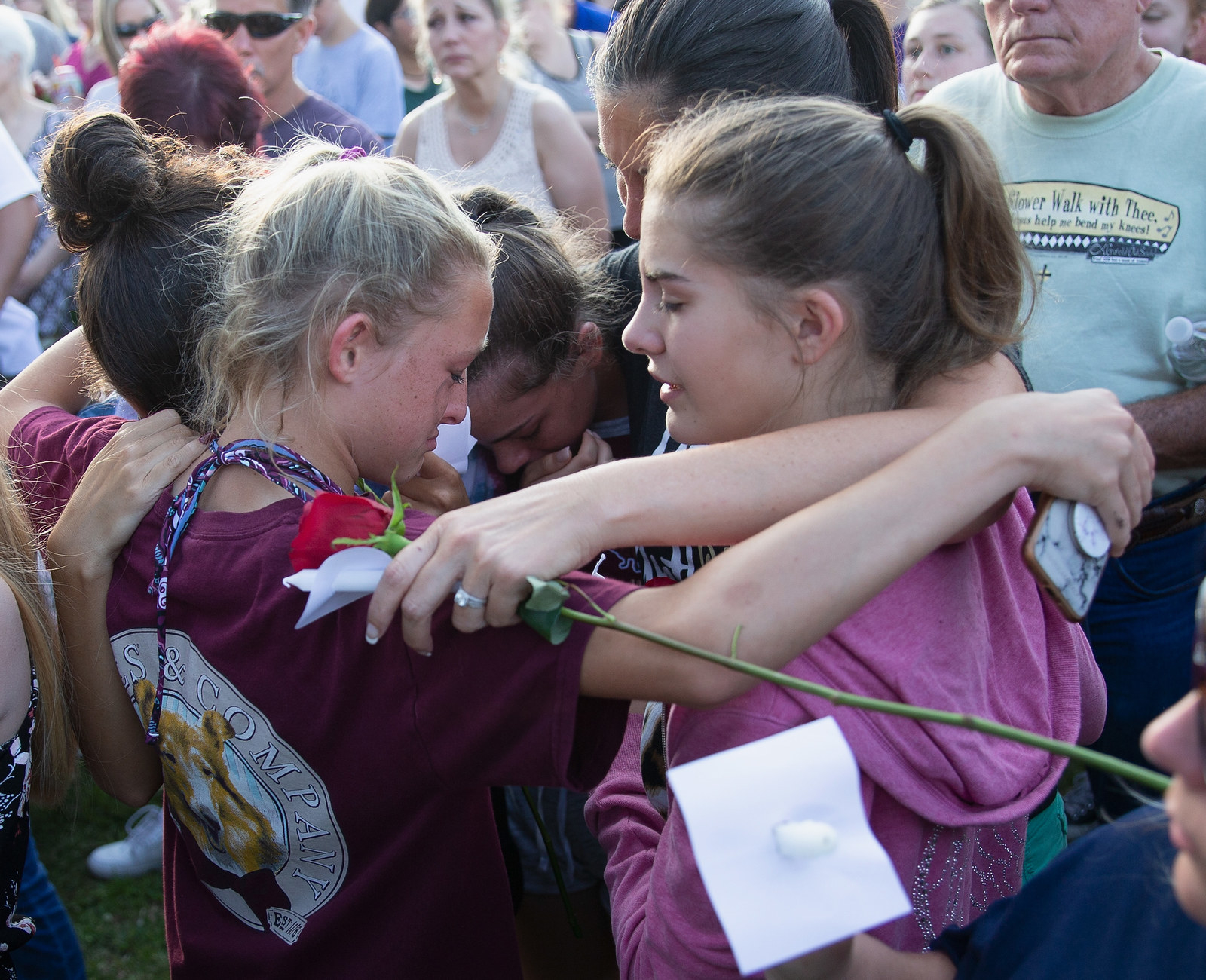 Isabelle said the gunman taunted his victims, and that she could hear him in the classroom yelling "Woo Hoo!" as he fired more rounds.
By this time, cell phones were rattling all over the classroom. Van Ness wrote that her daughter said the gunman then taunted her and others hiding in the closet, asking, "Do you think it's for you? Do you want to come answer it?"
Finally, after hiding for about 30 minutes, next to her deceased classmates, the police arrived.
After being rescued, Isabelle and other students were loaded onto a bus to reunite with their parents. The bus driver, Van Ness wrote, asked Isabelle if she knew anything about "her own daughter."
Isabelle had seen her on the floor as she walked through the classroom, Van Ness wrote.
"This wonderful woman did everything she could to make Isabelle feel safe while not knowing the status of her own child," Van Ness wrote in her Facebook post.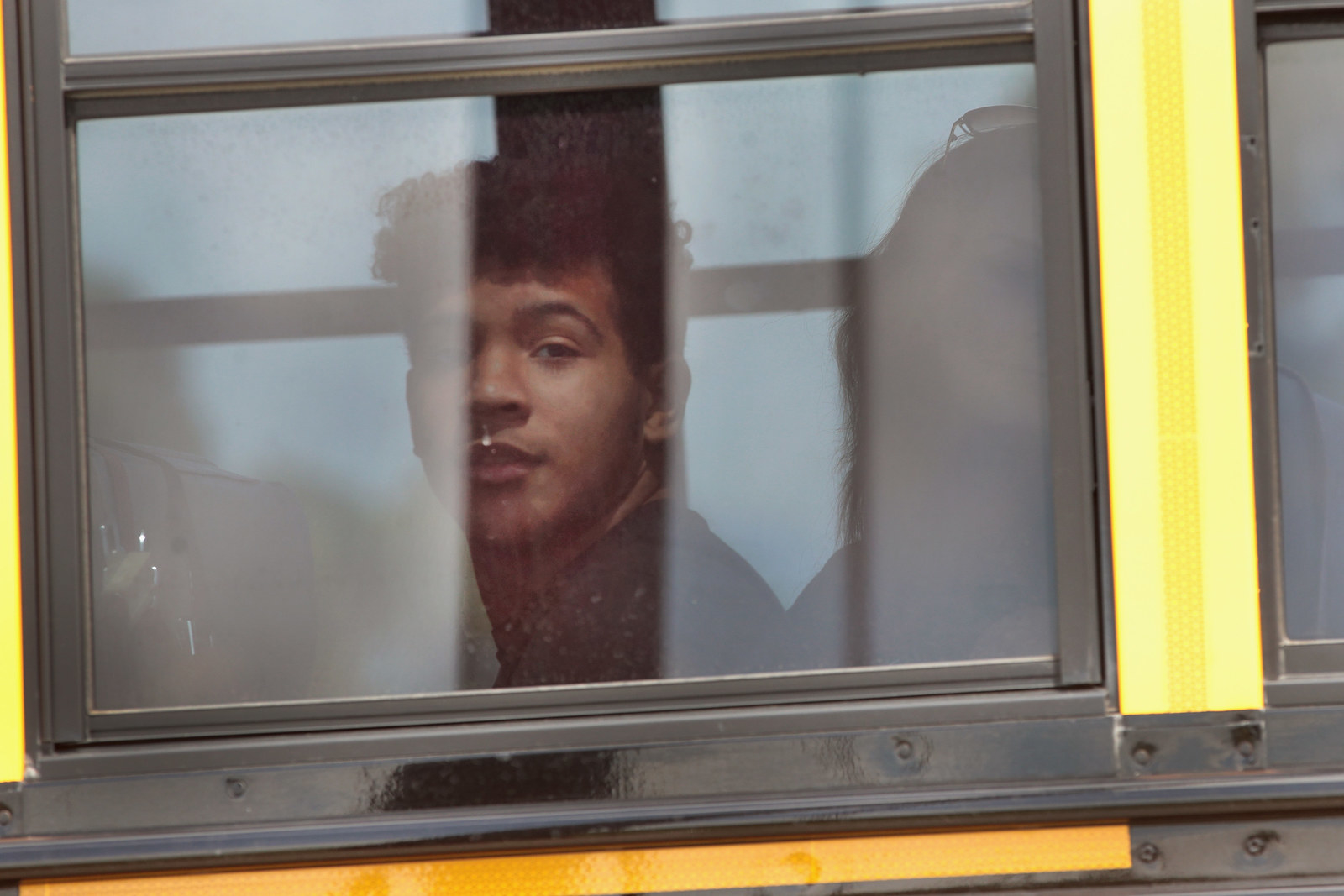 The rest of the day crept by in a chaotic, painful blur, Van Ness said. Families were still waiting for word about the status of their loved ones—others were attending vigils. Reporters were calling. Somewhere along the way, Van Ness wrote, her foot had started to bleed.
"As we're sitting upstairs, she's clearly in shock looking around the room blankly until she glances down," Van Ness wrote of Isabelle's first moments at home after the shooting. "She looks at me and says...this is my favorite outfit and now there's blood on it and burst into tears."
Her 18-year-old son, Kam, later learned that his best friend had been killed in the shooting. The family's cousin also died at the school.
"After 10 hrs of waiting, the parents were called together and asked for pictures of their children," Van Ness wrote. "They then matched them and notified the families. Think about that for a minute....over 10 hrs...not knowing whether your child is safe."
When Isabelle heard the names of those who died, Van Ness said, the teen fell apart.
"Isabelle tells me that she's afraid to take a shower," she wrote. "I tell her that she might feel better if she washes away the day. She decides to try and took the quickest shower of her lifetime. She said the water hitting the tiles reminded her of sounds she heard while locked in the closet."
Finally watching her daughter drift off to sleep, Van Ness wrote down the events of Friday, titling the post "the longest day of my life."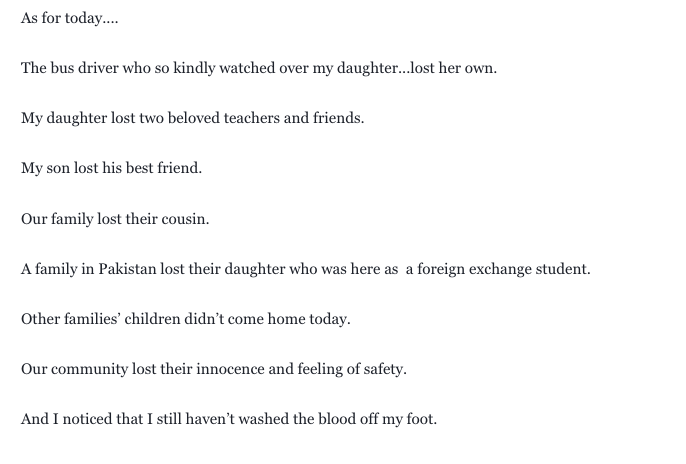 On Sunday night, the mother told BuzzFeed News that she had no idea her post "would end up touching so many" and said the response has been "overwhelming."
"I've unfortunately seen these stories too often but, experiencing it is such a different story and we felt it was important for others to see beyond the story," she said, emphasizing, though, that she didn't want the attention on her and her experience. "This is my daughter's story now. And all of these children, who were so brave."