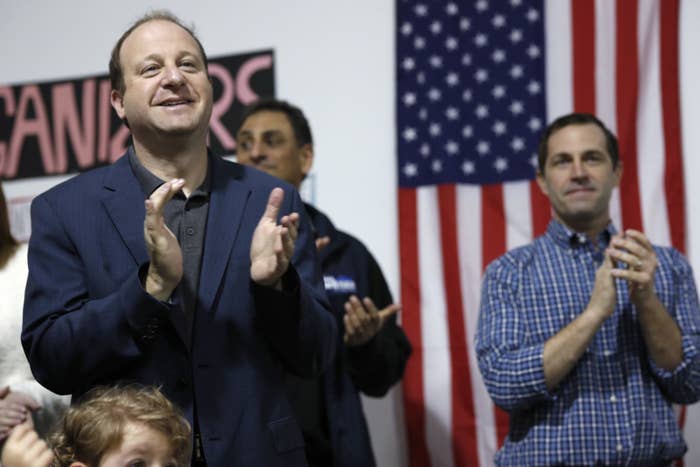 Jared Polis is making history — again. Ten years after he became the first openly gay man to win a congressional seat, the five-term Colorado congressman is now the country's first openly gay man to be elected governor.
The 43-year-old Democrat, who is also now Colorado's first Jewish governor, kept a consistent lead over his Republican opponent, Colorado State Treasurer Walker Stapleton, before clinching the win Tuesday night in what became the most expensive race in the state's history.
A progressive tech entrepreneur from Boulder, Polis was first elected to Congress in 2008. At the time, his longtime partner Marlon Reis hung back on the campaign trail and did not appear often in public until the victory party, where they memorably hugged on stage.
"It was kind of zero to 60," Reis told the Washington Post, explaining his choice to stay out of the spotlight because they "didn't know if it would somehow negatively affect Jared's chances of getting elected."
This time, though, the couple weaved their children and family life into ads and social media posts, embracing the happy family narrative that is so often used by straight candidates.
During Denver's Pride Parade this year, Polis filled his social media with photos of himself and Reis, as well as other LGBT couples, captioning them with messages like "Love is love" and "We are a party that looks like America, today and tomorrow," while also acknowledging how difficult it is to be openly queer in many parts of the country.
Daniel Ramos, the executive director for One Colorado, the state's largest LGBTQ advocacy organization, remembers growing up in a rural, conservative town and not meeting a same-sex couple that was raising children until he volunteered for a congressional campaign in 2010.
"For [Polis] to send a message that families, no matter how they look, are just as much a part of this as anyone else's and his bold vision for Colorado, which is what we should be focusing on, is why we elected him as our next governor," Ramos told BuzzFeed News.
Ramos also pointed out that there is a "lot at stake in this election" for LGBT rights, which have been a flashpoint for debates over religious liberties and same-sex marriage, in Colorado and nationwide.
In June, the US Supreme Court ruled in favor of a Christian, conservative baker who had refused to make a wedding cake for a gay couple because of his personal religious beliefs. A few months earlier, a Republican-controlled Colorado Senate again thwarted the Democratic House's attempt to ban conversion therapy for minors.
"We have had an anti-LGBT majority in the legislature and we have had bills blocked that would make it easier for transgender people to update their birth certificate and prohibit mental health providers from trying to change and influence a young person's sexual orientation or gender identity," Ramos said. "Plus the national sentiment and tone toward LGBT people, women, and immigrants right now. We want to push back on those sentiments coming out of DC."
Polis's agenda echoes elements of other progressive leaders like Vermont Sen. Bernie Sanders, who stumped for the Colorado Democrat at the end of October. Along with free early childhood education for all, Polis is also pushing for his state to enact universal health care, raise the minimum wage, and be fully reliant on renewable energy by 2040.
One of the wealthiest members of Congress, Polis made a bulk of his fortune in his twenties; he founded and sold several major companies, including ProFlowers.com and the online greeting card maker BlueMountain.com. He then delved into the tech sector, founding a startup called Techstars and Patriot Boot Camp, which helps veterans launch business ventures. In 2000, he was elected to the Colorado State Board of Education and founded several charter schools.
Polis is also a staunch advocate for expanding access to cannabis and decriminalizing marijuana. In June, he criticized the state's current governor for vetoing legislation that would have enabled residents with autism to use cannabis for medical purposes.
"If I have the opportunity to be governor of Colorado, I would sign this bill increasing access for medical marijuana to those on the autism spectrum, enabling investments in legal cannabis businesses that help reduce costs for consumers and create jobs," Polis told Marijuana Moment, calling it "common sense" to regulate the drug more like alcohol "rather than continuing the failed drug war against marijuana."
Polis's positions reflect the evolving voting preferences of Colorado, which has become increasingly purple in recent years. On Halloween, Colorado Public Radio reported that nearly 1 million residents had already voted and, at the time, Republican and Democratic turnout was almost even. That was a major shift from the 2014 midterms, when Republicans represented a large chunk of early voters.
"We are a country that welcomes all people, no matter of race, religion, and sexual proclivities. No one has the right to discriminate against you," Charlotte Mankoff, a semiretired antique dealer from Boulder, told BuzzFeed News. "Jared Polis represents the best policies of a Democratic country. It's exciting."