Five People Were Killed In A "Targeted Attack" On A Maryland Newspaper
"This person was prepared to shoot people. His intent was to cause harm," Anne Arundel County Acting Police Chief Bill Krampf said.
A gunman opened fire Thursday inside a building that houses the Capital Gazette newsroom in Annapolis, Maryland, killing five people and injuring two others in a "targeted attack," officials said.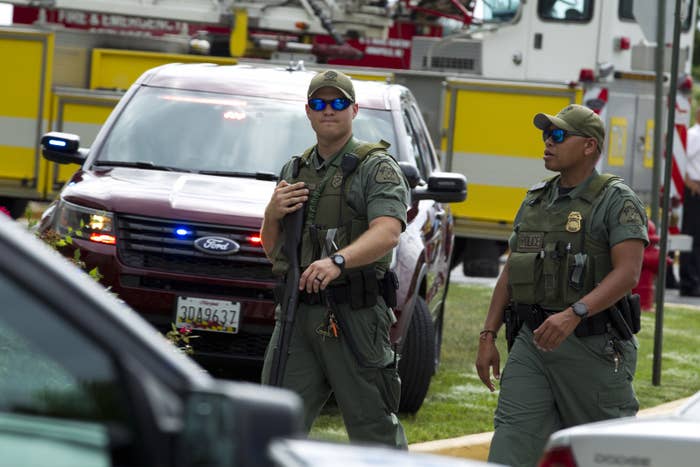 The suspect, a white male in his late 30s, entered the building Thursday afternoon with a shotgun, walked through the lower level "looking for victims" and opened fire, Anne Arundel County Acting Police Chief Bill Krampf said.
"This was a targeted attack on the Capital Gazette," Krampf told reporters. "This person was prepared today to shoot people. His intent was to cause harm."
Late Thursday, somber officials announced their names: Wendi Winters, an award-winning reporter who covered community news; Robert Hiaasen, an editor known for his humor; Gerald Fischman, an editorial writer; Rebecca Smith, a sales assistant; and John McNamara, who has worked for the Capital Gazette in various roles for more than 20 years and loves sports. You can learn more about them here.
"We are deeply saddened by what happened today," Lt. Ryan Frashure sighed. "That a person had to take this into his own hands and this was the result."
The suspect, who lives in Maryland, had repeatedly threatened the Gazette on social media, the chief said, "even as recently as today." The messages "indicated violence," but the suspect did not target anyone at the Capital specifically.
Along with his gun, the suspect was carrying smoke grenade canisters, which he deployed inside the building, Krampf added, emphasizing that the suspect acted alone.
Police said they planned to released the identity of the suspect Friday morning and that there "were no further threats to the Capital Gazette."
However, the Capital Gazette and a slew of other media outlets named him as 38-year-old Jarrod Ramos, who had repeatedly harassed the paper and several editors and writers for years.
Right before the attack, an a Twitter account Ramos apparently used to lament about and harass Gazette staff and county officials, exclaimed: "Fuck you, leave me alone @judgemoylanfrnd." The message was directed toward a judge who had ruled against him in 2012, when he sued a columnist for defamation. Before 2:37 p.m. ET, The account had not tweeted anything since January 2016.

The shooting occurred around 3:15 p.m. and officers arrived on the scene within a minute, officials said.
"If they were not there as quickly as they were it could have been a lot worse," Annapolis Mayor Gavin Buckley told reporters.
The suspect did not exchange gunfire with officers. Instead, county executive Steve Schuh told CNN that authorities found the suspect hiding under a desk with a gun nearby "trying to evade law enforcement."
After they apprehended him, Schuh described the suspect as uncooperative and said he "has not been very forthcoming" with information. A motive was not immediately unknown.
"It doesn't look like it was a well-planned attack," Schuh said. "It looked like amateur hour."
Elaborating on the victims, Schuh said four people died at the scene and the fifth, a woman, was evacuated to the hospital but later died.
The building houses the offices of Capital Gazette Communications, which publishes multiple titles, including the Capital and the Maryland Gazette. It is owned by the Baltimore Sun and is well-respected for its local news coverage.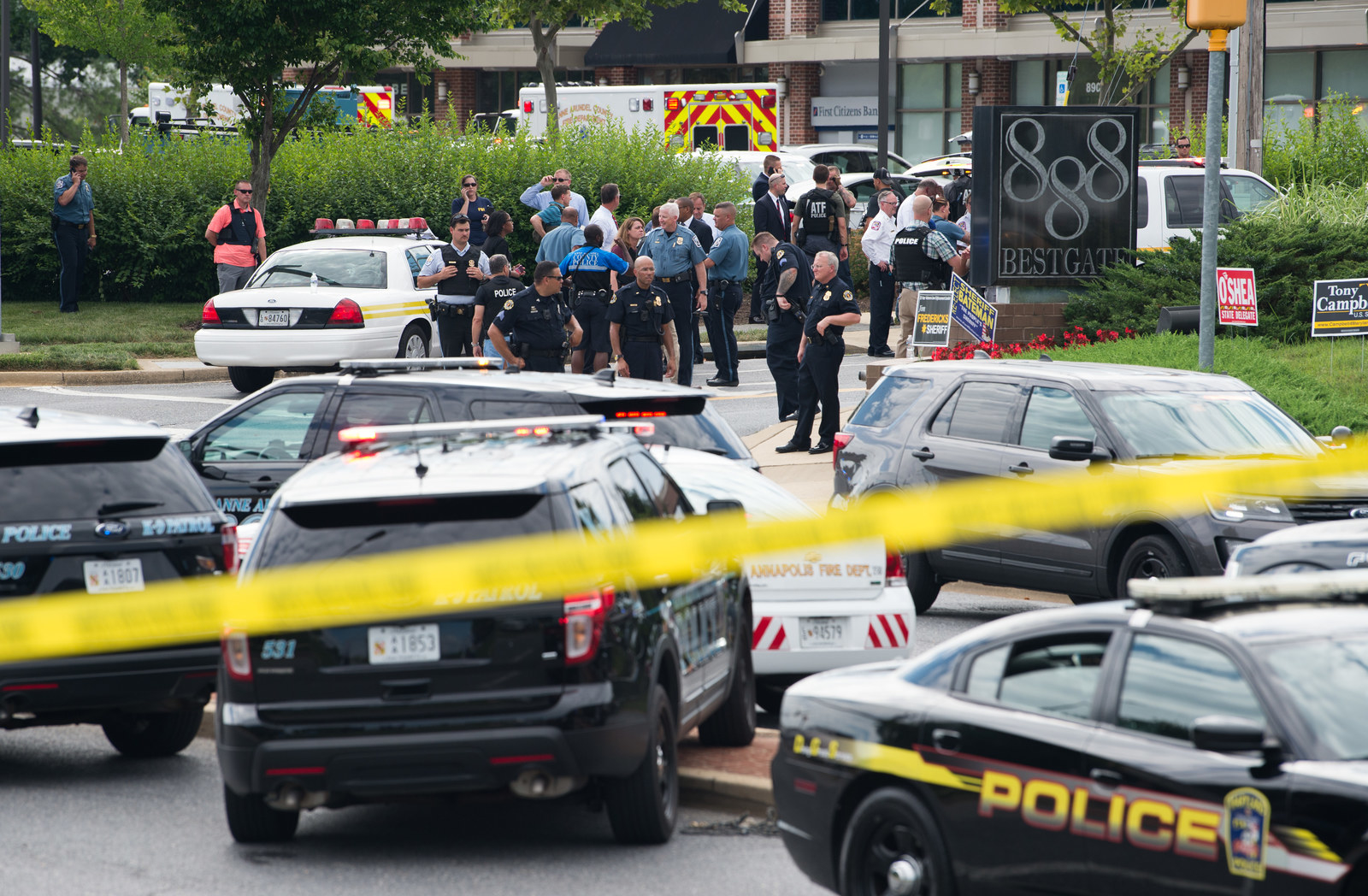 Thirty other tenants share the building with the Gazette, the Baltimore Sun reported, including medical, law, and financial offices.
Police said more than 170 people were inside and safely evacuated to a family reunification area.
According to Danielle Ohl, a reporter with the Capital Gazette, said the newspaper has about 20 news staffers and a few more in advertising, describing the newsroom as "a family."
Though small, the news staff is respected and known for its devoted coverage of the community and its hard-hitting journalism, something that officials somberly explained during their conference.
"We speak with these men and women on a daily basis," Krampf said. "We're here. We're invested. We're going to get this investigation right."
A photojournalist for the paper shared pictures of the massive police presence as multiple agencies swarmed the building.
The University of Maryland Medical Center confirmed to BuzzFeed News that they were treating one person who was injured in the incident.
Two other patients, neither of whom were gunshot victims, were transported to the Anne Arundel Medical Center and were treated for "minor lacerations and injuries," Arminta Plater, a spokeswoman with the hospital, told BuzzFeed News.
"We don't anticipate any additional patients," she said.
Phil Davis, who covers crime for the paper, tweeted that he was inside the newsroom when the shooter opened fire.
He said the gunman shot through the office's glass door and that he hid under his desk.
In an interview with the Baltimore Sun, Davis described feeling helpless as he hid under his desk until the shooter stopped firing.
"I don't know why. I don't know why he stopped," he told the paper.
Anthony Messenger, an intern at the paper, was among the first to share the news of the shooting, writing on Twitter, "please help us."
ABC shared footage of people evacuating the facility with their hands raised.
Police also combed the Baltimore Sun building in a precautionary sweep.
The White House said President Trump had also been briefed on the shooting. Press secretary Sarah Sanders later tweeted that "a violent attack on innocent journalists doing their job is an attack on every American."
Maryland Gov. Larry Hogan also tweeted that he was "absolutely devastated to learn of this tragedy."
Merrill Williams, whose family ran the paper for decades, said that she was "praying for the entire team."
The site is home to two newspapers, the Sun tweeted. One is the oldest in the country and the other has been "serving Maryland's capital city for 134 years."
Capital Gazette staff members expressed their heartbreak and shock, sharing updates about their hard-working colleagues.
"We lost some truly great people today," photographer Paul Gillespe tweeted. "I am in shock trying to process this horrible situation."
Other journalists commended the news outlet's devotion to its community and local journalism.