President Donald Trump, who often reminds us how hard he is working, has reportedly been starting his day much later to make room for what his staff calls "Executive Time," when he mostly watches TV and tweets, according to a new Axios report.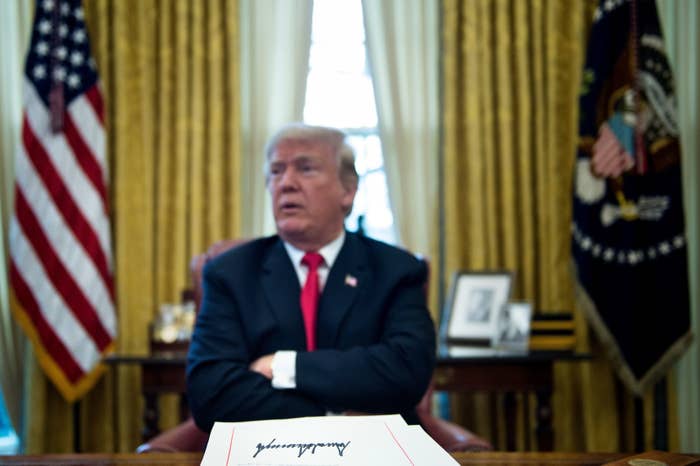 The president now usually gets to the Oval Office around 11 a.m. and is out the door by 6 p.m. with at least three hours of "Executive Time" built in, Axios reported. The publication obtained a different set of schedules than the ones the White House releases to the press.
Here are some examples of how Trump now spends his days, according to Axios:
* On Tuesday, Trump has his first meeting of the day with Chief of Staff John Kelly at 11am. He then has "Executive Time" for an hour followed by an hour lunch in the private dining room. Then it's another 1 hour 15 minutes of "Executive Time" followed by a 45 minute meeting with National Security Adviser H.R. McMaster. Then another 15 minutes of "Executive Time" before Trump takes his last meeting of the day — a 3:45pm meeting with the head of Presidential Personnel Johnny DeStefano — before ending his official day at 4:15pm.

* On Thursday, the president has an especially light schedule: "Policy Time" at 11am, then "Executive Time" at 12pm, then lunch for an hour, then more "Executive Time" from 1:30pm.
It's unclear when Trump started cutting back his work schedule. Axios notes that the president had been logging much longer days in the Oval Office following his inauguration, but apparently was not a fan of early meetings and pushed for a later start.
In a statement responding to the Axios report, White House press secretary Sarah Huckabee Sanders said the president's mornings are "a mix of residence time and Oval Office."
"The President is one of the hardest workers I've ever seen and puts in long hours and long days nearly every day of the week all year long," Sanders said. "It has been noted by reporters many times that they wish he would slow down because they sometimes have trouble keeping up with him."
It's well-known that the president loves Twitter and he appears to be constantly consuming media, especially cable television, at all hours of the day.
In the past, Trump has also boasted about how he barely sleeps, telling Bill O' Reilly last year that he works "long hours, long hours, right up 'til 12 o'clock, 1 in the morning."
When pressed by reporters about Trump's apparent use of "executive time," deputy White House press secretary Hogan Gidley called the idea "ludicrous," and described the president's work ethic as "yeomanlike."
"I mean, it is ludicrous when many of you yourselves have reported on the fact that the president exhibits yeomanlike work every day in this job," Gidley told reporters traveling with the president to Nashville Monday. "He only needs a few hours of sleep."
He added that Trump spends the majority of his mornings talking to cabinet members and his chief of staff, and calling members of Congress. "To describe his work ethic as anything other than yeomanlike is ridiculous, and everybody knows it," he repeated.
Trump also likes to tout his work ethic, often tweeting about how much work he is accomplishing while staying at one of his golf clubs. After tweeting the day after Christmas that it was "back to work," for example, he spent the next seven days on the green.
The idea of taking "executive time" has now caught on, with people imagining what they would do during their own free "working" hours.
Like scheduling out blocks to complete the important task of lying down.
Or clear their to-do list.
Pets even started incorporating executive time into their schedules.
The Washington Post even made a "handy tool" to help you calculate your own "executive time."
Others defended the president, arguing that it's important for the president to know what's going in the world.
Regardless, make sure you pencil in some executive time for yourself once in a while, cuz it's going to be another longggggg year.