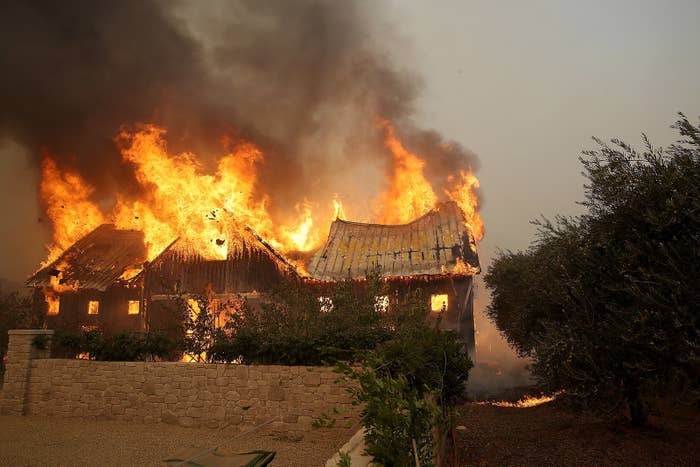 In the aftermath of the catastrophic wildfires that killed at least 42 people and left thousands of Northern California homes and businesses in rubble and ruins, right-wing media outlets reported that an undocumented immigrant was arrested in connection to the fires.
Only problem: The reports are false.

"There is a story out there that he's the arsonist in these fires," Sonoma County Sheriff Rob Giordano said at a press conference Tuesday. "That's not the case. There's no indication he's related to these fires at all. ... I wanted to kill that speculation right now, so we didn't have things running too far out of control."

The rumors flared after officials arrested a 29-year-old man in Maxwell Farms Regional Park last weekend. Jesus Fabian Gonzalez, a homeless man "known to deputies," had started a fire to keep warm, Giordano said Tuesday. Gonzalez, who frequented the park, was seen "walking away from a small fire" on Sunday afternoon carrying a fire extinguisher and lighter, the sheriff said.
Law enforcement "asked him if he started the fire, and he said he started the fire to warm himself up," Giordano said, noting that the fire was so small that a deputy had extinguished most of it before firefighters arrived.
Gonzalez is currently being held in Sonoma County jail on a $100,000 bond, and there is no evidence linking him to the dozens of wind-fueled fires that erupted last Sunday, torching nearly 200,000 acres across the region.

The cause of the wildfires, which are still burning across multiple counties, is still under investigation.
On Monday, the Santa Rosa Press Democrat published a story about the arrest. Then Breitbart, the right-wing website run by President Trump's former chief strategist Steve Bannon, picked up on the story.
Breitbart then reported that the US Immigration and Customs Enforcement Agency (ICE) had issued a detainer request for Gonzalez and claimed, without any evidence, that he was arrested on suspicion of arson in the massive wildfires.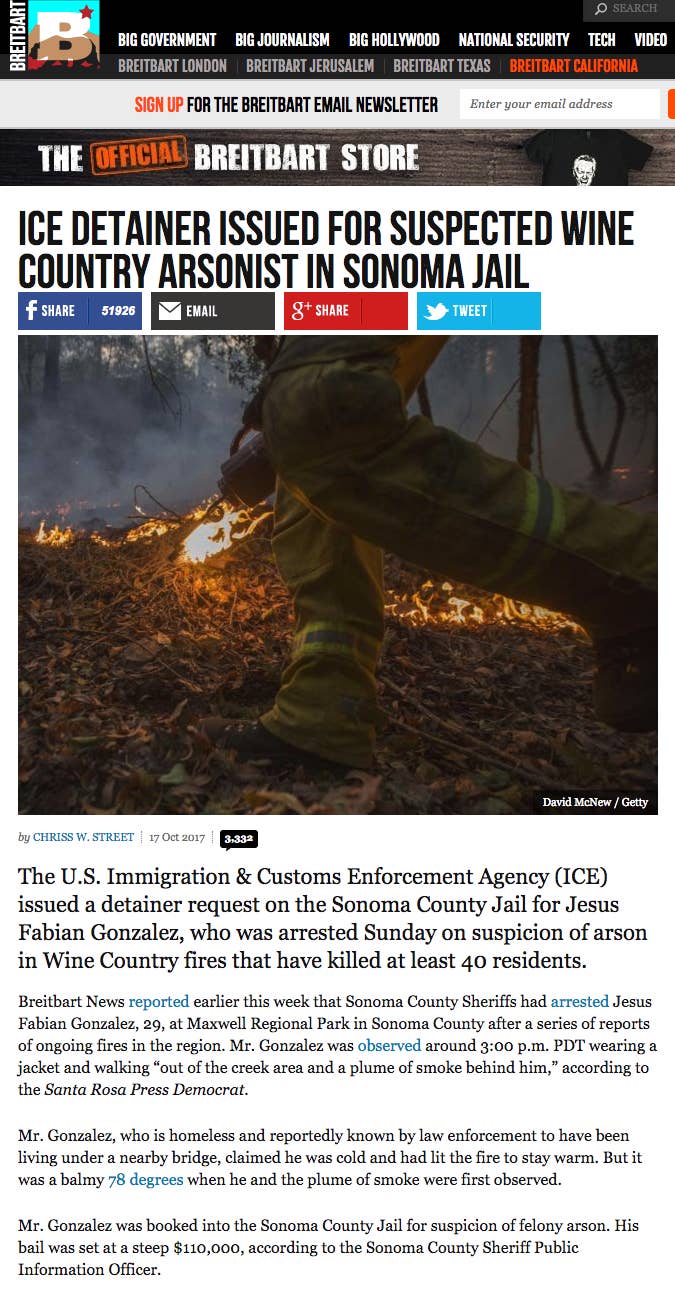 While many in the region are still clamoring for answers about how the raging wildfires — now the deadliest in California history — were ignited, many people began sharing the story on social media, fueling the false report.
"An illegal alien has been arrested for arson after a fire destroyed much of Santa Rosa..."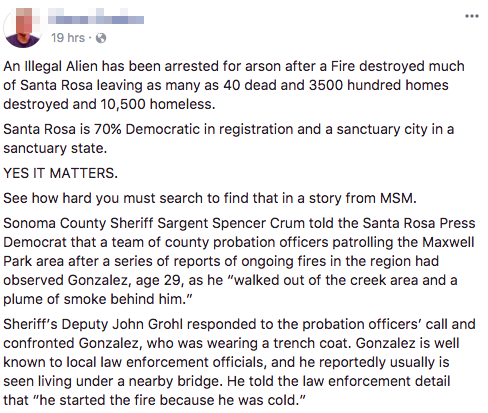 "The Santa Rosa fire was not started by climate, it was Arson by an illegal alien, in a sanctuary city," one user tweeted to President Trump.
The report ricocheted across right-wing media outlets, including InfoWars and the Drudge Report, which shared Breitbart's unsubstantiated claims.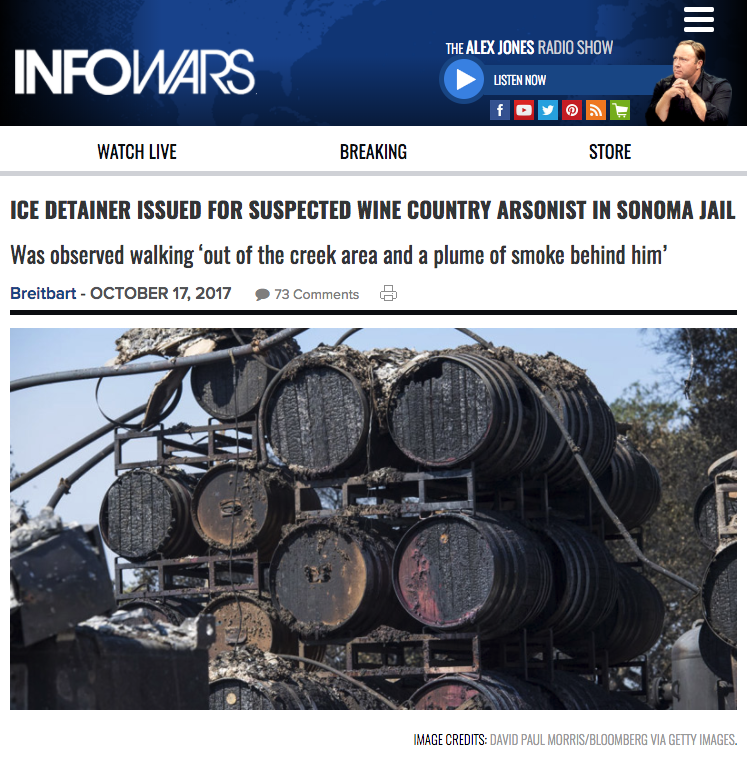 "Jesus Fabian Gonzalez is now sitting in the Sonoma County Jail on suspicion of arson for being at least one of those responsible for the rash of fires that have devastated California this month killing at least 40," wrote American News 24/7.
Since the fires began, officials have been continuously reassuring the community that ICE agents would not be targeting undocumented immigrants who sought refuge at official shelters. Dozens chose to camp at beaches, sleep in cars, or stay in churches, schools, and other pop-up shelters to avoid encountering any federal agents.
Sgt. Spencer Crum, spokesperson for the Sonoma County Sheriff's Office, said officials are working to counter the false report that Gonzalez was behind the fires, calling it "the first really crazy" rumor they've had to contend with.
"This is completely false, bad, wrong information that Breitbart started and is being put out into the public in a very strong way," Crum told BuzzFeed News on Thursday. A Breitbart reporter, he said, called the department only to inquire about Gonzalez's race and if ICE had placed a detainer on him.

"After they published that story we started getting a lot of calls," he added. "There is no indication Mr. Gonzalez is connected to the wildfires. None. Breitbart made that up themselves."
A statement released on Wednesday from Thomas Homan, ICE's acting director, accused Sonoma County of being a "non-cooperative jurisdiction" that "has left their community vulnerable to dangerous individuals and preventable crimes."
Homan's statement goes on to claim that the agency was never notified of Gonzalez' four releases from Sonoma County jail, and that the county's "non-cooperation policies" allow "criminals who would otherwise be deported will be released and left free to reoffend as they please."

"The residents of Sonoma County, and the state of California, deserve better than policies that expose them to avoidable dangers," Homan wrote.
In a scathing rebuttal, the Sonoma County sheriff called ICE's statements "inaccurate," "inflammatory," and "damaging" to the office's relationship with residents.
In addition to recounting and rebutting ICE's narrative regarding Gonzalez, Sheriff Giordano wrote that there is "no indication that Gonzalez had anything to do with these fires and it appears highly unlikely."

"ICE attacked the Sheriff's Office in the midst of the largest natural disaster this county has ever experienced," Giordano wrote. "I hope to end this senseless public confrontation with these facts so that I may focus on the fire recovery."