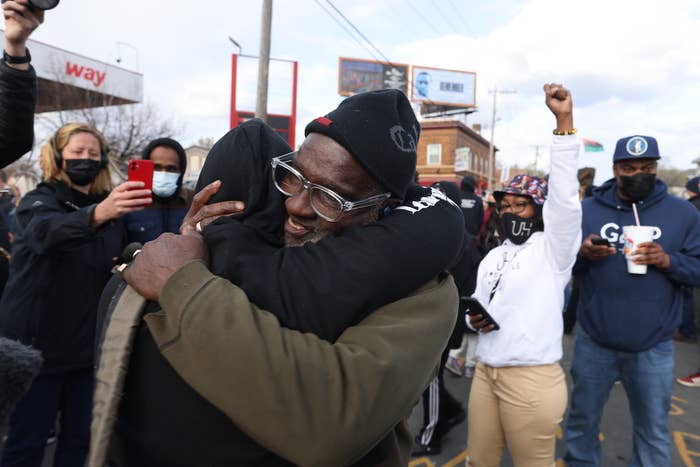 MINNEAPOLIS — As people in Minneapolis and around the country anxiously awaited the verdict in the trial of former police officer Derek Chauvin to be announced, a crowd gathered in what's become known as George Floyd Square.
The pavement outside Cup Foods has become the center of protests and community block parties since then-officer Chauvin killed Floyd there last summer, sparking a national reckoning on police violence and racial justice. On Tuesday, people gathered once again as the court said the jury had reached a verdict after about 10 hours of deliberation.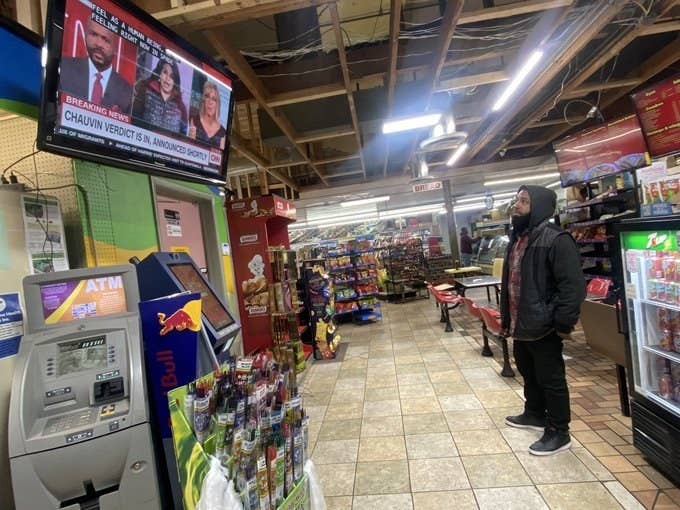 For about an hour, Minneapolis and the nation waited for the announcement of the jury's decision. Cup Foods shut down, its owner fearing what would happen if Chauvin was found not guilty. Meanwhile outside, news coverage blared from car radios and people's phones.
Gathering around handheld screens, the crowd watched live as Judge Peter Cahill read the verdict. Chauvin was found guilty of all three counts: murder in the second degree, murder in the third degree, and manslaughter in the second degree.
The crowd erupted in cheers, with people jumping and raising fists. Some broke down in relief; one woman started sobbing. Others passed out food, colored and played music.
"We got justice today," said Jennifer Starr Dodd, an organizer with Our Village Reunion.
She said Floyd's death ignited a movement in the community, adding that she saw men crying in the streets "because they didn't know how to deal with the trauma and pain of what they witnessed that day."
"They saw a man get murdered and they couldn't do anything because they feared for their life. And they had to walk around and deal with that for the past year and they're still here and they're still present and they're still fighting," she said. "So I've seen growth. I've seen strength. I've seen healing. I've seen pain. I've seen trauma. But I see hope. I see hope."
Inside Cup Foods, Billy Abumayyaleh, who runs the store with his four brothers, said he came back to reopen after hearing the verdict.
"The customers called us back and said, 'Hey we need you guys back open, you're part of the community.'" Later, ordered 100 pizzas to feed members of the crowd because his kitchen couldn't keep up.
"It's the blessing that we needed," he said of the verdict. "One dirty cop of the street, three more to go."
Lynea Bellfield said she's been to George Floyd Square countless times over the past year, and that dealing with police mistreatment is a way of life.
"We have a lot of work to do," she said.
As crowds amassed in downtown Minneapolis, Karen Law said that as a mother of Black children "it's been a hard year."
"But this is just this one minute. A moment of peace," she said. "We'll never get George Floyd back, but maybe we're on a track to show that you can no longer kill Black and brown bodies."
Later on, crowds peacefully marched as a man with a megaphone said, "We're gonna celebrate today, but tomorrow, we get back to work."
Caroline Haskins contributed reporting.