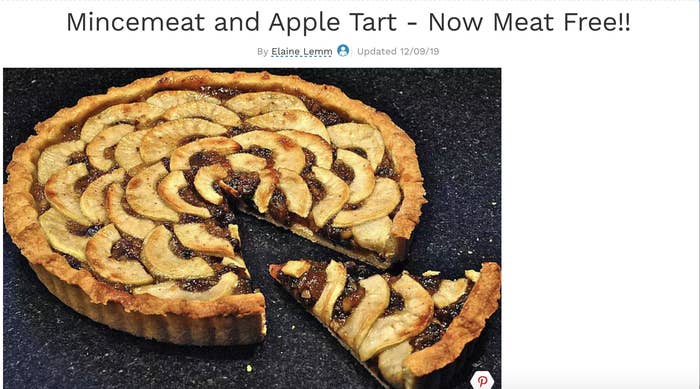 A very ~unique~ Christmas dessert caused a lot of chaos on Twitter Monday and horrified many Brits who came across a recipe for a mincemeat tart and saw a photo of ground beef topped with golden apple slices.
For all you Americans now googling "what is mincemeat?"...I feel you.

For the record: Mincemeat is a classic British dessert dish that's made of dried fruit, nuts, spices, and spirits, is usually put in pies, and is super popular during the holidays. The filling used to be mainly meat, but, as people on Twitter pointed out, slowly evolved into the "lovely" sweet stuff.
"Mince" is another term for chopping meat up into very small pieces, à la ground beef. However, because the English language is confusing AF, people in the UK also refer to meat as "mince."
(Even though a mince pie is not a meat pie, it's the same thing as a mincemeat pie, which has no meat. Totally makes sense, right?)
Well, on Monday morning, Kim Plowright was googling recipes for mincemeat tarts because she missed her late mother and clicked on a post from Spruce Eats, which is based in the US, for a mincemeat and apple tart on its site.
Published in August and originally written by British food writer Elaine Lemm, the dish calls for 9 ounces of mincemeat (homemade or store-bought), apples, sugar, butter. It's a pretty straightforward, classic, easy recipe.
Only thing is, when she scrolled to "gather the ingredients," she saw a lovely photo of peeled apples, butter, sugar, pie dough — and a bowl of ground beef. The next steps instructed the baker to top this pile of meat with all of the other things, cover the creation in foil, and pop it in the oven.
It was, as Plowright wrote, just a minor, "tiny transatlantic misunderstanding." Totally not a big deal at all.

Plowright, who works in digital media in London, told BuzzFeed News, at first did a double take and cracked up thinking about what her mother would do if she saw the images of the "beef mince and custard."
"She was a home economics teacher, trained in the 1950s, and had Very High Standards about Pastry etc," Plowright wrote in an email to BuzzFeed News, "so she would have been completely horrified by the mistake. I think that's one of the reasons I found it so gloriously funny."
The best part about the whole thing, she said, was that a concerned visitor posted a comment about the mistake three months ago and the "staff didn't notice" until that day. Plowright shared her discovery on Twitter, prompting others to do the same.
Several posts went viral, receiving hundreds of face-palm comments and conversations about weird food terms, English words, how Americans aren't as ignorant as we seem, and a lot of details about meat, pie, non-meat mincemeat pie, etc.

People thought the whole thing might have been a hoax, until a user spotted a comment from three months ago, in which a reviewer noted that "people doing this recipe have done a Rachel (from Friends)."
"I shudder to think what it tastes like — basically a Meat Pie with Baked Apples on top, covered with Custard," he wrote. "I'm sure Joey would like it."
In response, a Spruce employee thanked Steve for his note and fixed the mistake with the "correct image and not ground beef."
Quite a few Americans were confused and ashamed to admit they had, before this monumental moment in Twitter time, never heard of mincemeat.

Take this person, who was also, like, "yeah I like tea but we don't have teatime," and where does pudding (jello?!) come into the equation.
Others were incensed by how bare and sauce-less the meat was.
"They don't even call for salt and pepper? No sauce. Just ground beef cooked in what would become a crease soaked crust covered in apples. Disgusting," this person wrote.
Others started getting into it over other food terms, like the lie that is grilled cheese, which maybe should be called "skillet-fry cheese?" Who knows. This is a lot to process right now.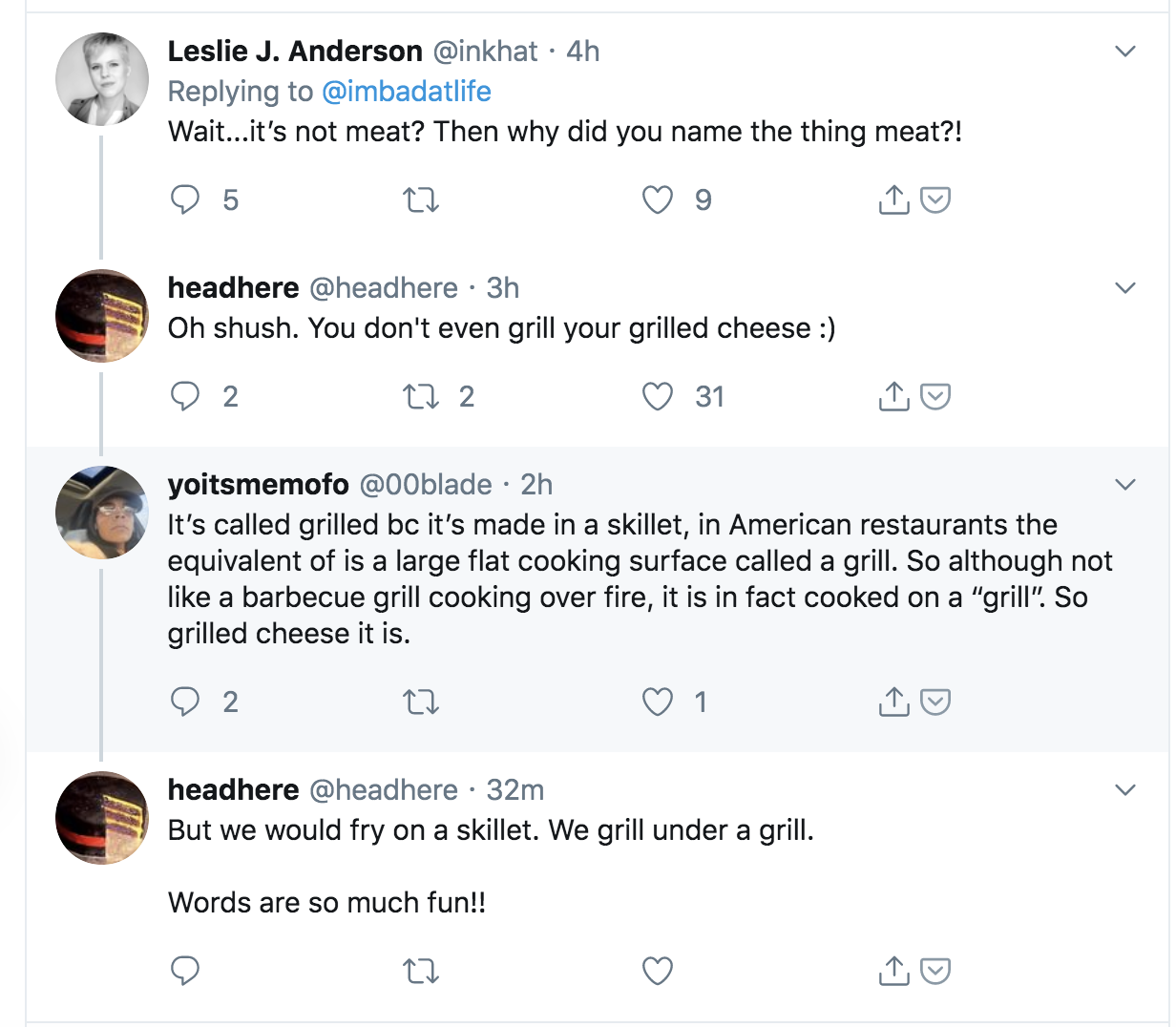 Lemm, the renowned food and travel writer who wrote the recipe, said she had no idea about the slight change to her mincemeat and apple tart dish until she was contacted by BuzzFeed News.
"How hilarious!," she wrote. "As if we haven't enough problems in this country right now, hilariously, having everyone thinking we eat custard with apples and minced beef just about finishes us off in the eyes of the world."
Lemm, who still writes for Spruces Eats and calls it a "great company," guessed that the site had been updating her recipe and gave the job to "someone, who, shall I say, doesn't know about British Food."
She said Spruce Eats constantly updates recipes and, next time, would love if they would let her "check it before publishing, or let me update the recipe" before it goes live.
The writer also had some serious questions about the added last step to eat the ground beef apple thing with custard.
According to Eric Handelsman, Spruce Eats' vice president and general manager, the whole thing was a total "lost in translation situation."
"I feel so bad for Elaine because she is so well-respected and we photographed her recipe with these photos," he told BuzzFeed News. "We got the recipe from Elaine a long time ago and we sent it to a photographer and the rest sort of just happened."
The site constantly updates its most popular recipes, he said, and guessed that a producer had paired the new photos with the old piece without realizing what they were actually of. He also wasn't sure how long the images of the beef creation had been up.
"This was an unfortunate, if not hilarious, mix-up by one of our photographers during a recent shoot. As soon as we were alerted to the mistake, we fixed the article," the company said in a statement. "We hope this provided a good laugh and a happy holiday season to all!"
Later Monday, the site updated its very popular recipe to now read: Mincemeat and Apple Tart — Now Meat Free!!
And, because Spruce "stands by everything we do," Handelsman said the office was going to bake the tart with the ground beef "and all try it."
"People make beef and fruit dishes all the time," he laughed. "I bet it's going to be pretty good."