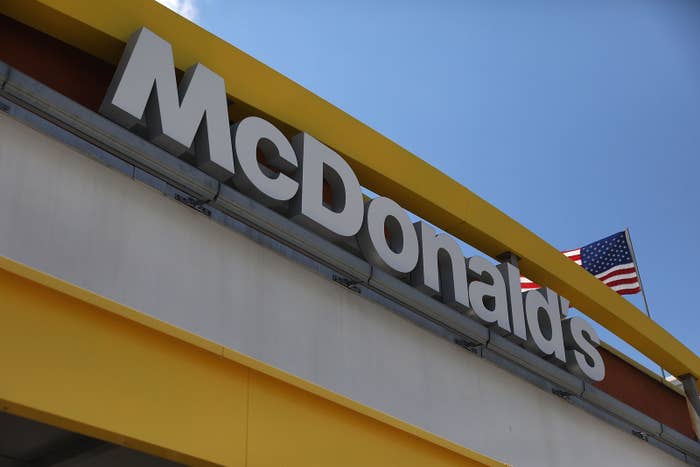 A McDonald's in Arkansas fired an employee after she threw hot grease at a customer during an argument at a drive-thru window.
Shortly before 11 p.m. Sunday, police in North Little Rock, Arkansas, arrived at the fast-food restaurant after customer Tonio Andrews "became irate" in the drive-thru and smashed the lobby's glass door, according to an officer's report. When authorities arrived, the glass was broken but still intact.
About 30 minutes later, police received another call from the same McDonald's — this time from Andrews, who said that he was in the drive-thru and had ordered a "20-piece chicken nugget meal but he had changed his mind when he got up to the window" and wanted a cheeseburger instead.
That's when the employee allegedly said, "You need to make up your fucking mind and quit wasting my time," sparking an argument, according to the report.
The customer said the drive-thru employee tried to close the window on his arm but he pushed it back open, prompting her to take a "container filled with boiling hot grease" and throw it in his face.
Police officers said they observed "fresh burn marks on his face that appeared to be consistent with a grease burn."
After the argument, Andrews told police that he drove off and called his family to tell them what happened and "they all came to the McDonald's to 'back him up' and one of them broke the door."
The 19-year-old was transferred to the University of Arkansas Medical Sciences health center for his injuries.
McDonald's confirmed the incident and told BuzzFeed News that the owner and operator, Michael Retzer Jr., had fired the employee.
"This type of behavior is not tolerated in my organization and the employee is no longer working for us," McDonald's and Retzer Jr. said in a joint statement to BuzzFeed News on Thursday. "We are continuing to work closely with the police on this matter."
Andrews did not respond to BuzzFeed News' multiple requests for comment.
North Little Rock police say they are still investigating the incident and are reviewing footage of the argument.