The Los Angeles Unified School District said it has removed an employee from a middle school after a now-viral video captured her yelling "Build the wall! All you guys wouldn't be here!" at a group of teachers who were on strike over wages, inadequate staffing, and a lack of resources.
As more than 30,000 educators from the nation's second-largest school district canvassed the county's rain-soaked streets Wednesday for their third day of picketing, the video from the parking lot of South Gate Middle School started bubbling up in parent and teacher groups on Facebook and on Twitter.
In the video, a woman who has been identified as Annette Arvizu, a senior technician who has worked for the district for 18 years, is arguing from her car with a group of picketers.
"You're protesting for nothing," she says above chants and a blaring whistle. "I'm getting paid! I'm getting paid."
Trying to exit the lot as the teachers protest, the technician rolls her car window back down and continues engaging with a teacher about money, saying that by striking, "your kids are without teachers."
"It's about your money," she calls out, before smiling and yelling "build the wall! All you guys wouldn't be here!" as she rolls up her window again.
The picketers pause, then begin repeating her statement.

"Build the wall?" they question.
"Racist much?!" a woman shouts.
"Like what are you? Italian?" another woman laughs.
Benny Champagne, a parent and a teacher who is striking, was one of the first to share the exchange on Facebook. While the father of three says he wasn't there and posted it on behalf of someone from South Gate Middle School, he defended the teachers and said they did not deserve this treatment.

In response, district officials said in a statement to BuzzFeed News that they removed the employee from that "assigned campus" and that they are "conducting a full investigation into the incident."

"This behavior is inexcusable and directly contradicts the mission and values of the Los Angeles Unified School District," a spokesperson said, but declined to elaborate as to whether they had fired or suspended the woman.

In an interview with Fox 11, Arvizu said the teachers were barring her from exiting the parking lot. She said that because of tensions over the past few days, her reaction was escalated but said it was not racist.

"I said it out of being funny because they are now closing the gate, keeping me safe from them and that was the purpose of channeling the wall, in that respect," she explained. "The safety concern was there."
The employee, who says she is half Hispanic, shrugged off allegations that her comments were about race. She added that she was responding to a frustrating, tense situation that the district did not properly prepare or train her for.
Arvizu did not respond to BuzzFeed News' request for comment.
Veronica Sencion, whose son went to South Gate Middle School, was watching the altercation from across the street and said that the protesting educators had been "blocking the driveway and preventing people from leaving."
"It was upsetting to me because teachers campaign all year against bullying, but they were using bullying tactics against those who are still working at school," the mother told BuzzFeed News. "I'm for better education and fair pay for our teachers but I felt that they were intimidating others who don't share the same thoughts for the cause."
Nearly 75% of students at LA Unified are Latino. In 2018, Latino educators made up nearly half of the district's teaching staff, district data show.

United Teachers Los Angeles — a union composed of educators, school nurses, librarians, and counselors — said 98% of its members voted for the strike, which has frozen classes for more than 480,000 students in 900 schools. Officials have been scrambling to find instructors to help out.
The district said it has reassigned more than 2,000 administrators like Arvizu and hired about 400 substitute teachers to watch the fraction of the student population that has been showing up to school each morning. Many parents have elected to keep their kids at home or have joined their teachers out on the picket lines.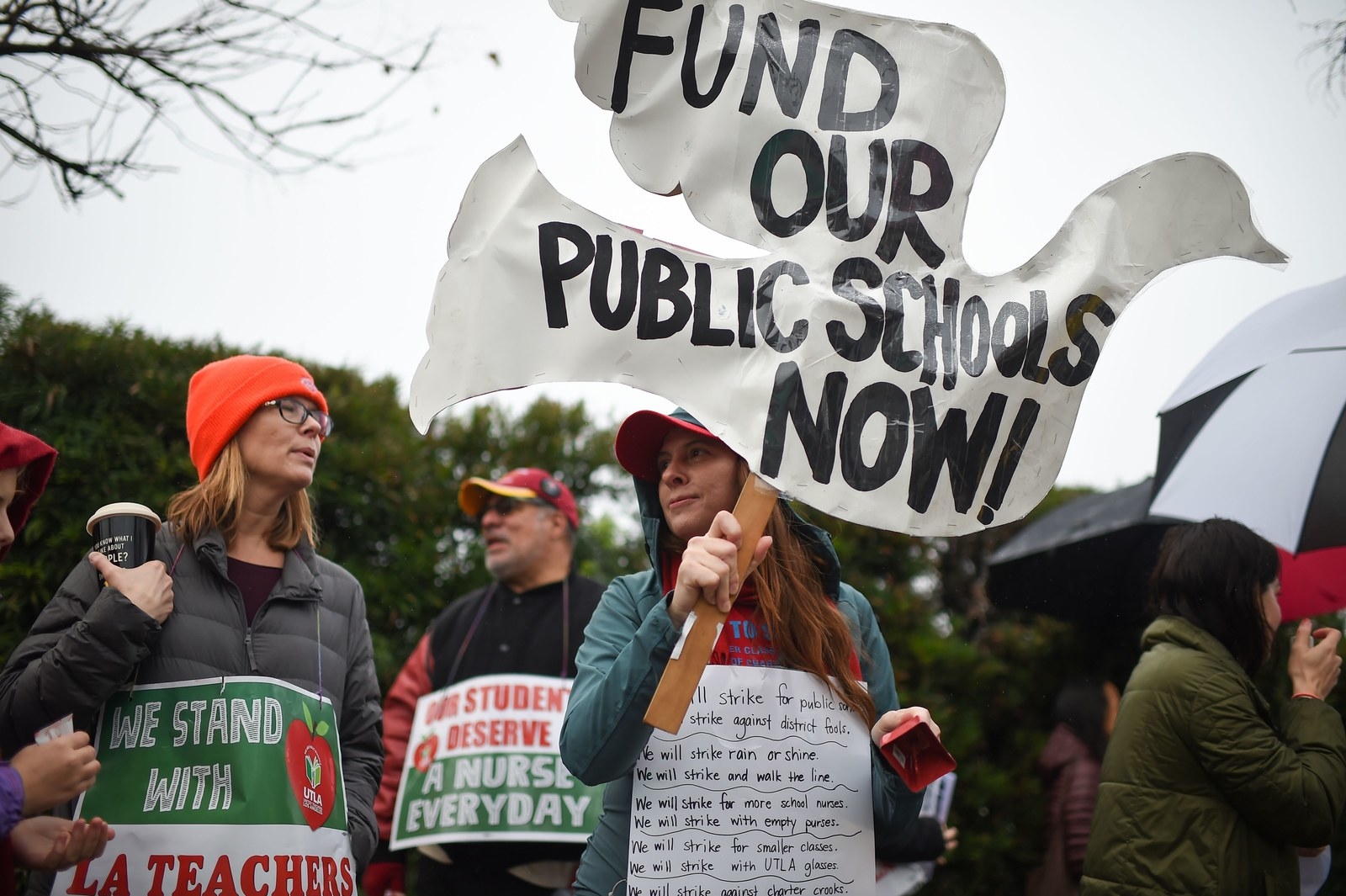 The strike, LA educators' first in 30 years, has been a long time coming. For the past several years, the union has been calling for salary increases, smaller class sizes, and more school nurses, counselors, and psychologists. And for the past year, while in negotiations with the district, union members have been working without a contract.

Many teachers describe class sizes with 40 students, some who sit on stools or chairs because there are not enough desks. Teachers said that because of the short supply of psychologists, they double as counselors for troubled kids.
As the video from South Gate Middle School erupted in Facebook groups and on Twitter, many disheartened parents and teachers were exasperated that this incident is what people were focusing on.
"We are in the midst of a strike in the second-largest school district in the country. Please do not allow one negative storyline to define us," Jenna Schwartz, a parent who works at Beverly Hills Unified School District and who has been picketing alongside teachers, told BuzzFeed News. "There is so much more amazing stuff and uplifting stories happening that are newsworthy in their own right."

Arvizu told Fox 11 that she intends to fight for her job, though she is now afraid to show up to work. Hours after the video hit social media, the technician said the district sent her a letter asking her to resign.
"I will not. I don't feel I did anything wrong," she said.