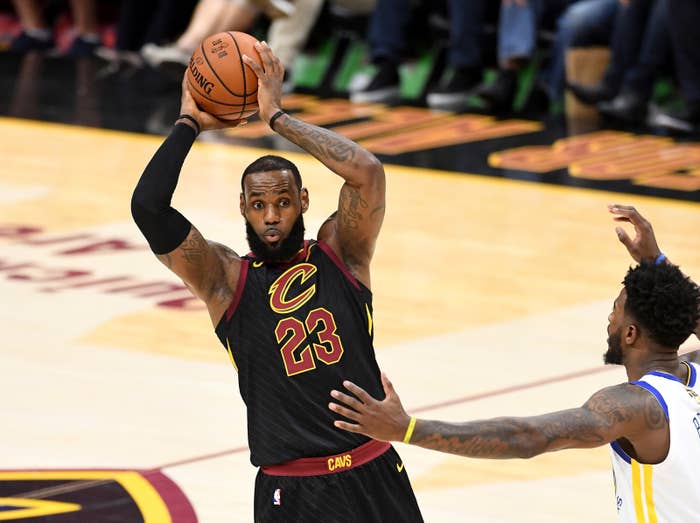 LeBron James is leaving Cleveland (again) and heading to Los Angeles. The NBA superstar has agreed to a four-year, $154-million contract with the Lakers, according to a release from his agency, Klutch Sports Group, Sunday.
The 33-year-old is leaving the Cleveland Cavaliers to join the LA team, which has been struggling for years to rebuild and reclaim its once-unmatched talent and reputation after several record-setting losing seasons.
This will be the third time in eight years that James, one of the best players in NBA history and self-declared GOAT, has switched teams. He returned to the Cavs in 2014 after four seasons with the Miami Heat and in two years led the team to NBA championships, the city's first in 52 years.
James is famously extremely talented. He's won three championships and has appeared in the NBA Finals every year since 2011. In his last season with the Cavs, he averaged 27.5 points per game and carried the team through four finals games against the Golden State Warriors.
According to ESPN, there have been only three other players in history who have changed teams after a top-three MVP season.
James made his decision to trade his hometown for LA only a day after becoming a free agent and just 20 hours after the market opened.

The star confirmed the news on Instagram, thanking "Northeast Ohio for an incredible 4 seasons."
"This will always be home," the Akron native wrote in a Story on the platform.
Hearing the news, Lakers fans, players, and basically the entire city of Los Angeles freaked the F out and shared their excitement.
"Welcome to the family," former Lakers star Kobe Bryant wrote, in a tweet that also congratulated the franchise's co-owner Jeanie Buss and president of basketball operations Magic Johnson, another former Lakers icon.
"LAKESHOWWW," Kyle Kuzma, who joined the team last year, chimed in. "Let's rock."
Yasiel Puig, who plays for the Los Angeles Dodgers, shared this adorable photo of him and James, writing, "We are looking forward to great things. I'll see you soon."
Chrissy Teigen filled James in on the standard LA week: "sunset rosé, laser facials," and avoiding obnoxious people at an even more obnoxious members-only club.
Cleveland fans, on the other hand, "are heartbroken."
Some are really taking it hard.
Others are taking the news in stride, wishing James luck and thanking him for fulfilling his promise to come back home after leaving the Cavs for the Heat in 2010.
"Can't wait to tell my kids stories of your time on the Cavs," someone said.
They also shared what James has done for the Cavaliers, the city of Cleveland, and the Northeast Ohio community.
"From the bottom of our hearts, thank you for all you did and continue to do for our great city," Akron's mayor tweeted.
😭😭
People online also started declaring themselves Lakers fans...
...even if they weren't all that thrilled about the move.
It's OK, Tedy, we understand.
👀
And gleeful Lakers fans are here for all their new tribe members, while at the same time calling out them out for bandwagoning.
And they're laying down some ground rules.
To be honest, though, we aren't sure exactly when James will actually make it to the Staples Center because it takes literally 27 years to get anywhere in this city.