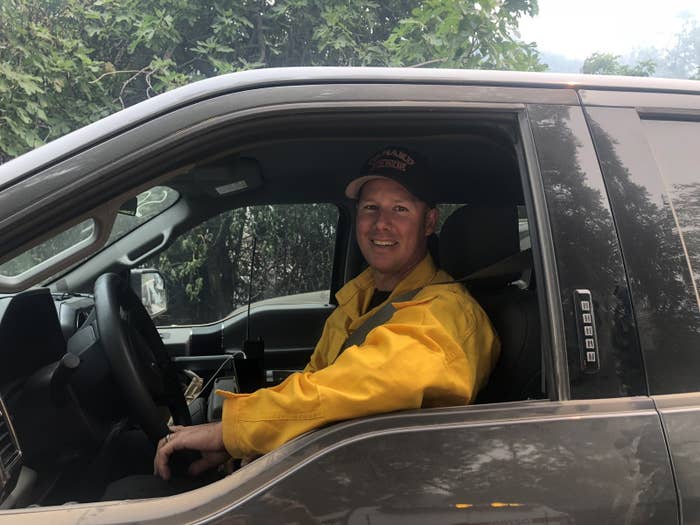 REDDING, California — Nate La Russo was surfing with his kids last week when he got a call about a raging wildfire tearing through Shasta County, about 100 miles south of California's Oregon border. Soon after, he was in a rental car, joining thousands of other firefighters heading north to battle the latest blaze in another relentless fire season that has sapped the state's emergency resources — including the men and women on the fires' front lines.
"I'm 600 miles away from home now," the 35-year-old fire captain from Oxnard, California, said Sunday. "We come with a blind commitment of being gone for two to three weeks for these things, but that's becoming more and more frequent."
Just seven months earlier, La Russo had been on the line of the Thomas fire — another devastating and unprecedented blaze that engulfed more than 280,000 acres in Ventura and Santa Barbara counties last winter, becoming the largest fire in state history. After burning for months, the fire officially died on June 1 — just six weeks before the Carr fire started tearing through Shasta County and nearby areas.
Since Monday, the Carr fire has scorched more than 90,000 acres, killing six people — including two firefighters — and destroying more than 800 homes and structures. A catastrophic combination of powerful, piping winds, bone-dry vegetation, and unrelenting temperatures have fueled the blaze, pushing it from the dense thickets and untouched acres of pine and oak trees into residential areas.
It is the largest of around 20 fires currently burning across California, destroying more than 200,000 acres — and counting — between the Oregon border and San Diego. And though the Carr fire appeared to have slowed Sunday night, it is not expected to be fully contained until mid-August at the earliest.
These violent threats to people and property — once relatively unusual in California wildfire season — have become frighteningly familiar in recent years, forcing the state to throw nearly fresh firefighting resources toward a new blaze every few months. Not even a month into its fiscal year, Cal Fire has already spent more than $114 million from the state's $442.8 million emergency fund, according to Scott McLean, a deputy chief with the agency, who called that number "concerning and uncommon."
And last year, the state spent about $180 billion in firefighting funds, making it one of the most expensive and destructive fire years on record. Forty-six people lost their lives and the blazes left nearly $12 billion in damage in their wake.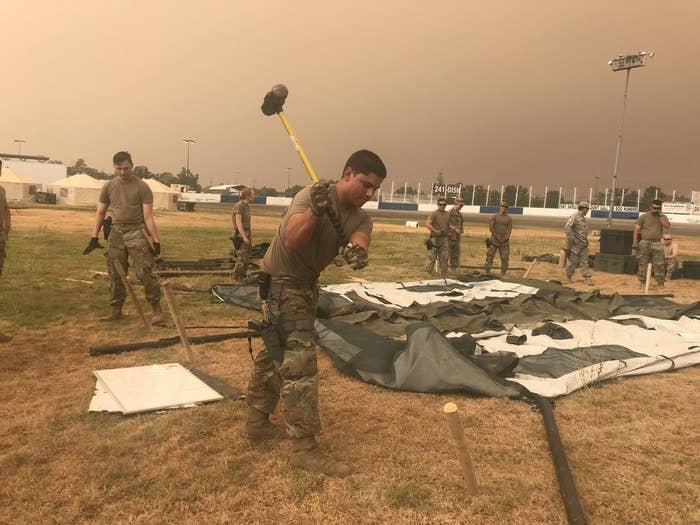 Of the roughly 12,000 firefighters currently working across the state, about 3,400 have converged on the Carr fire, turning Anderson, a sleepy mountain town outside of Redding, into a bustling anthill of emergency response activity, with soldiers, police officers, sheriff's deputies, and firefighters moving in and out of a pop-up command center at all hours of the day.

These teeming command centers, overflowing with different agencies, show just how much it takes to fend off a firestorm that has encircled and then decimated communities with hardly any warning, McLean explained.
"Needing thousands of people and getting help and resources from several states used to not be very common," he said. "But we had to do this in October, December, and now here we are again and it's early. The peak of the fires seem to have started months early with a vengeance and has not let up."
The town's small fairgrounds are now bursting with rows of tents, fire trucks, trailers, Costco-sized boxes of chips, and crowds of weary responders returning from the fire's front lines to sleep, brush their teeth, and sip a Gatorade before sliding back into their dusty jackets and returning to the smoky hills.
"Time is irrelevant," KC Corcoran, a firefighter from Paradise, California, told BuzzFeed News. "We've gotten used to being sent everywhere and working 21 days straight. If they can accommodate us having a break you get a day off, but you're never really on break. You have to be ready to go just in case. You can't drink. And when that day goes by, you're considered a fresh body."

Those "fresh" bodies are increasingly worn down. Many firefighters working in California have been battling fires for almost a year, with few breaks. There has not been a month without a wildfire burning in the state since 2012, California emergency management officials said.
"We are trying to figure out ways to rest our crews," said Cal Fire Deputy Chief Bret Gouvea, but that's getting increasingly more difficult as the state's burning seasons continue to lengthen. Usually, firefighters tackle a burning season that lasts three to four months.
"But what's normal anymore? We aren't sure," Gouvea said wearily. "Last year, [the season] took us nearly to January."

Just two months before the Thomas fire ravaged Southern California last December, a series of fires in Santa Rosa killed 44 people and destroyed more than 8,000 structures, devastating the city just north of San Francisco.
"A lot of these guys from Santa Rosa were fresh off the wound of seeing their community devastated and they had to go off to Ventura," La Russo told BuzzFeed News. "Now they're back up here. They won't talk about it, but it begins to really drain you."
When asked about the emotional toll of the recent fires, Corcoran shrugged. "We can't have feelings," he said. "We have to stay focused and they get in the way."
On Sunday, as the Shasta County blaze remained just 17% contained, another fire erupted further south, in Mendocino and Lake counties. Like the Carr fire, the complex blazes doubled their damage in just 24 hours. In Yosemite, a second firefighter died battling the Ferguson fire, which has been raging since July 13 and has so far torched 51,671 acres — the equivalent of about 66,000 football fields — and has required the efforts of about 3,000 firefighters.

"It's not even the number of incidents going on around the state right now; it's that all these fires have come on the heels of other fires," Cal Fire Chief Chris Anthony told BuzzFeed News. "It's a super early start to have these really large and damaging fires early in the year. We normally don't see this kind of behavior until much later in the summer and that's what's really frightening. We're not even there yet."
Experts predict that longer, more ferocious fire seasons will be a new normal for California, at least for the foreseeable future due to a combination of drought conditions, record-breaking summer temperatures, and increasingly frequent abnormal, erratic winds. And as the state's burgeoning population moves into new areas — including those previously inhabited only by wildlife — the fires are becoming increasingly dangerous and often deadly.
"We keep seeing extreme fire conditions in short periods of time because we are living in extreme conditions," said Mike Bradley, an assistant Cal Fire region chief in Northern California. "We go from winter to summer in two days sometimes and that's creating weather patterns we haven't really seen before."
Because hot, dry conditions are preventing new vegetation from growing in fire-ravaged areas, places that have been hit by recent blazes are left vulnerable to new wildfires.
"If a fire happens here, another one will happen right next to it the next year," Bradley said. "They are all connected."
At the command center in Anderson on Sunday, Greg Bertelli rolled up a map of the Carr fire's latest conquests and wiped beads of sweat from his temple. It was only 7:30 a.m., but temperatures were quickly approaching triple digits.
A division chief from Shasta County, Bertelli said he had been fighting fires since 1990 and, over the past few years, has seen fire behavior morph and shift in concerning new ways. In 2012, he recalled, the blazes started moving at unprecedented speeds, bolstered by strange, unpredictable wind patterns.
"We started seeing things that we had never seen before — different behaviors, especially with the winds. Even the color of the fire started to change," he told BuzzFeed News. "The fire behavior has become so extreme, so each fire seems unprecedented. Plus, they keep moving into urban areas at speeds we haven't seen before — that's new and that's what we're going to keep seeing."
A father of two, the 47-year-old said that watching these fires suddenly plunge into communities, swallowing homes and killing residents, has been a "new change" that's been difficult to process.
"It's all consuming. You can lose yourself in this job at times," he said. "All our efforts go into that for a long time, for weeks, months, and some cases years when they are on your home turf. It beats you up and scars you."
CORRECTION
Cal Fire has spent more than $114 million since the fiscal year began on July 1. An earlier version of this story misstated that figure.