In-N-Out Now Has Hot Chocolate And People Are Losing Their Minds
🚨It's the first time the burger chain has changed its menu in about 15 years🚨
Excuse me. I interrupt your day to bring you some breaking news: In-N-Out has brought back hot-f'ing-chocolate. That's right. You can now drink this bad boy with your burger and animal-style fries any time you want because it's now here year round.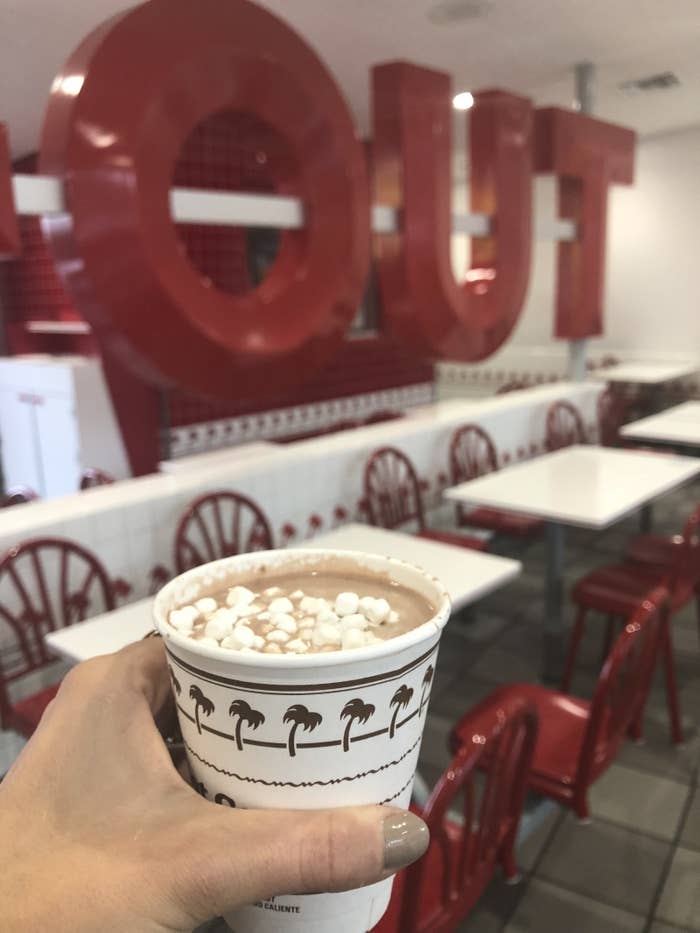 It's the first formal change to the burger chain's menu in 15 years — so, naturally, people in California freaked out.
The marshmallow-topped sensation actually started showing up in restaurants last month and it had people damn near shook.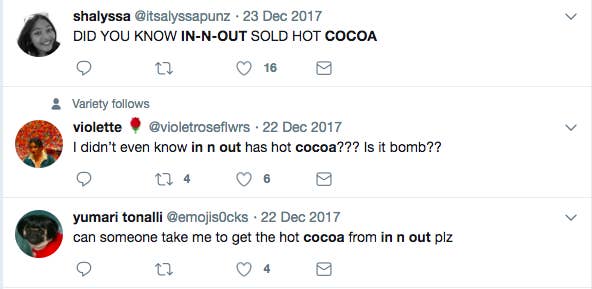 Shocked.
Literally tripping.
Contrary to some reports, however, this is not technically a new menu item.
"This is actually the return of hot cocoa. My grandparents, Harry and Esther Snyder, served it for many years beginning in the '50s. I'm not sure how it fell off the menu but it's part of our culture and something special for kids, and I'm happy that we're bringing it back," Lynsi Snyder, In-N-Out Burger president, told BuzzFeed News on Wednesday. "For a certain generation, hot cocoa is an In-N-Out classic, and we hope it will be a favorite of a new generation. It's quality cocoa from Ghirardelli and yes, we serve it with marshmallows!"
For those of you who don't know, In-N-Out is a MAJOR deal here in California. It is our burger deity, complete with its own secret menu and a super secret menu. Take this woman, who decided to eat In-N-Out before joining the convent.
Just look at this, though.
Anyway, I went straight to my closest In-N-Out to report on this #breaking story from the ground.
Here it is on the menu. Ah-maz-ing to see IRL.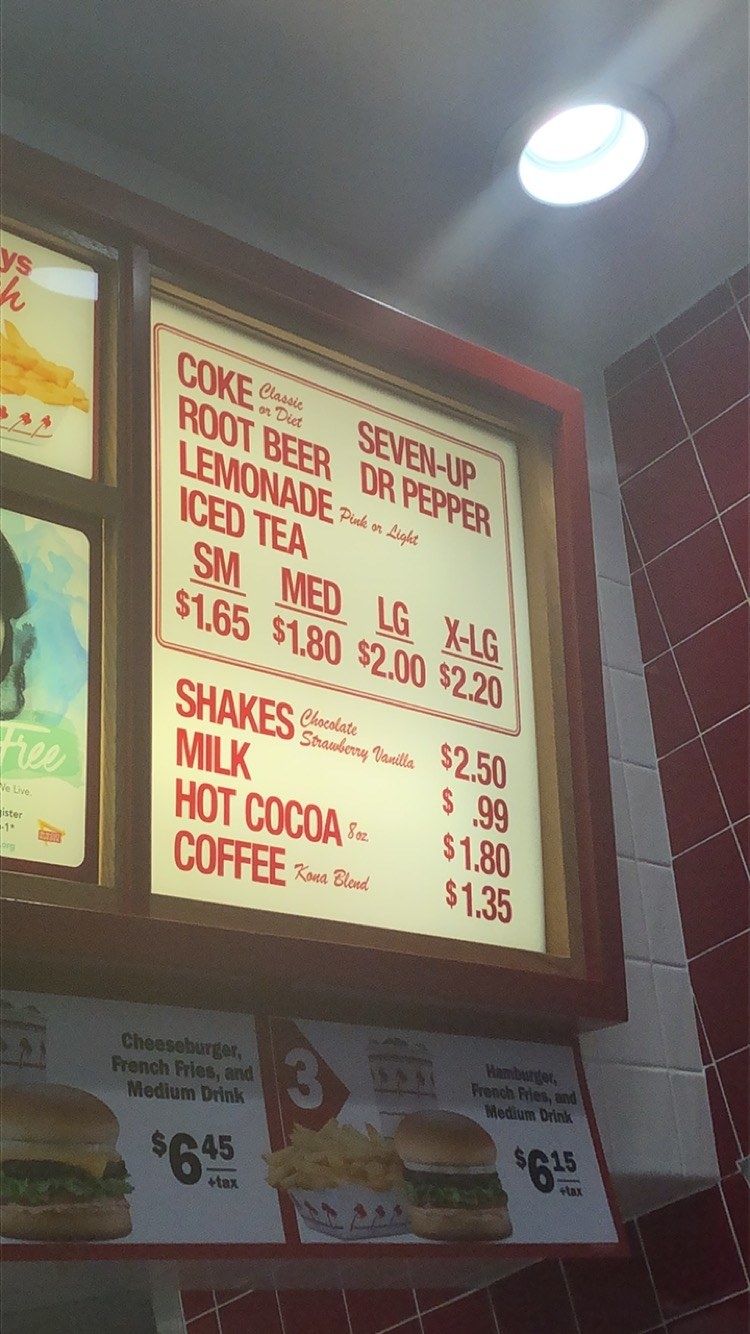 FYI, you can also get your hot chocolaty delight in a LARGE size. It's dairy free (because it's made with water) and you can order the marshmallows on the side if you want to control your mallow-to-chocolate ratio — though I will add that the mix was top-notch. The marshmallows did not overpower the drink, nor were they too large or chewy.
BuzzFeed News interviewed about six people for this story and all of them concluded that the hot chocolate was delicious, not too sweet, and with just the right amount of chocolate.
"It's really rich and smooth but I'm not sure how it goes with a burger, but ya," said this customer named Tim.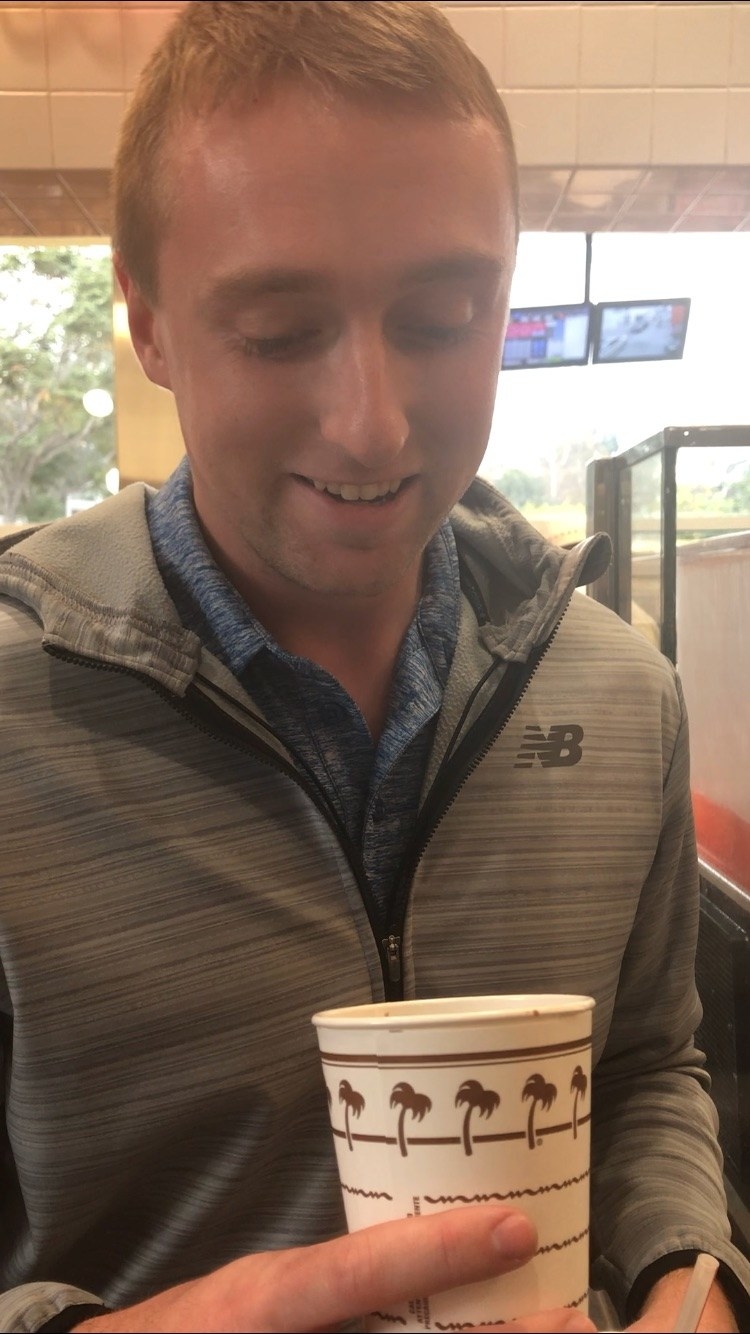 A guy named John was so blown away he had trouble describing the experience.
Even more good news: If it's raining in California (it hasn't in a very long time but who cares, not the point) kids under 12 get their delicious burger-cocoa for free! But you actually have to be a child, not a dude who acts like one.
However, one thing is missing from this chocolate journey: Unlike most of the wrappers and packaging at the Irvine-based burger chain, the hot chocolate cups are not inscribed with hidden Bible verses.
The Snyders founded In-N-Out in 1948 and the religious family still owns and runs the business. If you turn over your soda cups or check your hamburger wrappers, you'll see Bible scriptures, like John 3:16 and Revelation 3:20, which, according to Snopes, bear special significance.
Another vital question and mystery remains: "Does In-N-Out make the hot cocoa animal style?" Probably only a matter of time.