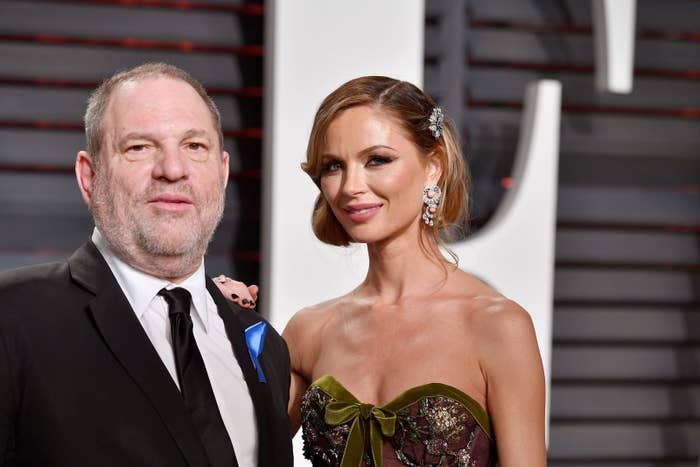 Marchesa designer Georgina Chapman on Tuesday announced that she is leaving her husband, Harvey Weinstein, as more women continue to come forward with allegations of sexual assault and harassment.

In a statement to People magazine, the 41-year-old fashion designer cited her husband's "unforgivable actions," which have been detailed in allegations reported by the New York Times and The New Yorker, starting last week.

"My heart breaks for all the women who have suffered tremendous pain because of these unforgivable actions. I have chosen to leave my husband. Caring for my young children is my first priority and I ask the media for privacy at this time," Chapman said in her statement.
A representative for Chapman did not immediately respond to BuzzFeed News' request for comment.

Chapman married the 65-year-old Hollywood mogul in 2007 and they have two children together, a daughter, 7, and son, 4.
Weinstein, who offered a widely panned apology that acknowledged unacceptable behavior but also denied allegations of assault, had said his wife was standing by him after the bombshell New York Times report last week.
"She stands 100 percent behind me. Georgina and I have talked about this at length," Weinstein told the New York Post after the Times investigation hit, adding that his wife and others would be "kicking my ass to be a better human being and to apologize to people for my bad behavior, to say I'm sorry, and to absolutely mean it."
Weinstein was fired from his position as co-chairman of the Weinstein Company days after the Times published the article detailing decades of sexual harassment allegations against the executive.
In a statement to the Times on Oct. 5, Weinstein said, "I appreciate the way I've behaved with colleagues in the past has caused a lot of pain, and I sincerely apologize for it."
Later that day, one of his attorneys announced that Weinstein planned to sue the newspaper for the story, which the attorney called "defamatory."

Then, on Oct. 10, The New Yorker published an in-depth investigation into Weinstein's history. In the piece, three women accuse Weinstein of rape.