The popular local news and culture websites DNAinfo, Gothamist, and a network of others across the country were abruptly shut down Thursday by their billionaire owner.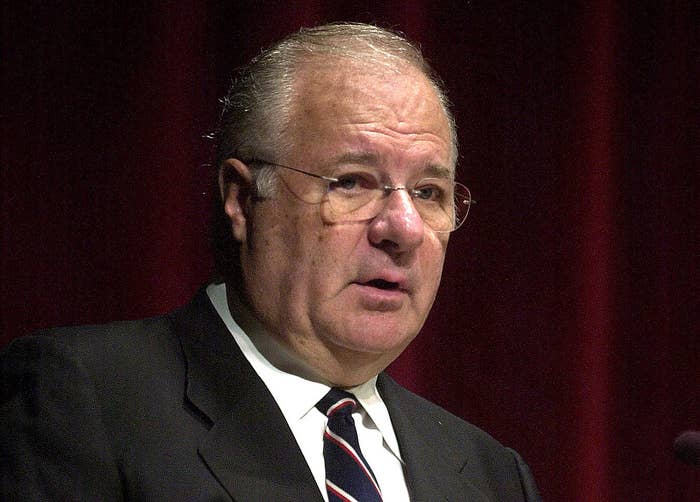 CEO Joe Ricketts, who founded TD Ameritrade and whose family owns the Chicago Cubs baseball team, pulled the plug on the sites a week after reporters and editors from DNAinfo and Gothamist won a contentious fight to join a union.
Ricketts' decision to terminate the media organization puts 115 journalists suddenly out of a job, the New York Times reported. The journalists will receive three months of severance pay, Scott Heins, a photojournalist and reporter for Gothamist, told BuzzFeed News from a bar Thursday evening.
The Writers Guild of America East announced on Oct. 26 that the editorial staffs of Gothamist and DNAinfo had voted to unionize.
"We support the editorial staff of DNAinfo and Gothamist as they exercise their right to unionize," Mayor Bill de Blasio said at the time. "The work of these reporters and editors is crucial for NYC. We call on management to respect their democratic right to organize."
Visitors to Gothamist and its sister sites, LAist, DCist, Chicagoist, SFist, and Shanghaiist, on Thursday were redirected to a letter from Ricketts explaining the closure.
In the letter, Ricketts, who founded DNAinfo in 2009 and purchased Gothamist in March, lauded the sites' reporting and reach, noting they "deliver news and information each day to over half a million people's email inboxes" and have "over 15 million visits to our sites by over 9 million people."
But the CEO said that "at the end of the day," the media organization is "a business and businesses need to be economically successful if they are to endure."
"While we made important progress toward building DNAinfo into a successful business, in the end, that progress hasn't been sufficient to support the tremendous effort and expense needed to produce the type of journalism on which the company was founded," he continued.
Writers from the sites called the swift termination a "direct retaliation" to their fight to unionize. "We did the right thing, stood tall," DNAinfo reporter Noah Hurowitz said. "I am proud."
Heins said that Ricketts had threatened in letters to shut down the company several times after staff announced their intention to unionize just weeks after Ricketts purchased the company in April.
"We saw his repeated threats as baseless, spiteful, ideologic insults that he ended up going through with," Heins said, noting that the staff's desire for a union would have been a viable asset for the digital company.
"The sheer fact that there is the word union attached to his business seems to have frightened and insulted Mr. Ricketts to the point he shut down his own company," Heins said. "It's very telling that we didn't even get to the bargaining table to even discuss or compromise what we had envisioned."
The Writers Guild of America East also chimed in, stating that it will "be looking at all of our potential areas of recourse and we will aggressively pursue our new members' rights."
Reporters at the local news sites, which were still churning out scheduled social media content Thursday afternoon linking to the now-defunct sites, were not informed of the decision ahead of the closure, Heins confirmed.
Julia Wick, Editor-in-Chief of LAist, said she and her small team found out "when you did" Thursday afternoon and "are all sitting in the office, in shock."
"We are deeply dismayed that our site has been shut down following a successful union campaign in our New York office," Wick said. "We are extremely proud of the work LAist has done over the past decade. The sudden closure of our site is a loss for the whole city, at a time when local journalism is more critical than ever."
"I just walked back from the bathroom to find out that everyone at @Gothamist and @DNAinfoNY has been laid off," tweeted Christopher Robbins, the city editor at Gothamist and DNAinfo.
Around the time the sites were shut down, the DCist responded to a confused Twitter user who noted that their page was not found.
As every link redirected to Ricketts' letter, many people assumed that the sites' extensive archives had been deleted.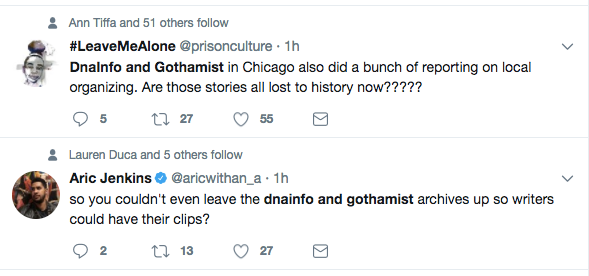 "That's petty AF," a former LAist writer wrote.
"I'm stunned," tweeted Aaron Cynic, a politics writer for the Chicagoist. "Literally everything I wrote for the past 7+ years is just gone."
"There is a sense of betrayal amongst the workplace since all of our stories are no longer accessible," said Heins, who started at Gothamist as an intern in 2013. Ricketts' attorney told the more than one hundred staff members that their work had been archived and would "eventually" be available online.
"Literally everyone immediately and angrily replied that we need them ASAP because we need to use them to now get jobs," Heins continued from the bar. "The fact that everything was immediately locked away from us is a slap in the face."
However, Quartz reported on Friday morning that the website's archives had not been wiped.
Chief technical officer Hal Danziger told Quartz the stories will be preserved and archived.
"The details are among the issues the company will address in the coming weeks," he said.
Thousands of readers and fans also expressed their shock and dismay on social media, where the sites' names quickly became trending topics.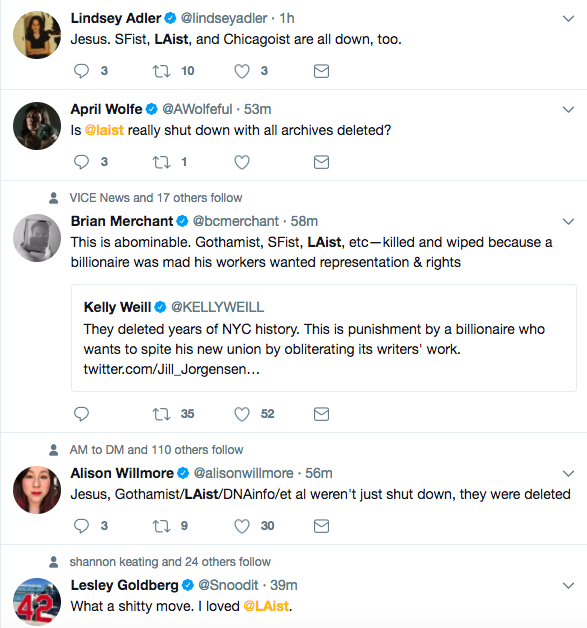 "Gothamist is literally the highlight of my day when the subway isn't functioning," someone said. "Their coverage made me know I wasn't alone. Sad day."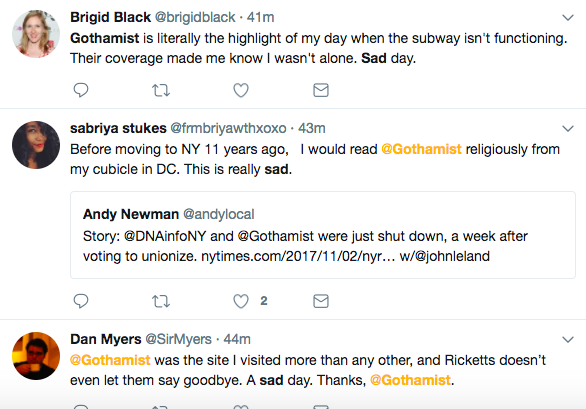 UPDATE
This post has been updated with the comments from chief technical officer Hal Danziger to Quarts that the websites' archives will be deleted.