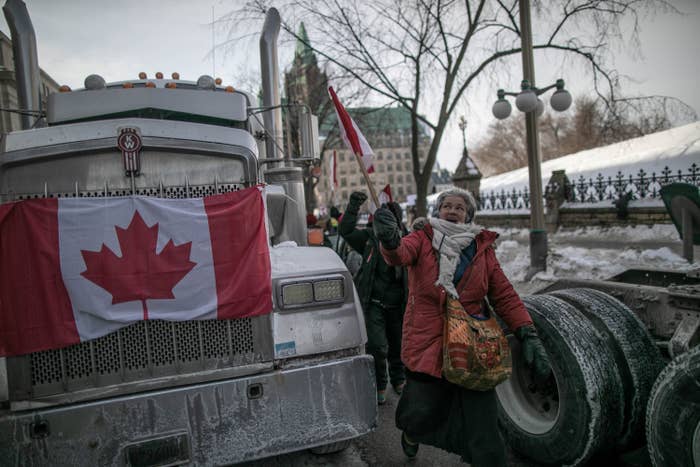 GoFundMe has now removed a viral campaign funding the massive anti-vaccine mandate in Canada, stating that it violates its terms of service following discussions with law enforcement and city officials.
The decision comes after GoFundMe said it was reviewing the Freedom Convoy 2022 fundraiser, but that the campaign was "still compliant" with its rules pertaining to vaccine misinformation and funding travel to political events that could incite violence.
"We now have evidence from law enforcement that the previously peaceful demonstration has become an occupation, with police reports of violence and other unlawful activity," the company said in a statement Friday.
After "multiple discussions with local law enforcement and city officials," GoFundMe determined that the fundraiser violates a rule that prohibits "the promotion of violence and harassment."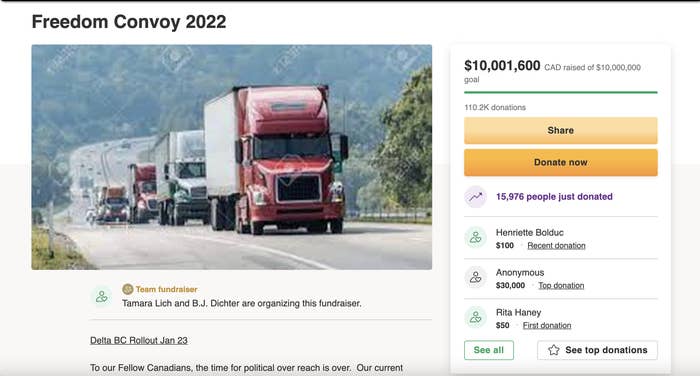 The campaign started last January in response to the Canadian government's vaccine mandates for truckers crossing into the country. It quickly evolved into a global movement against what protesters describe as authoritarian governments taking away their freedoms.
Some protesters have been accused of harassing people at a homeless shelter, desecrating war memorials and monuments, waving racist flags and swastikas, snarling traffic, and obstructing a US–Canadian border crossing. The movement has forced businesses and vaccine clinics to close due to the outpouring of maskless demonstrators.
Earlier this week, GoFundMe froze the rapidly growing campaign, which had raised more than $7 million, to review how the money was being used.
"Organizers provided a clear distribution plan for the initial $1M that was released earlier this week and confirmed funds would be used only for participants who traveled to Ottawa to participate in a peaceful protest," GoFundMe said. "Given how this situation has evolved, no further funds will be directly distributed to the Freedom Convoy organizers."
In a rare move, instead of dealing with refunds, GoFundMe said it would work with organizers to send all remaining funds to "credible and established" charities chosen by Freedom Convoy 2022 organizers that are verified by the fundraising platform.
B.J. Dichter, one of the organizers of the convoy, lambasted the move on Twitter, accusing GoFundMe of "seizing" their donations and sabotaging their mission. In response, Dichter said they would turn to bitcoin.