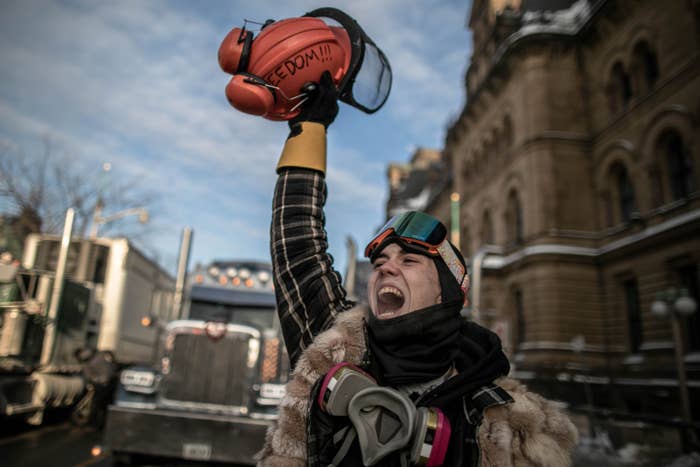 GoFundMe says a fundraiser that's collected millions of dollars for vaccine mandate protesters is "still compliant" with its terms of service despite vowing to remove campaigns that contribute to vaccine misinformation, support travel to political events where there's a risk of violence, or otherwise violate its rules.
In the past two weeks, supporters of a group of Canadian truckers protesting vaccine mandates have raised more than $7.8 million on the crowdfunding platform, one of the biggest campaigns in its history. Known as the "Freedom Convoy 2022," the campaign has supported a network of truckers traveling across Canada protesting what they describe as authoritarian government overreach in the form of COVID rules, despite concerns and warnings from law enforcement and business owners. The cause has quickly become a boon for right-wing media in Canada and the US, which have helped amplify the campaign across social media.
The caravan started in January as a small protest against a recent vaccine mandate that requires truckers entering the country to be fully vaccinated or to follow testing and quarantine rules. But thanks to leaders with alt-right and fringe ties, it rapidly evolved into a massive, well-organized grassroots operation with multiple convoys and leaders, who have been hosting freedom rallies much like the pro-Trump and "Stop the Steal" gatherings in the US. Some members have also now been accused of harassing people at a homeless shelter, desecrating war memorials and monuments, waving racist flags and swastikas, snarling traffic, and obstructing a US–Canadian border crossing. The movement has forced businesses and vaccine clinics to close due to the outpouring of maskless protesters. In Ottawa, where thousands of convoy supporters converged this past weekend for a demonstration, a popular mall has, according to the Retail Council of Canada, lost millions of dollars in revenue due to the protest.
Truckers and organizers, however, insist their demonstrations have remained peaceful and amicable, sharing videos of participants at rallies singing, cooking, picking up trash, and clearing icy sidewalks.
On Wednesday, GoFundMe paused and is reviewing the campaign "to ensure it complies with our terms of service and applicable laws and regulations." In the past, GoFundMe ended the mega "We the People Will Build the Wall" campaign after organizer Brian Kolfage changed the terms for how the money would be used. It's possible that GoFundMe is now asking how organizers plan to use the millions in donations since the amount raised would far exceed what's necessary to cover food and transportation for truckers. And while pausing the campaign and putting it under review significantly hinders its fundraising, it does not end it. GoFundMe has said it has already distributed $1 million of the funds after organizers explained how the money would be used.
In response to questions from BuzzFeed News Wednesday evening, GoFundMe sent a statement explaining that it has been closely monitoring the campaign "to ensure the funds are going to the intended recipients and that the fundraiser remains within [its] Terms of Service." The company said it requested more information from organizers and that they were "still compliant" with the rules, implying that the campaign had already been reviewed and that the site paused donations as it waited for a response.
At the time of its creation, GoFundMe said the Freedom Convoy campaign did not violate its rules regarding violence.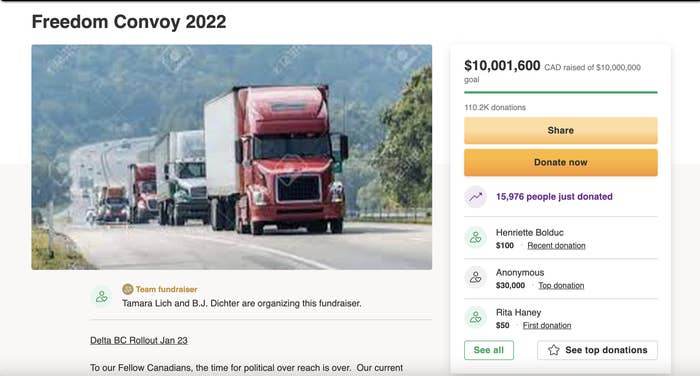 But Ottawa Police Chief Peter Sloly called out demonstrators who had committed crimes and said police would be escalating their enforcement actions.

"Residents have been the victims of intense noise, threatening behavior, vitriol, and hatred that has no place in our city or anywhere," he said. "My message to the unlawful demonstrators is clear: there are consequences, and there will be more to come."
Demonstrators in the Canadian capital, who have said they'll stay there indefinitely and have the funds to do so, have rebuked Prime Minister Justin Trudeau and other politicians for what they describe as tyranny and taking away their liberties.
"It's everything, everything," B.J. Dichter, a co-organizer of the GoFundMe campaign and spokesperson for the convoy, said of the movement to some reporters on Sunday. Dichter has also been making the rounds on conservative media, speaking to Glenn Beck, Tucker Carlson, and others about the convoy's mission. It's about more than vaccine mandates and COVID passports, he said, explaining that it's what they represent: "dark authoritarian oppression and control."
Dichter also told Carlson that the Canadian and US governments could use the COVID apps to track their citizens.
"This is where it ends," he said.
"It's more than truckers. Everybody is fed up," Dichter told Beck last week. "Now the truckers have become the official opposition, and this is the outlet people are using to speak. That's why there's almost $7 million in donations there in a week."
When organizers first created the GoFundMe on Jan. 14, they asked for $100,000 to help with the "costs of fuel first, and hopefully food and lodgings." In the last two weeks, the campaign has raised millions more and the protest has sparked outrage among Canadian politicians who have been calling on the fundraising platform to end it. Ottawa's mayor said the city was even contemplating legal action against GoFundMe for helping fund the chaos.
Convoy organizers have pushed back on any narrative that GoFundMe is withholding funds because of the convoy's mission or behavior. In an update on Jan. 27, they wrote, "The temporary hold was due to international banking regulations which dictate many of GoFundMe policies. It is common practice with GoFundMe to conduct this kind of due diligence to ensure the funds are legitimate." The money, they added, "will first assist drivers of all Semi-trucks and direct support vehicles such as, pilot trucks and/or mechanic trucks in the convoys to Ottawa."
Dichter has repeatedly praised GoFundMe, saying the platform's team "has been amazing to work with." In an interview with Gad Saad, a YouTuber and professor, Dichter said the money will be used to sustain truckers for however long they're on the road, but he acknowledged that their fight is much bigger in scope.
Other platforms, such as Facebook, have pulled pages supporting the anti-vaccine convoy, which has spread far beyond Canada. Fox News reported that a group of American truckers was organizing to drive from California to Washington, DC, when the social media giant removed its page.

GoFundMe has often been ground zero for extremist campaigns and has worked hard to eradicate those that promote violence and misinformation. After the Jan. 6 insurrection, the company banned Trump supporters' ability to fundraise to travel to his rallies and vowed to take a stand against violent political rhetoric.
"Due to the violence, GoFundMe has removed numerous fundraisers intended to raise money for travel expenses," a spokesperson told BuzzFeed News at the time. "GoFundMe will remove fundraisers for travel expenses to a future political event where there's risk of violence by the attendees."
Since the crowdfunding site published its updated COVID guidance, extreme and once-fringe anti-vaxxers have jumped into the ever-growing resistance against vaccine mandates.
And while the Freedom Convoy campaign started as a modest effort to raise money to help feed, fuel, and lodge protesting truckers, it has attracted and pulled in far-right leaders and organizations. As Anti-Hate Canada points out, the GoFundMe campaigns organizers, Dichter and Tamara Lich, whom he calls a good friend, are not even truck drivers, but organizers for fringe political movements. Both have also made anti-Muslim comments in the past. Dichter also created a GoFundMe campaign in 2019 for the legal defense of Tom Quiggin, a self-proclaimed national security expert known for espousing conspiracy theories about Muslims, particularly about the 2017 Quebec City mosque attack.
All three spoke at Saturday's rally, where they and others decried Trudeau, vaccine mandates, and called for "freedom." In the crowd, people waved Canadian and "Don't Tread on Me" flags.
And like with past viral GoFundMe campaigns, the freedom convoy has sparked copycats, with other organizers raising thousands of dollars for gas, food, and supplies to help them join the movement. Americans are simultaneously organizing a caravan to DC, according to a GoFundMe campaign titled "The American Solidarity Convoy."
"Once the Canadians are successful we will lead the convoy to Washington DC," the organizer, who surpassed her $5,000 goal, wrote.
In the comments, one woman who donated $25 left a note explaining the urgency:
"I am a mother of a Jan 6th Patriot Political Prisoner. Please donate to the American Solidarity Convoy. WE NEED THEM IN DC. PLEASE HELP JAN 6TH PATRIOT POLITICAL PRISONERS. GOD BLESS."