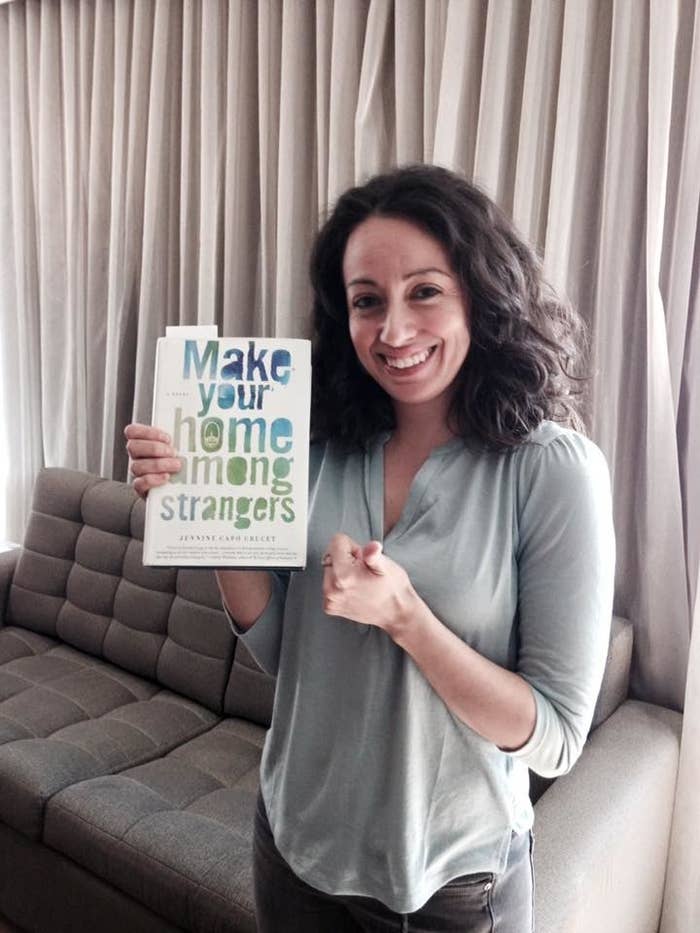 A group of students at a predominantly white public university in Georgia burned the book of a Latina author who had delivered a lecture on campus after some attendees accused her of "dissing white people."
Jennine Capó Crucet, a New York Times contributor and associate professor at the University of Nebraska, spoke about her novel Make Your Home Among Strangers at Georgia Southern University on Wednesday night. The award-winning book, published in 2015, tells the story of a Cuban American girl from Miami who gets accepted to a prestigious college in New York and struggles to fit into the privileged, predominantly white environment.
The book was required reading for some of Georgia Southern's First-Year Experience classes, according to the university.
On Wednesday evening, the school hosted Crucet, who spoke to the entire first-year class at the performing arts center. When she opened the floor to the audience for questions, some attendees peppered her for criticizing white people, according to the George-Anne, the university's newspaper.
"I noticed that you made a lot of generalizations about the majority of white people being privileged," one student said to the author, according to the paper. "What makes you believe that it's okay to come to a college campus, like this, when we are supposed to be promoting diversity on this campus, which is what we're taught. I don't understand what the purpose of this was."
Responding to the student, Crucet said that she was invited to speak at the university and discussed white privilege because "it's a real thing that you are actually benefiting from right now in even asking this question," according to the George-Anne.
Her answer elicited more questions about race from the audience.
BuzzFeed News spoke with six first-year students, five women and one man, who attended the lecture, all of whom asked not to be named. The students were required to attend the lecture, along with hundreds of their classmates, and said that Crucet attacked white people "for an hour" and assumed that the entire audience was privileged.
"She came to our school and, the audience was predominantly white, and she came in and was attacking white people for an hour, putting all these stereotypes and generalizations on us," said one 18-year-old attendee. "Like all white people are privileged and racist."
Another student said the audience reacted when the author stated that most white people "needed to be removed from authority positions because two-thirds of people in high positions should not be white."
"She wanted everyone to be equal and says she is against racism but she was shitting on white people the whole time," the 18-year-old male student said. "I can understand the message she was trying to get out but I don't know what reaction she was expecting when she comes to a school that's 75% white. I agree there is such a thing as white privilege but the way she was saying it was not OK to our student body."
All of the students who spoke with BuzzFeed News were born and raised in Georgia. One of the students said she is half-Dominican; the rest are white.
After the event, Crucet tweeted that there had been "aggressive & ignorant comments" during her Q&A and thanked "some very amazing, brilliant students" who stood up for her during the exchange.
"At the signing, we hugged & cried," she wrote. "I'm happy to know them and also legit worried for their safety."

In her replies, several people who allegedly attended the event accused her of "bullying white people."
"The only reason anyone showed up is because it was required and after the racist bigotry you displayed against the white race we should all be compensated for your book. I'm all for equality but not for hate which is what you displayed," one user said.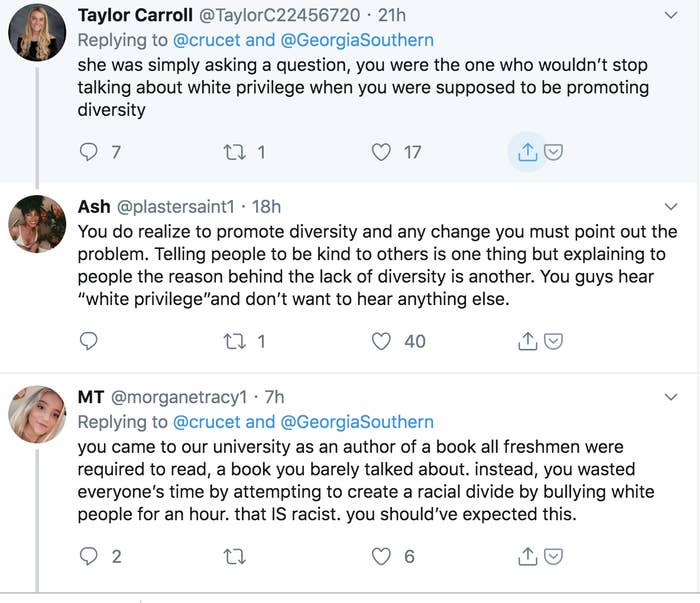 Later that night, a group of students gathered on campus and burned her book, according to statements from the university and videos posted on Twitter. Some even gathered outside her hotel, the school's department of Writing and Linguistics said on Facebook, writing that it is "dismayed and disappointed by the uproar against" the author.

"Last night's discussion with the author devolved into accusations of her demonstrating racism against white people," Dr. Russell Willerton, the department chair, said in a statement. "Some students burned copies of Crucet's book and even gathered outside her hotel. We assert that destructive and threatening acts do not reflect the values of Georgia Southern University."
A student in the class — who asked that her name not be used for safety reasons — was walking outside of the Eagle Village dorm complex when she said she saw a group of students burning something.
"I thought it was s'mores at first," the first-year student told BuzzFeed News. "So when my friends and I went to see what it was, we saw the students yelling and laughing and throwing the books in the fire."
In the video, the group is gathered around a grill filled with copies of Crucet's book, and they're laughing.
The student, who is majoring in nursing, said that when she asked her peers why they were burning the piece of literature they said, "because the book was bad."
When asked about the book burning, the group of first-year students who asked to remain anonymous told BuzzFeed News that about 20 to 30 of their classmates had gathered to burn the novel in a fire pit.
In a statement provided to BuzzFeed News, Crucet said that after the event her campus hosts had moved her from her original lodging accommodations to another hotel in a different town.
It was only when she read the statement from the department chair that she learned students had gathered outside the hotel she had previously planned to stay at.
"During the event, and afterward during the book signing, many students remarked on how much the story of the novel's protagonist mirrored their own,
and expressed gratitude for the book—both to me for writing it, and to GSU for selecting it as their FYE read," Crucet said. "To think of those students watching as a group of their peers burned that story— effectively erasing them on the campus they are expected to think of as a safe space—feels devastating."
Crucet tweeted several times about the experience, writing, "This is where we are, America."

In now-deleted tweets, first-year students replied to the author with ripped up copies of her book and footage of people lighting the pages on fire.
Other students, however, rallied behind Crucet, thanking her for coming to their campus and apologizing for what she went through. A Georgia Southern junior, who is studying history, emailed BuzzFeed News and said that many students on campus are "disappointed with these book burning students."
"We are also disappointed with our administration, as racial tension events have occurred in the past (what seems like an almost yearly occurrence now)," she wrote. "The admin of the university never really disciplined those involved, which leads there to be little consequences to deter those events from happening again."
While several of the university's departments have condemned the book burning, John Lester, vice president for Strategic Communications and Marketing, said that they are "not planning any actions against any of the students involved in this incident."

"While it's within the students' First Amendment rights, book burning does not align with Georgia Southern's values nor does it encourage the civil discourse and debate of ideas," Lester said.
In an email to faculty, GSU President Kyle Marrero described the evening's events as an "example of freedom of expression."
"Specific to the reported events of that evening, while it's within the students' First Amendment rights, book burning does not align with Georgia Southern's values nor does it encourage the civil discourse and debate of ideas," Marrero wrote.
He continued that he wished students "had engaged in a reasoned discussion" and that "these discussions had not deteriorated or led to broad generalizations that paint an ugly picture about our university."

A professor who provided the email to BuzzFeed News said faculty members were "extremely dissatisfied with this response."
Crucet was supposed to deliver another lecture on Thursday at the university's Armstrong campus, but the school canceled it "due to unforeseen circumstances."

Although Georgia Southern is 63% white, nearly a quarter of students are black and 6% are Hispanic. In a statement, the school's counseling center said it has a "diverse staff of clinicians who are prepared to support students' emotional needs."
"We recognize that such incidents can be traumatizing to Latinx/Hispanic students and other marginalized communities," the center said.
In her statement, Crucet called on the university to support students who may feel unsafe as a result of the incident.
"This book began as an act of love and an attempt at deeper understanding," Crucet said. "I hope GSU can act from the same place and work to affirm the humanity of those students who might understandably feel unsafe in the aftermath of the event and the book burning, and that the campus continues the difficult and necessary conversation that began in that auditorium."
The student in the class who said she saw the burning said she was shocked and disheartened by what transpired during the lecture, which she called "good and informative," and the fact that students burned the author's novel.
"Students wanted her to talk more about the book over the white privilege stuff but I think that talking about that looped in perfectly because the book was based on her life and her experience with white privilege or lack there of," the first-year student said. "She's a Latina woman."