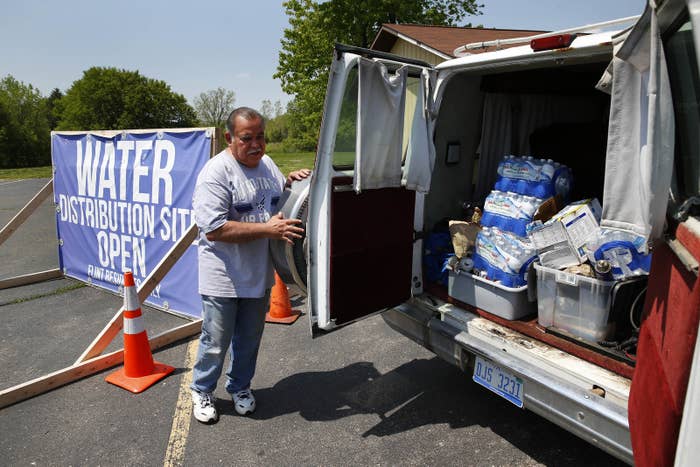 The city council in Flint, Michigan, has agreed to suspend efforts to force thousands of residents to pay unpaid water bills by imposing tax liens, which allows the government to legally claim their home and use it as collateral to cover delinquent taxes.
The decision came after a heated council meeting Wednesday, during which residents lamented being forced to pay for water that is still contaminated with unsafe levels of lead.
"You are not going to take my property for this stupid-ass water," Lucille Williams, who received a tax lien against her home to cover $1,800 in overdue water bills from 2014 to 2016, told council members. "It's poisoned. I don't know why you're not as outraged as we are."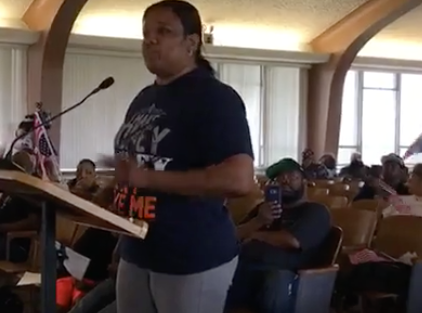 Starting last month, the city sent out letters to about 8,000 residents warning them that they could face liens on their homes for water and sewer bills that are more than six months past due. The letters cover two years of overdue bills totaling more than $5 million.
Flint officials say people need to pay for the tap water they've been using, despite the fact many still cannot drink it without an approved filter.
But that move was met with widespread anger, with a steady stream of residents at the council meeting on Wednesday demanding why they were being charged hundreds of dollars for water when some are limited to showers under three minutes. State officials and human rights groups have also rallied against the tax liens, arguing that people should not have to pay for water that is unfit to drink.
After hours of back-and-forth yelling, council members approved a yearlong moratorium against the contentious liens, ruling that residents with outstanding bills from April 2014 who still cannot drink or use unfiltered tap water without the risk of health problems won't have to pay their delinquent accounts.
"Flint is the second poorest city in the nation. If people can't pay their water bills and it's placed on their homes then they will be forced out of their homes," said Flint Councilman Wantwaz Davis. "This is nothing but a scheme to drive poor people out of Flint."

The American Civil Liberties Union (ACLU) and NAACP Legal Defense and Educational Fund also sent a letter urging city officials to postpone placing liens on the homes of residents who haven't paid their water bills, citing "serious legal concerns."
"Since the city did not fulfill its part of the bargain to provide water fit for drinking, Flint residents should not have to pay for such water -- much less lose their homes over it," the letter states.
In response to the ACLU, Flint Mayor Karen Weaver, who says she agrees with those angry about the process, reiterated that the city is "legally obligated to comply with some city and state statutes," though they might not be "suitable or appropriate when you consider the extenuating circumstances we are still facing."
Flint's water crisis sparked outrage after high levels of lead were found in local children's blood in 2014. Residents, who were paying some of the highest water rates in the country, say that the situation is still dire.
"We haven't been able to drink the water in years," Chelsea Johnson told BuzzFeed News. "The most common issue is how they still have to pay for their water bills, and theres nothing to filter the water for showers or baths."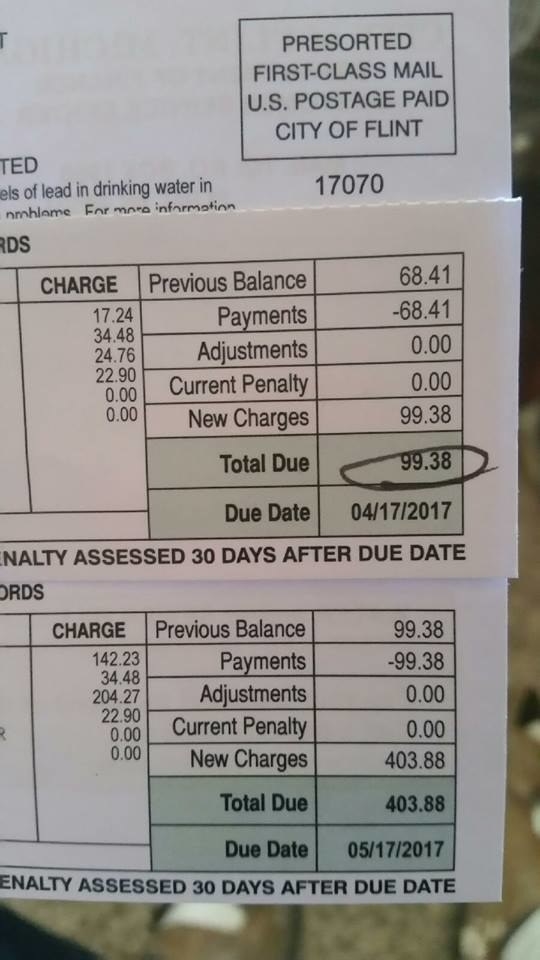 More than 40% of Flint residents live in poverty. And with the average household income at about $25,000, paying $100 a month on water and sewer bills can be a burden. However, the city is also cash-strapped and struggling to repair its water system.
"We are in a tough situation but customers were still using the water for other things like laundry and dishes," Al Mooney of Flint's treasury department told BuzzFeed News last week. "We have to have that money come back."

If the 8,000 outstanding water and sewer bills are paid, that would provide the city with nearly $6 million. Shutoff warnings resulted in payments of about $3 million to the city for overdue water bills last month, and about $2.1 million in March.
City officials have repeatedly stressed that the notices are for water and sewer charges which were not affected by the contamination crisis, and "that the process involving the lien transfer to tax bills is routine" and typically conducted each year. In Michigan, when water is provided to a property, a lien is automatically created.
"We've been paying for water that has zero value," Flint resident Melissa Mays, who received a lien notice, said during the meeting. "It's not normal, it's extortion."