Justin Sanchez was crying, lying on top of framed family photos clanging around the bed of his father's pickup truck as it raced down a winding road. A swirling, rushing "fire tornado" they had just escaped was now barreling alongside them.

Like dozens of other residents in Redding, California, he had been watching as the Carr fire grew and twisted around the city and its rural outskirts. Then, on Thursday night, the blaze erupted. Fueled by scorching temperatures and thick heat radiating from the sun-baked ground, the inferno created its own weather system known as a fire vortex.

Suddenly, massive, spinning cylinders of fire began swallowing swaths of land at rapid speeds. A fire event of that magnitude is rare, experts say, further highlighting the erratic behaviors and conditions that keep taking California's ongoing, catastrophic fires to new and unprecedented levels.
When Sanchez looked out his window that night, the fire was far off in the distance. His neighbors were in the pool, he said, cautiously relaxed and awaiting evacuation orders. Authorities were sending residents from their homes in groups since the fire started on Monday. About 15 minutes later, he recalled, police were racing down his street blaring orders to get out.
"You could barely hear anything because the wind was so loud," the 37-year old said. "And then boom there was this fire tornado, a 'firenado,' coming right at us, spinning with all this shrapnel inside."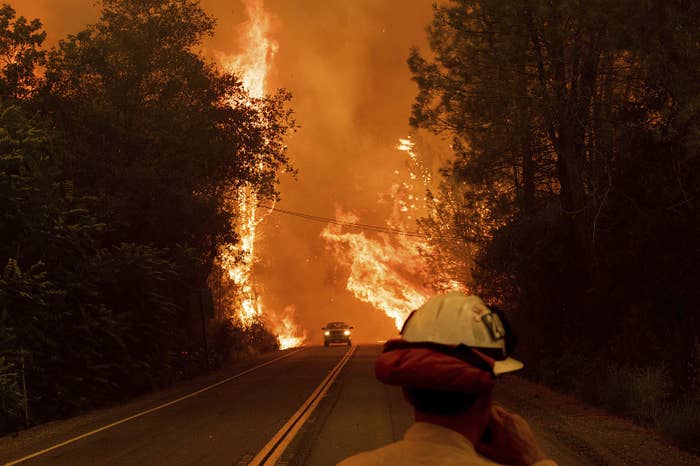 In a matter of minutes, Sanchez was corralling his two teenage sons, darting around the house pulling family photos off the walls and helping his father gather precious papers.

His 16-year-old fled wearing only one shoe, distraught that he couldn't find his other brand-new Nike Jordan.
"I had just spent $150 on those shoes for him for school. It was a big deal," Sanchez said. "Now he's in a pair the Goodwill gave me and that's all he really has. It's crazy."
The teens grabbed a few video games. The only thing Sanchez could think to do was help his 71-year-old father, who was struggling to hold on to his important documents in the roaring wind. He didn't even get to grab his wallet.
Soon he was in the bed of his father's old, blue pickup truck, recording, in disbelief, the insane phenomenon looming above them. With his father driving, the family quickly hit a line of cars filled with other scared evacuees, which he said "took forever to get out of."
After they made it to his sister's house a few miles away, Sanchez posted the insane footage on Facebook, and it quickly went viral. He said he only recently listened to it with the sound on, shocked at the sheer panic in his voice as he cried, "Oh my God," over and over.
"I didn't know something like that could exist," he said later.
Right down the street from his home at the corner of Menlo Way and Quartz Hill Road, where he had lived with his father since he was 18, a 70-year-old woman and her two great-grandchildren died before they could escape. Her family said the grandmother was found shielding the boy and girl with a wet blanket. On Sunday, officials found another body, ticking the Carr fire's death toll up to six, including two firefighters.
Sanchez joined the nearly 40,000 other residents in the Redding area who had been displaced from their homes, filling shelter after shelter or, if they were lucky, snagging scarce hotel rooms or staying with family or friends.

About three days later, Sanchez returned to see what was left of his and his father's home. In new, donated white sneakers, he trudged through the mixed mounds of broken dishes, dresser drawers, bed springs, and still-legible pages from a phone book, pointing out where certain rooms used to be.
"I knew the house was gone the moment I saw the fire coming toward us like that," he said. "But you still don't really believe it's happening. That you're going to lose everything."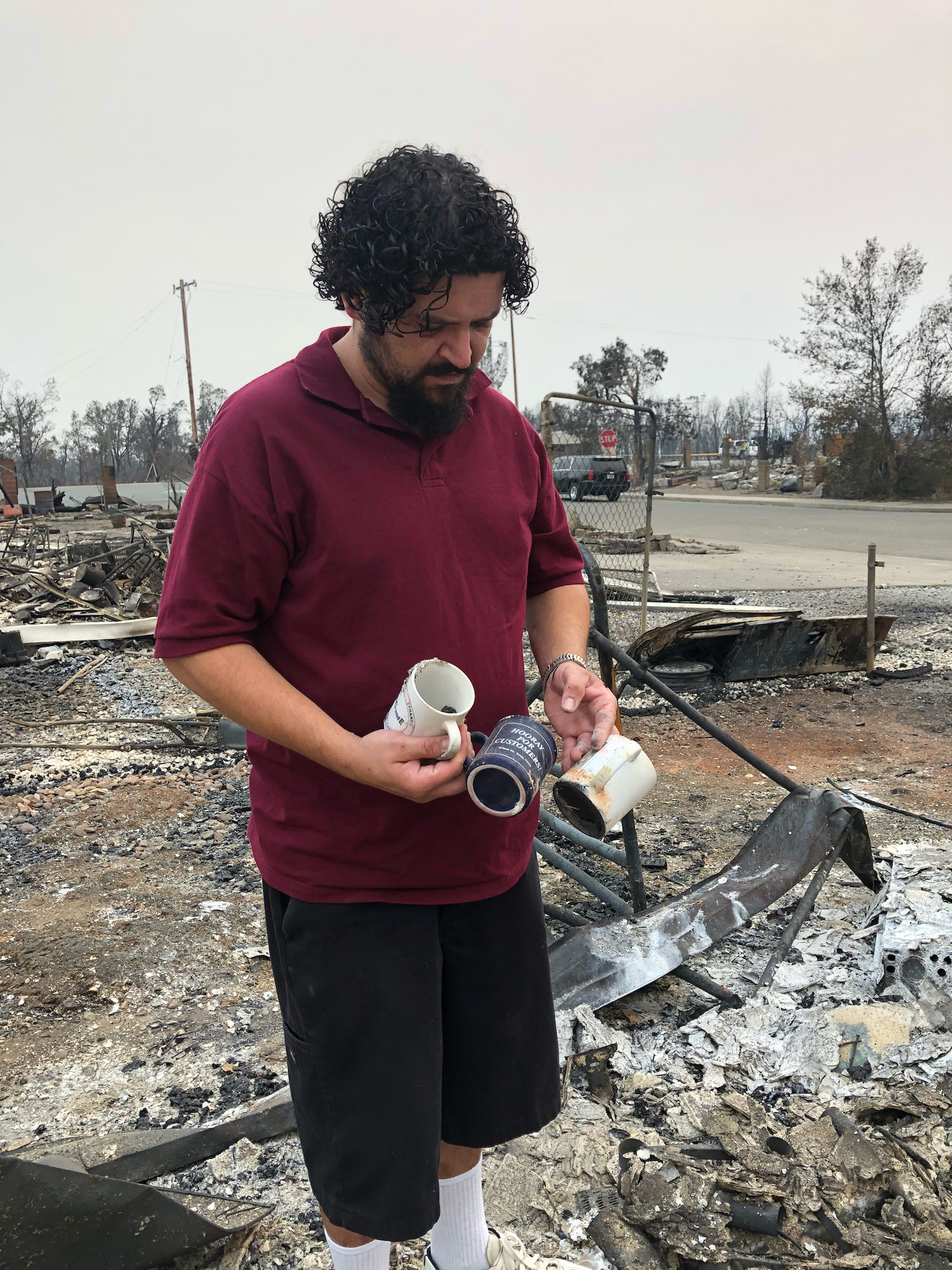 As of Sunday night, the Carr fire had torched more than 95,000 acres and destroyed 874 structures. After nearly a week of burning, it was 17% contained.
Sifting through the soft, still-warm rubble, Sanchez found three of his dad's mugs. In another pile, he pulled out a dusty, ceramic bottle — his older sister's childhood piggy bank.
As we drove away, he realized that he'd left the remaining soot-caked items on the sidewalk. Without a word, we turned around to salvage them.